Miami Beach printable map of top tourist attractions & city travel guide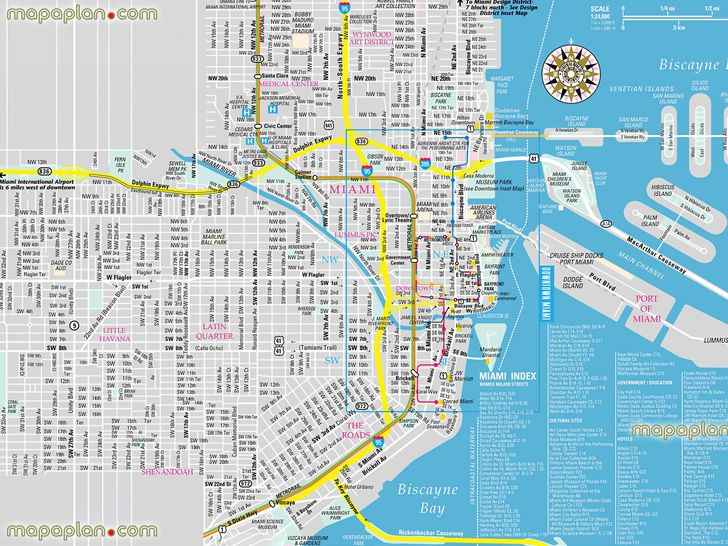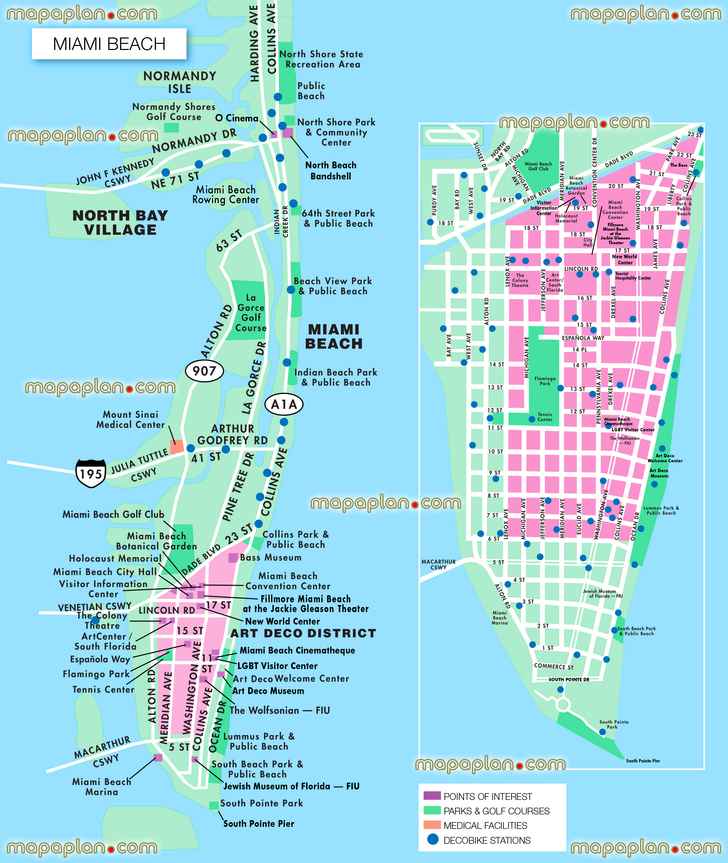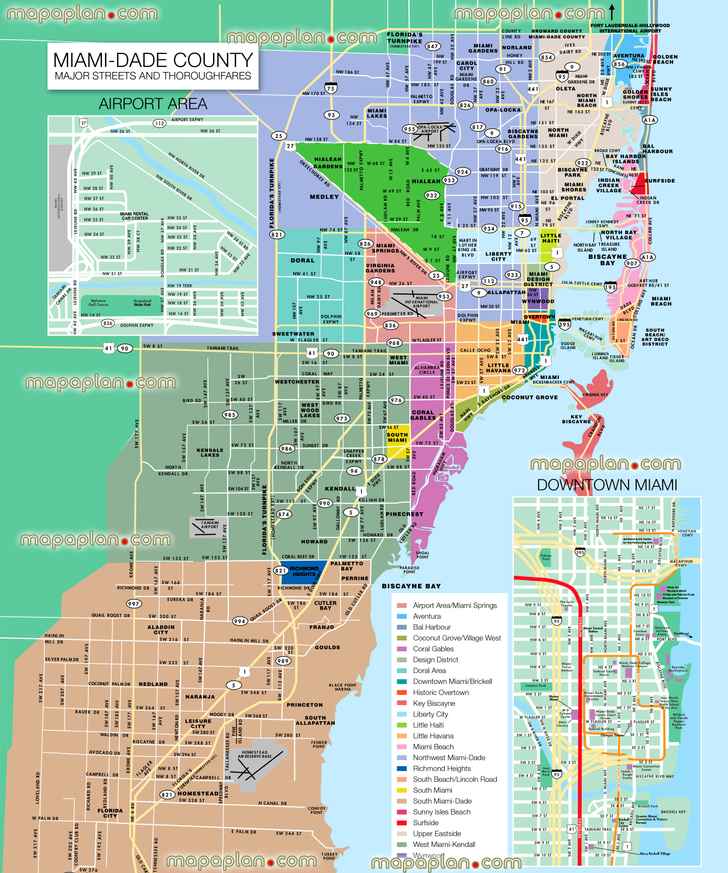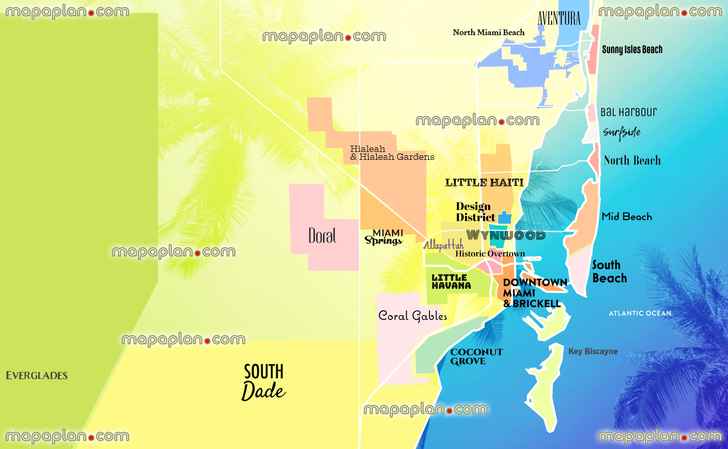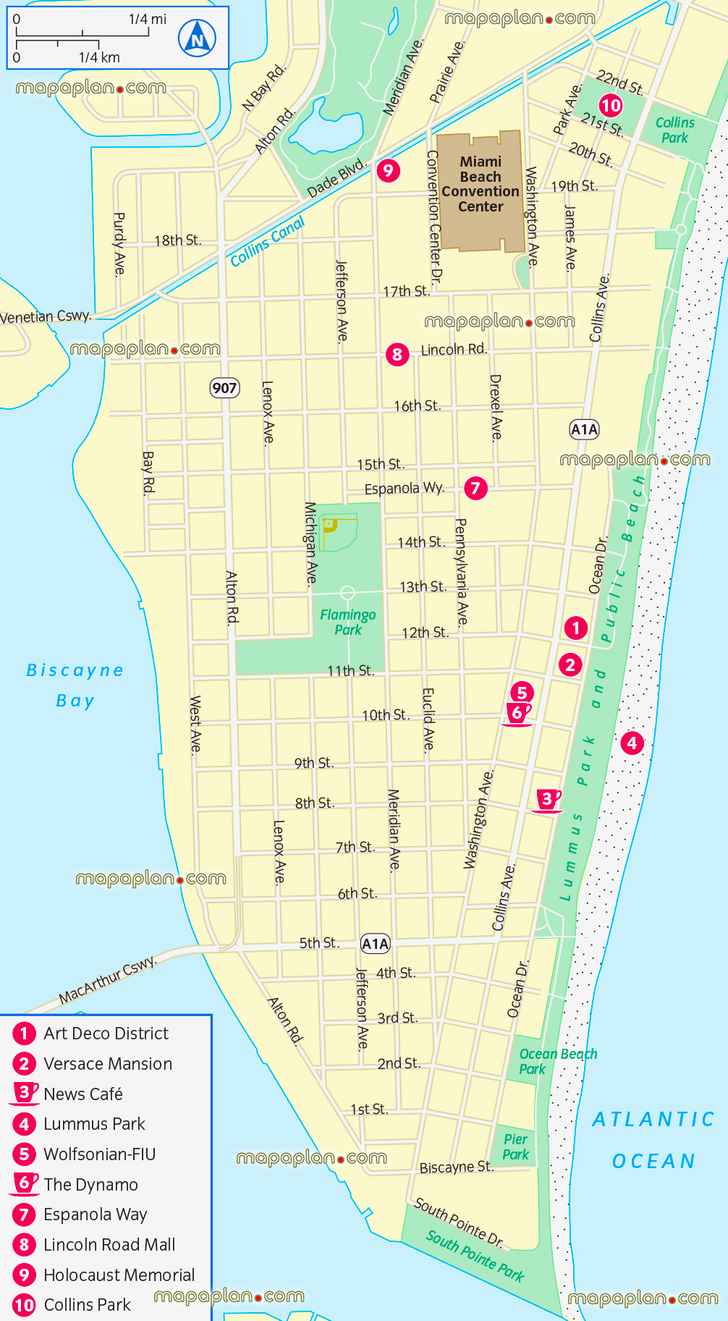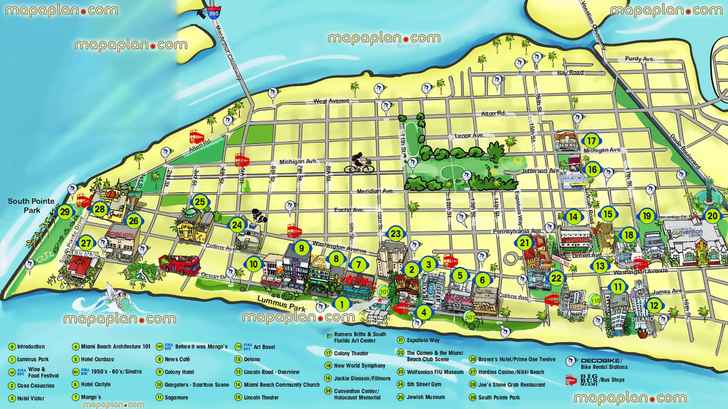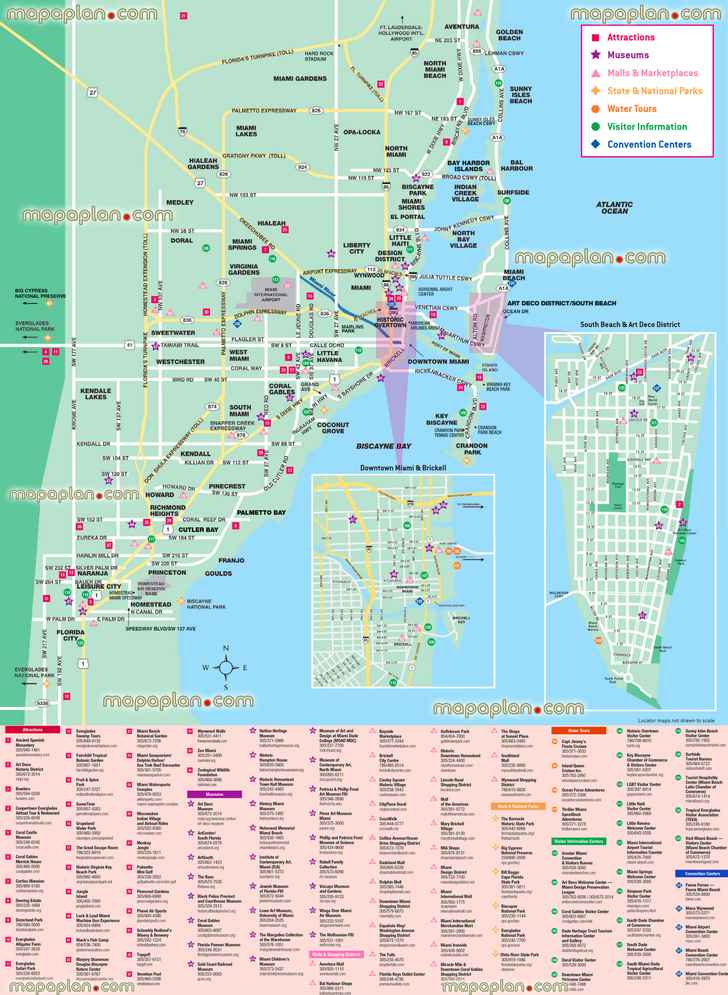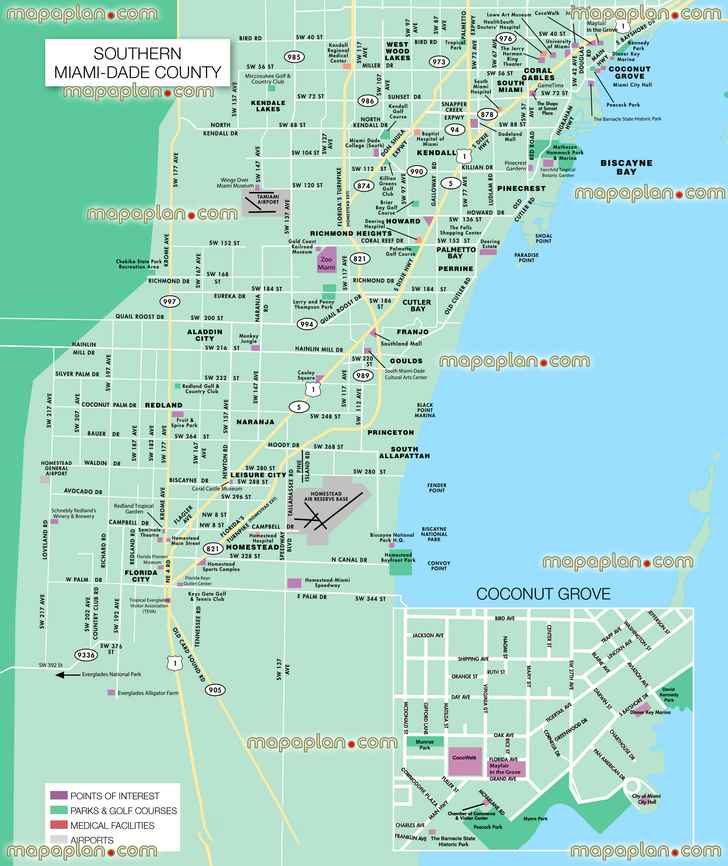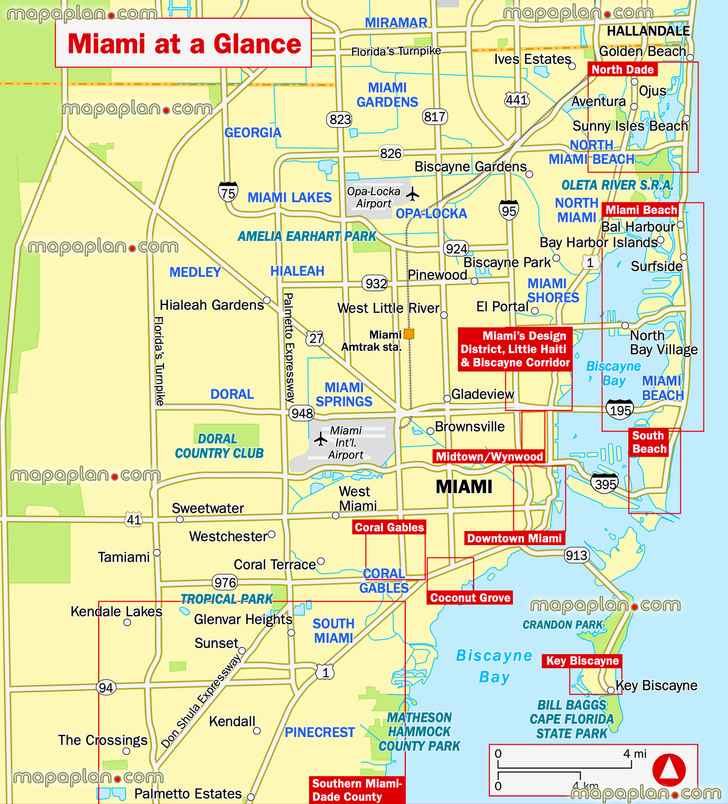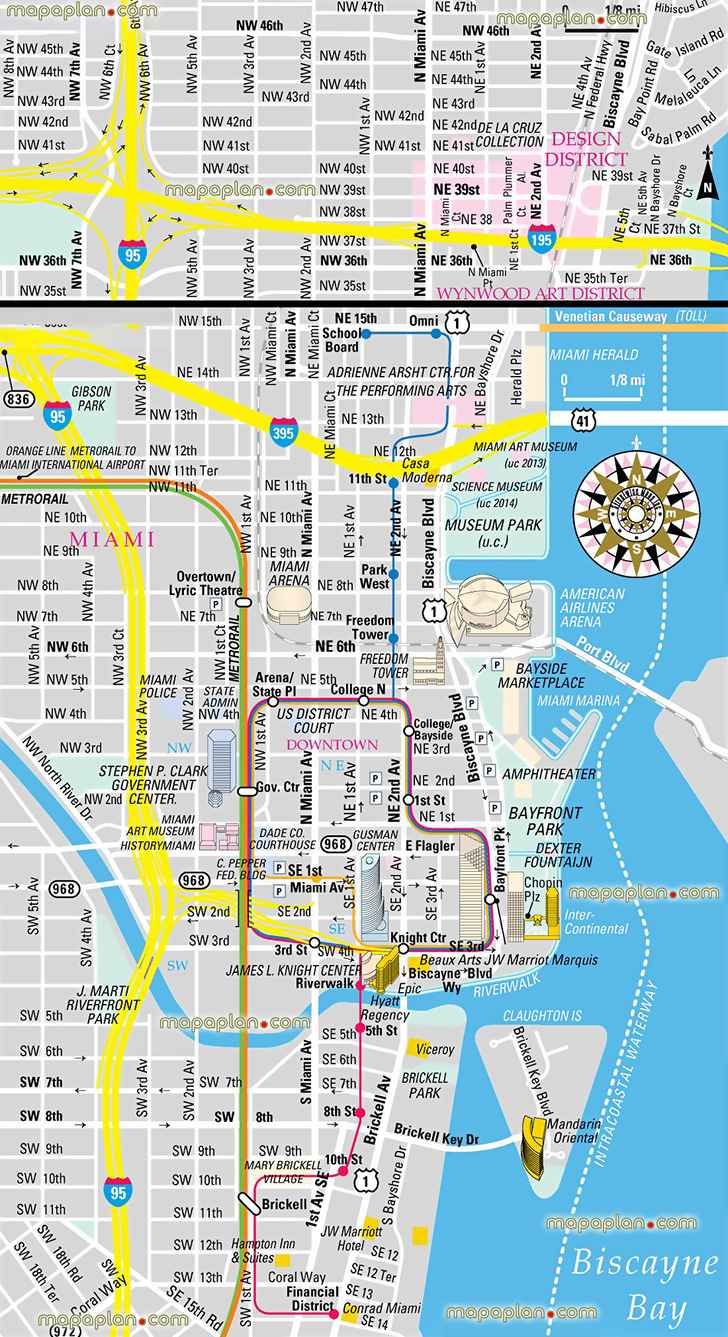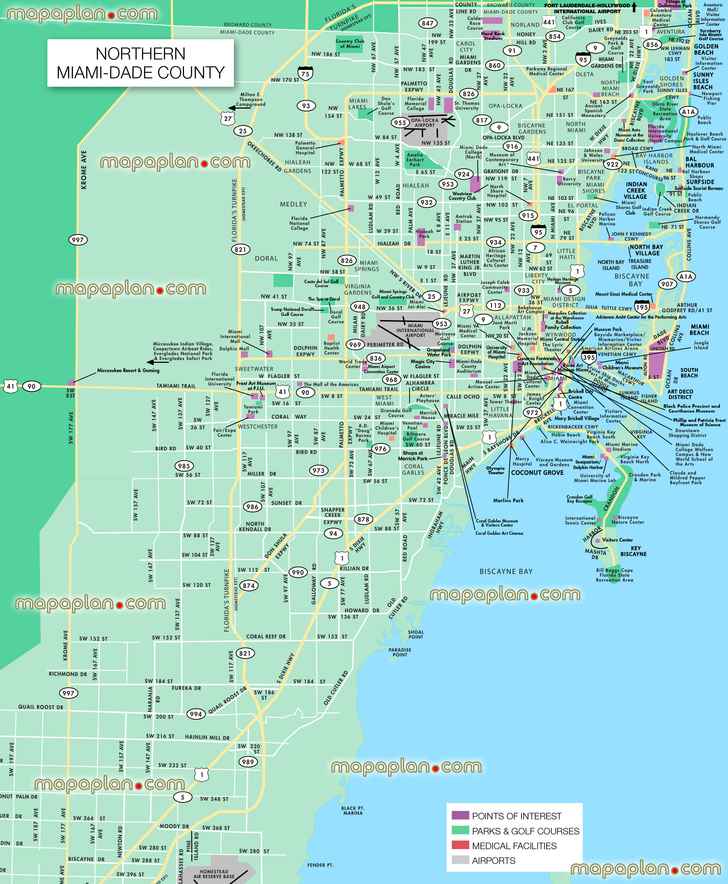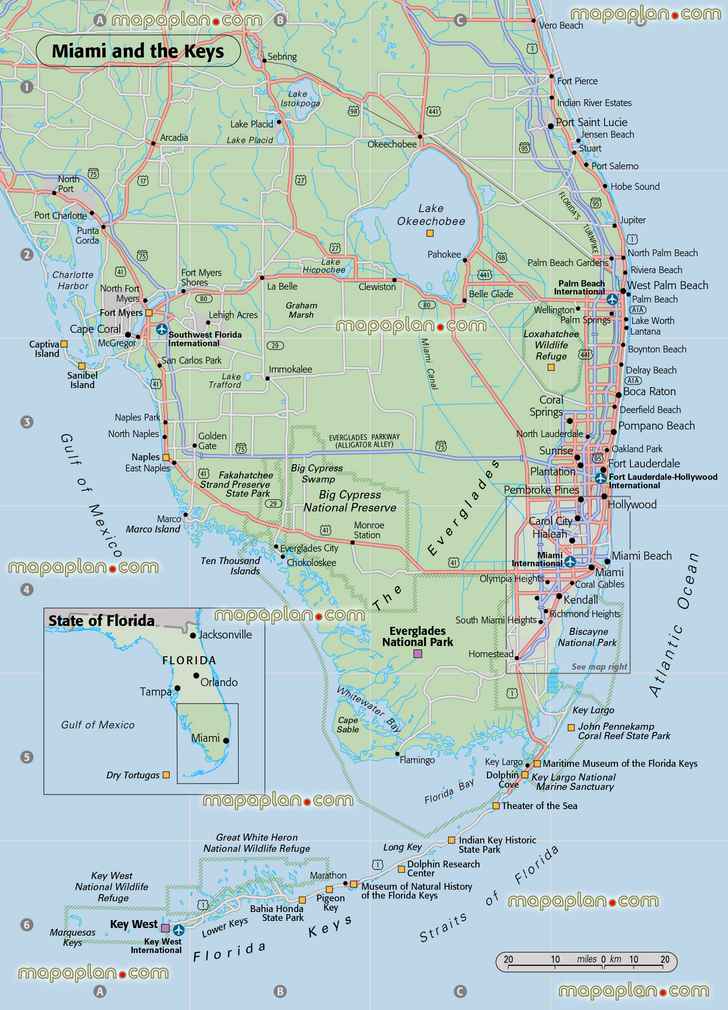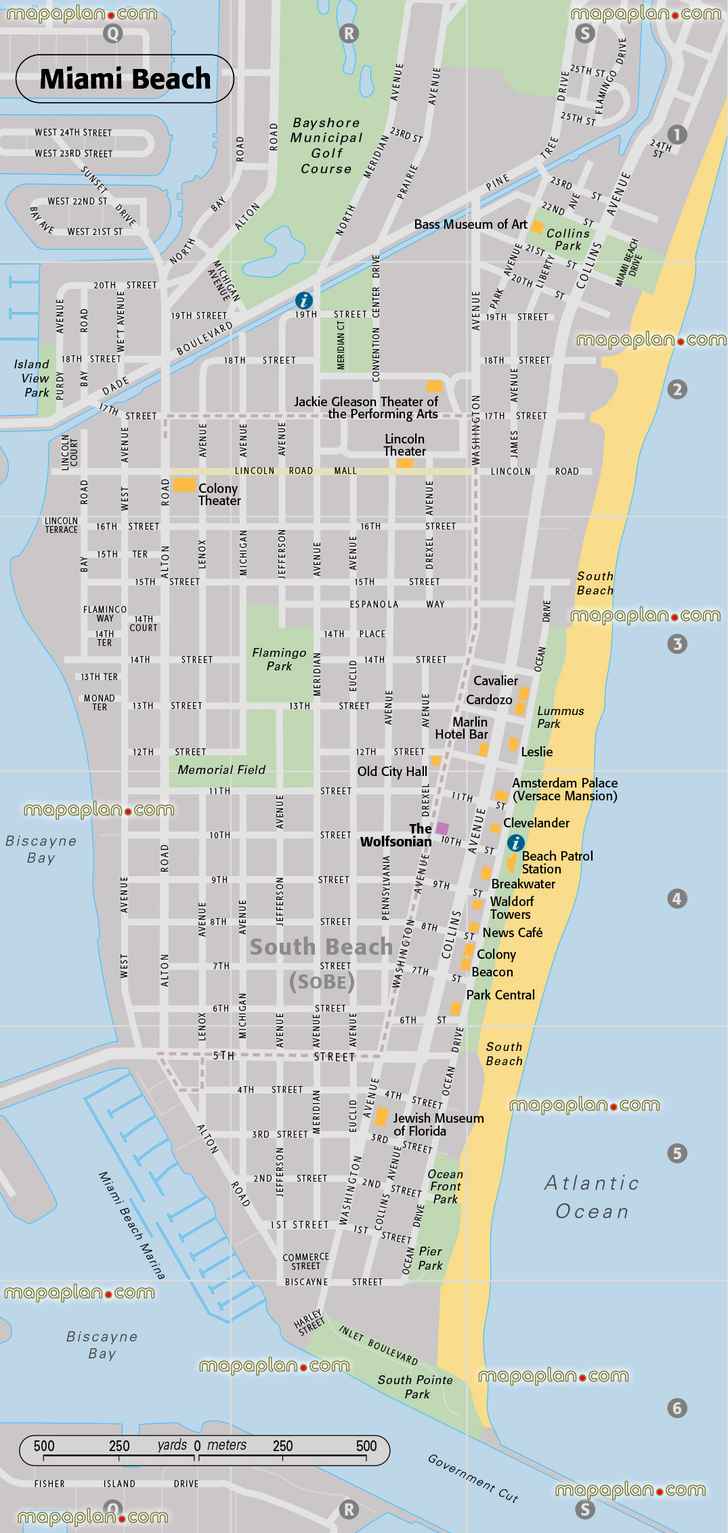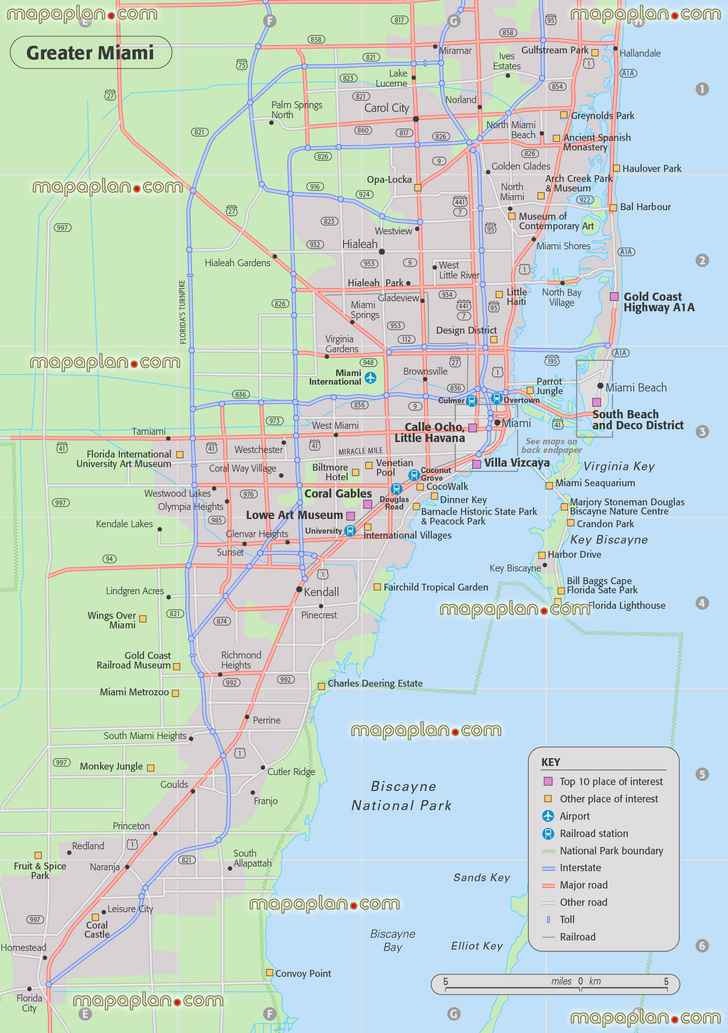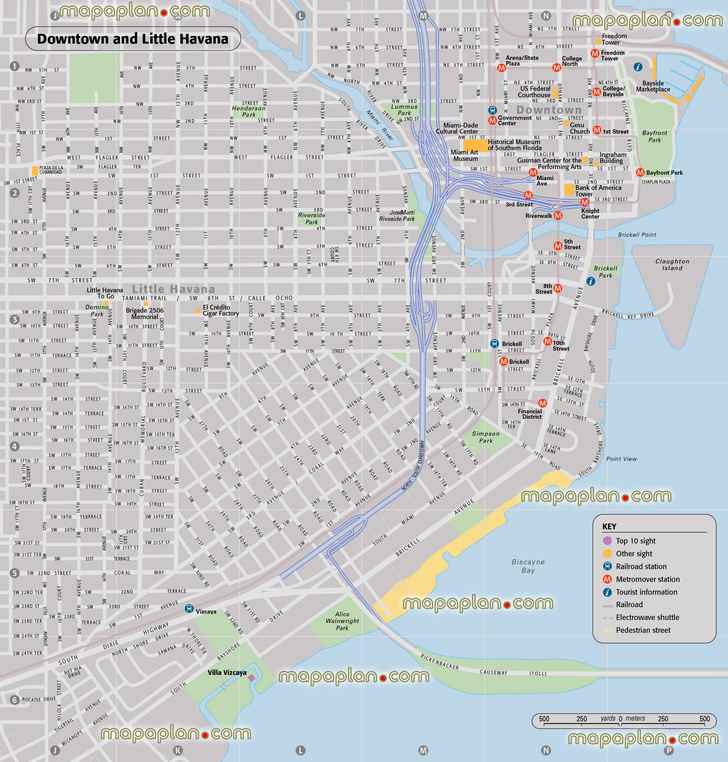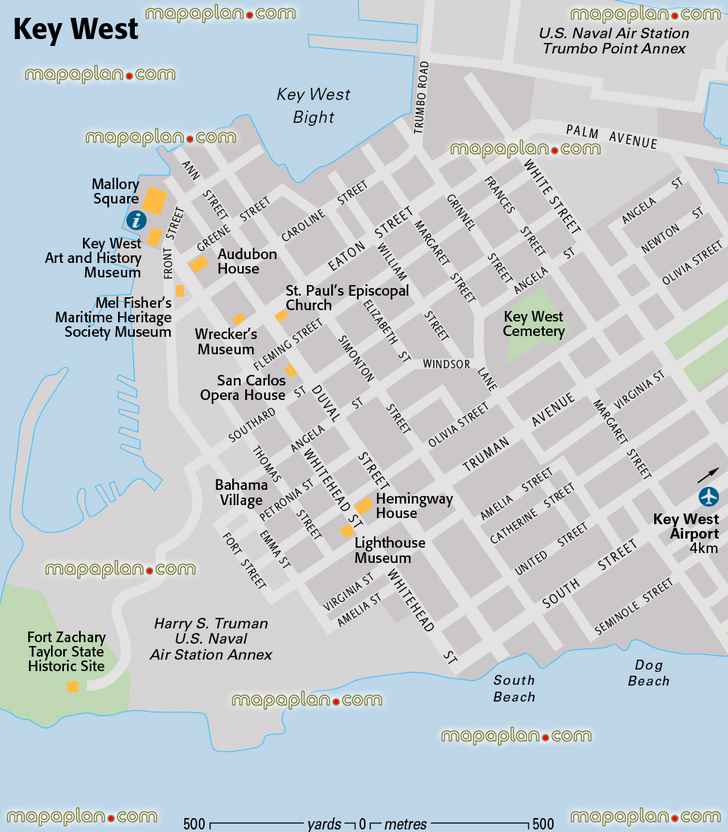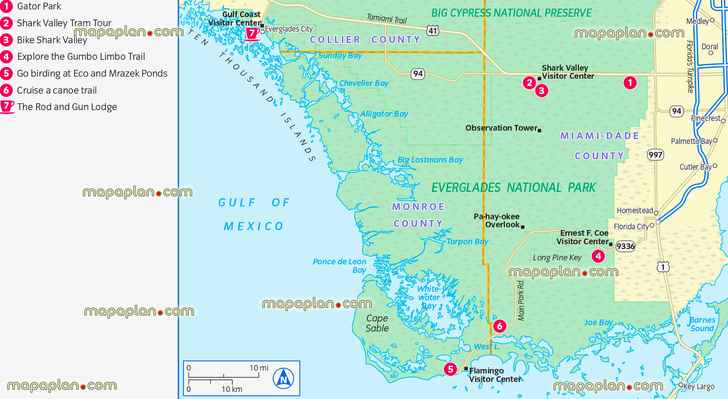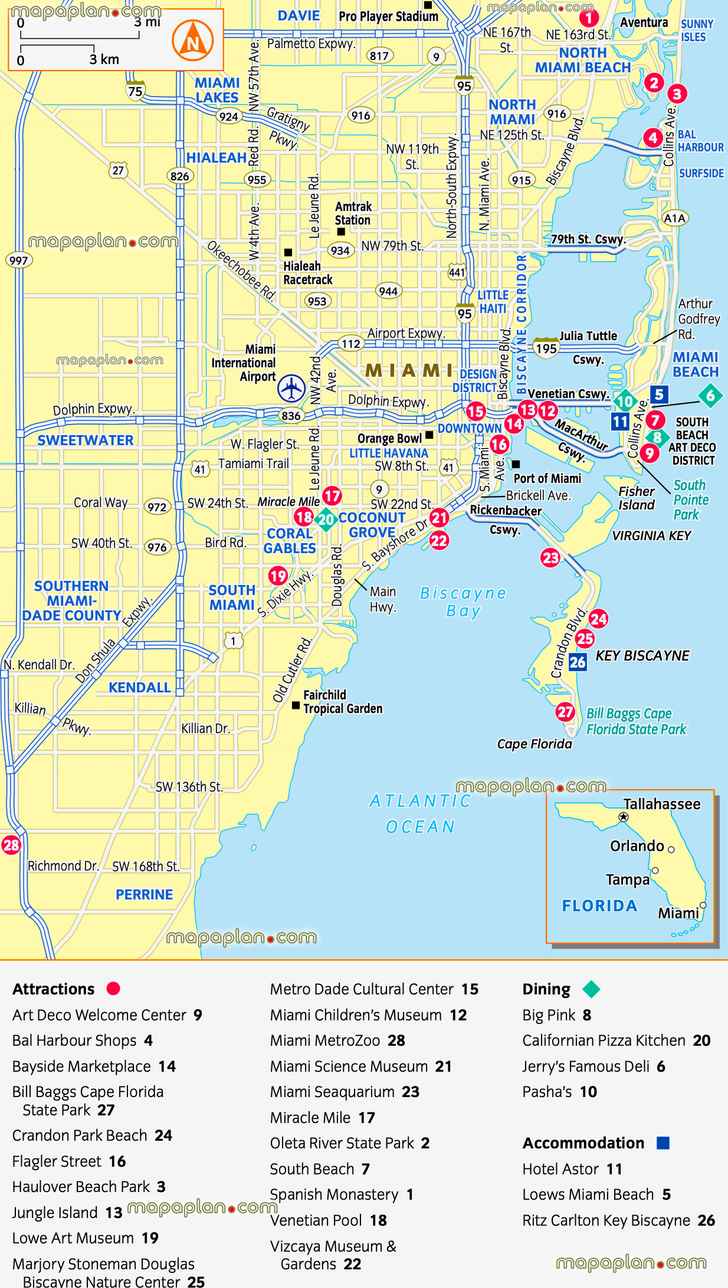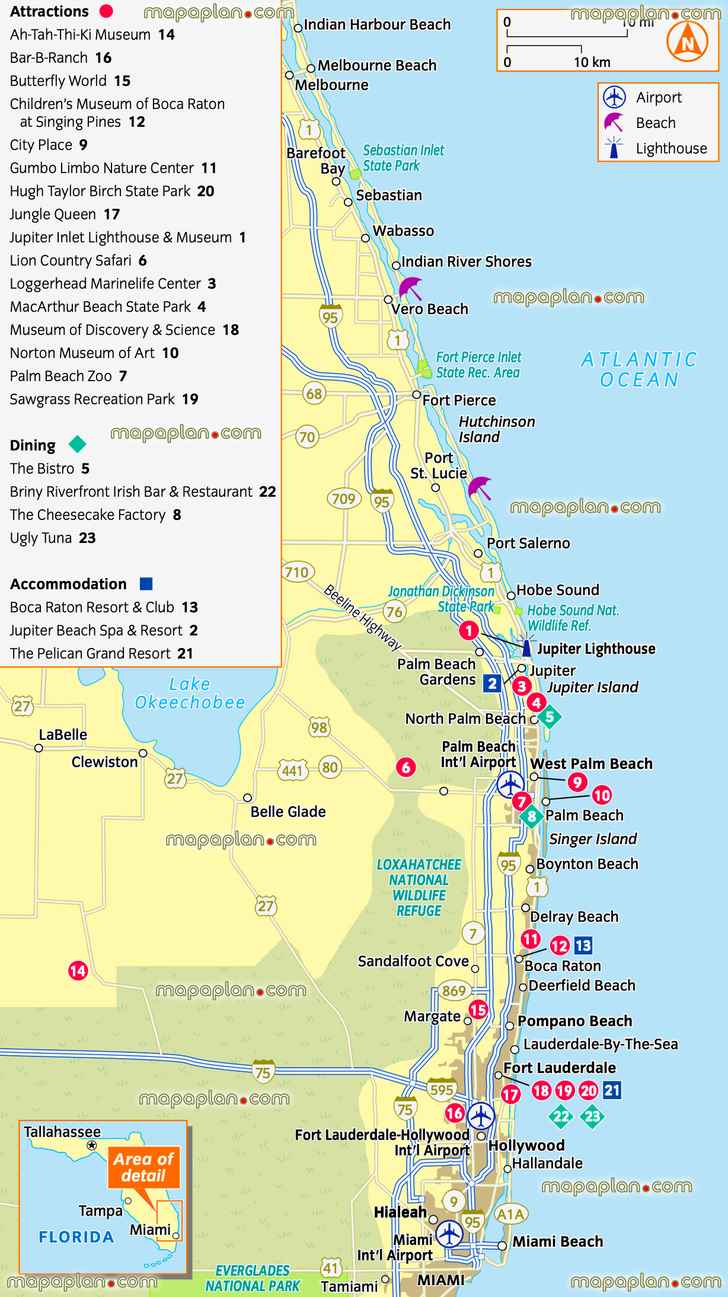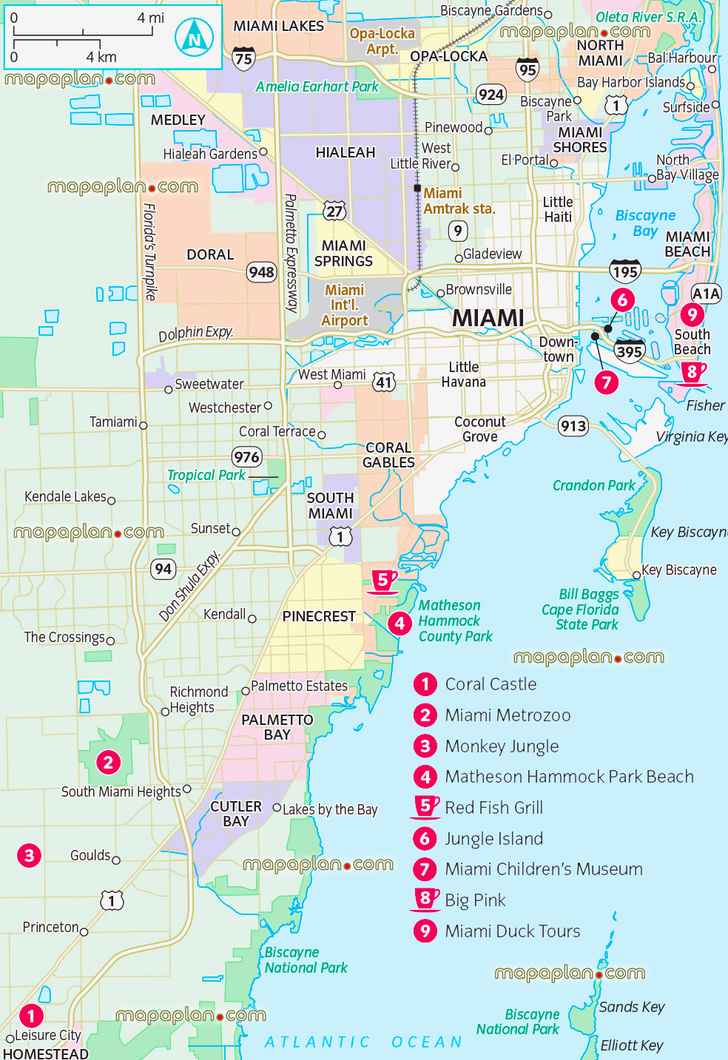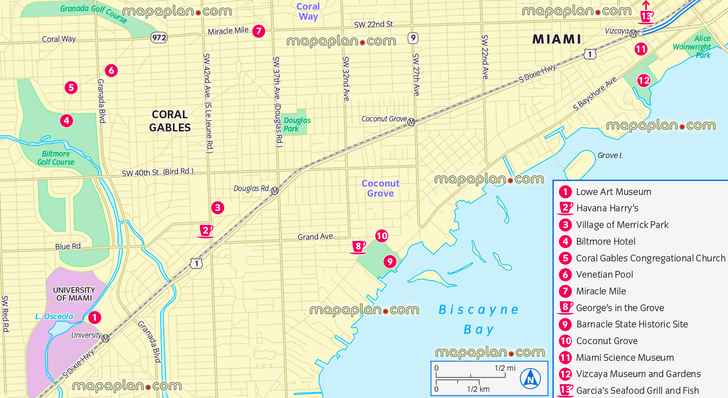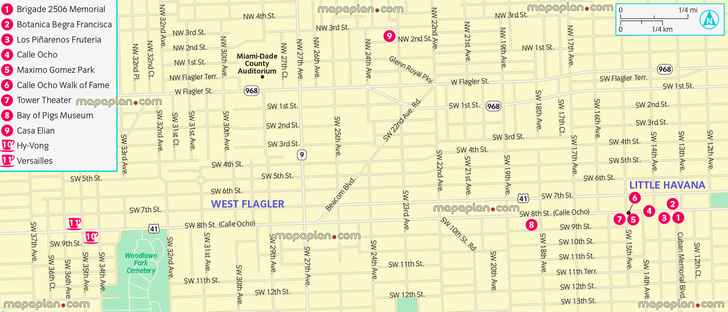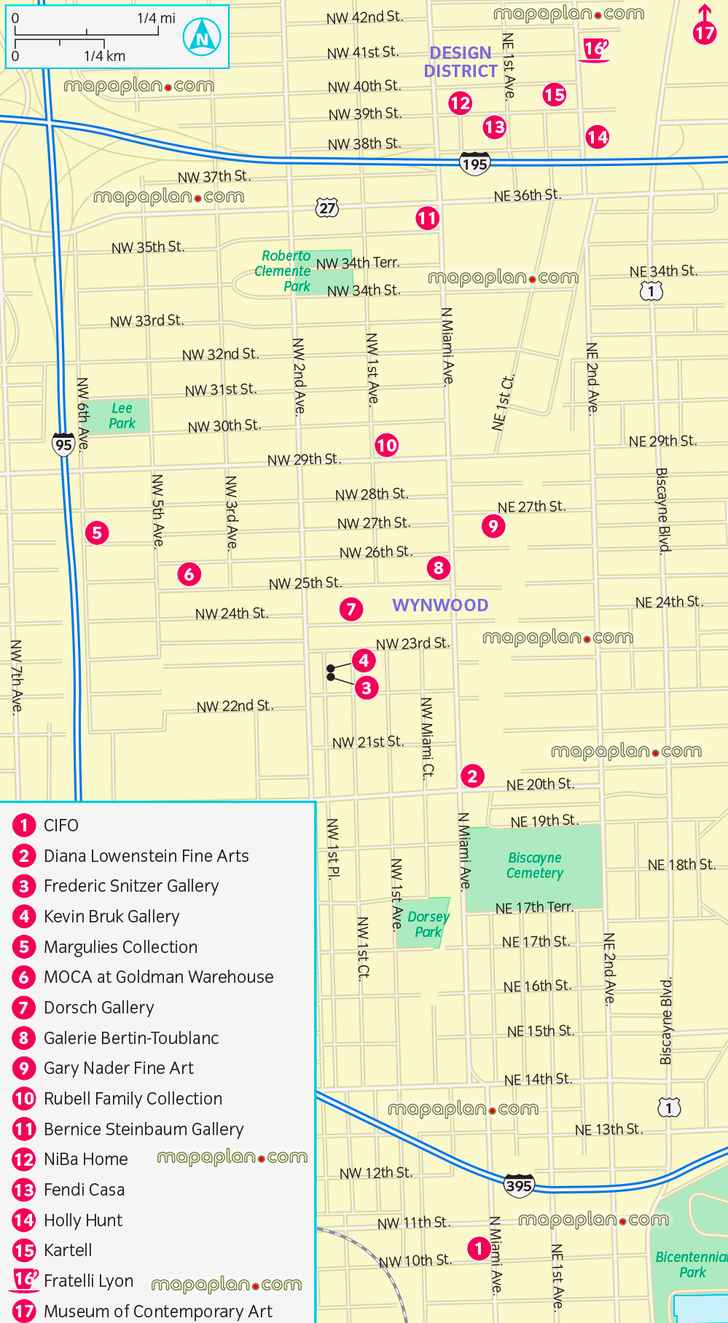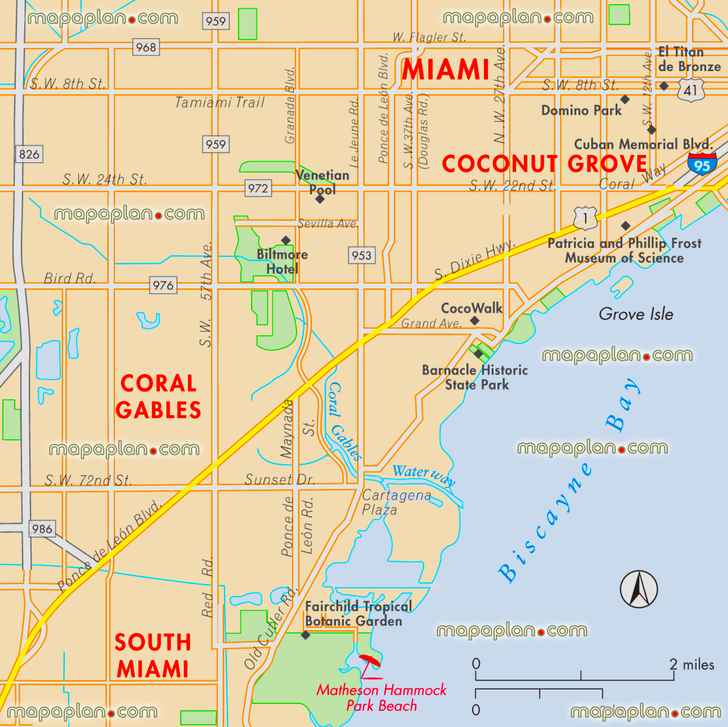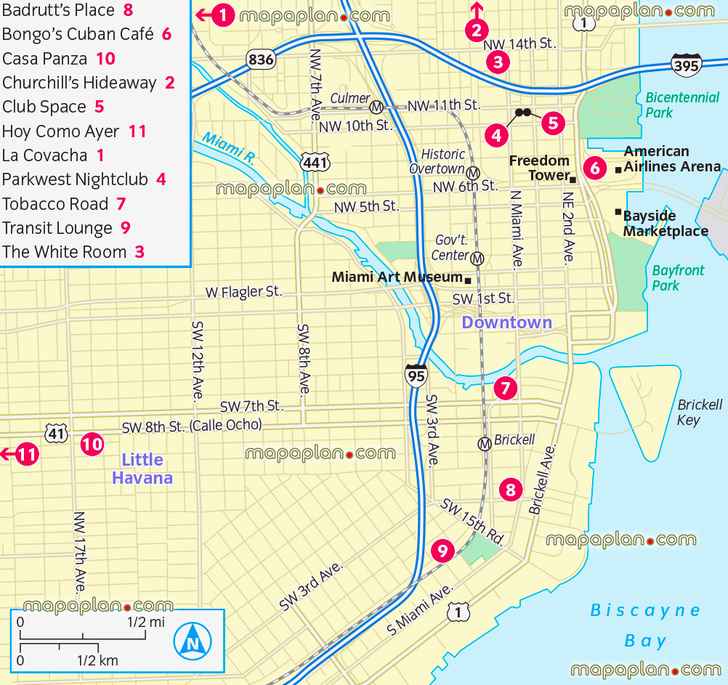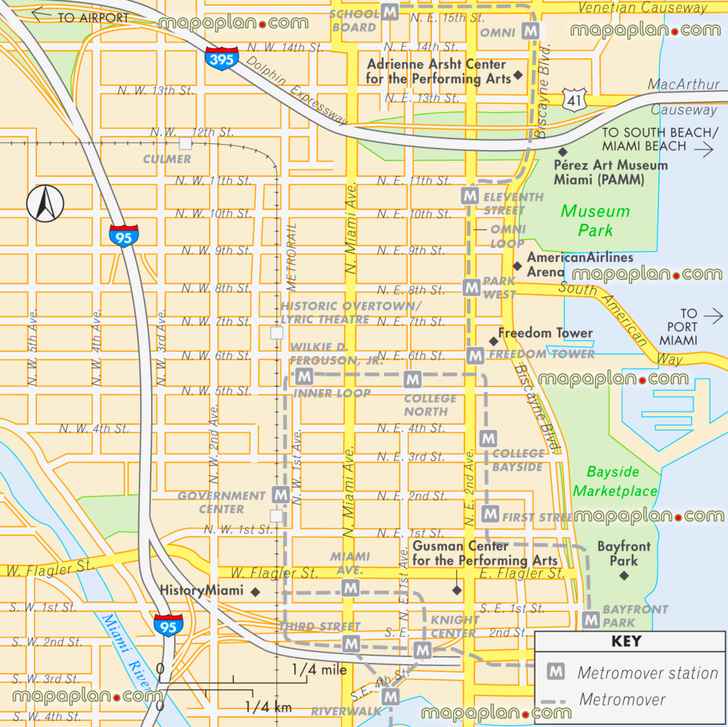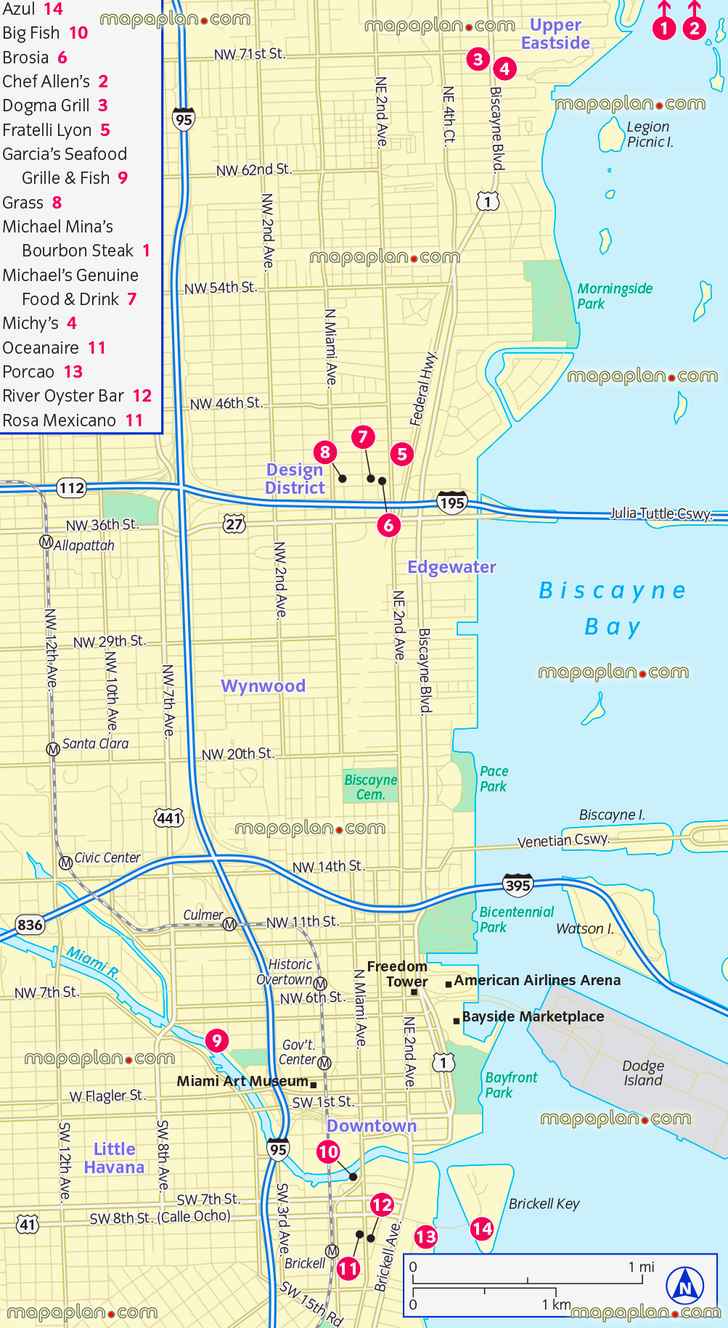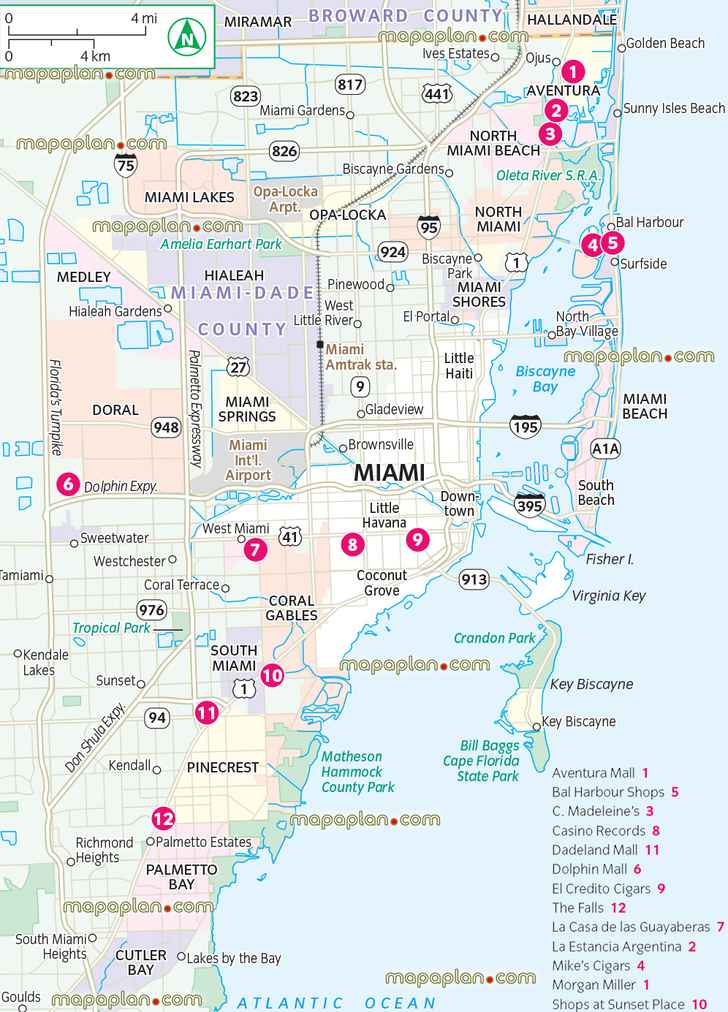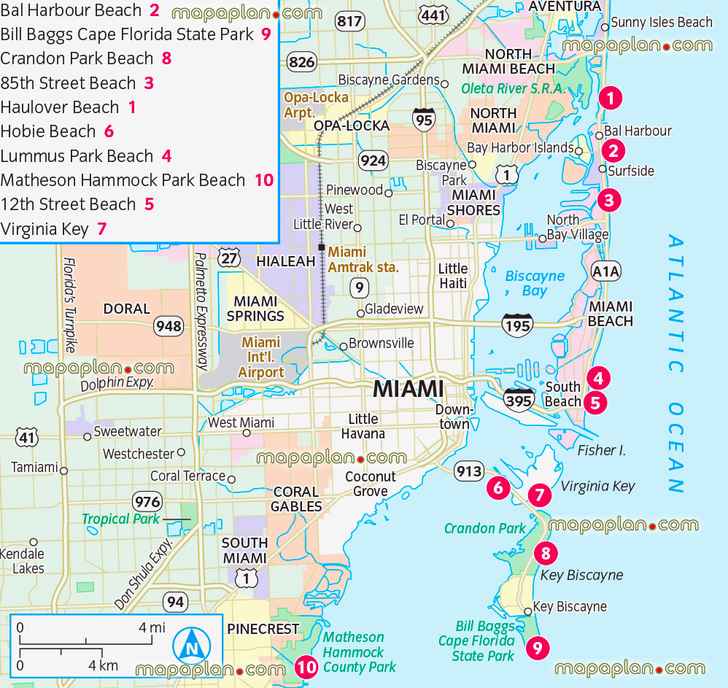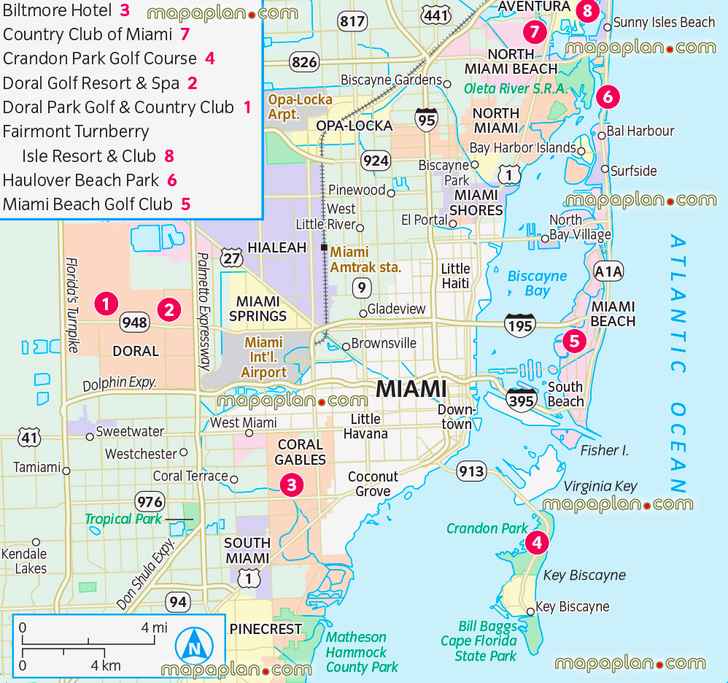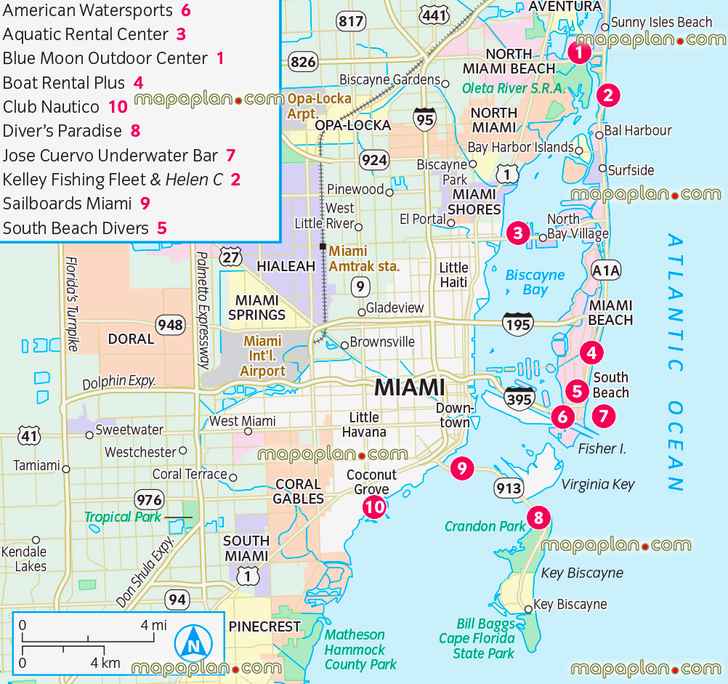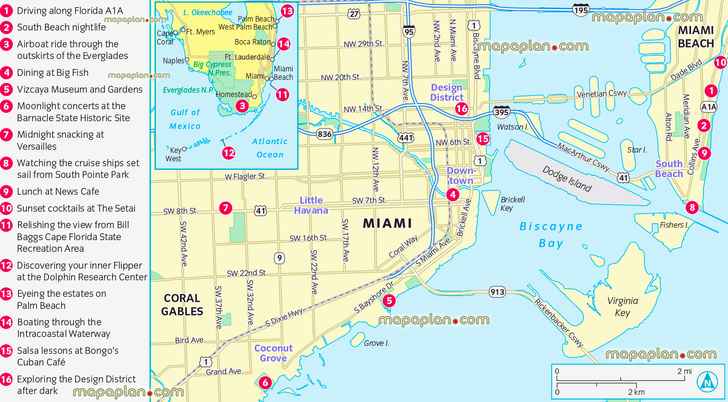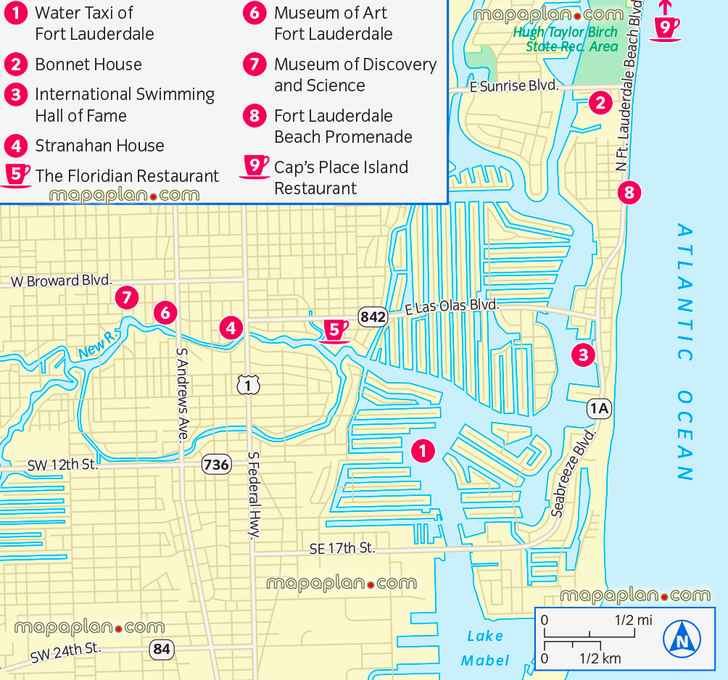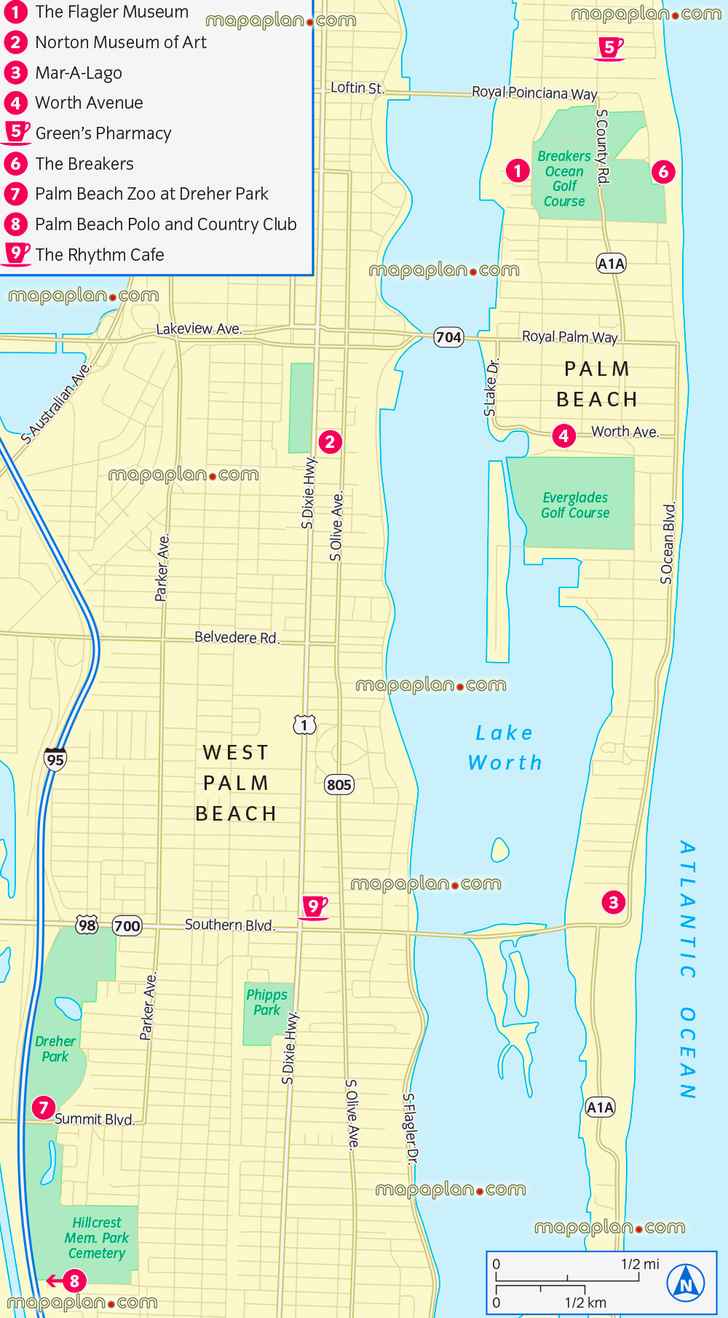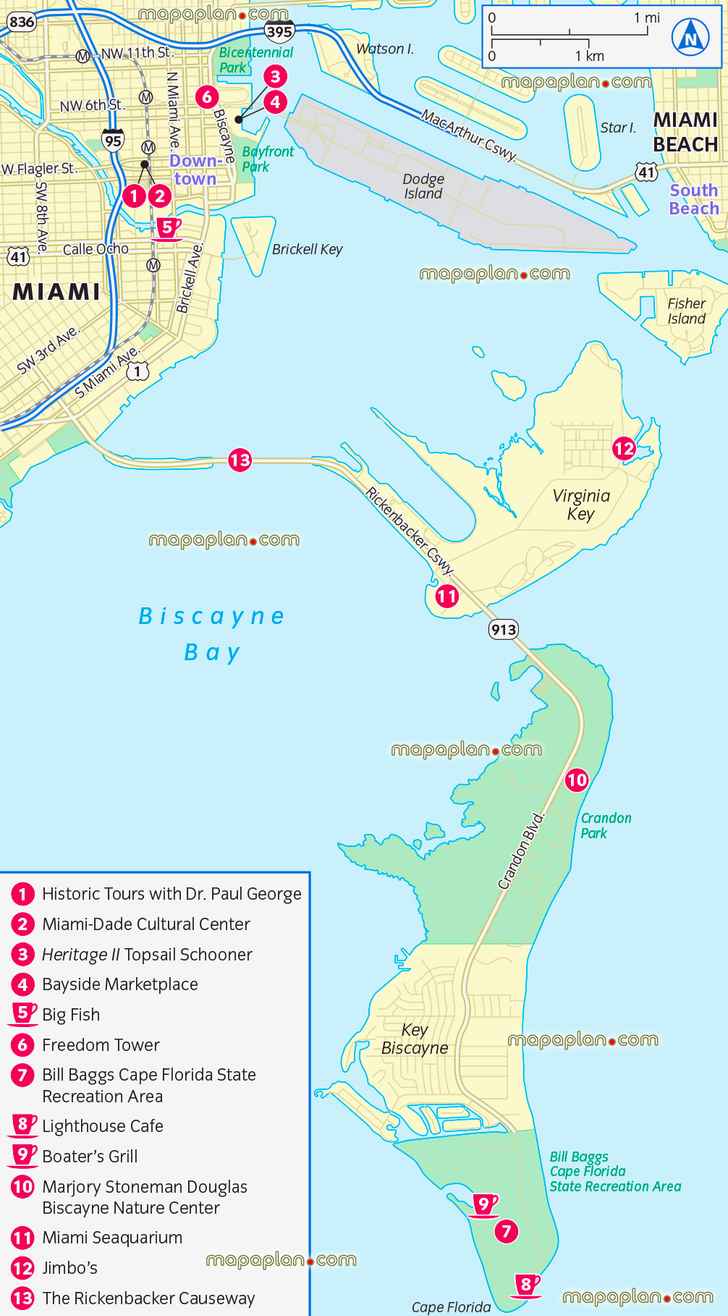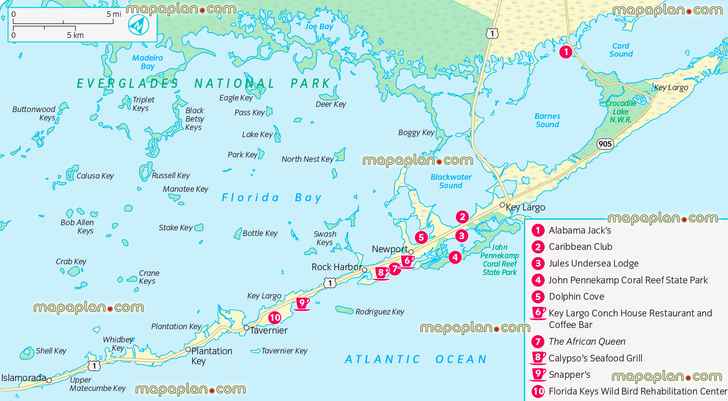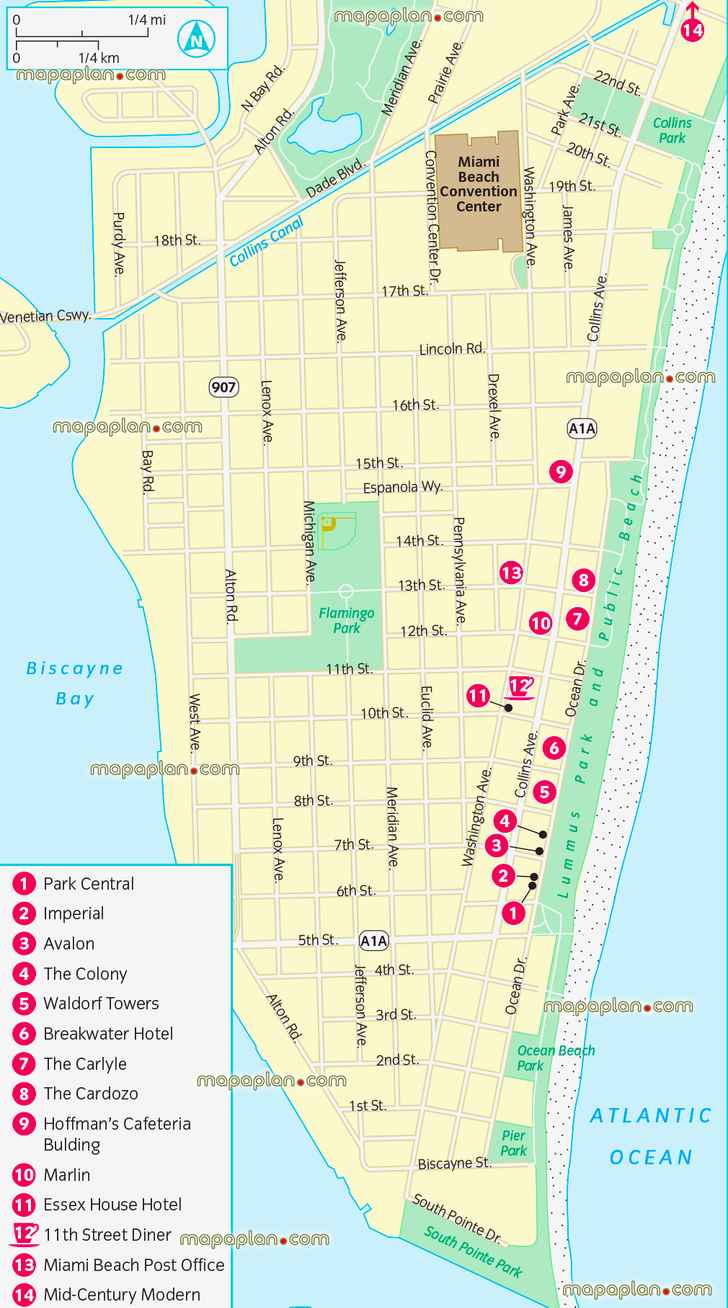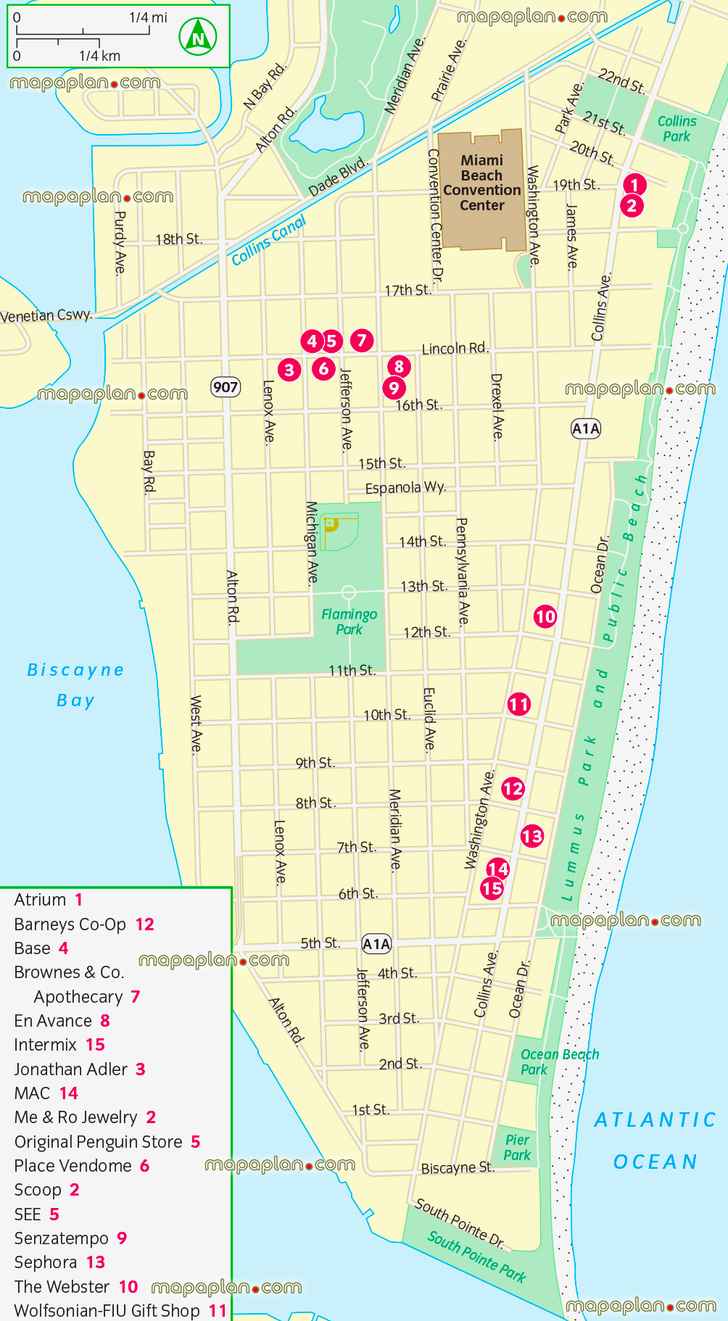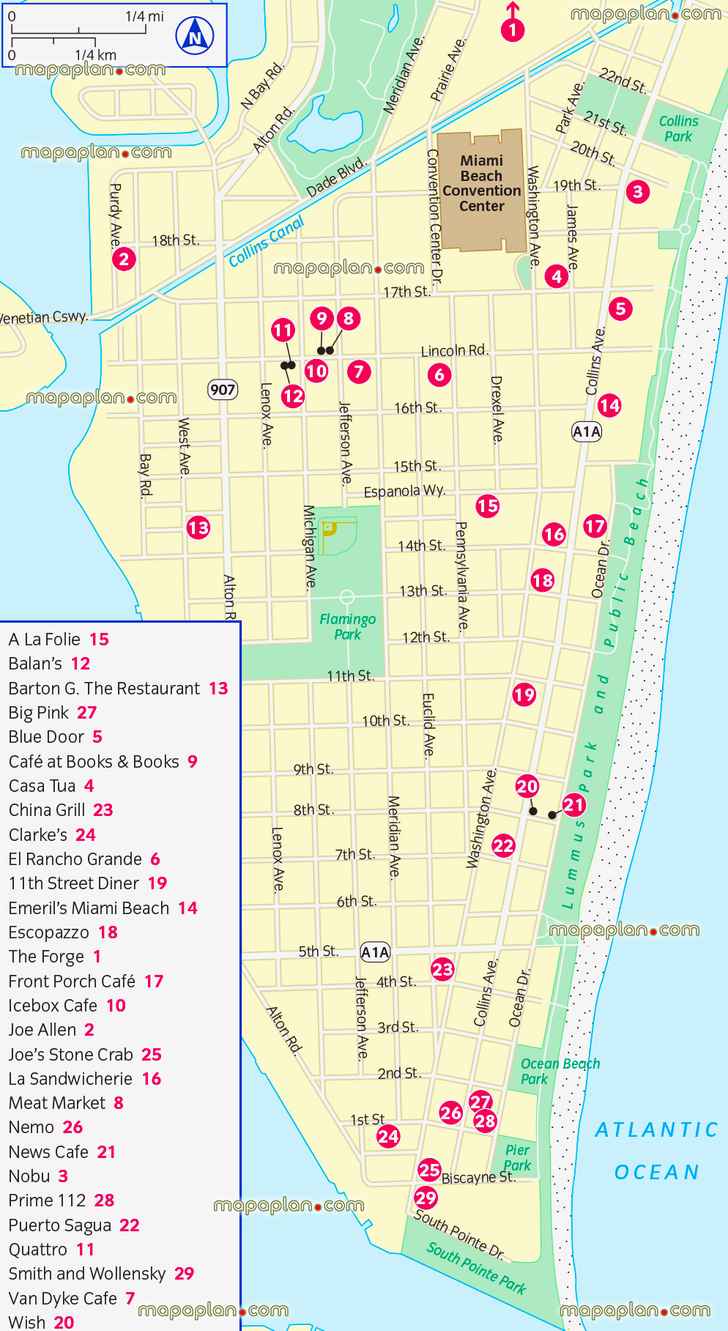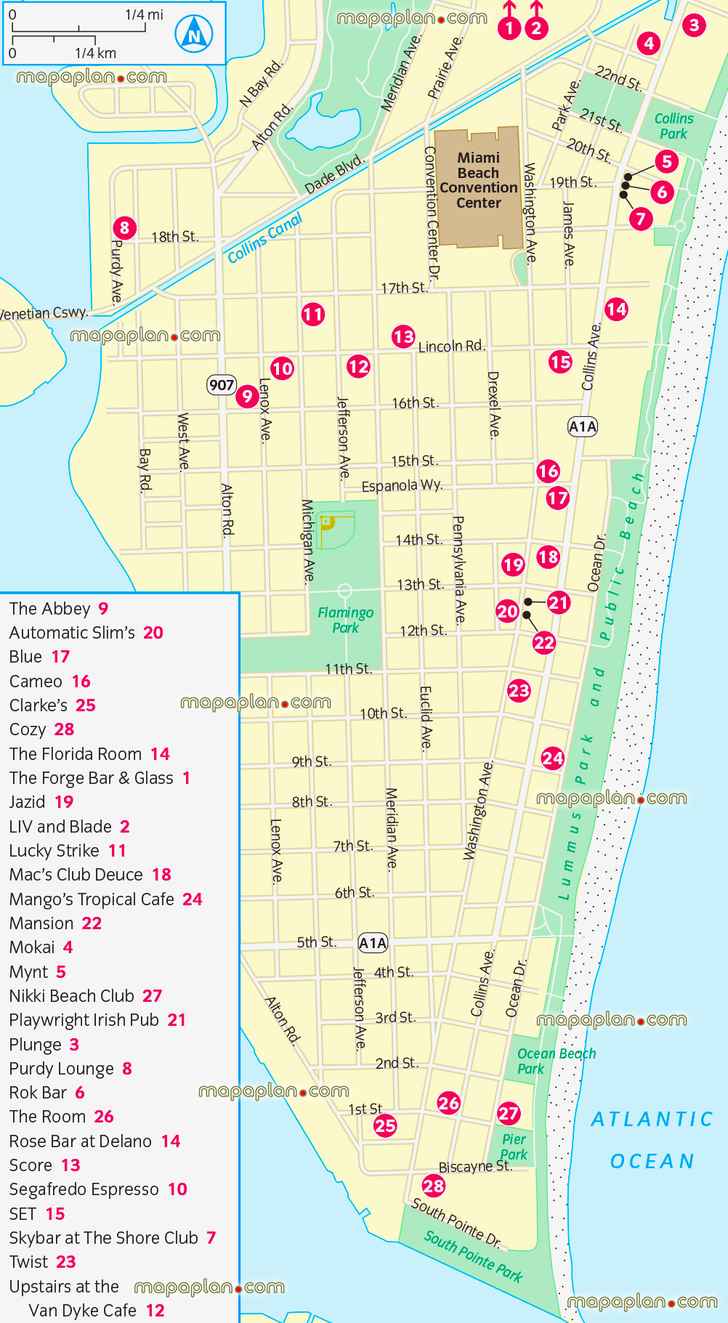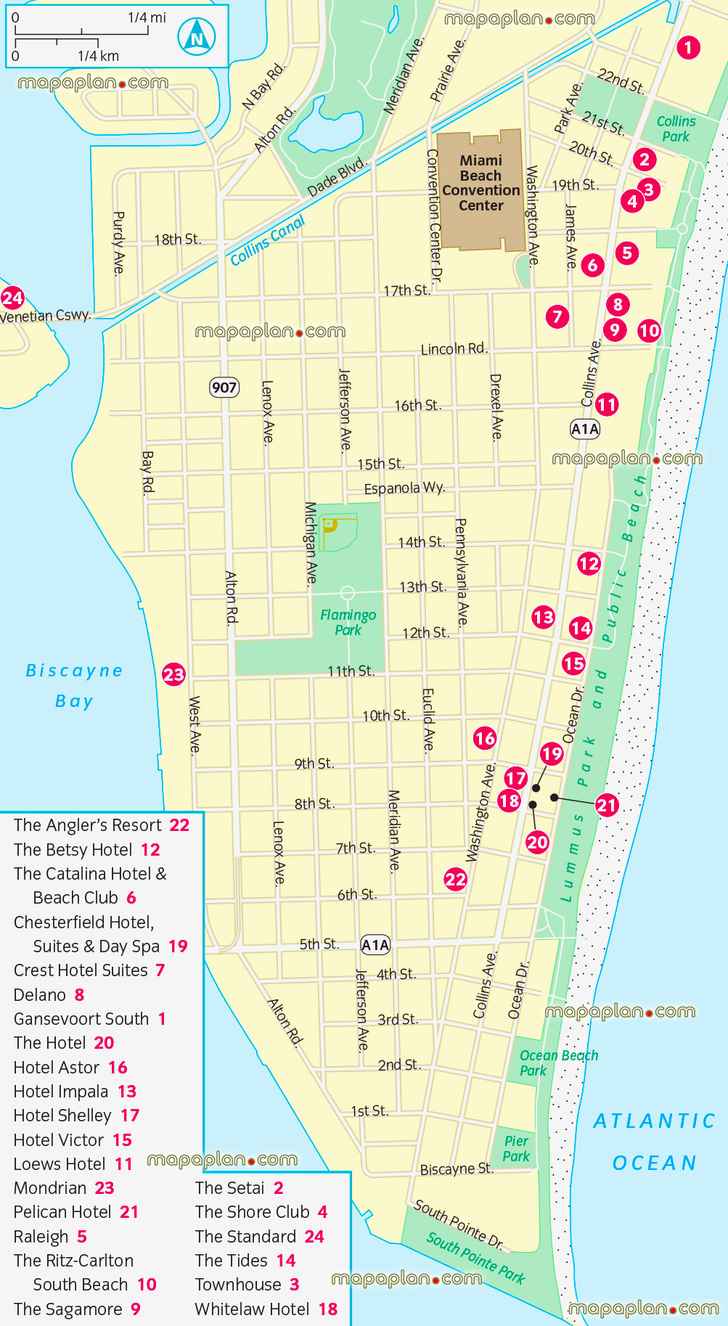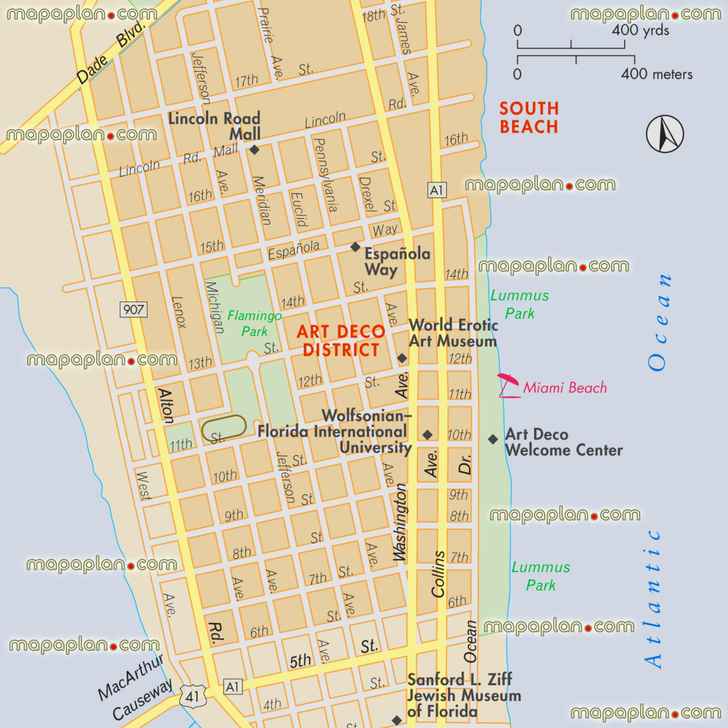 Map of top 10 attractions in Miami and Miami Beach
The typical top ten attractions are listed below. You can find the detailed locations of these places on the maps above.
South Beach aka SoBe - This isn't just a stretch of sand, but rather a collection of moments, from Art Deco buildings, museums and models to cafes and celebrities.

Lummus Park lifeguard stands - Past the dunes and the beach-volleyball courts is this wide stretch of sand, sunbathers, and photogenic, colorful lifeguard stands. You can also take a nice ride on the bike path.

Driving along Florida A1A - A beautiful oceanfront route runs north up Miami Beach and includes the essence of South Florida. This is one of the busiest roads in the state, and time-warped hotels steeped in Art Deco kitsch and multimillion-dollar modern high-rises dot its path. The A1A goes through Sunny Isles, Hollywood, and into Fort Lauderdale, starting at Ocean Drive and First Street in Miami and merging onto Collins Avenue before running north.

South Beach nightlife - Miami's got numerous clubs and lounges where you can party until the sun wakes up. SET and Mokai, where the likes of Justin Timberlake, Scarlett Johansson, Tom Cruise, and Sting mix with a colorful crowd of local and international hipsters, are just two of a long list of world-class hotspots that include Skybar, Prive, Mansion, Opium, The Setai, and The Forge.

Airboat trip through the Everglades - The Everglades are best visited either by slow-moving canoes, which really get you familiar with your surroundings, or an airboat delivering a personal (as well as fun) view of the land's inhabitants, from alligators and manatees to raccoons and Florida panthers.

Vizcaya Villa Museum and Gardens - Built in 1916, this Italian Renaissance–style manse on Biscayne Bay features 34 rooms of antiques, art, and tapestries; 10 acres (4 hectares) of Italian gardens, statues, and fountains; a new orchid display; and a picture-perfect view of the skyline and Key Biscayne.

Moonlight concerts at the Barnacle State Historic Site - Once a month, on or near the full moon (except during July and Aug), the Barnacle State Historic Site hosts a concert in the backyard of their charming 1908 Coconut Grove bungalow, built on 5 acres (2 hectares) of waterfront property.

Watching the sunset from South Pointe Park - Located at the southern tip of South Beach, the South Pointe Park provides a beautiful place to take a rest after a whole day on your rented bicycle.

Go house watching on Palm Beach - Palm Beach has plenty of palatial estates. You can go to South County Road, from Brazilian Avenue, where you will see some of the most impressive homes ever built.

Boating through the Intracoastal Waterway - The waterway that connects the natural bays, lagoons, and rivers along Florida's East Coast snakes around from the Florida-Georgia border all the way to the Port of Miami. A ride through the Fort Lauderdale Intracoastal provides a wonderful view of million-dollar waterfront palaces.

Wolfsonian-FIU - A treasure trove of Art Deco artifacts, including an original deco mailbox from NYC's Grand Central Station, pre-Castro Cuban movie posters, and all sorts of propaganda art.

Espanola Way - A few blocks north of the Wolfsonian and Art Deco District is South Beach's sublime, if not somewhat touristy, Espanola Way, a block-long Spanish Mediterranean village where galleries, boutiques, street vendors, and cafes line the streets, and a youth hostel now occupies a building that once served as Al Capone's gambling headquarters. Will Smith filmed the music video for his homage to the Magic City, 'Miami' on these streets.

Lincoln Road Mall - This road is well traveled by locals who bike, blade, board, or stroll up and down this popular pedestrian thoroughfare. Designed by architectural icon Morris Lapidus, the road is full of cafes, boutiques, art galleries, and theaters.

Little Havana and Calle Ocho - The hub of Miami's Cuban community, and its main road, SW 8th Street, or Calle Ocho, is a cultural explosion of pre- and post-Castro Cuba. A mix of old-school and new-school Cuban culture thrives here, from cigar stores with rollers dating back to Havana's halcyon days to music stores, restaurants, and shops popular among the younger generation of neo-Cuban Americans.

The Design District aka the new South Beach - The district filled with furniture-import companies, interior designers, architects, and artists. It is the area bounded by NE 2nd Avenue, NE 5th Avenue East and West, and NW 36th Street to the south. Just south of the Design District is yet another burgeoning arts district, a sketchy strip of Miami bounded by NE 2nd Avenue to the east and NE 36th Street to the north, known as Wynwood.

Fort Lauderdale - With its beaches, restaurants, bars, and souvenir shops, Fort Lauderdale has undergone a transformation. This area is now attracting a more affluent, better-behaved yachting crowd. In addition to beautiful wide beaches, Fort Lauderdale, known as the Venice of America, has more than 300 miles (480km) of navigable waterways and countless canals, in which thousands of residents anchor their boats and visitors sail in rented boats or a moderately priced water taxi.

Other attractions include: Phillip and Patricia Frost Museum of Science, Wynwood Walls, Miami Science Museum, Miami Children's Museum, Holocaust Memorial, Haulover Beach, Artehouse, Bayside Marketplace, Jungle Island, Fairchild Tropical Botanic Garden, Crandon Park, Villa Vizcaya, Miami Beach Boardwalk, Freedom Tower at Miami Dade College, Lowe Art Museum
What are some useful and interesting facts about Miami?
Map orientation & surrounding area - The outstanding feature the City of Miami and Miami South Beach is its ease of access. Hundreds of flights arrive here every week, and the airport is perfectly positioned to find your way to your destination.
Miami International Airport (MIA) - The airport is about 6 miles west of downtown and about 10 miles from the beaches, so it's likely you can get from the plane to your hotel room in less than half an hour. Please note that because MIA is the busiest airport in South Florida, travelers may want to consider flying into Fort Lauderdale–Hollywood International Airport (FLL), which is closer to north Miami than MIA, or the Palm Beach International Airport (PBI), about 11/2 hours from Miami.
Getting from the airport - All the major car-rental firms operate off-site branches reached via shuttles from the airline terminals. Signs at the airport's exit clearly point the way to various parts of the city, but the car-rental firm should also give you directions to your destination. If you're arriving late at night, you might want to take a taxi to your hotel and have the car delivered to you the next day.
Pick up a detailed map at the tourist information centre - The most up-to-date information is provided by the Greater Miami Convention and Visitors Bureau, 701 Brickell Ave. You will be able to pick up large maps covering the city and the surrounding region.
Getting around with our maps - The best way to get around the crowded city center or the beach is to print our maps and travel using your preferred means of transport (e.g. rented car or sometimes the public transport network).
Getting around in a car - If you're counting on exploring Miami or Miami Beach, even to a modest degree, a car is essential. You can manage to get by without one only if you are spending your entire vacation at a resort or if you are here for a short stay centered in one area of the city, such as South Beach. Every major rental-car agency is represented in the city and at the airport.
Train station - Amtrak offers train service to Florida from both the East and West coasts. It can take 26 hours from New York to Miami and 68 hours from Los Angeles to Miami.
Related keywords
2021, 2022, 2023, 2023, 2024, 2025, 2026, 2027, map, plan, download, print, printable, free, detailed, aerial, bird's eye, satellite, guide, planner, travel, sightseeing, visit, trip, tour, tourist, what to do, where to go, things to do, must see, top attractions, points of interest, places, sites, sights, buildings, spots, destinations, locations, landmark, museum, in a week, in 3 days, one day, city, route, bus, kids, children, top 10, top ten, popular, famous, interesting, highlights, public transport, rail, hotels, updated, metro, subway, underground, tube, downtown, coach, nightlife, pub, monument, satellite, accommodation, transit, transportation, supermarket, children, metro, subway, underground, tube, dwg
Seating plans and charts of entertainment venues showing detailed seat and row numbers
High resolution, printable travel guide maps of cities showing top tourist attractions