Washington DC top tourist attractions city travel maps
Inner city centre detailed street travel guide with must-see places, best destinations to visit & nearby hotels - Washington DC top tourist attractions map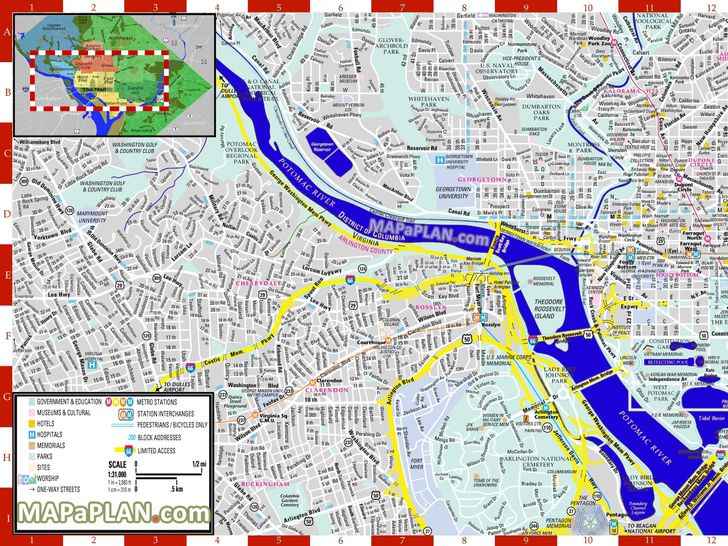 You can view, download or print a full, high resolution (detailed, large) version of this image by clicking on the plan itself
Maps of best attractions in Washington DC, USA
Washington DC maps will guide you to the best destinations in this magnificent city. They show the layout of streets, landmarks, activities and Metro stations, and are oriented to show how to get to more than 50 tourism points of interest easily on foot or using the Washington, DC's excellent Metro transport system. Washington has a great number of monuments and memorials honoring America's key figures and historic events. Use our maps to find the locations of the most well-known among these - Washington Monument, Lincoln Memorial, Vietnam Veterans Memorial, Korean War Veterans Memorial, Jefferson Memorial, Franklin D. Roosevelt Memorial, Marine Corps War Memorial (Iwo Jima Memorial). Our maps will help you plan a perfect itinerary to make the most of your trip. You can find the detailed locations of the must-see sights including White House Visitor Center, U.S. Capitol Building, Washington Monument, Capitol Hill, Library of Congress, National Air & Space Museum, Museum of American History, Supreme Court, Gallery of Art, Arlington Cemetery, Natural History Museum, Kennedy Center, Smithsonian Institution Castle, Tidal Basin, Georgetown, Verizon Center - just click on a selected map to access a high resolution version that can be downloaded and printed; or saved onto your mobile device.
Map of top 10 attractions in Washington DC
The typical top ten attractions are listed below. You can find the detailed locations of these places on the maps above.
White House - The area surrounding the official residence of the US President is filled with grand architecture and political history, and the views from the Ellipse lawn are breathtaking.
U.S. Capitol - The famous dome of the nation's seat of government is one of the largest in the world.
Washington Monument - One of the most enduring images of Washington, this 555-ft (170-m) marble obelisk can be seen from all over the city.
National Gallery of Art- This superb gallery houses paintings and other works of art, such as this terracotta bust of Lorenzo de' Medici, that chronicle the history of art from the Middle Ages to the 20th century.
National Air & Space Museum - Washington's most popular museum has exhibits from aviation and space history, including the Wright Brothers' first airborne plane and the Apollo 14 space module.
Lincoln Memorial - This emotive and inspirational marble figure has often been the focus of civil rights protests.
Vietnam Veterans Memorial - When visiting this dramatic memorial your will be confronted by a sobering list of names of over 60,000 servicemen on the V-shaped granite walls.
National Museum of American History - The National Museum of American History preserves a collection of artifacts from the nation's past.
National Museum of Natural History - The National Museum of Natural History, which opened in 1910, preserves artifacts from the earth's diverse cultures and collects samples of fossils and living creatures from land and sea.
Supreme Court - Admire the Neoclassical façade of highest court in the land.
What are some interesting facts about Washington DC?
The Capitol Building is the 4th tallest masonry dome in the world, surpassed by only St. Peter's Basilica in Rome, St. Paul's Cathedral in London and St. Issac's Cathedral in St. Petersburg.
The United States Capitol has its own underground subway line that connects the Capitol to the House and Senate office buildings.
If you like to make a visit in Washington DC, you may come to the most popular museum in the city. It is called as Smithsonian Institute's National Air & Space Museum. Since its first public opening, this museum can attract more than 219 million visitors.
Some claim that the back of Abraham Lincoln's head of the statue at the Lincoln Memorial is actually is a face of Confederate General Robert E. Lee.
Many people aren't aware that the Lincoln Memorial is where Martin Luther King Jr. made his "I Have a Dream" speech in 1963.
When it was completed in 1884, the Washington Monument was the tallest structure in the world. It was soon passed by the Eiffel Tower, and numerous other buildings have eclipsed it since then. At 555 feet, the obelisk remains the tallest object in DC.
Every time a soldier is buried, an Arlington Lady is present. There are about 65 Arlington Ladies, and since 1973, the Arlington Ladies have ensured that no Soldier is ever buried alone.
Keywords
download, print, printable, free, detailed, aerial, bird's eye, guide, map, plan, planner, travel, sightseeing, visit, trip, tour, tourist, what to do, where to go, things to do, must see, top attractions, points of interest, places, sites, sights, buildings, spots, destinations, locations, landmark, museum, in a week, in 3 days, one day, city, route, bus, kids, children, top 10, top ten, popular, famous, interesting, highlights, metro, subway, underground, tube
Seating plans and charts of entertainment venues showing detailed seat and row numbers
Amsterdam Ziggo Dome Arena virtual seating diagram
Anaheim Honda Center virtual seating diagram
Atlanta Philips Arena virtual seating diagram
Belfast Odyssey SSE Arena virtual seating diagram
Birmingham Genting NEC Arena (LG Arena) virtual seating diagram
Birmingham Barclaycard Arena (NIA National Indoor Arena) virtual seating diagram
Boston TD Garden virtual seating diagram
Brighton Centre virtual seating diagram
Calgary Scotiabank Saddledome virtual seating diagram
Cardiff Millennium Stadium virtual seating diagram
Cardiff Motorpoint Arena virtual seating diagram
Charlotte Time Warner Cable Arena virtual seating diagram
Chicago United Center virtual seating diagram
Cologne Lanxess Arena virtual seating diagram
Dallas American Airlines Center virtual seating diagram
Dallas AT&T Stadium virtual seating diagram
Derby Velodrome Arena virtual seating diagram
Detroit Palace of Auburn Hills virtual seating diagram
Dublin 3Arena (O2 Arena) virtual seating diagram
Edmonton Rexall Place virtual seating diagram
EagleBank Arena virtual seating diagram
Gdańsk Ergo Arena virtual seating diagram
Glasgow Hydro SSE Arena virtual seating diagram
Glendale Gila River Arena (Jobing.com Arena) virtual seating diagram
Kraków Tauron Arena virtual seating diagram
Las Vegas New T-Mobile Arena virtual seating diagram
Leeds First Direct Arena virtual seating diagram
Liverpool Echo Arena virtual seating diagram
London O2 Arena virtual seating diagram
London Royal Albert Hall virtual seating diagram
London Twickenham Stadium virtual seating diagram
London Wembley Arena SSE virtual seating diagram
London Wembley Stadium virtual seating diagram
Los Angeles Forum Inglewood virtual seating diagram
Los Angeles Staples Center virtual seating diagram
Louisville KFC Yum! Center virtual seating diagram
Manchester Phones4u Arena virtual seating diagram
Melbourne Rod Laver Arena virtual seating diagram
Memphis FedExForum virtual seating diagram
Miami American Airlines Arena virtual seating diagram
Nashville Bridgestone Arena virtual seating diagram
New Orleans Smoothie King Center arena virtual seating diagram
New York Barclays Center Arena virtual seating diagram
New York Madison Square Garden virtual seating diagram
Newark Prudential Center virtual seating diagram
Newcastle Metro Radio Arena virtual seating diagram
Nottingham Motorpoint Arena (Capital FM Arena) virtual seating diagram
Oakland Oracle Arena virtual seating diagram
Oklahoma City Chesapeake Energy Arena virtual seating diagram
Orlando Amway Center virtual seating diagram
Oslo Spektrum Arena virtual seating diagram
Oslo Telenor Arena virtual seating diagram
Perth Arena virtual seating diagram
Phoenix Talking Stick Resort Arena (US Airways Center) virtual seating diagram
Pittsburgh Consol Energy Center virtual seating diagram
Portland Moda Center (Rose Garden Arena) virtual seating diagram
Rosemont Allstate Arena virtual seating diagram
Saint Paul Xcel Energy Center virtual seating diagram
San Antonio AT&T Center virtual seating diagram
San Jose SAP Center virtual seating diagram
Sheffield Motorpoint Arena virtual seating diagram
St. Louis Scottrade Center virtual seating diagram
Sunrise BB&T Center virtual seating diagram
Sydney Allphones Arena virtual seating diagram
Toronto Air Canada Centre virtual seating diagram
Tulsa BOK Center virtual seating diagram
Uncasville Mohegan Sun Arena virtual seating diagram
Vancouver Rogers Arena virtual seating diagram
Vienna Wiener Stadthalle virtual seating diagram
Washington DC Verizon Center virtual seating diagram
Winnipeg MTS Centre virtual seating diagram
Zürich Oerlikon Hallenstadion virtual seating diagram
High resolution, printable travel guide maps of cities showing top tourist attractions
Amsterdam best points of interest map
Bangkok best points of interest map
Barcelona best points of interest map
Beijing best points of interest map
Berlin best points of interest map
Budapest best points of interest map
Cambridge best points of interest map
Chicago best points of interest map
Dubai best points of interest map
Florence best points of interest map
Hong Kong best points of interest map
Istanbul best points of interest map
Las Vegas best points of interest map
Lisbon best points of interest map
London best points of interest map
Los Angeles best points of interest map
Marrakech best points of interest map
New York best points of interest map
Oxford best points of interest map
Paris best points of interest map
Prague best points of interest map
Rome best points of interest map
San Francisco best points of interest map
Singapore best points of interest map
Sydney best points of interest map
Tokyo best points of interest map
Venice best points of interest map