Vienna printable map of top tourist attractions & city travel guide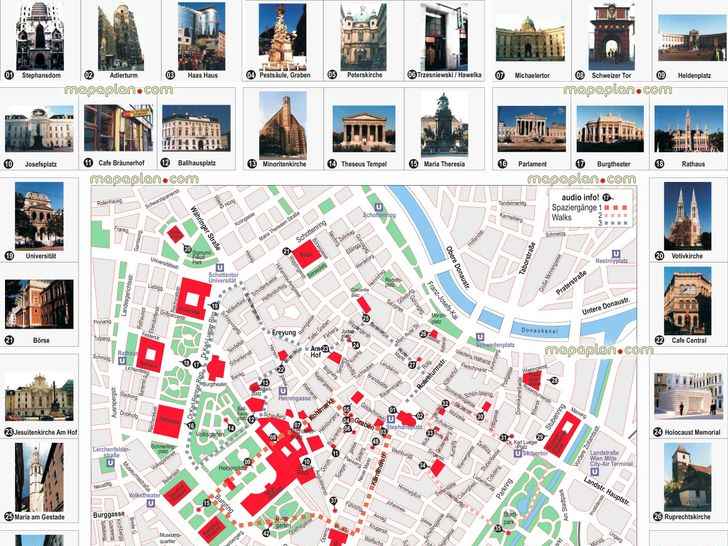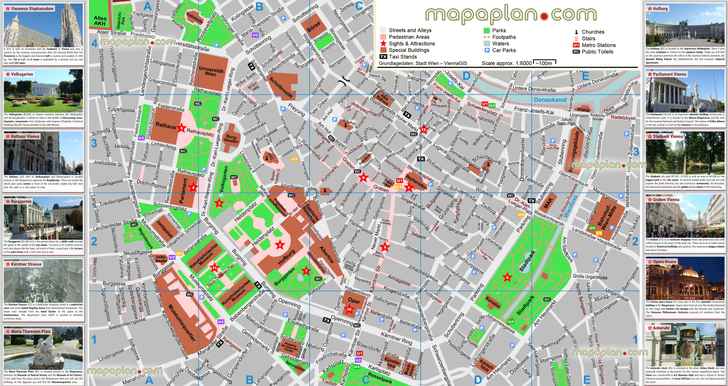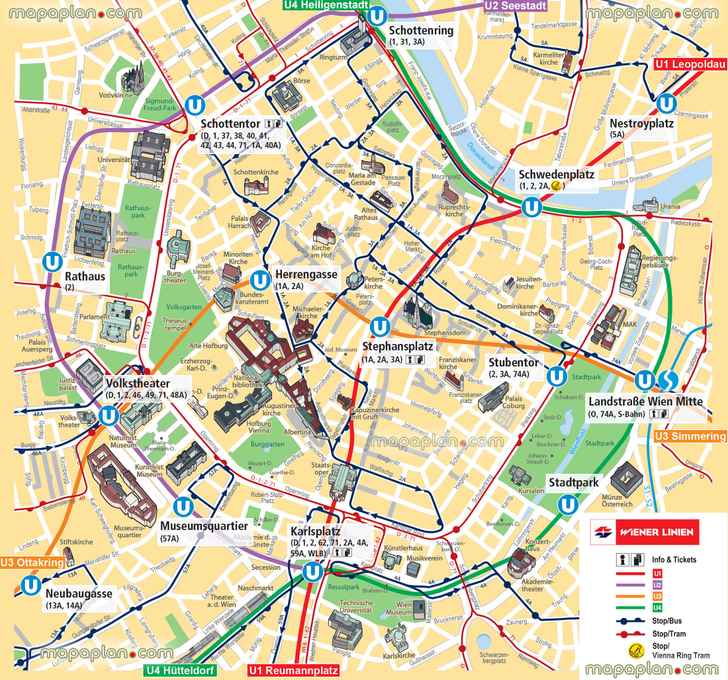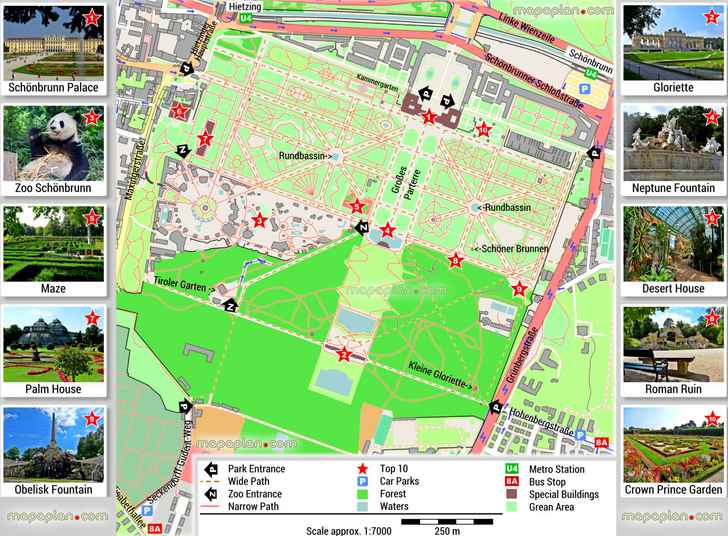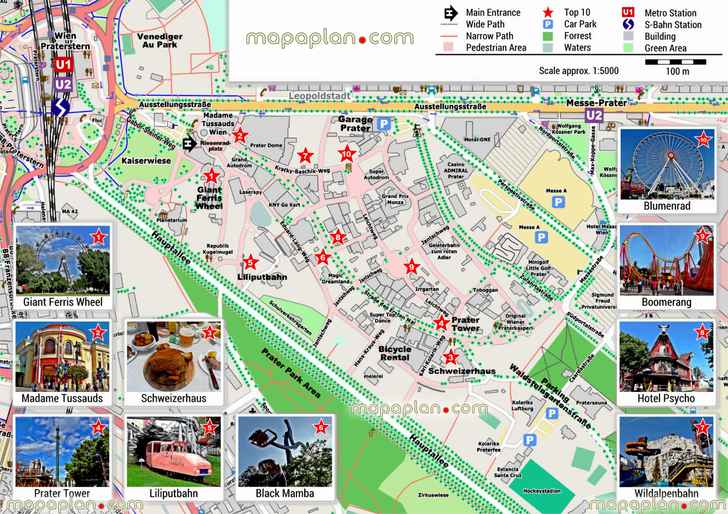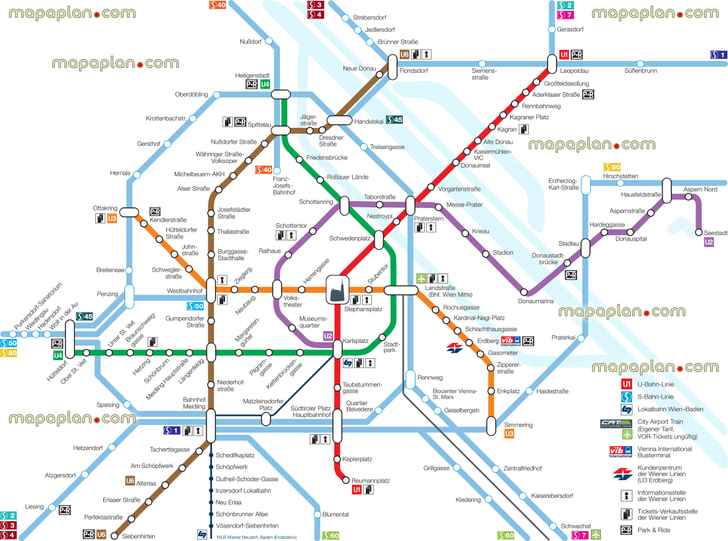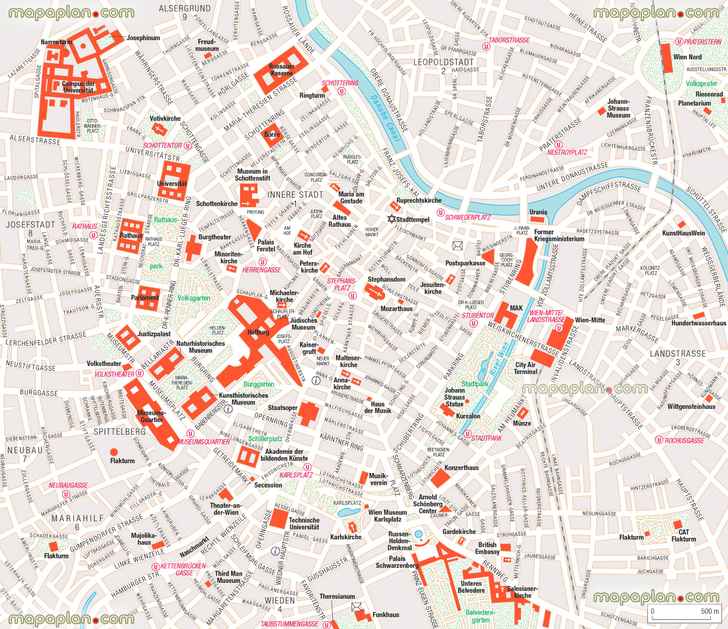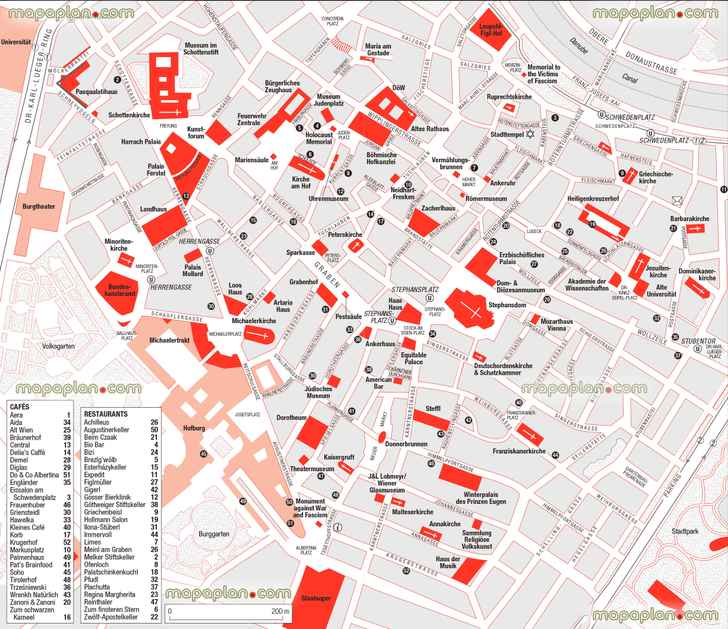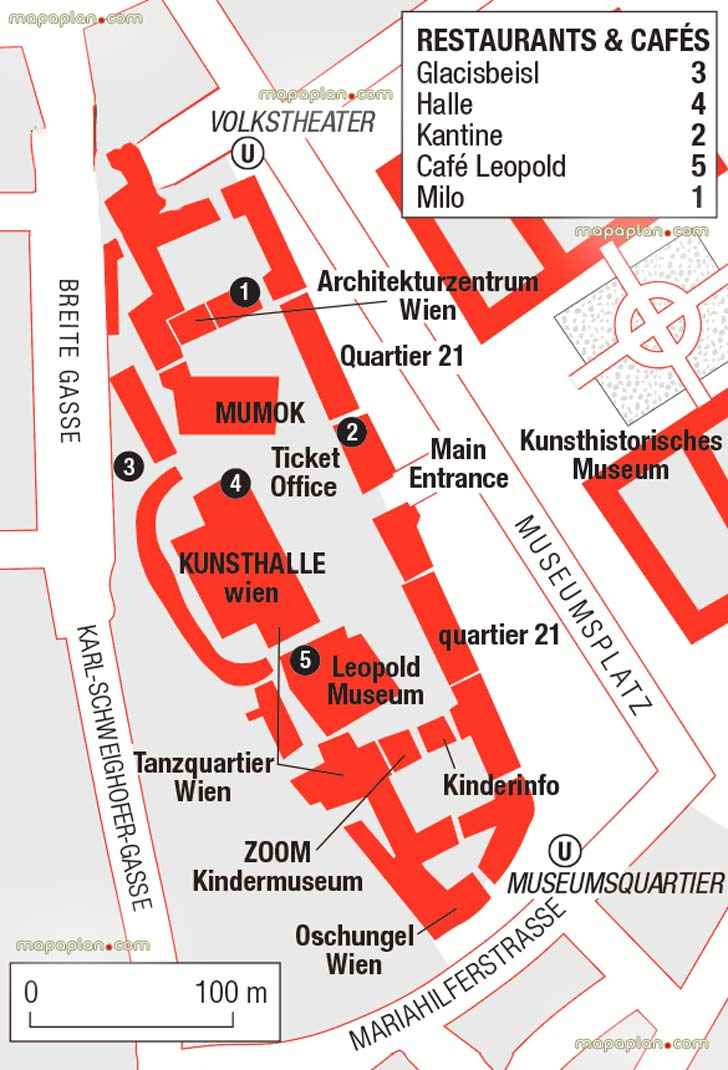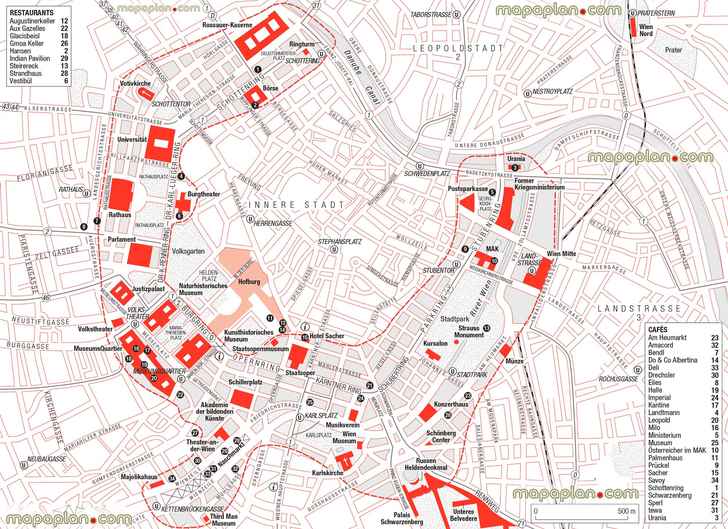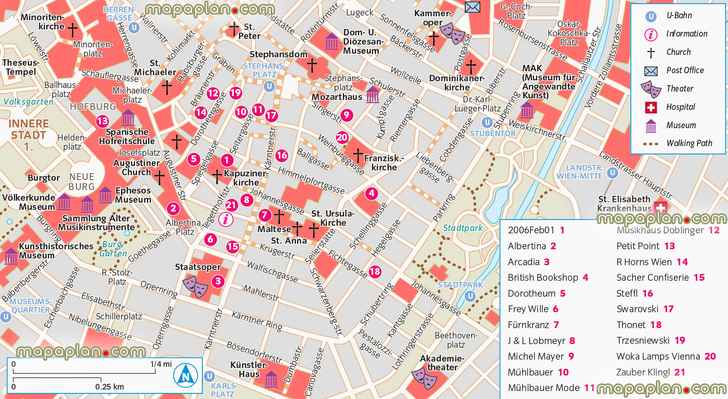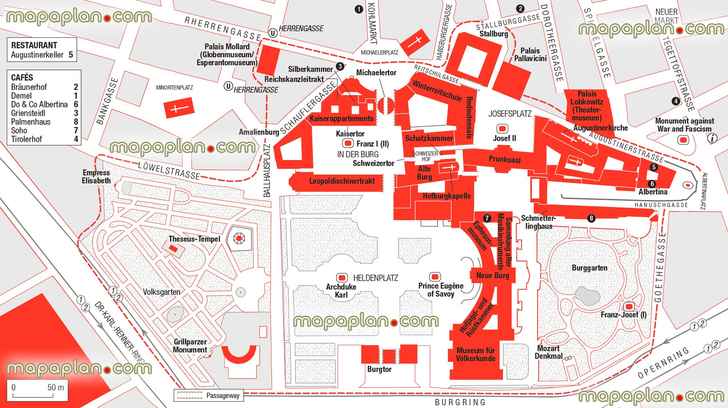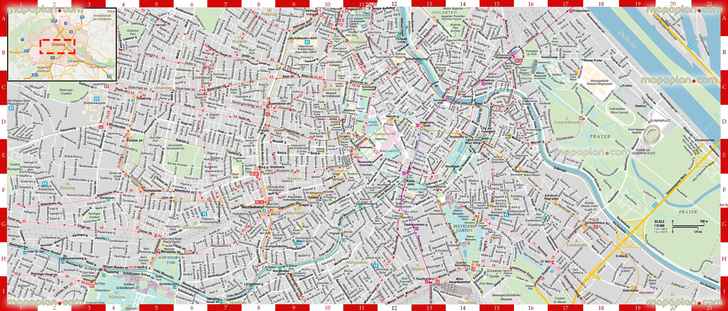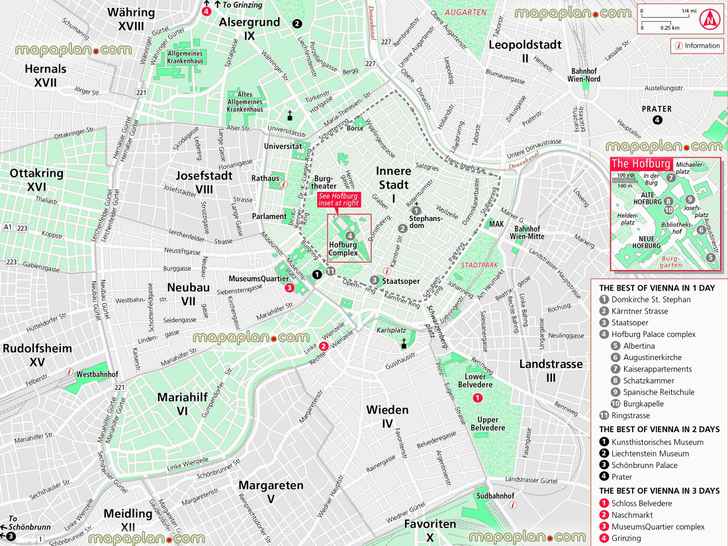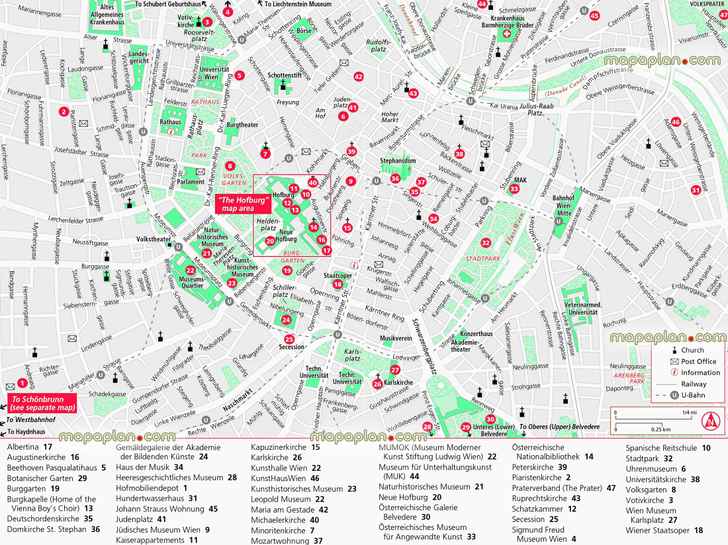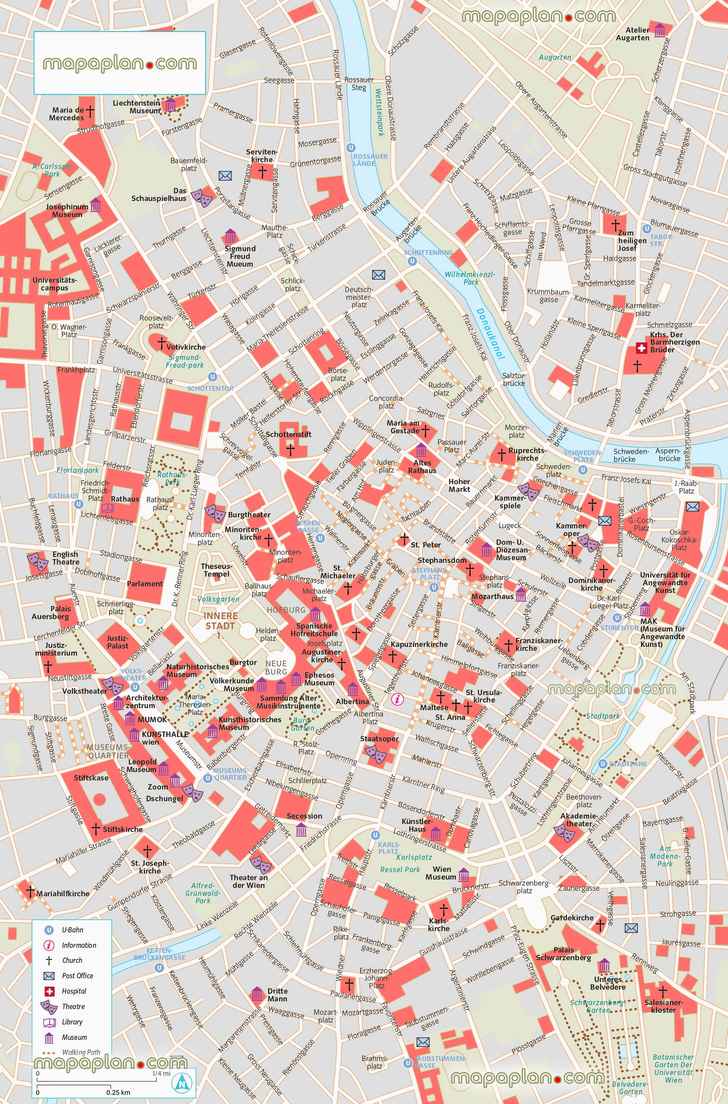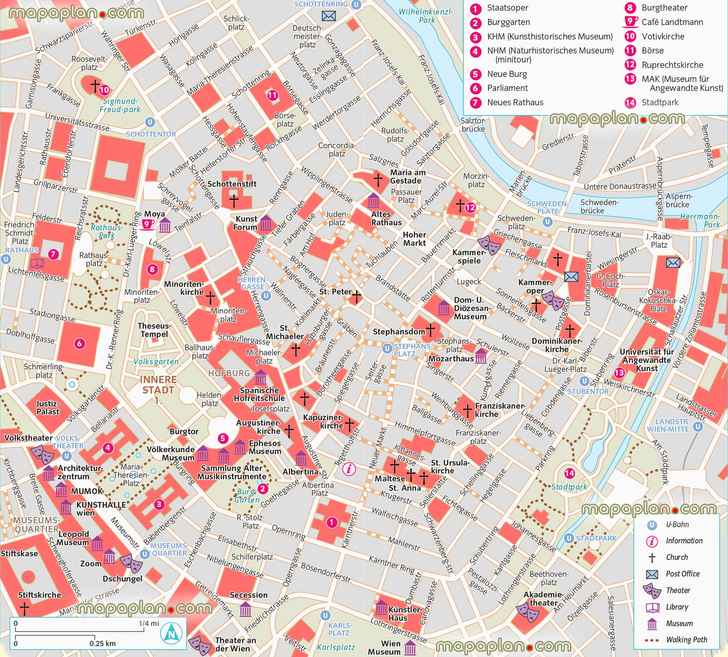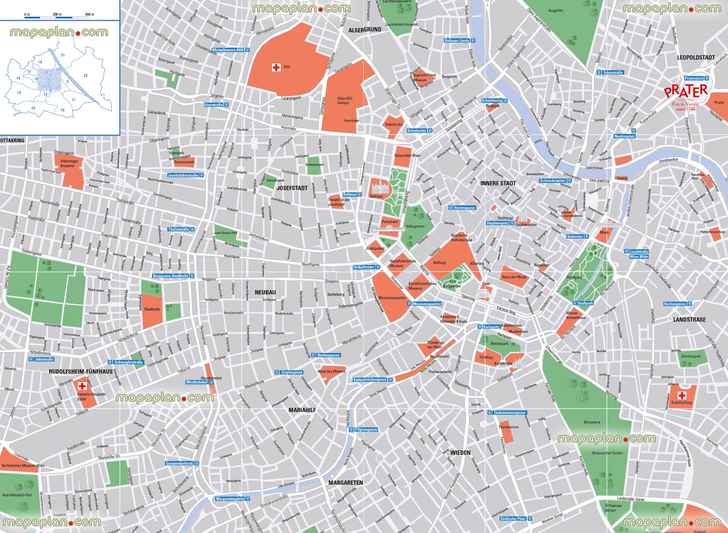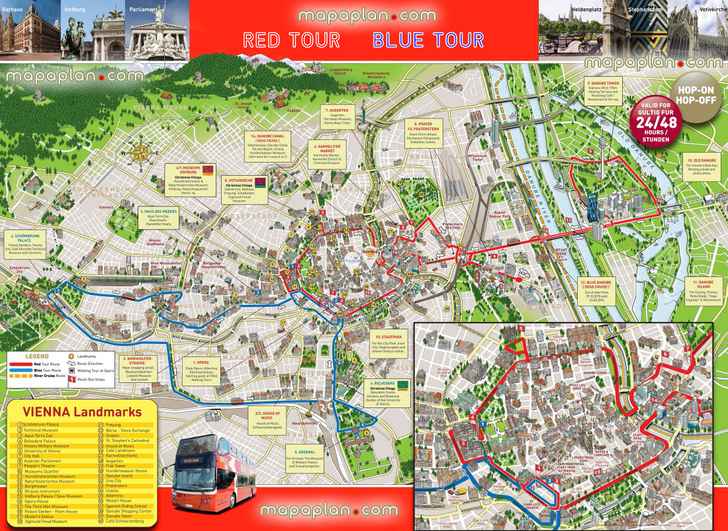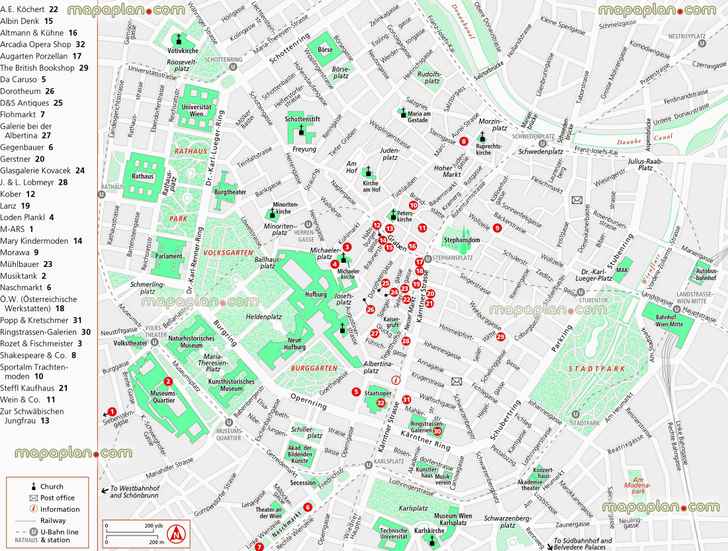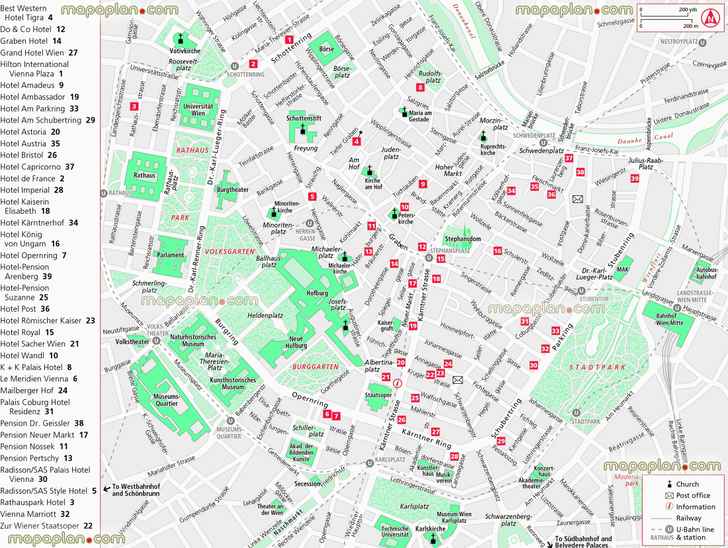 Map of top 10 attractions in Vienna
The typical top ten attractions are listed below. You can find the detailed locations of these places on the maps above.
Schloss Schönbrunn - The magnificent rococo former summer palace and gardens of the Habsburgs are a perfect place to experience the pomp, circumstance and gracious legacy of Austria's former monarchs. A visit to 40 of the palace's lavishly appointed rooms reveals the lifestyle and the eccentricities of Europe's most powerful family, right down to Empress Elisabeth's obsession with her figure. Beyond the palace, Schloss Schönbrunn Gardens invite a stroll past pseudo-Roman ruins, along bucolic paths winding through leafy woods and a stopover in Gloriette.
Kunsthistorisches Museum - As well as accumulating vassal lands, the Habsburgs assembled one of Europe's finest collections of art and artefacts. The majestic highlight of this museum in the Museum District is the Picture Gallery, an encounter with a vast and emotionally powerful collection of works by grand masters, such as Pieter Bruegel the Elder's evocative and 'industrial' Tower of Babel from the 16th century, or the bright plenitude of Giuseppe Arcimboldo's Summer.
Schloss Belvedere (Belvedere Castle) - Living up to its Italianesque name 'beautiful view', this palace and garden ensemble is deceptively close to Vienna's centre while still creating a feeling of being worlds apart. Symmetrical, finely sculpted and manicured gardens inspired by France's Versailles connect two exquisite palaces dedicated to Austrian art, complemented by design interiors so stately that these are worthy of a visit in their own right. Altogether, Schloss Belvedere and gardens bring together an astonishing who's who of Austrian art with the finest of 18thcentury palace architecture and landscaping. Not to be missed here is Gustav Klimt's painting The Kiss.
Ringstrasse Tram Tour - Jump on a tram and explore the Ringstrasse, one of Europe's most un usual streets. Catch Tram numbers 1 or 2 for a complete circuit of the epic boulevard surrounding the medieval city, trundling past a monumental assortment of palaces, parliament buildings, and grand hotels. This circular boulevard of magnificent state buildings, palaces and majestic hotels was carved out of the space once occupied by fortifications protecting Vienna from Ottoman Turk attack in the 16th century. Today, monumental 19th-century architectural masterpieces boldly rise up along the flanks, encircling most of the central Innere Stadt and separating the centre from the gritty, character-laden Vorstädte (inner suburbs).
Prater & the Ferris Wheel - There are larger and more hair-raising Ferris wheels, but this icon in Vienna's Prater has the most character. Graham Greene sent his fictional character Harry Lime up here for a slow rotation in The Third Man, the film from 1949, and little about it has changed since then. A ride takes you high above the beautiful green open spaces of the Prater, giving you a bird's-eye view of the city and the expanse of wooded parkland and meadows that you can explore on in-line skates, by bicycle or on a walk after hitting ground level.
Stephansdom - Rising out of the centre as a Gothic reminder of another age, St Stephan's Cathedral is the heart and soul of Vienna. The cathedral boasts a magnificent main nave and a fascinating cluster of other religious attractions below, inside and on top of it. Below are the catacombs, with their eerie collection of the deceased; inside are the cathedral treasures of reliquaries and religious art, which are part of a special exhibition; and rising above it to dizzying heights is the South Tower with its viewing stage offering the most spectacular views over town.
The Hofburg - The impressive former wintering ground of the Habsburg monarchs for over 700 years not only boasts a fine collection of museums, it's also a living palace that today is home to the Austrian president, Austria's National Library and public offices. A leisurely stroll through the palace complex is an encounter with one gracious or monumental building, statue and square after another, taking in highlights such as the Swiss Courtyard, the grotesquely proportioned Heldenplatz and the diminutive arches of the Outer Palace Gate.
Spanish Riding School - Admire the discipline and control of the Spanish Riding School, as meticulously schooled Lipizzaner horses strut and pirouette to waltz music. Nothing can match a full performance, but if you can't get tickets, watch the informal morning exercises instead. Not all the classic moves, such as the croupade, the levade, or the capriole, are practiced every day, but, if you're lucky, you should certainly witness some startling equine ballet.
Staatsoper - The Vienna State Opera attracts music lovers from all over the world. Its grand entrance hall with majestic staircase is a fine introduction to an evening of classical music.
Karlskirche - This impressive Baroque church, built in the early 18th century, has two distinguished columns on either side and a large dome overhead. It is a magnificent sight which dominates Karlsplatz.
Christmas markets - Soak up the magical atmosphere of the Christmas markets. Search for Christmas goodies, decorations, and beautifully carved cribs amid a winter wonderland of twinkling trees and snow-capped wooden huts.
Danube River - Swim in the not-so 'Blue Danube' and chill out on the beach. Yes... there really is a beach in Vienna, and in summer it's packed with sunbathers, swimmers, and watersports fanatics. If you'd rather be on the water than in it, take a mini-cruise along the river.
Kärtnerstrasse - Indulge in some serious retail therapy in the shops of Graben, Kohlmarkt, and Kärtnerstrasse. Take the pulse of the city's young fashion designers in the trendy Neubau district; gather home-furnishing ideas at the MAK (the Museum of Applied Arts) boutique; then shop for a picnic at the bustling Naschmarkt.
Nightlife - Party until the small hours at the nightspots under the arches of the U6 U-Bahn tracks and Gürtel highway. As the trains roll overhead, enjoy the latest sounds from international DJs and top bands, including the very best in 'Viennese electronica'. End the night snacking on sausages from a streetside Wiener Würstelstand.
Karlskirche - This impressive Baroque church, built in the early 18th century, has two distinguished columns on either side and a large dome overhead. It is a magnificent sight which dominates Karlsplatz.
What are some interesting facts about Vienna?
Imperial Grandeur - Few cities can boast the imperial grandeur of Vienna, once the centre of the powerful Habsburg monarchy. Lipizzaner stallions performing elegant equine ballet, the angelic tones of the Vienna Boys' Choir drifting across a courtyard, outrageously opulent palaces such as Schloss Belvedere and Schloss Schönbrunn, and the monumental Hofburg complex – as a visitor today, you feel grandeur everywhere in Vienna.
City of Music - Vienna is one the most musical cities in the world. This is partly due to the vast number of great composers and musicians who were born here or lived and worked here. Visiting Austria's capital therefore means experiencing the works of Mozart, Haydn, Schubert, Beethoven, Johann Strauss (both father and son), Liszt, Brahms, Bruckner and many others in venues such as the Staatsoper and Musikverein. The music of Bach and Händel continues to be performed in Vienna's historic churches today, and Vienna's Collection of Ancient Musical Instruments, paired with a visit to the Haus der Musik, takes you deeper into the texture of music and how it is created. Venues for classical music are augmented by some great clubs and live rock and jazz places.
Living Well - It's hard to imagine a more livable city than Vienna. This is a metropolis where regulars sit in cosy coffee houses and offer credible solutions to world chaos over the noble bean; where Beisln (bistro pubs) serve delicious brews, wines and traditional food; where talented chefs are taking the capital in new culinary directions; and where an efficient transport system will ferry you across town from a restaurant to a post-dinner drink in no time at all. It's safe, it has lots of bicycle tracks and it even has its own droll sense of humour.
New Old City - Vienna is a city where postmodernist and contemporary architectural designs contrast and fuse with the monumental and historic. The MuseumsQuartier is a perfect example, with modern museum architecture integrated into a public space created around former stables for the Habsburgs' horses. Twentieth-century designs such as Loos American Bar are little short of inspiring, while contemporary Vienna is constantly being given new and exciting infrastructural designs such as the new Twin City Liners boat landing (with the restaurant, bar and cafe Motto am Fluss) and the enormous Hauptbahnhof (main train station).
Related keywords
2021, 2022, 2023, 2023, 2024, 2025, 2026, 2027, map, plan, download, print, printable, free, detailed, aerial, bird's eye, satellite, guide, planner, travel, sightseeing, visit, trip, tour, tourist, what to do, where to go, things to do, must see, top attractions, points of interest, places, sites, sights, buildings, spots, destinations, locations, landmark, museum, in a week, in 3 days, one day, city, route, bus, kids, children, top 10, top ten, popular, famous, interesting, highlights, public transport, rail, hotels, updated, metro, subway, underground, tube, downtown, coach, nightlife, pub, monument, satellite, accommodation, transit, transportation, supermarket, children, metro, subway, underground, tube
Seating plans and charts of entertainment venues showing detailed seat and row numbers
High resolution, printable travel guide maps of cities showing top tourist attractions