Tokyo top tourist attractions city travel sightseeting map
City centre free English travel guide - Must-see sights location, best destinations to visit, metro & districts - Tokyo top tourist attractions map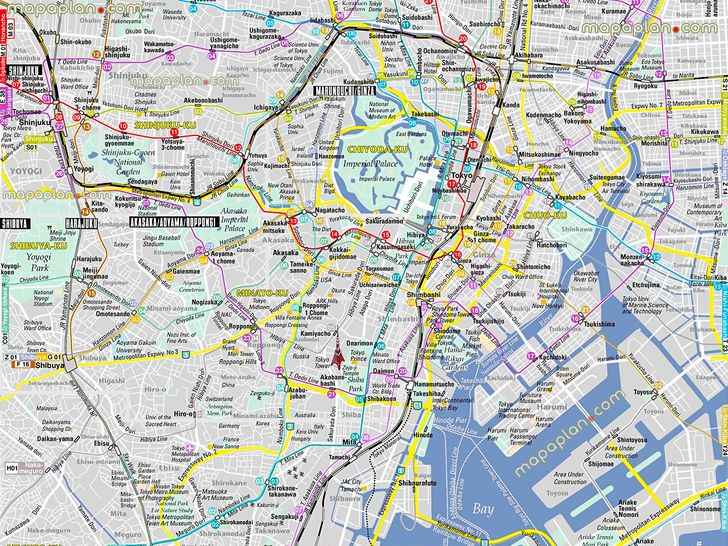 You can view, download or print a full, high resolution (detailed, large) version of this image by clicking on the plan itself
Maps of best attractions in Tokyo, Japan
Tokyo maps will guide you to the best destinations in this energetic city. Tokyo is notoriously hard for visitors to find their way around, due to the scarcity of street names and the complex numbering system for buildings. The Tokyo top sights, plus hotels, restaurants, and many of the city's key landmarks are plotted on our detailed city plans. Public transportation points (metro subway & trains) are also marked, and indicated by the symbols listed in the maps key. Below you can also find detailed maps of Tokyo's individual districts, including Shinjuku, Roppongi, Ueno, Hibiya and other areas you'll probably visit. Armed with these maps, you should be able to find the accurate location of must-see places. If you are either a first-time tourist looking for the top ten must-do sights or if you are returning to Tokyo to discover something new - all you need to ensure an enjoyable trip is some advance planning using our detailed diagrams. Our maps will help you find the detailed locations of the must-go areas including Imperial Palace Grounds in Chiyoda, Senso-ji Temple in Asakusa, Sumida River, Edo-Tokyo Museum in Ryogoku, Tsukiji Fish Market, Ueno Park Zoo, National Museum, Koishikawa Korakuen Garden, Meiji Shrine in Shibuya, Yanaka Cemetery, Odaiba Island, Shinjuku Gyoen Garden, Harajuku, Oriental Bazaar, Disneyland & DisneySea, Sky Tree, Roppongi Hills, Yoyogi Park, Zojoji Temple, Hama Rikyu Garden in Shiodome, Yasukuni Shrine, Shinjuku Golden Gai, Metropolitan Government Building, Kabukicho red-light district, National Museum of Nature and Science, Rainbow Bridge, Edo Castle, Takeshita Dori Street, Kanda Myojin Shrine, Sengakuji Temple, Joypolis, Big Sight, Tokyo Dome City Attractions in Bunkyo, Happo-en Garden, Tsukishima, Rikugien Garden - just click on a selected map to access a high resolution version that can be downloaded and printed; or saved onto your mobile device.
Interactive tourist information new map showing directions to points of interest in downtown Tokyo including iconic places, major landmarks, districts, bullet main rail station, Senso-ji Temple, Koishikawa Korakuen Garden, Dome, Tsukiji Fish Market, expressways, Chiyada, Shinjuku, Shibuya, Yoyogi, Asakusa - Tokyo printable sightseeing map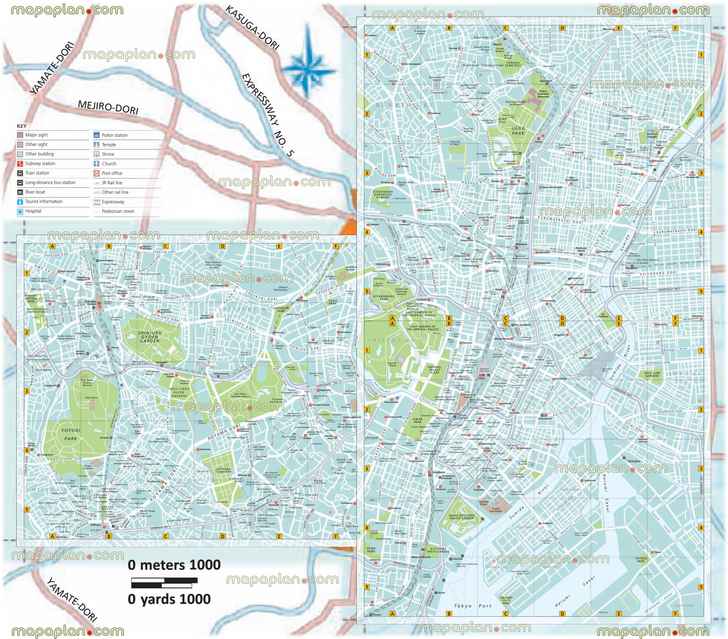 You can view, download or print a full, high resolution (detailed, large) version of this image by clicking on the plan itself
Map of top 10 attractions in Tokyo
The typical top ten attractions are listed below. You can find the detailed locations of these places on the maps above.
Imperial Palace Grounds - Part "Forbidden City," part public park, the palace grounds are encircled by moats, stone walls, ancient bridges, keeps, and gardens (e.g. Imperial East Gardens) – elements in the history of the original city.
Senso-ji Temple - The grounds of this fascinating temple are packed with attractions, which begin at the Thunder Gate and the commercial corridor of Nakamise.
Sumida River Buses - An excursion starting under the Sumida River famous bridge is a journey through the history and development of the city. Cruise down the Sumida-gawa or across Tokyo Bay on one of the city's river buses, including the manga-inspired Himiko sightseeing boat.
Edo-Tokyo Museum - Blending history, art, and architecture, this stupendous museum traces the history of the city from Edo Castle to the Tokyo Olympics.
Ueno Park - A compendium of Japanese cultural history, this extensive park contains temples, mausoleums, major museums, a zoo, and a splendid lotus pond. With its 1,000 cherry trees, the park serves as a great picnic spot in spring.
Tokyo National Museum - The world's largest collection of Japanese art and archeology plus Chinese, Korean, and Central Asian art treasures are housed here.
Koishikawa Korakuen Garden - Tokyo's oldest garden has a heart shaped pond, lacquered wood and stone bridges, rock arrangements, islands, miniature hills, and a lotus pond – all rife with symbolism.
Meiji Shrine - At a center of a forest, the exquisite Shinto architecture of shrine buildings and a beautiful iris garden embody the theme of nature.
Yanaka Cemetery - Ghosts of old Edo linger here among the gnarled cherry trees and mouldering tombs of shoguns, warriors, writers, and Kabuki actors.
Odaiba Island - Featuring high-tech buildings, exhibition sites, museums, fashion malls, a giant Ferris wheel, and a man-made beach, the artificial island of Odaiba is both entertainment and experiment.
Other popular places to visit in greater Tokyo & surrounding zones include:
Asakusa - The city's most colourful and evocative district, home to old craft shops, traditional inns, restaurants and the bustling Sensō-ji temple.
Rikugien - A quintessential Japanese-style garden designed to reflect scenes from ancient Japanese poetry.
Shinjuku - From the rarified heights of the Park Hyatt's New York Bar to the tiny drinking dens of Golden Gai and the gay district of Ni-chōme, Shinjuku has a bar for you.
Happo-en Garden - Sip 'matcha' (thick green tea) in one of Tokyo's loveliest traditional gardens.
Shinjuku Gyoen - Japanese, English and French styles of landscape gardening combine in delightful Shinjuku Gyoen.
National Art Centre - Set aside a chunk of time to explore this enormous new gallery, the highlight of the so-called Roppongi art triangle.
Onsen bath - Soak your stresses away in an old neighbourhood bathhouse such as the Azabu-Jūban Onsen or the resort-like spa complex of Ōedo Onsen Monogatari in Odaiba.
Harajuku - Pick through the Sunday flea market at Togo-jinja and trawl the funky backstreet boutiques and galleries.
Rainbow Bridge - Walk across this elegant, 918-metre-long.suspension bridge for fabulous views across Tokyo Harbour towards the futuristic mini-city of Odaiba.
Tsukiji Fish Market - Get up early to see the nation's top fish market and to enjoy a fresh sushi breakfast.
Naka-Meguro - Discover some of the city's coolest boutiques, cafés, restaurants and bars along the tranquil banks of the Meguro River.
Kabuki - Enjoy the liveliest of Japan's traditional performing arts at the grand Kabuki-za theatre in Ginza.
Yurakucho - Join off-duty salarymen over a beer and a plate of yakitori (small meat kebabs) at the many raucous joints beneath the railway tracks in this part of town.
Nikko - This dazzling Toshogu shrine is the star turn of this mountain town, which also boasts some of the most beautiful countryside in Japan.
Hanami parties - Unpack your bentō and sake in Ueno Park or around the Imperial Palace moat for a picnic under the falling blossoms.
Meiji-jingu - Enjoy one of the many annual festivals or regular wedding ceremonies held at Tokyo's most venerable Shinto shrine.
Sumo - Witness the titanic clashes of sumo giants at the Ryogoku National Stadium in Ryogoku. Don't miss the free Sumo Museum in the Ryogoku Kokugikan when you are in the area.
Yanaka - Charming old fashioned district crammed with small temples and wooden houses on twisting byways.
Disneyland & DisneySea - Tokyo Disney Resort comprises two separate but adjacent attractions: Tokyo Disneyland, a close copy of the Californian original, and DisneySea Park, a water- and world-travel-themed area. This unashamed slice of Americana, situated in east of the city centre, may not be what you came to Japan for, but you will probably want to visit these if you are travelling with children.
Additionally if you have sufficient time you can also visit Kappabashi Street, Happo-en Garden, Ameyoko Market, Kagurazaka, Yebisu Garden Place beer / brewery museum near the Ebisu Station, Kyu Shiba Rikyu Garden, Shinjuku Golden Gai, the former Edo Castle in Chiyoda, Japan National Tourist Organization (JNTO).
What are some interesting facts about Tokyo?
Tokyo has been the capital of Japan only since 1868; before that, Kyoto served as capital for more than 1,000 years.
Ten percent of Japan's total population lives in Tokyo—more than 13 million residents. Almost a quarter of Japan's total population lives within commuting distance.
Tokyo's workers commute to work an average of 90 minutes one-way. Shinjuku Station handles the most train and subway passengers in all of Japan—more than 3.6 million people a day, giving it an entry in the Guinness Book of World Records as the busiest rail station in the world. More than 200 exits, including those from surrounding underground shopping passages and shopping centers, lead out of the station.
Mount Fuji is visible from Tokyo about 80 days a year, mostly in winter.
Tokyo suffered widespread destruction twice in the last century—in the 1923 Great Kanto Earthquake and from World War II firebombs. In both instances, more than 100,000 people lost their lives. The 2011 Great East Japan Earthquake left Tokyo relatively unscathed.
During the Edo Period (1603– 1867), Edo (old Tokyo) witnessed almost 100 major fires, not to mention countless smaller fires.
Tokyo sprawls over 1,288 sq. km (497 sq. miles), yet most streets are not named.
Rickshaws originated in Tokyo in 1869; 4 years later, there were 34,000 of the people-propelled vehicles in the capital city.
Green space in Tokyo is woefully inadequate—just 4.52 sq. m (51⁄2 sq. yd.) per capita, compared to 45.7 sq. m (55 sq. yd.) in Washington, D.C.
The yakuza (members of Japan's mobster underworld) were barred from participating in construction of the Tokyo Sky Tree in an effort to undermine the gangsters' cozy relationship with construction companies in Japan. According to police information, it's estimated that almost 83,000 gangsters belonging to 23 crime syndicates across the country generate an economy worth 20 trillion yen.
The yakuza (members of Japan's mobster underworld) were barred from participating in construction of the Tokyo Sky Tree in an effort to undermine the gangsters' cozy relationship with construction companies in Japan. According to police information, it's estimated that almost 83,000 gangsters belonging to 23 crime syndicates across the country generate an economy worth 20 trillion yen.
Keywords
map, plan, download, print, printable, free, detailed, aerial, bird's eye, satellite, guide, planner, travel, sightseeing, visit, trip, tour, tourist, what to do, where to go, things to do, must see, top attractions, points of interest, places, sites, sights, buildings, spots, destinations, locations, landmark, museum, in a week, in 3 days, one day, city, route, bus, kids, children, top 10, top ten, popular, famous, interesting, highlights, public transport, rail, hotels, updated, metro, subway, underground, tube, downtown, coach, nightlife, pub, monument, satellite, accommodation, transit, transportation, supermarket, children, metro, subway, underground, tube
Seating plans and charts of entertainment venues showing detailed seat and row numbers
Amsterdam Ziggo Dome Arena 3d seating layout
Anaheim Honda Center 3d seating layout
Atlanta Philips Arena 3d seating layout
Belfast Odyssey SSE Arena 3d seating layout
Birmingham Genting NEC Arena (LG Arena) 3d seating layout
Birmingham Barclaycard Arena (NIA National Indoor Arena) 3d seating layout
Boston TD Garden 3d seating layout
Brighton Centre 3d seating layout
Calgary Scotiabank Saddledome 3d seating layout
Cardiff Millennium Stadium 3d seating layout
Cardiff Motorpoint Arena 3d seating layout
Charlotte Time Warner Cable Arena 3d seating layout
Chicago United Center 3d seating layout
Cologne Lanxess Arena 3d seating layout
Dallas American Airlines Center 3d seating layout
Dallas AT&T Stadium 3d seating layout
Derby Velodrome Arena 3d seating layout
Detroit Palace of Auburn Hills 3d seating layout
Dublin 3Arena (O2 Arena) 3d seating layout
Edmonton Rexall Place 3d seating layout
EagleBank Arena 3d seating layout
Gdańsk Ergo Arena 3d seating layout
Glasgow Hydro SSE Arena 3d seating layout
Glendale Gila River Arena (Jobing.com Arena) 3d seating layout
Kraków Tauron Arena 3d seating layout
Las Vegas New T-Mobile Arena 3d seating layout
Leeds First Direct Arena 3d seating layout
Liverpool Echo Arena 3d seating layout
London O2 Arena 3d seating layout
London Royal Albert Hall 3d seating layout
London Twickenham Stadium 3d seating layout
London Wembley Arena SSE 3d seating layout
London Wembley Stadium 3d seating layout
Los Angeles Forum Inglewood 3d seating layout
Los Angeles Staples Center 3d seating layout
Louisville KFC Yum! Center 3d seating layout
Manchester Phones4u Arena 3d seating layout
Melbourne Rod Laver Arena 3d seating layout
Memphis FedExForum 3d seating layout
Miami American Airlines Arena 3d seating layout
Nashville Bridgestone Arena 3d seating layout
New Orleans Smoothie King Center arena 3d seating layout
New York Barclays Center Arena 3d seating layout
New York Madison Square Garden 3d seating layout
Newark Prudential Center 3d seating layout
Newcastle Metro Radio Arena 3d seating layout
Nottingham Motorpoint Arena (Capital FM Arena) 3d seating layout
Oakland Oracle Arena 3d seating layout
Oklahoma City Chesapeake Energy Arena 3d seating layout
Orlando Amway Center 3d seating layout
Oslo Spektrum Arena 3d seating layout
Oslo Telenor Arena 3d seating layout
Phoenix Talking Stick Resort Arena (US Airways Center) 3d seating layout
Pittsburgh Consol Energy Center 3d seating layout
Portland Moda Center (Rose Garden Arena) 3d seating layout
Rosemont Allstate Arena 3d seating layout
Saint Paul Xcel Energy Center 3d seating layout
San Antonio AT&T Center 3d seating layout
San Jose SAP Center 3d seating layout
Sheffield Motorpoint Arena 3d seating layout
St. Louis Scottrade Center 3d seating layout
Sunrise BB&T Center 3d seating layout
Sydney Allphones Arena 3d seating layout
Toronto Air Canada Centre 3d seating layout
Tulsa BOK Center 3d seating layout
Uncasville Mohegan Sun Arena 3d seating layout
Vancouver Rogers Arena 3d seating layout
Vienna Wiener Stadthalle 3d seating layout
Washington DC Verizon Center 3d seating layout
Winnipeg MTS Centre 3d seating layout
Zürich Oerlikon Hallenstadion 3d seating layout
High resolution, printable travel guide maps of cities showing top tourist attractions