San Francisco top tourist attractions city travel maps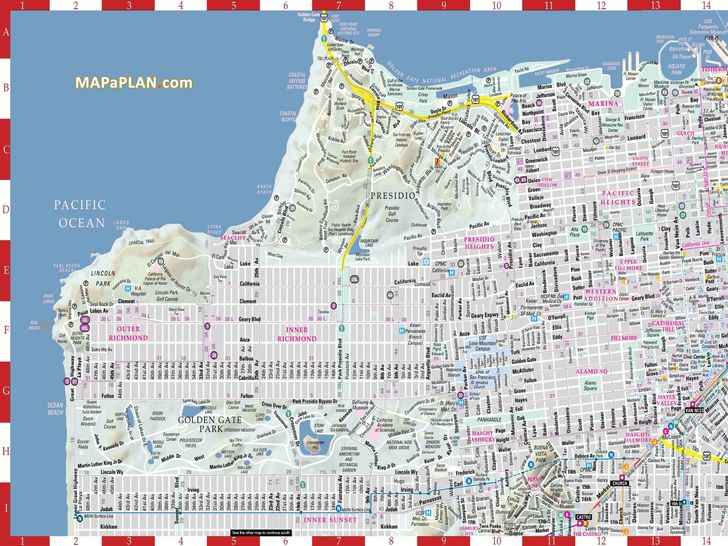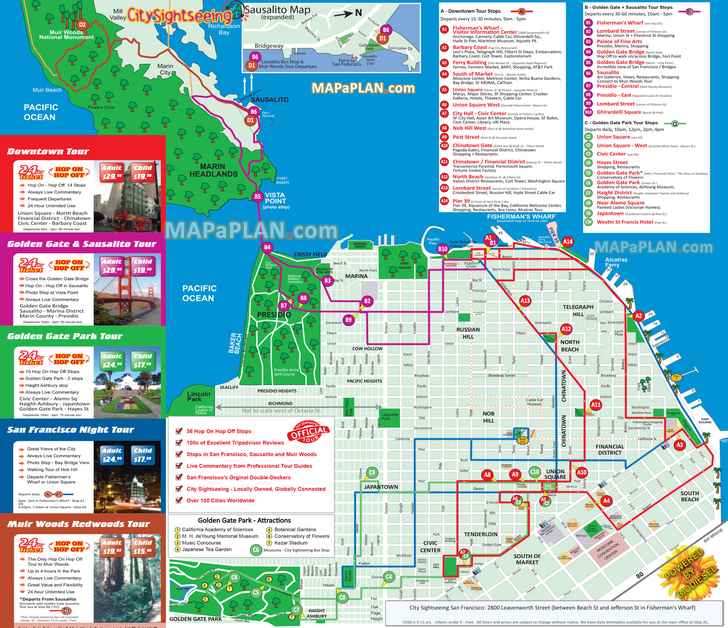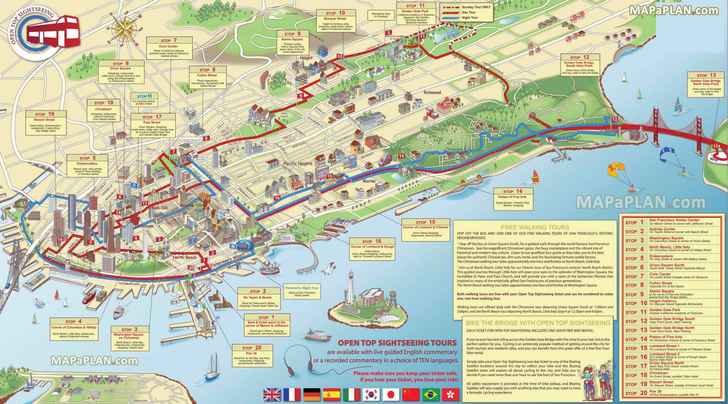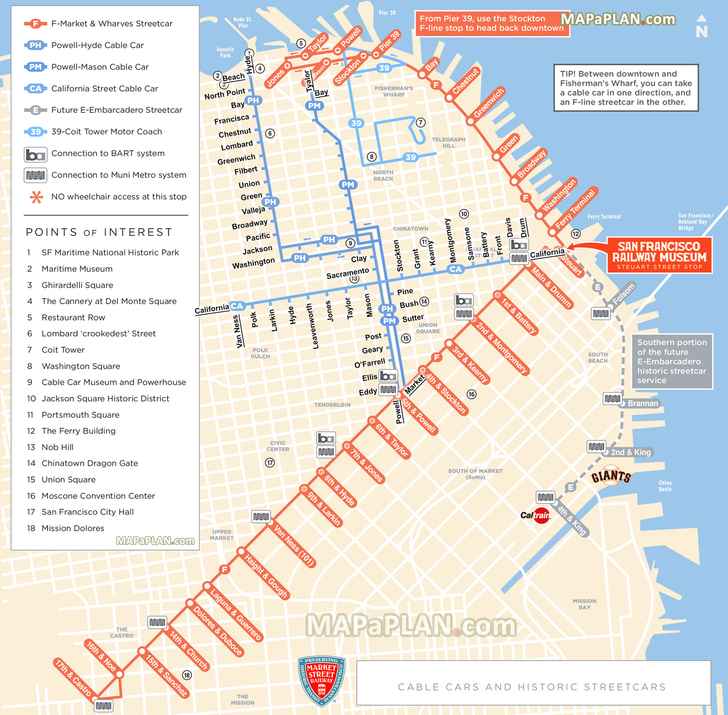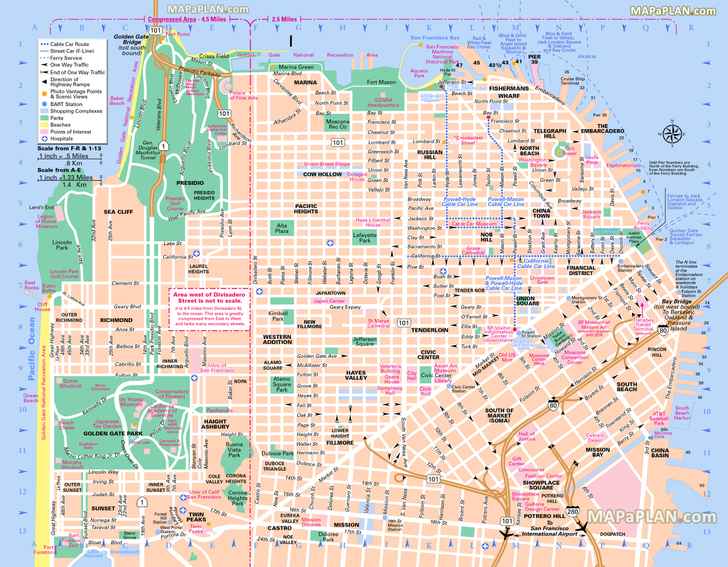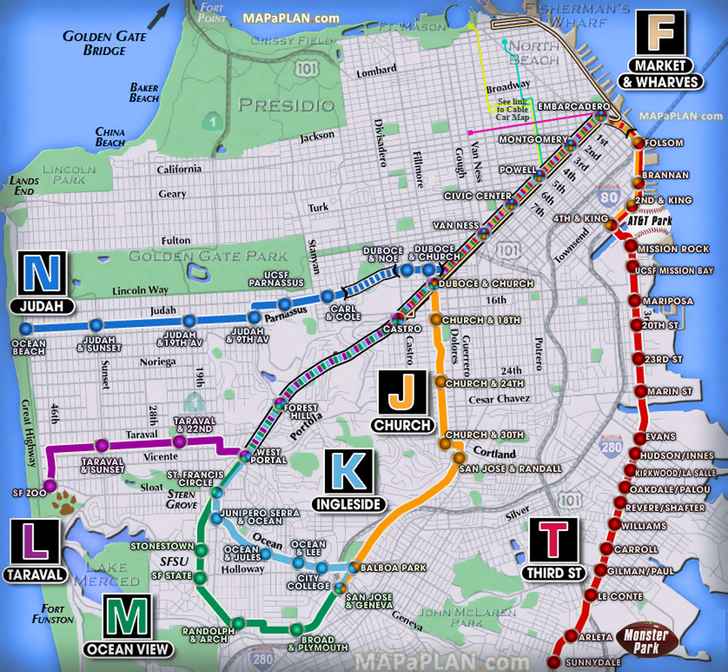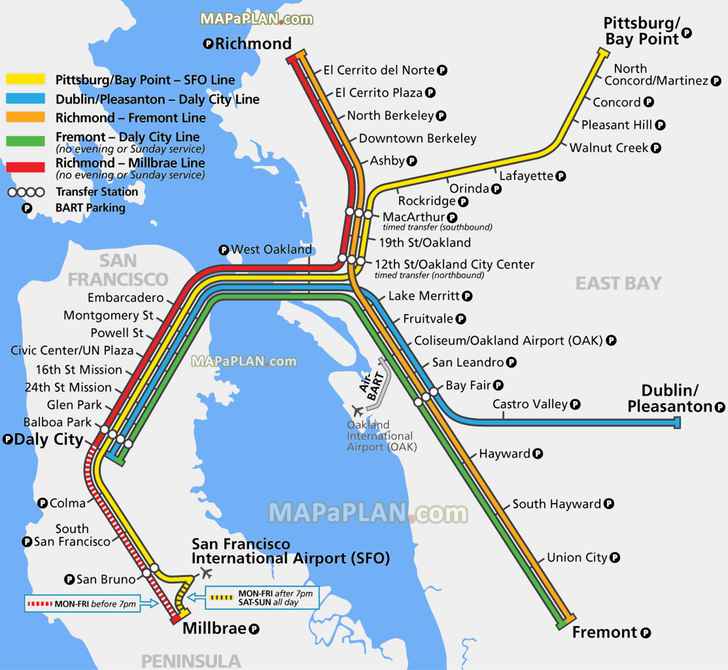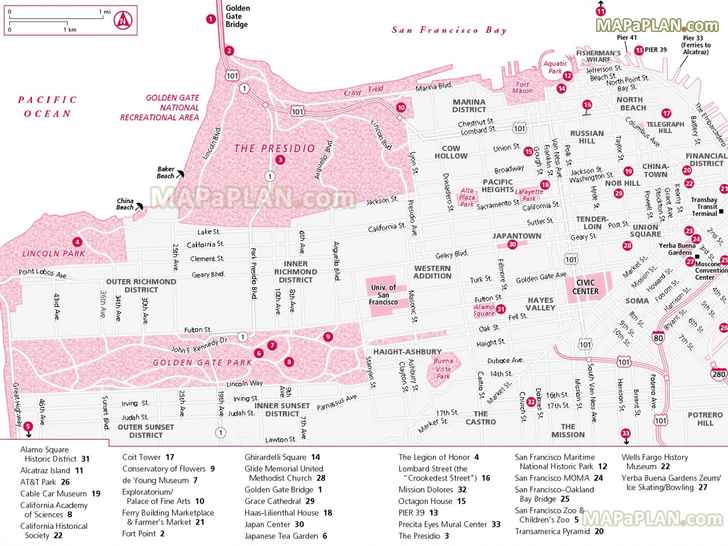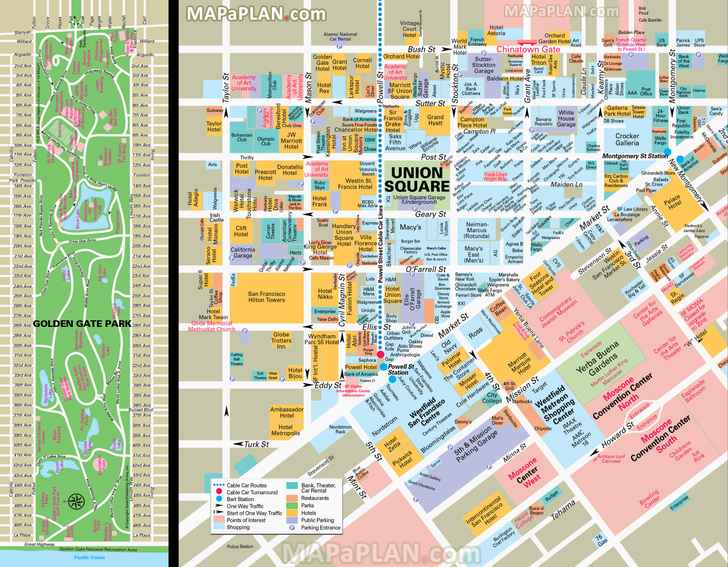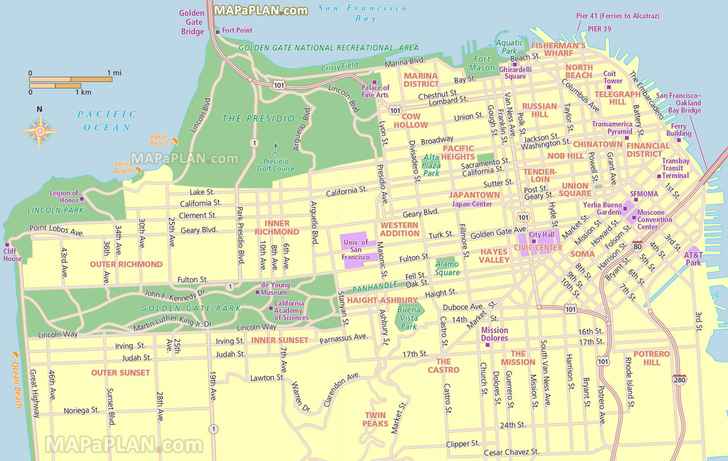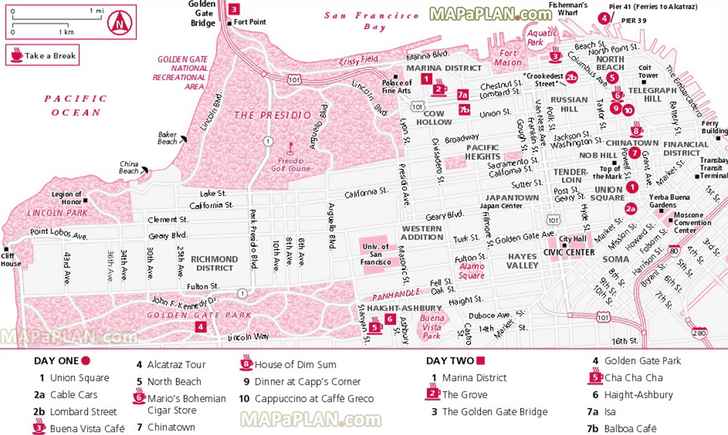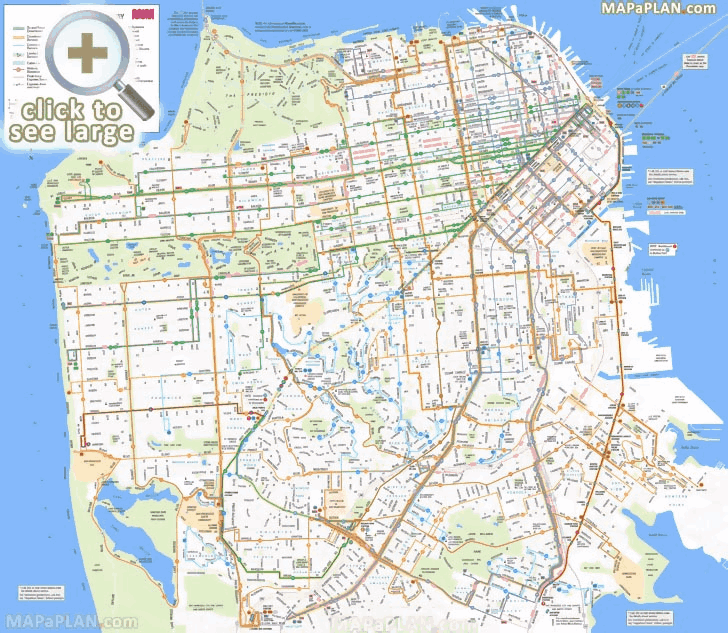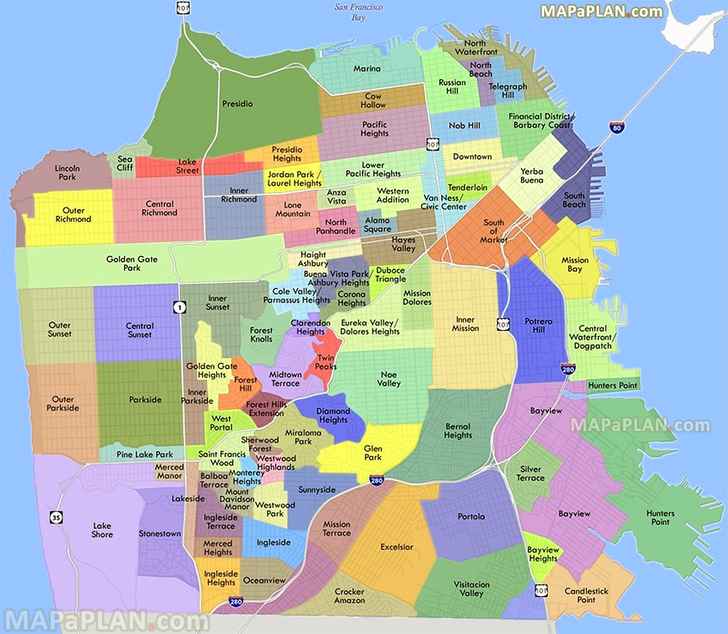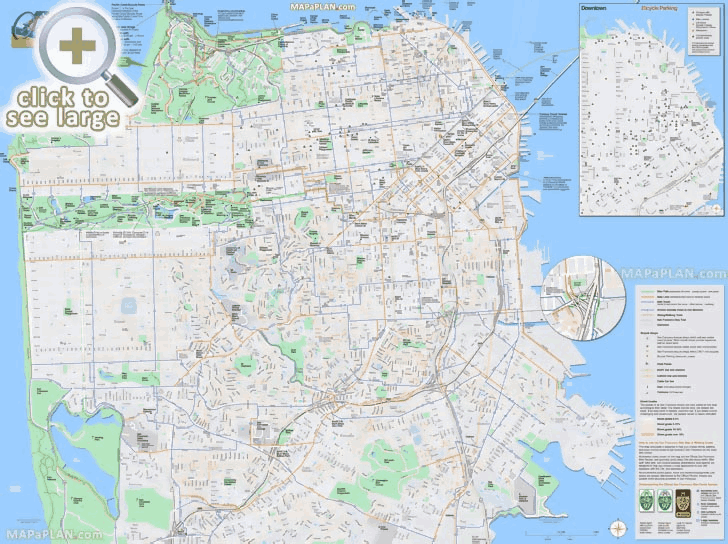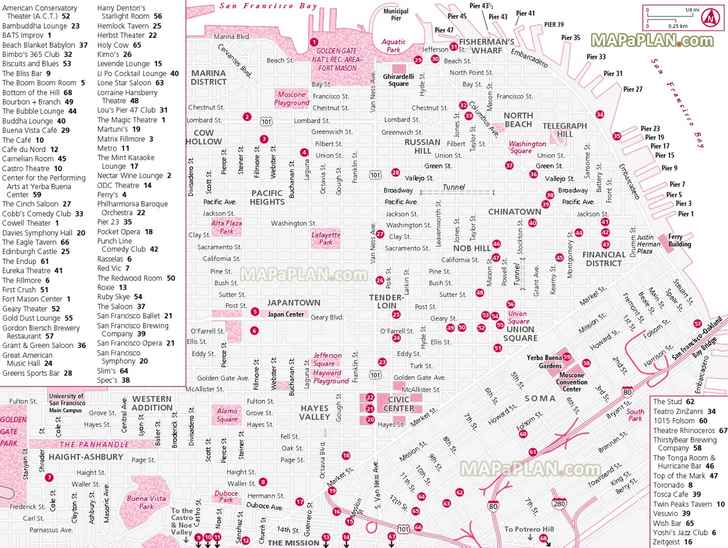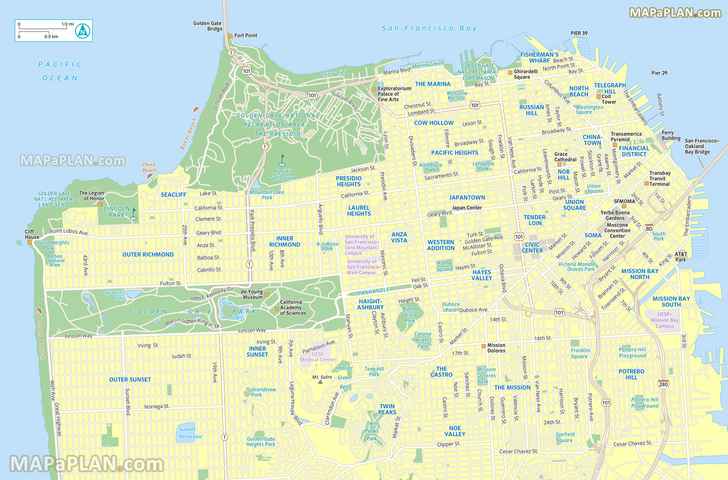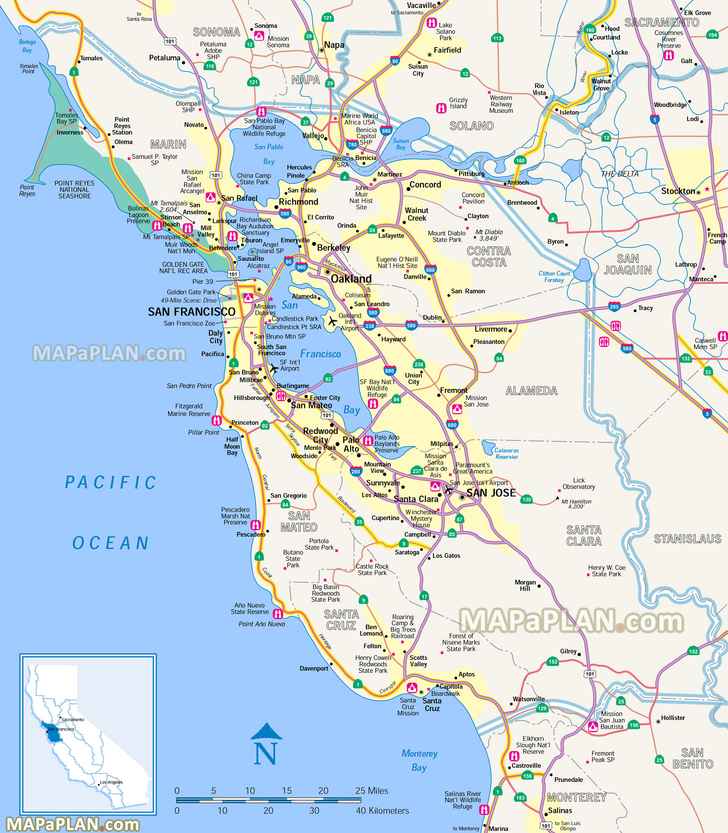 Map of top 10 attractions in San Francisco
The typical top ten attractions are listed below. You can find the detailed locations of these places on the maps above.
Walk accross the Golden Gate Bridge
Explore the Alcatraz Prison
Enjoy the waterfront sights of the Fishermans' Wharf, Pier 39 and Ghirardelli Square
Take a stroll in the Golden Gate Park
Blow the world's biggest soap bubble in the Exploratorium (in the Palace of Fine Arts)
View the city from the Coit Tower
Walk down the stairs of the Telegraph Hill
Enjoy local food while admiring the Ferry Building
Ride a Cable Car
Hop on a historic trolley car from the Embarcadero to the Castro (F line)
Check out the Chinatown
Walk down the Lombard Street
What are some interesting facts about San Francisco?
The Golden Gate Bridge is so massive that it is constantly being painted as by the time the crew finishes painting, it is time to start all over again to maintain its spectacular look. This process takes about four years for the team to completely paint the bridge before they have to start over again and requires about two tons of paint per week.
Denim jeans were invented in San Francisco during the Gold Rush as miners were in need of stronger, more comfortable pants to wear when mining.
The Beatles last concert was held at Candlestick Park on August 29th, 1966. They began this historic concert with Rock and Roll Music and ended it with Long Tall Sally. This event lasted all of 33 minutes.
Mission Dolores, built in 1791, is the oldest building in San Francisco. Two major earthquakes couldn't topple it, but Tiny powderpost beetles almost resulted in the collapse of the building in 2000.
Angel Island is the largest island in area of the San Francisco Bay. It is referred to as the Ellis Island of the West, because from 1910 to 1940 the Angel Island Immigration Station processed approximately 1 million Chinese immigrants and Japanese 'picture brides'entering the USA . Due to the restrictions of the Chinese Exclusion Act of 1882, many Chinese immigrants spent years on the island, waiting for entry.
San Francisco is built onto 43 hills and the highest of these hills, Twin Peaks, is 900 feet above sea level.
San Francisco cable cars are the only moving National Historic Landmark and is the world's last manually operated cable car system. The cable cars are not to be confused with San Francisco's heritage streetcars, which operate on Market Street and the Embarcadero.
The crookedest street is not Lombard Street, Vermont Street between 20th and 22nd is the 'crookedest.' Filbert between Hyde and Leavenworth is the steepest street at 31.5 degrees.
The fortune cookie, that special triangular treat that dispenses the wisdom of the ancients, was actually first baked in San Francisco at the Japanese Tea Garden.
San Francisco is home to the largest Chinese community in the world outside of the country of China itself.
Related keywords
2021, 2022, 2023, 2023, 2024, 2025, 2026, 2027, download, print, printable, free, detailed, aerial, bird's eye, guide, map, plan, planner, travel, sightseeing, visit, trip, tour, tourist, what to do, where to go, things to do, must see, top attractions, points of interest, places, sites, sights, buildings, spots, destinations, locations, landmark, museum, in a week, in 3 days, one day, city, route, bus, kids, children, top 10, top ten, popular, famous, interesting, highlights, metro, subway, underground, tube
Seating plans and charts of entertainment venues showing detailed seat and row numbers
High resolution, printable travel guide maps of cities showing top tourist attractions