Oxford top tourist attractions city travel maps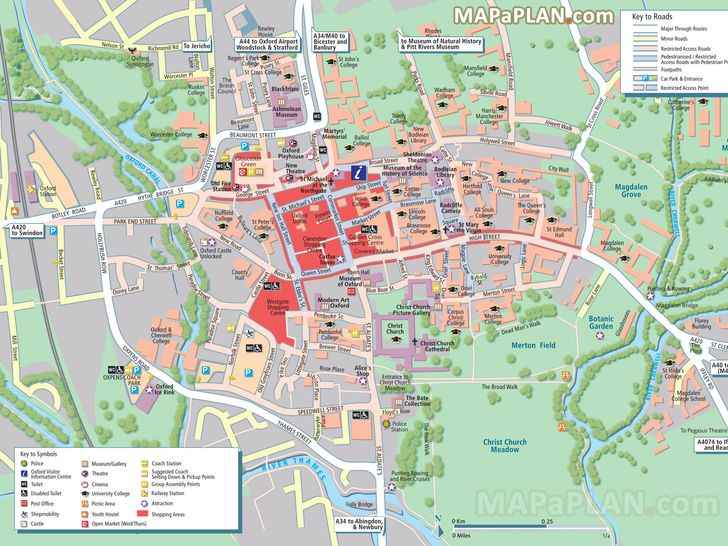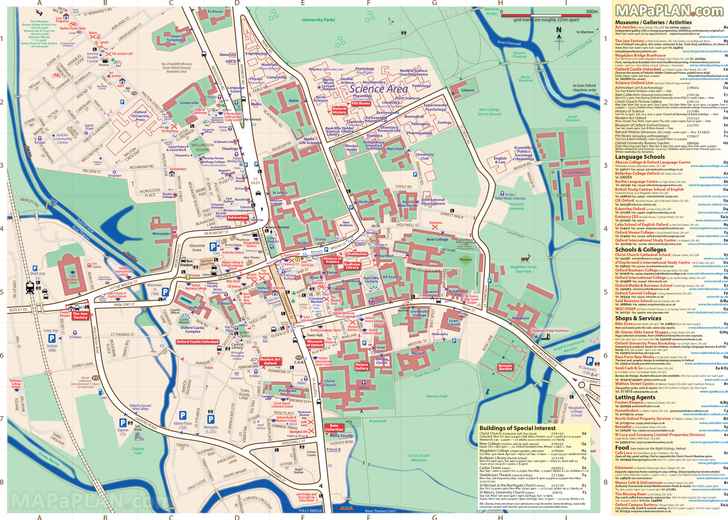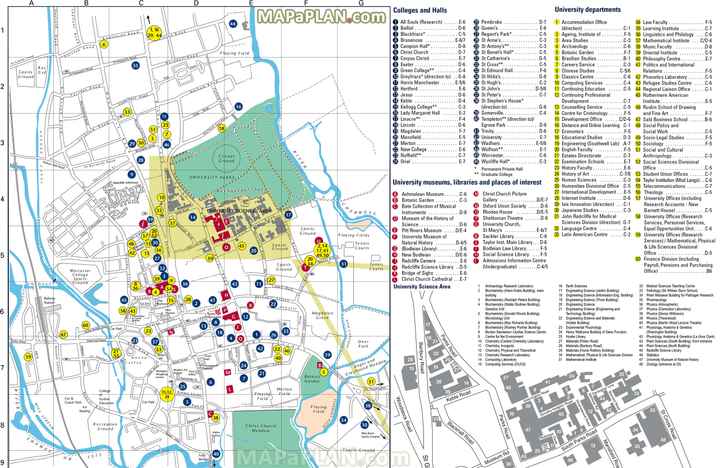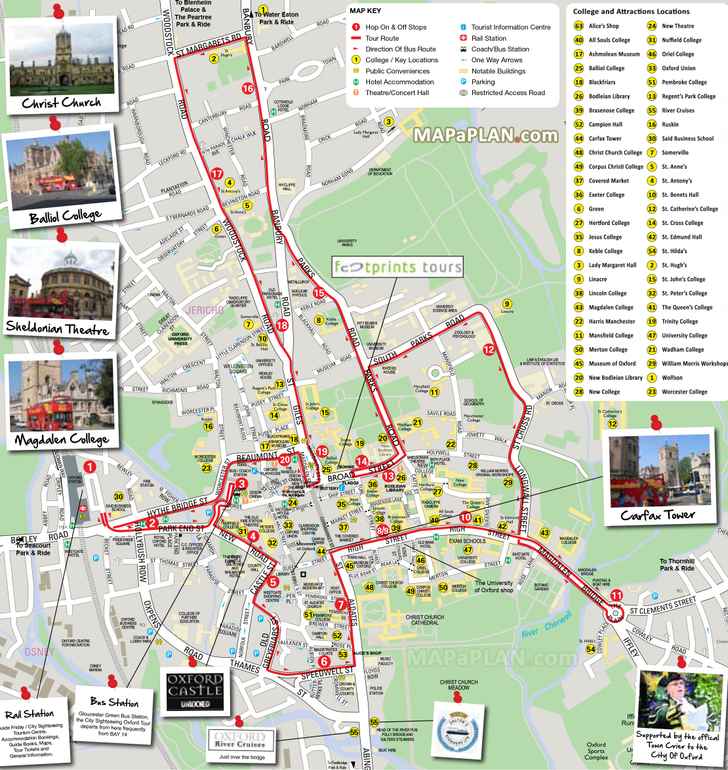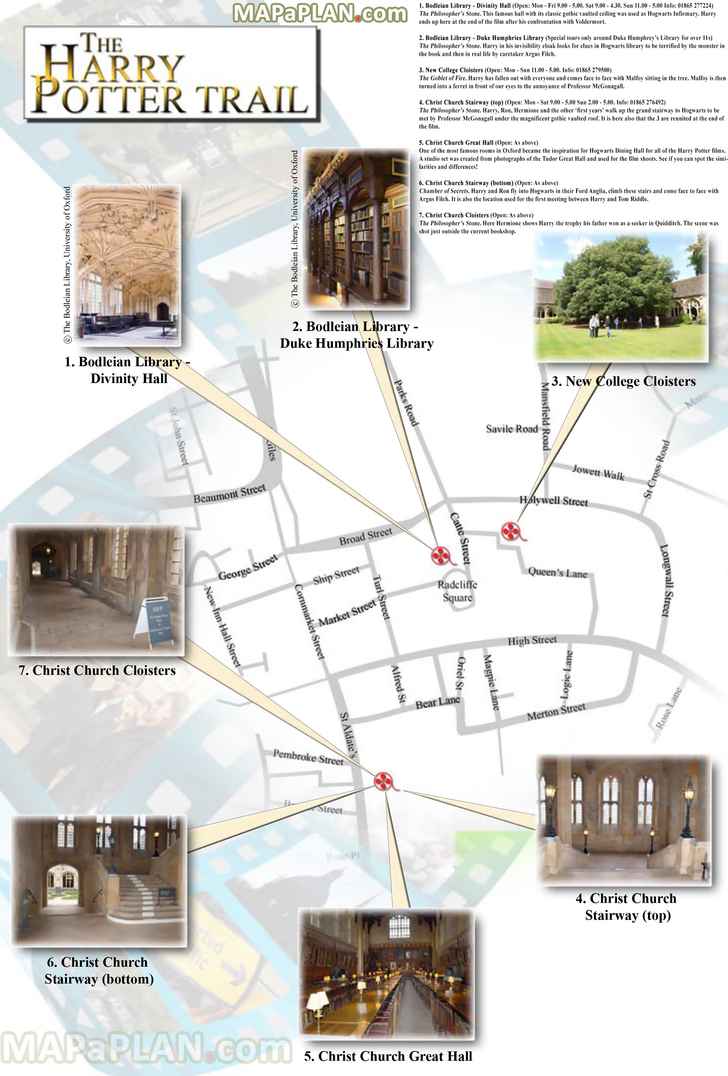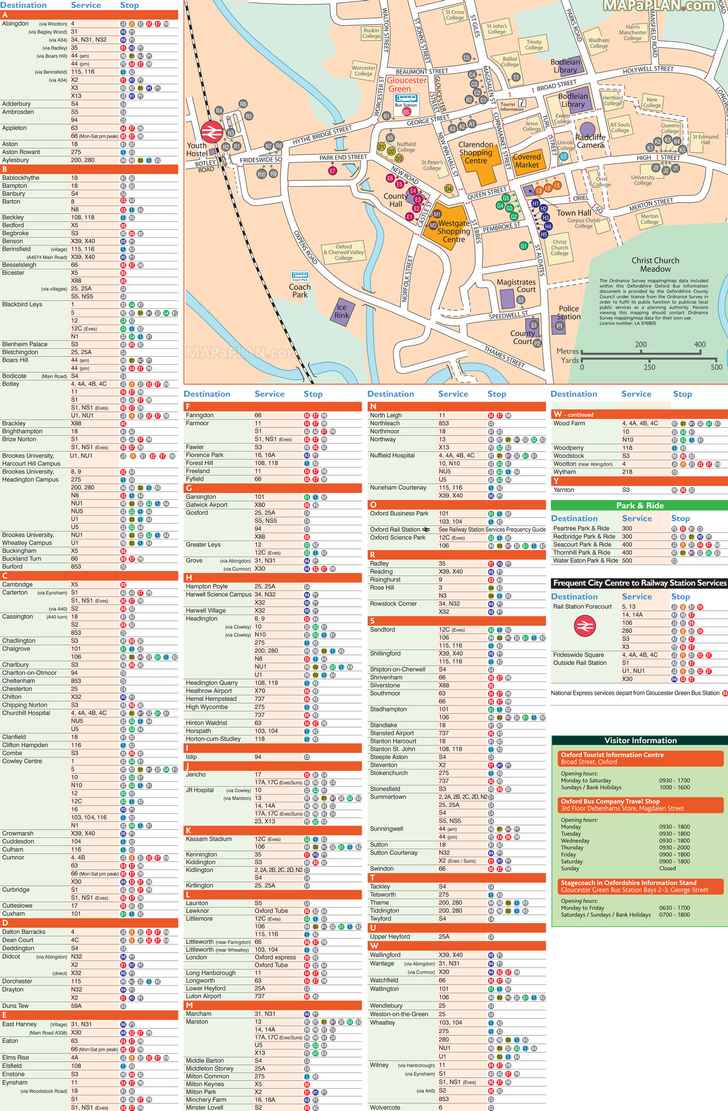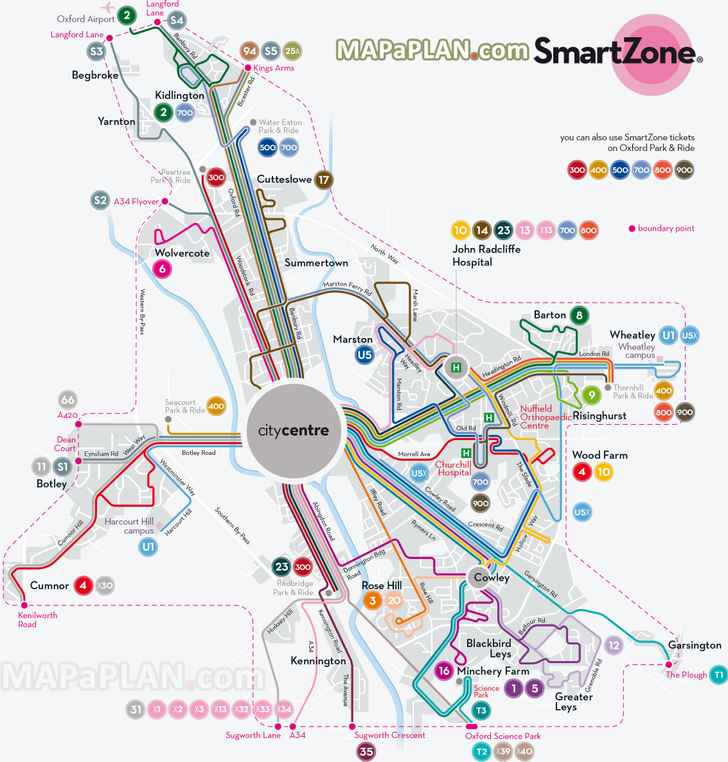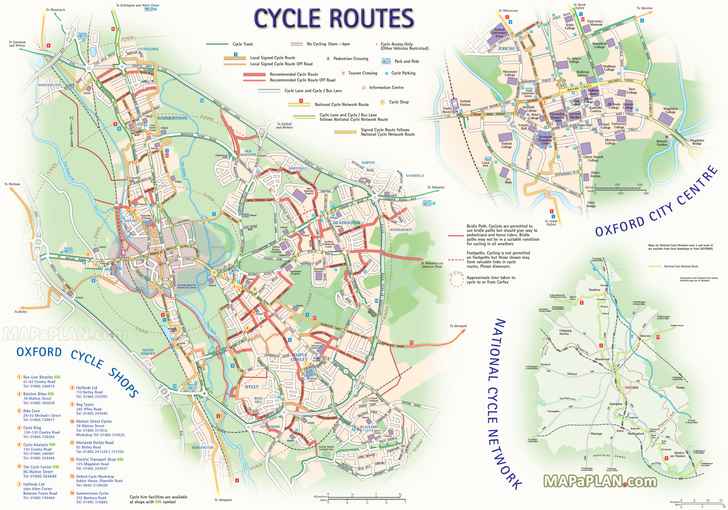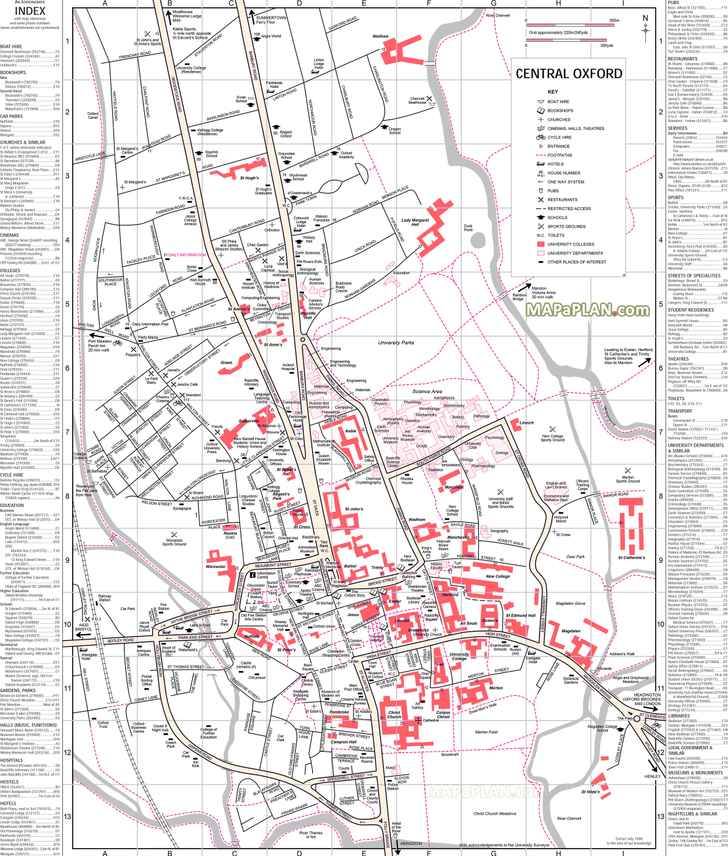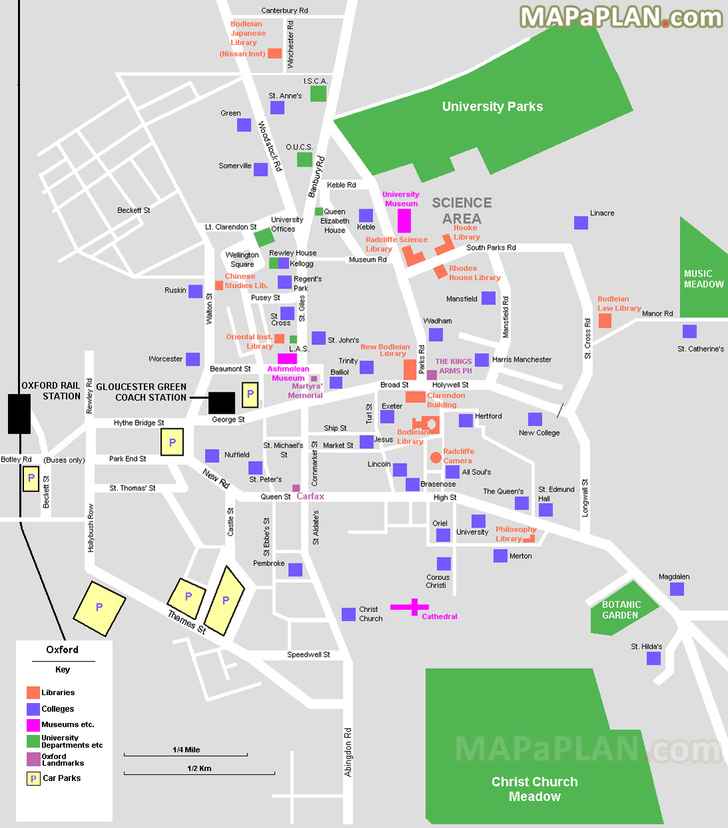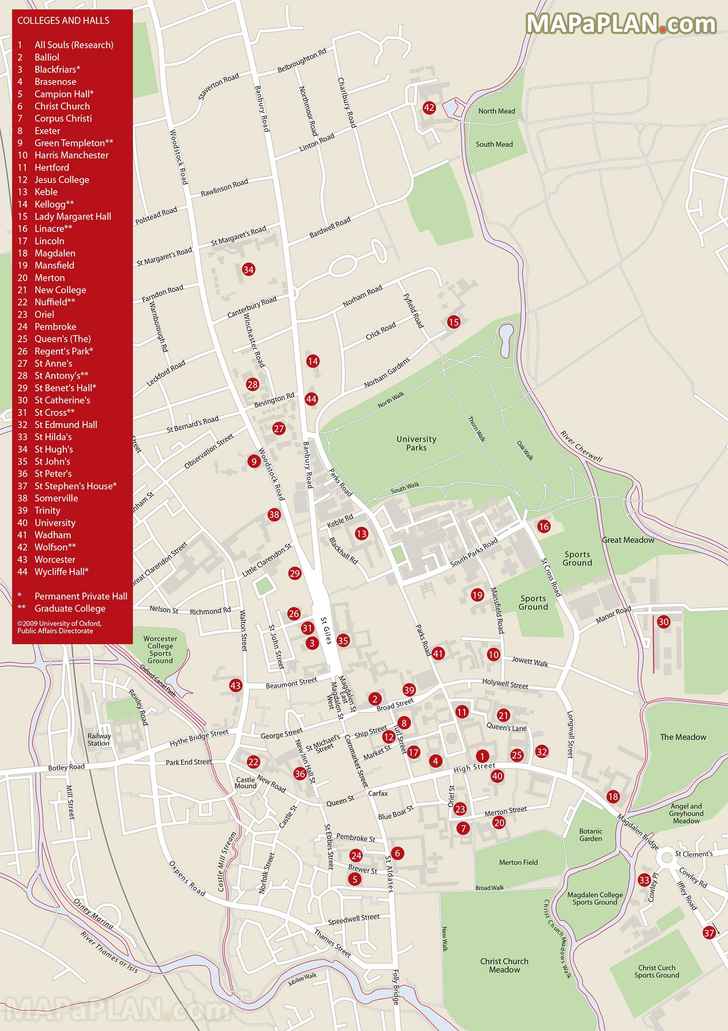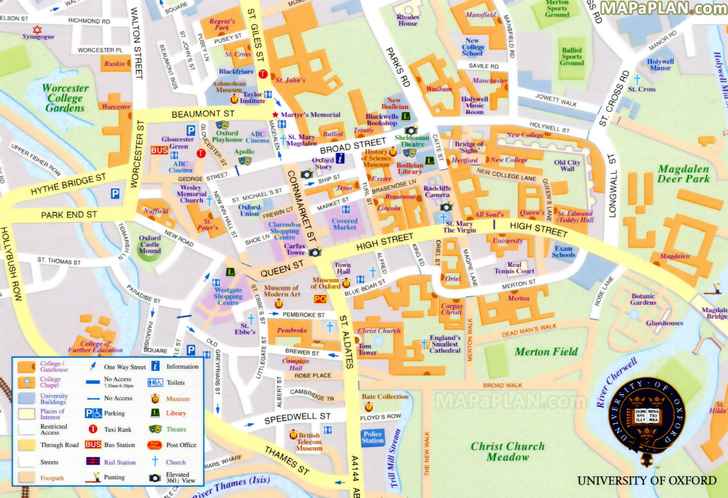 Map of top 10 attractions in Oxford
The typical top ten attractions are listed below. You can find the detailed locations of these places on the maps above.
Christ Church College whose Great Hall inspired Hogwarts Hall in the Harry Potter movie and whose meadow is grazed by rare breed cattle.
University Church of St. Mary the Virgin - Entrances on High Street and Radcliffe Square. It is worth the climb of 124 steps to make it to the top to enjoy fine uninterrupted views in all directions across Oxford and the surrounding countryside.
Bodleian Library - Broad Street. The Bodleian Library is a working library which forms part of the University of Oxford. It is housed in a remarkable group of buildings which form the historic heart of the University, and you can explore the quadrangles of these magnificent structures at no charge.
Radcliffe Camera - Radcliffe Square. The distinctive circular dome and drum of the structure makes it one of the most recognizable and often-photographed building in Oxford. This building is not open to the public except as part of a tour of the Bodleian Library.
Hertford Bridge - New College Lane. Hertford Bridge is often called the Bridge of Sighs because of the similarity to the famous bridge in Venice. Actually, it looks more like the Rialto Bridge, and this Oxford structure was never intended to be a replica of any existing bridge.
Carfax Tower - Corner of St. Aldate's, Cornmarket Street, Queen Street, High Street. It is possible to climb to the top of the tower for a good view of the Oxford skyline.
Oxford Castle Quarter - New Road. The castle was originally built in 1071 for William the Conqueror, to enable the Normans to control the area.
Ashmolean Museum - Beaumont Street. Museum of Art and Archaeology.
Pitt Rivers Museum - South Parks Rd. Famous for its period atmosphere and outstanding collections from many cultures around the world, past and present.
Covered Market - The Market was officially opened in 1774 and has a unique and wonderful atmosphere. It provides its visitors with the wonderful aromas of fresh fruit, coffee and fresh baking and to a feast of sights and sounds.
What are some interesting facts about Oxford?
TBC
TBC
Related keywords
2021, 2022, 2023, 2023, 2024, 2025, 2026, 2027, download, print, printable, free, detailed, aerial, bird's eye, guide, map, plan, planner, travel, sightseeing, visit, trip, tour, tourist, what to do, where to go, things to do, must see, top attractions, points of interest, places, sites, sights, buildings, spots, destinations, locations, landmark, museum, in a week, in 3 days, one day, city, route, metro, subway, underground, tube, bus, kids, chidren, top 10, top ten, popular, famous, interesting, highlights
Seating plans and charts of entertainment venues showing detailed seat and row numbers
High resolution, printable travel guide maps of cities showing top tourist attractions