Mumbai printable map of top tourist attractions & city travel guide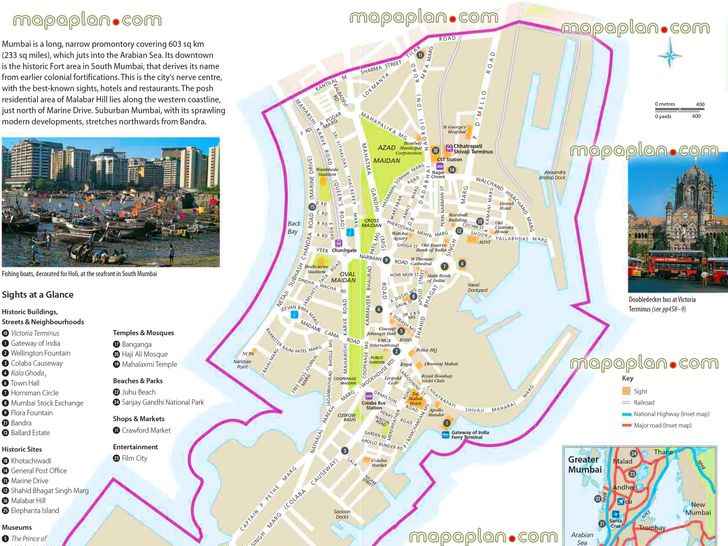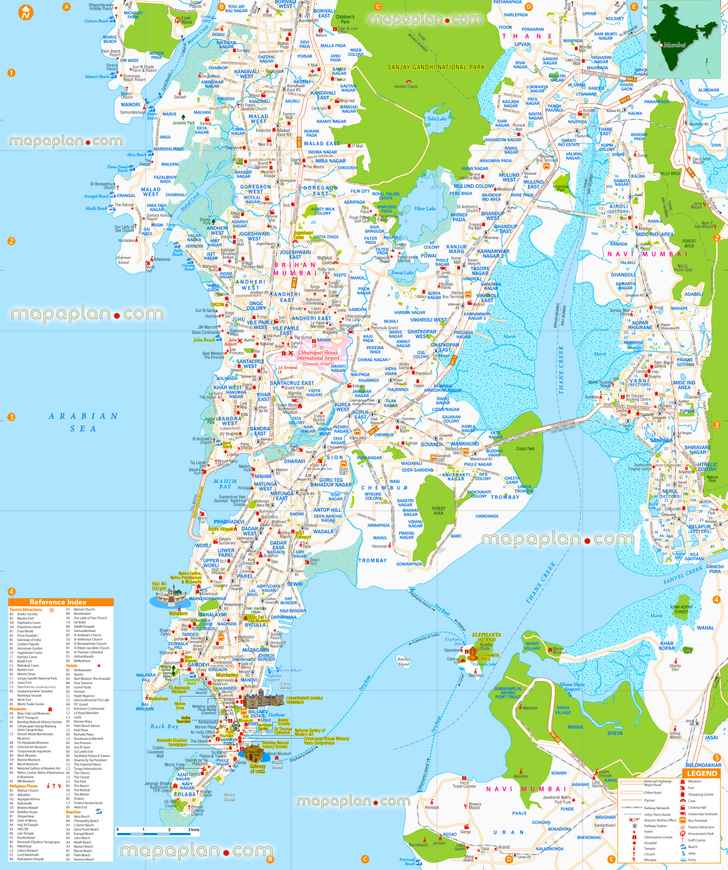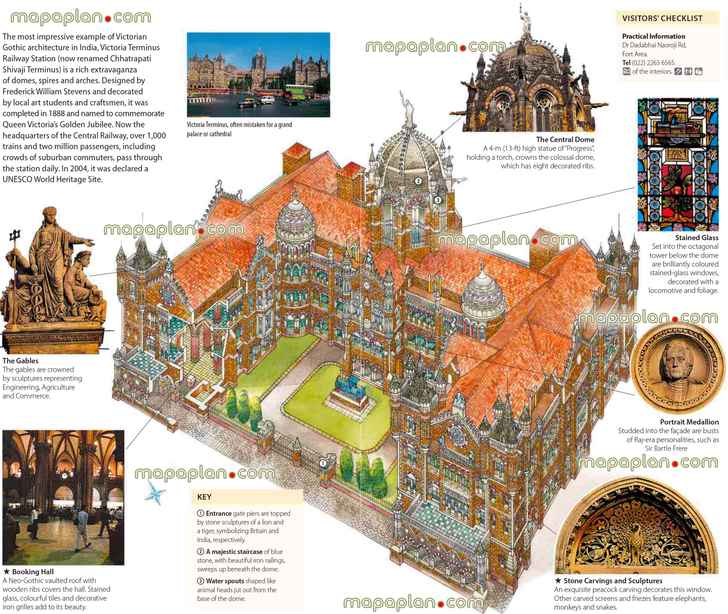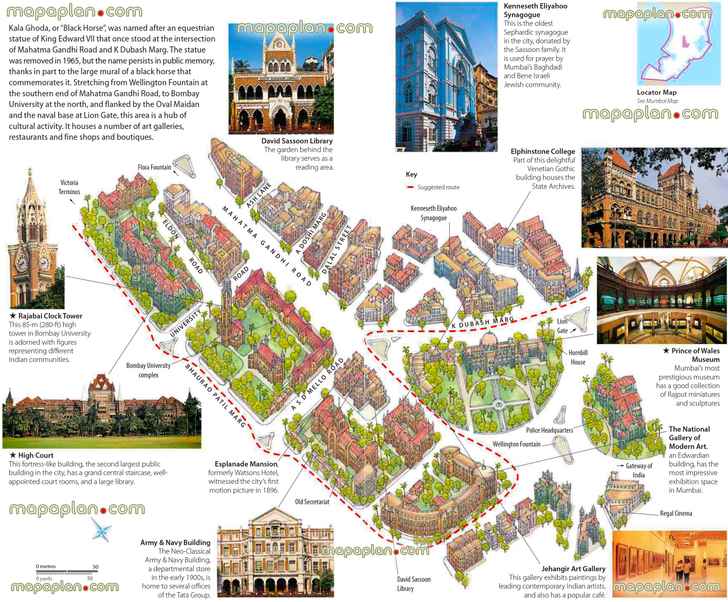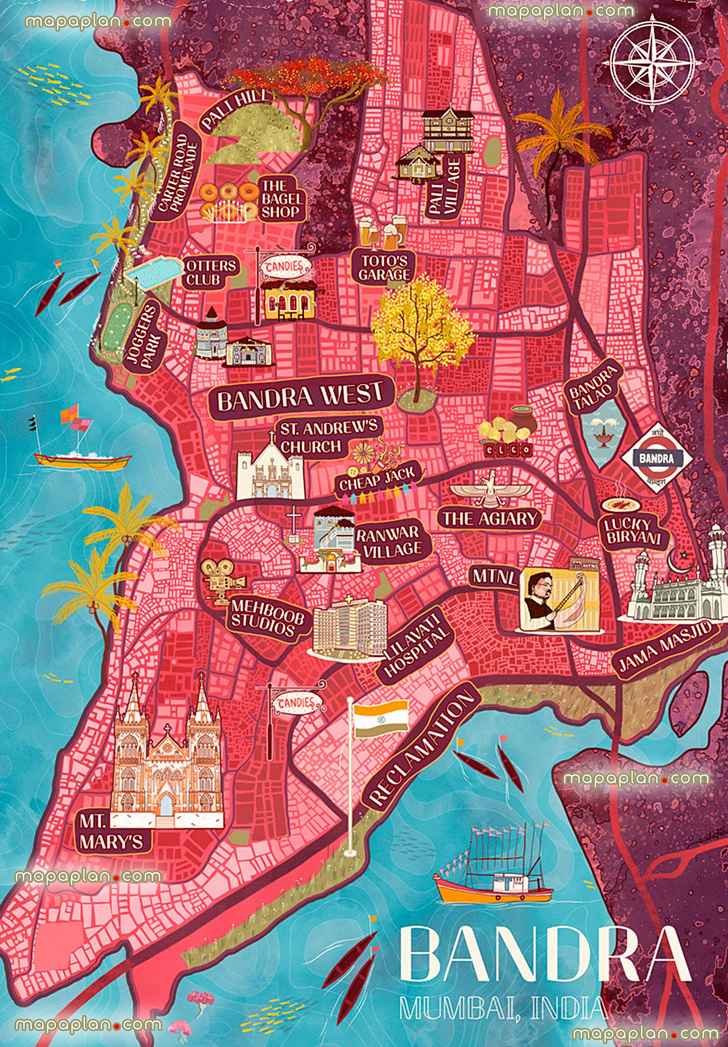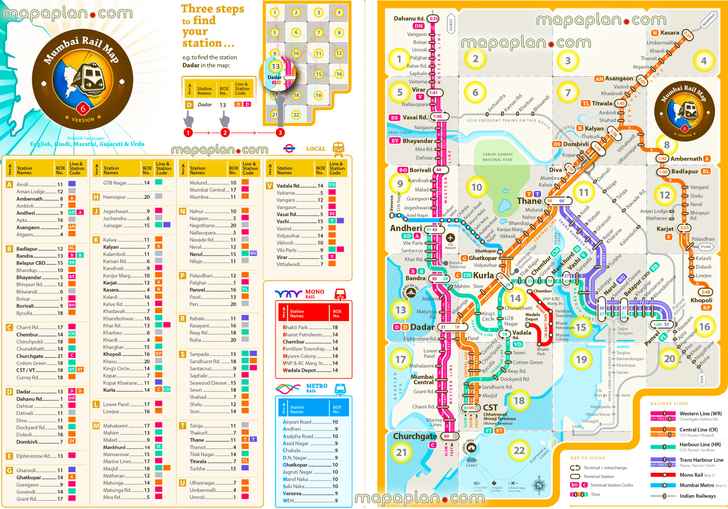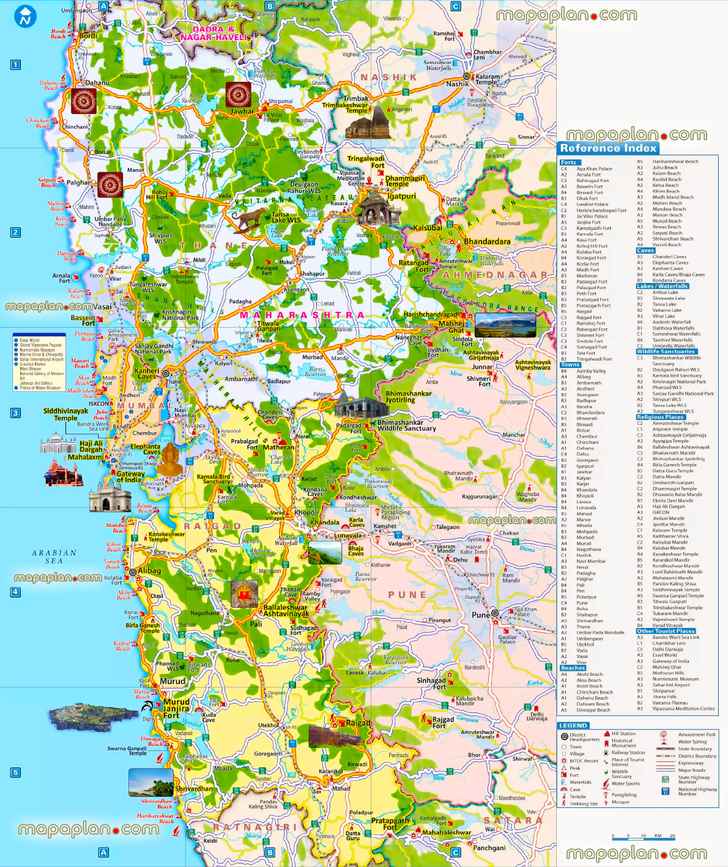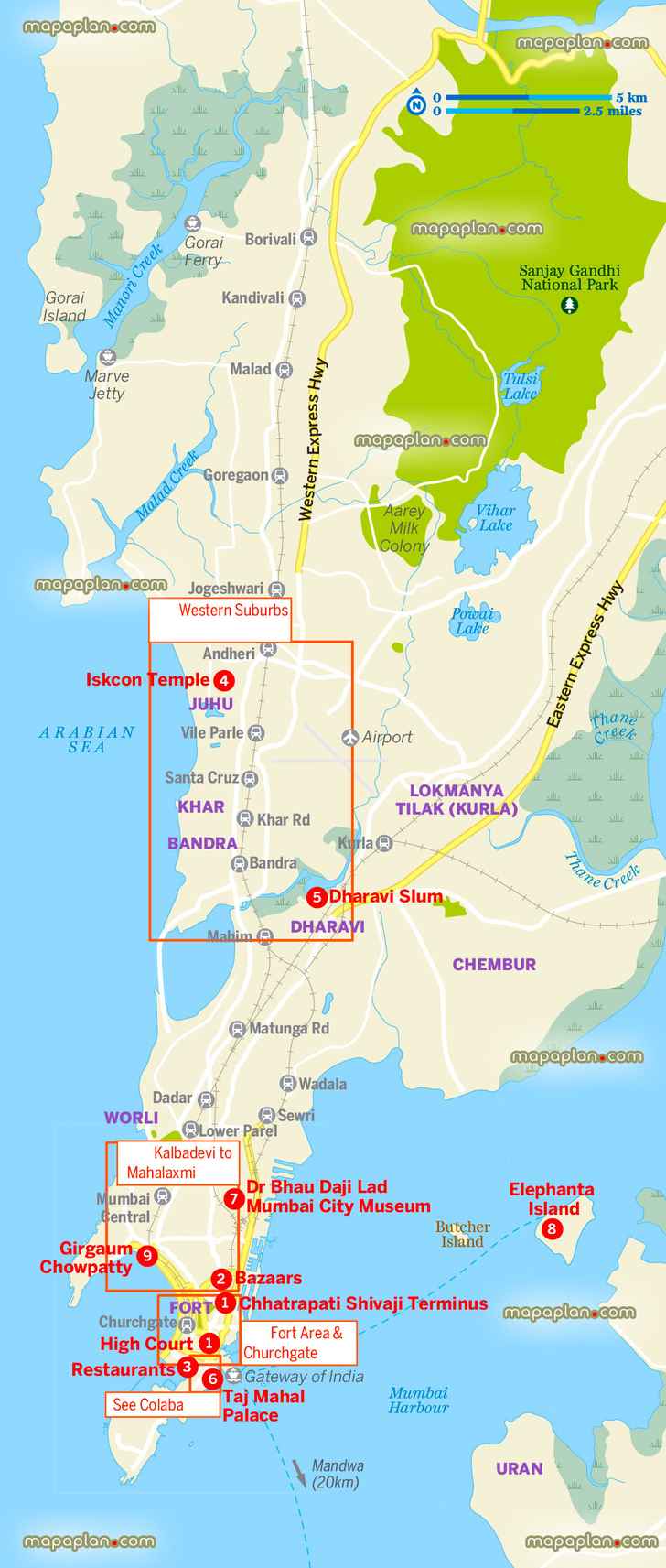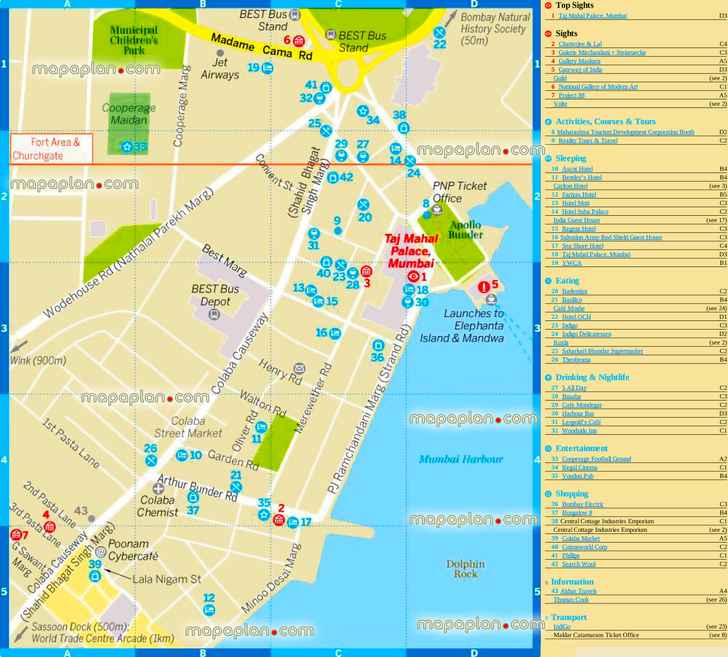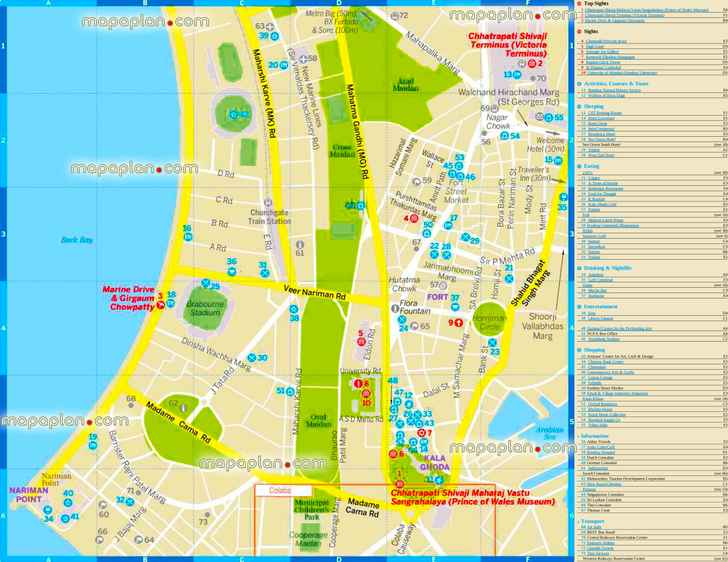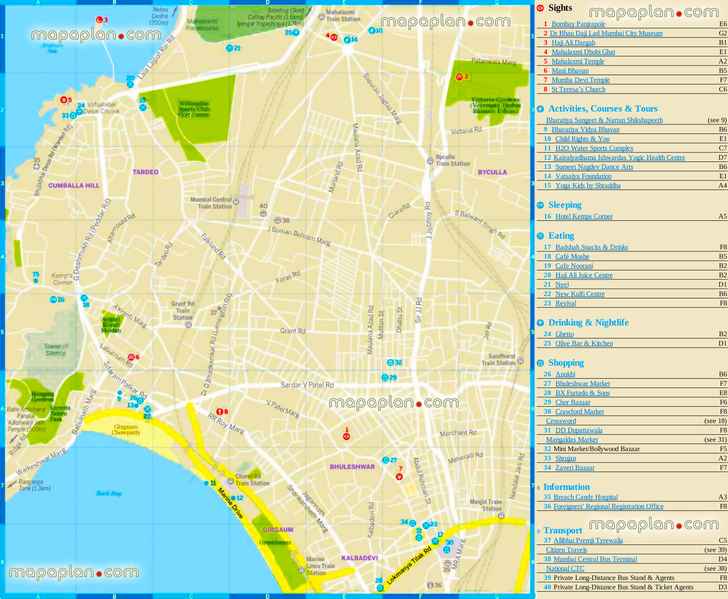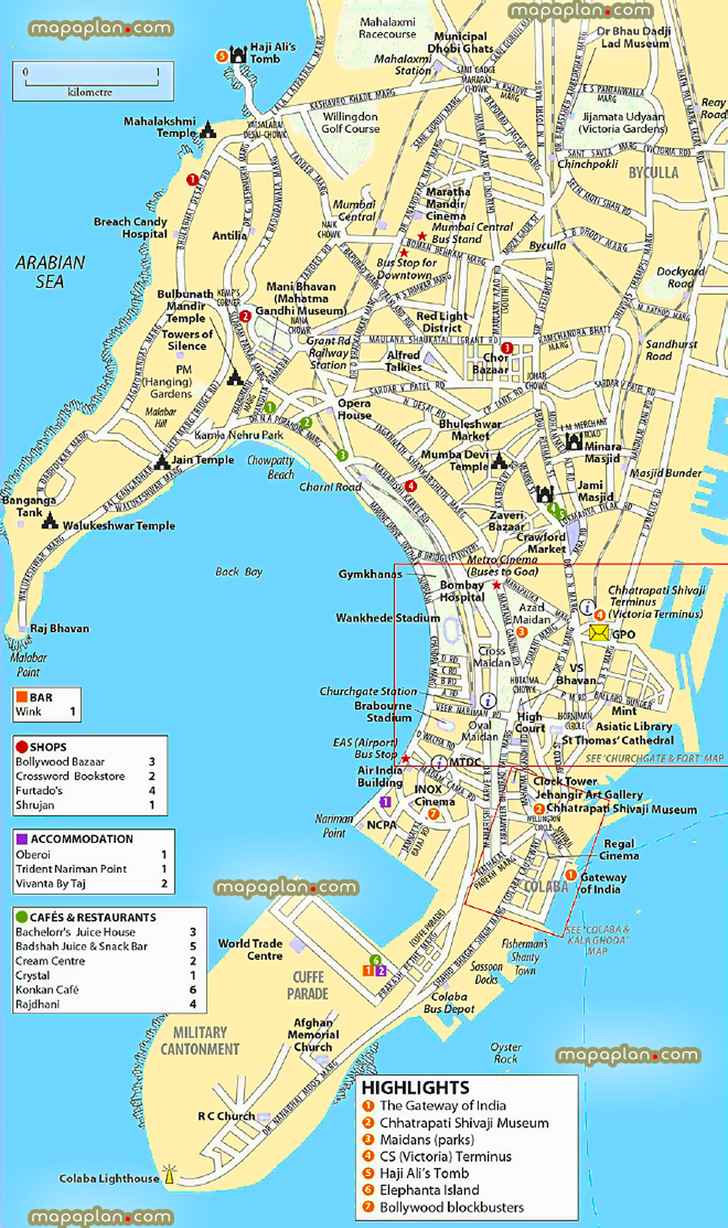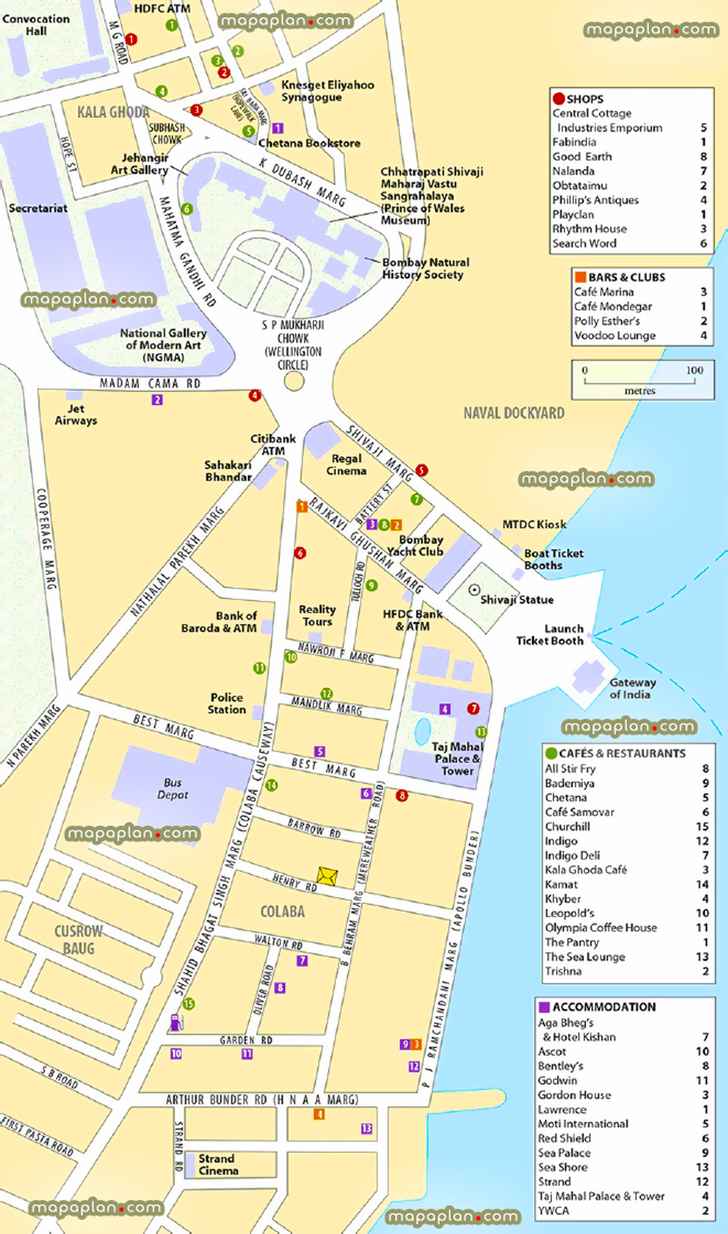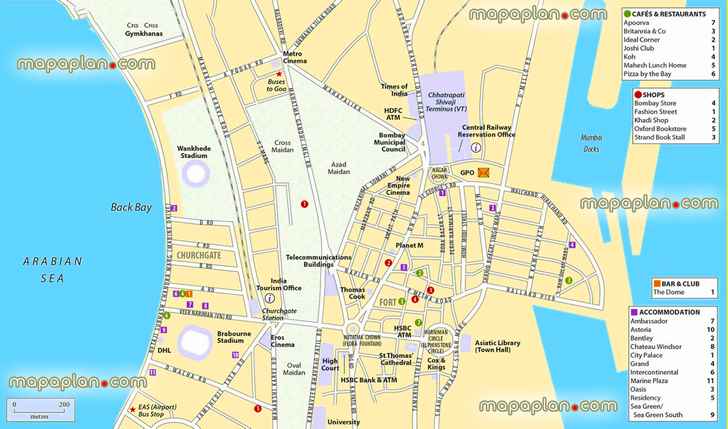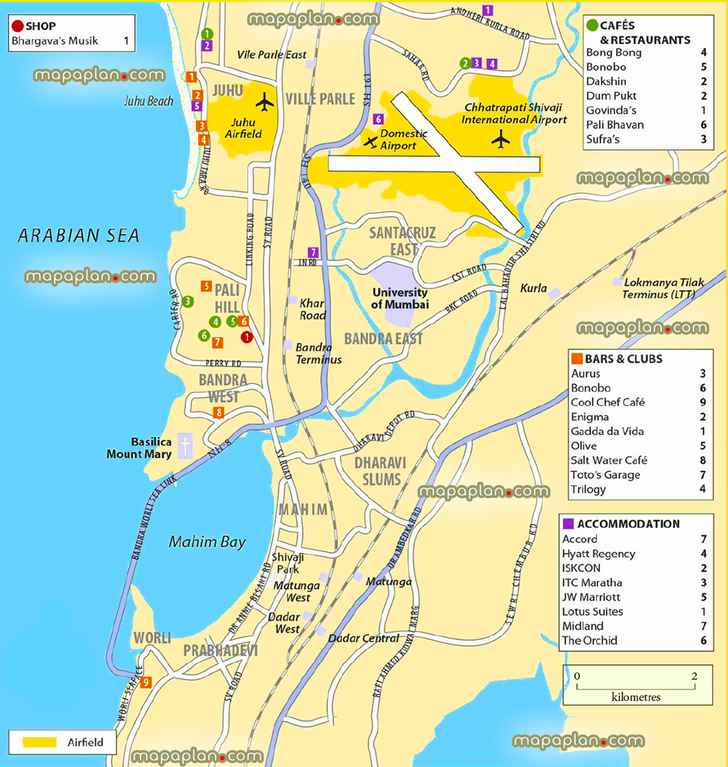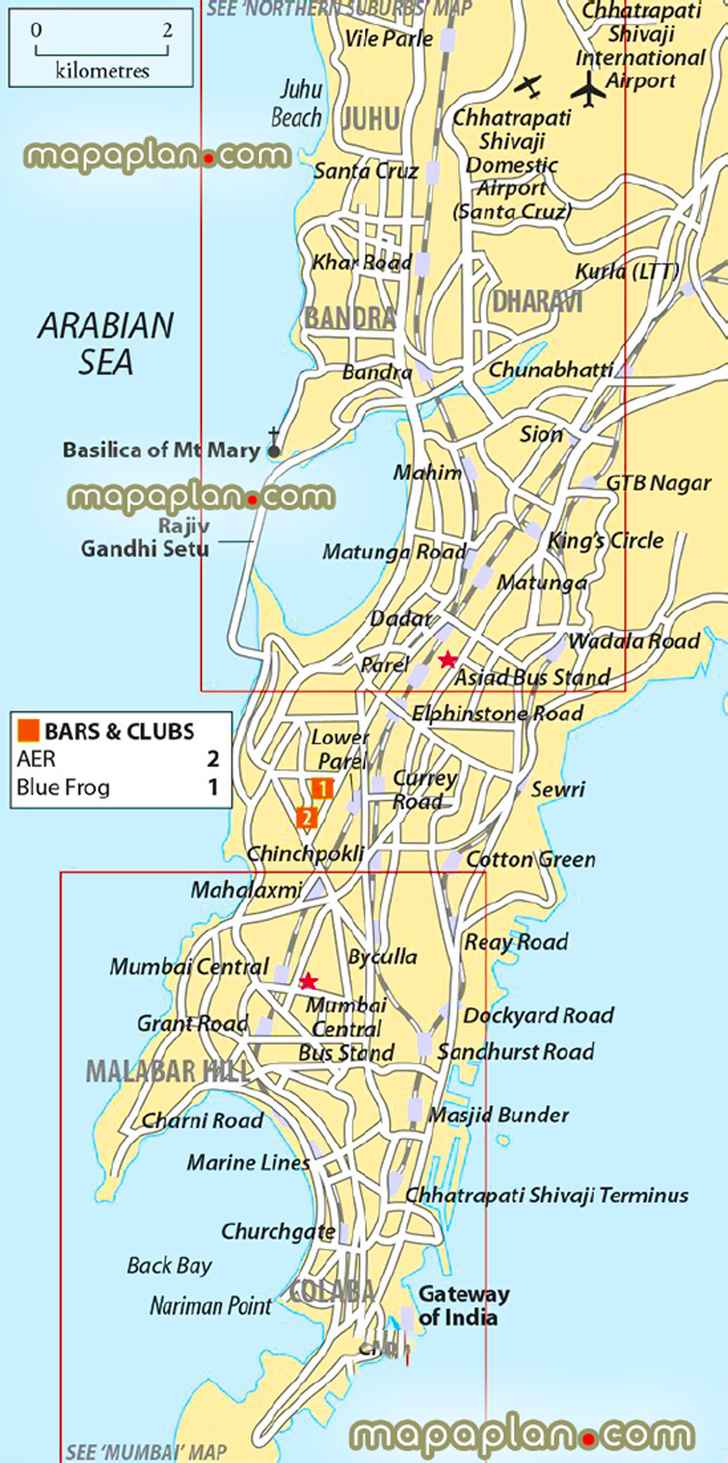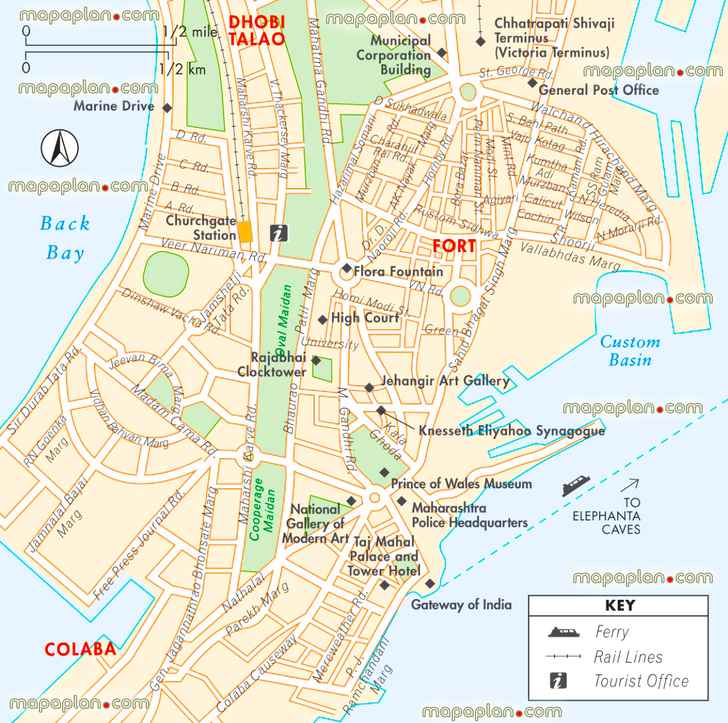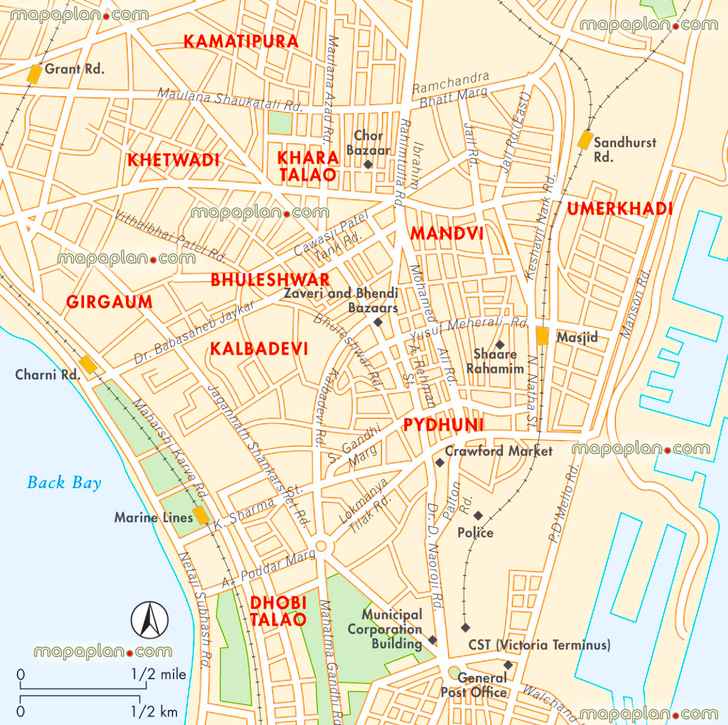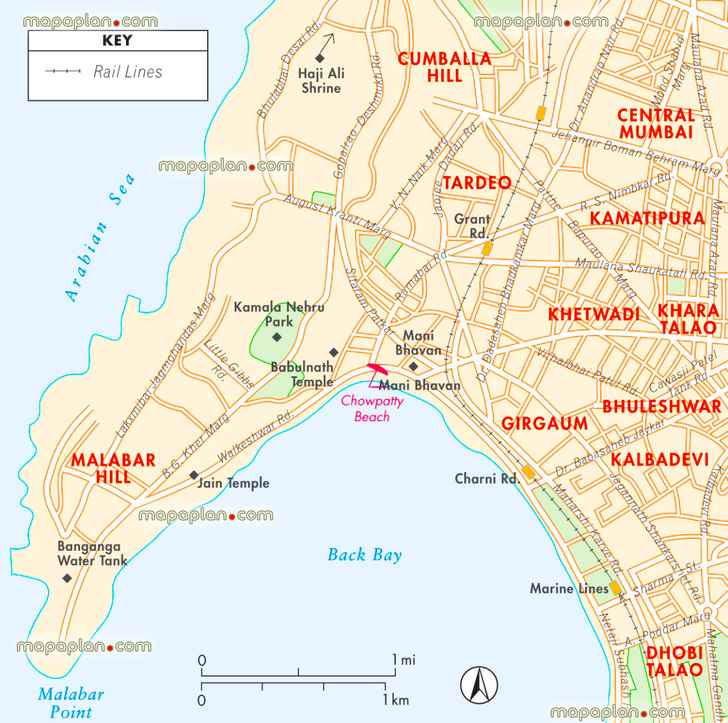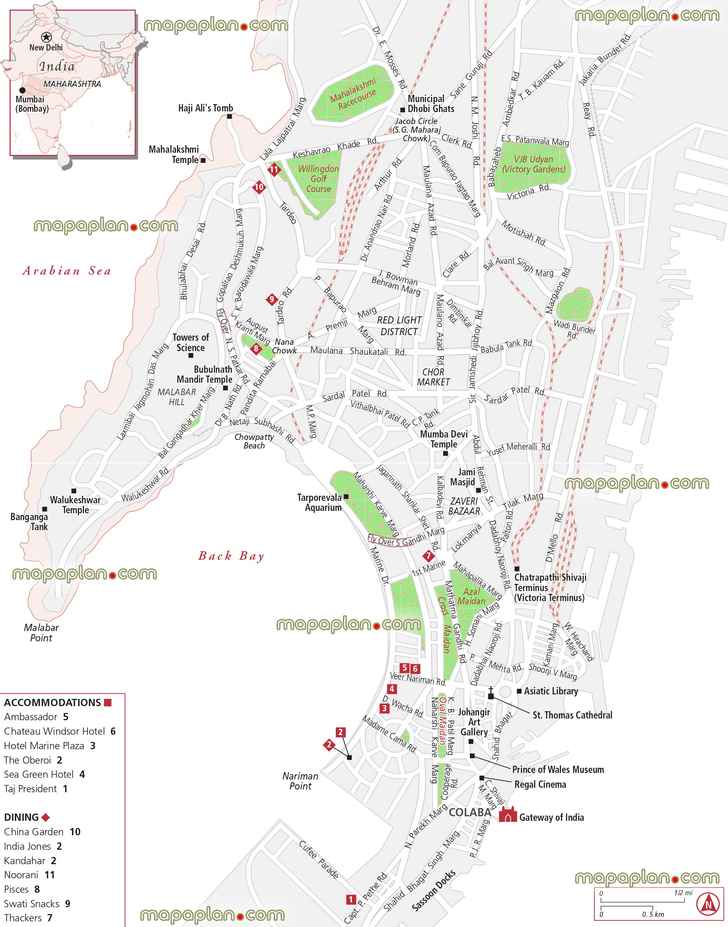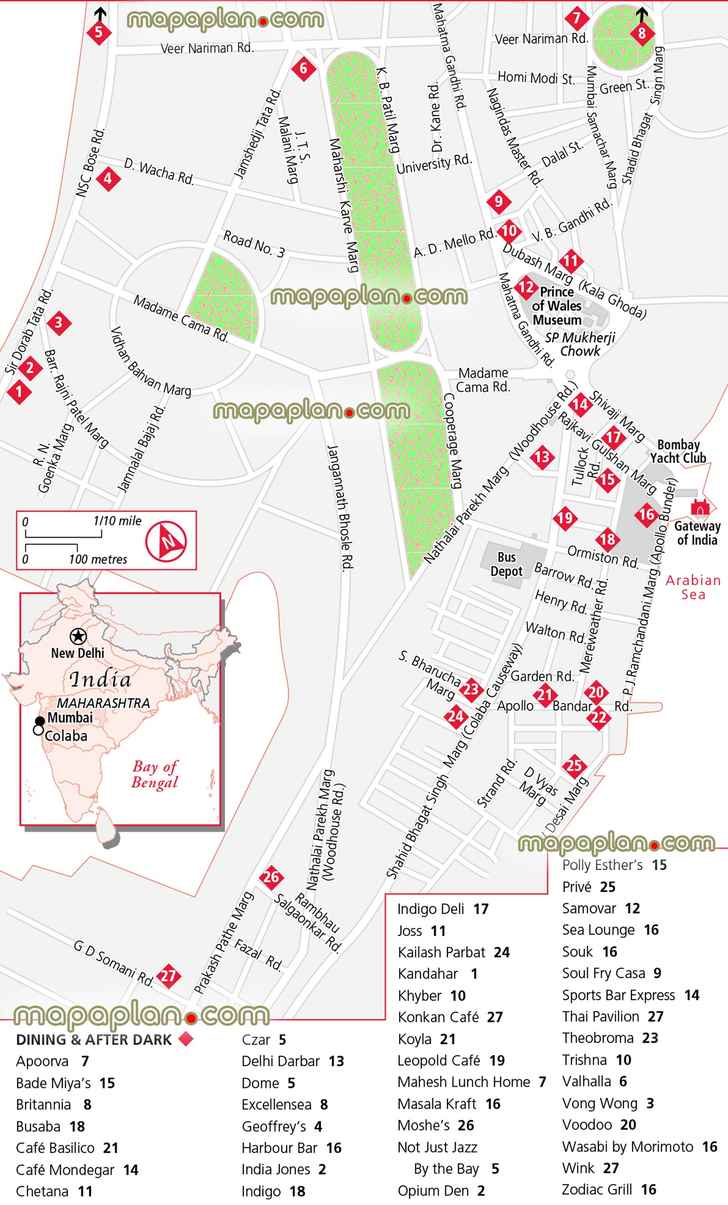 Map of top 10 attractions in Mumbai
The typical top ten attractions are listed below. You can find the detailed locations of these places on the maps above.
Gateway of India - Mumbai's defining landmark, and a favourite spot for an evening stroll. It was the first sight to greet travellers to Indian shores during the heyday of the British Raj.
Chhatrapati Shivaji Maharaj Vastu Sangrahalaya (Prince of Wales Museum) - Mumbai's biggest and best museum displays a mix of exhibits from all over India.
Colaba - The tip of Mumbai's peninsula is one of the oldest parts of the city, home to the majestic Taj Mahal Palace Hotel, the Gateway of India, and the Colaba Causeway, the city's main commercial drag.
Fort and Marine Drive - Netaji Subhash Chandra Marg, better known as Marine Drive, is Mumbai's seaside prom, an eightlane highway with a wide pavement. From the winding lanes of quaint Kala Ghoda (a tiny enclave within the Fort District) to the long promenade of Marine Drive, this neighborhood provides a good wander, and the best seafood in town. Many famous landmarks are located here: Keneseth Eliyahoo Synagogue, Asiatic Society, Horniman Circle Gardens, St. Thomas' Cathedral
Malabar Hill and Nearby - Mumbai's richest neighborhood also houses some of the city's most important holy sites.
Central Mumbai -A bit of a no-man's-land when it comes to sightseeing, the densely populated center of the city does have a number of choice dining and lodging options.
CST and Nearby - In the shadow of Mumbai's massive Victorian train station, this is where you'll find the city's best street food and the biggest, busiest bazaars.
Elephanta Island - Just a short ferry ride from South Mumbai lie the ancient caves of Elephanta: a historic getaway from the ultramodern city. Catch a boat across Mumbai harbour to see one of ancient India's most wonderful rock-cut Shiva temples.
Juhu, Bandra, and the Western Suburbs. The neighborhoods along the northwestern side of the peninsula and on the suburban train line are growing fast. Juhu, probably the northernmost suburb tourists are likely to visit, offers a number of nice hotels, and Juhu Beach—great for a sunset walk. Bandra is home to Bollywood's studios, and where most of India's biggest celebrities live. Other suburbs have restaurants that make a visit worthwhile.
Aurangabad and the Caves - Aurangabad, about 400 km (250 miles) east of Mumbai, is a base for exploring the astounding cave temples of Ellora and Ajanta.
Taj Mahal Palace and Tower - This sumptuous hotel is a fairytale blend of Islamic and Renaissance styles.
Chhatrapati Shivaji Victoria Terminus (CST or VT) - A fantastically eccentric pile, and the greatest railway station ever built by the British. Officially renamed Chhatrapati Shivaji Terminus (CST) in 1998, it's still better known locally as VT.
Haji Ali Dargah - This exquisite Indo-Islamic shrine is one of Mumbai's most striking symbols.
Kala Ghoda - Kala Ghoda, the area situated between Colaba and the Fort, contains most of Mumbai's main galleries and museums alongside a wealth of colonial buildings.
Nehru Centre & Nehru Planetarium - This cultural complex includes a planetarium, theatre, gallery and an interesting history exhibition.
Beaches/ Seafront areas - Popular destination found on our maps include Worli Fort, Bandstand, Juhu Beach, Chowpatty Beach on Marine Drive,
Colaba Causeway - Reclaimed in the late nineteenth century from the sea, Colaba's main thoroughfare, Shahid Bhagat Singh Marg, better known as Colaba Causeway, leads south from the tourist enclave towards the quieter military cantonment area.
Chhatrapati Shivaji - Museum A fine collection of priceless Indian art, from ancient temple sculpture to Mughal armour.
Maidans (parks) - Where Mumbai's citizens escape the hustle and bustle to play cricket, eat lunch and hang out.
Crawford Market - Crawford (aka Mahatma Phule) Market, ten minutes' walk north of CST, is an old British-style covered market dealing in just about every kind of fresh food and domestic animal imaginable.
Jama Masjid and Zaveri Bazaar - The streets immediately north of Crawford Market and west of Mohammed Ali Road form one vast bazaar area, dominated by the domes and minarets of the chintzy white Jama Masjid. Cutting north from the Jama Masjid is Zaveri Bazaar - the jewellery market.
Chowpatty Beach - Situated at the top of Marine Drive, Chowpatty Beach is a Mumbai institution.
Haji Ali's Tomb - Mingle with the crowds of Muslim worshippers who flock to the island tomb of Sufi mystic Haji Ali to listen to qawwali music on Thursday evenings.
Other tourist attractions shown on our maps include: Jehangir Art Gallery, University of Mumbai (Bombay University), Hight Court, Khotachiwadi, Zoo, National Gallery of Modern Art, Walkeshwar Temple, Central Bazaar District, Rajiv Gandhi Sea Link, ISKCON Temple, Sanjay Gandhi National Park, Mahalaxmi Dhobi Ghat, Bhuleshwar Wholesale Flower Market, Chor Bazaar (Thieves' Market).
What are some interesting facts about Mumbai?
Tourist information centres - You can find the India Tourism Office in Churchgate. There is also Maharashtra Tourism Development Corporation booth in Madame Cama Road. You will be able to pick up some maps these locations.
City location on the India map - Mumbai city lies on the western coast of India, on a thin peninsula that extends southward almost parallel to the mainland. At the southern end of this peninsula are the Colaba and adjoining Fort area. West of Fort, hugging the Asiatic Sea, is the popular promenade Marine Drive, which terminates at Chowpatty Beach and Malabar Hill. These are the focal nodes for tourists, who, unlike the locals, often refer to the area as downtown. In fact, locals say they are going uptown, or 'into town,' by which they mean they are going toward South Mumbai, the area stretching south from Mahim Creek to Colaba. South Mumbai is where most tourists choose to base themselves. It is the historic heart of the city, with attractions like the Gateway of India and the Prince of Wales Museum, and the widest selection of restaurants and accommodations options. The South Mumbai neighborhoods are described in detail below, but to see where most locals live, including the jet-set stars, it may be worth taking a trip into one of the suburbs. Of these, the most interesting option (and a good alternative to South Mumbai if you're just staying over 1 night—it's a great deal closer to the airport) is Juhu Beach.
Getting around in Mumbai with our maps - Mumbai is a city on the go—but don't expect to get anywhere fast, because traffic is lousy at the best of times. will certainly need to take a taxi to get around.
Orientation - Mumbai, the capital of Maharashtra, is an island connected by bridges to the mainland. The city's commercial and cultural centre is at the southern, claw-shaped end of the island known as South Mumbai. The southernmost peninsula is Colaba, traditionally the travellers' nerve centre, with many of the major attractions, and directly north of Colaba is the busy commercial area known as Fort, where the British fort once stood. It's bordered on the west by a series of interconnected, fenced grassy areas known as maidans (pronounced may- dahns). Though just as essential a part of the city as South Mumbai, the area north of here is collectively known as 'the suburbs'. The airport and many of Mumbai's best restaurants, shopping and nightspots are here, particularly in the upmarket suburbs of Bandra, Juhu and increasingly, Lower Parel.
One day in Mumbai (Bombay) itinerary plannner with our maps - Start at the granddaddy of Mumbai's colonial giants, Chhatrapati Shivaji Terminus (CST, the old Victoria Terminus. Stroll up to Crawford Market and into the maze of other, smaller bazaars here. Exhausted, rest and grab a bite at Rajdhani, finishing off with a juice shake from Badshah Snacks & Drinks. Next, taxi it over to Malabar Hill's Banganga Tank. Soak in the serenity, and cab it back to Chowpatty Beach for an ice cream at Cream Centre. Be sure to pop into the wonderful Mani Bhavan museum dedicated to Gandhi while here. Spend the late afternoon at the Oval Maidan for a spot of impromptu cricket. Don't forget to glance over at the grand edifices of the High Court and the University of Mumbai. Next up is jumpin' Colaba and the Gateway of India ( opposite ), the Taj Mahal Palace & Tower and the colourful Colaba Market ( opposite ). You must be starving by now, so grab some tasty, street-side barbecue at Bade Miya or spoil yourself rotten at Indigo. Finally, swap tall tales with fellow travellers over a beer at Leopold Café & Bar.
Related keywords
2021, 2022, 2023, 2023, 2024, 2025, 2026, 2027, map, plan, download, print, printable, free, detailed, aerial, bird's eye, satellite, guide, planner, travel, sightseeing, visit, trip, tour, tourist, what to do, where to go, things to do, must see, top attractions, points of interest, places, sites, sights, buildings, spots, destinations, locations, landmark, museum, in a week, in 3 days, one day, city, route, bus, kids, children, top 10, top ten, popular, famous, interesting, highlights, public transport, rail, hotels, updated, metro, subway, underground, tube, downtown, coach, nightlife, pub, monument, satellite, accommodation, transit, transportation, supermarket, children, metro, subway, underground, tube, dwg
Seating plans and charts of entertainment venues showing detailed seat and row numbers
High resolution, printable travel guide maps of cities showing top tourist attractions