Milan printable map of top tourist attractions & city travel guide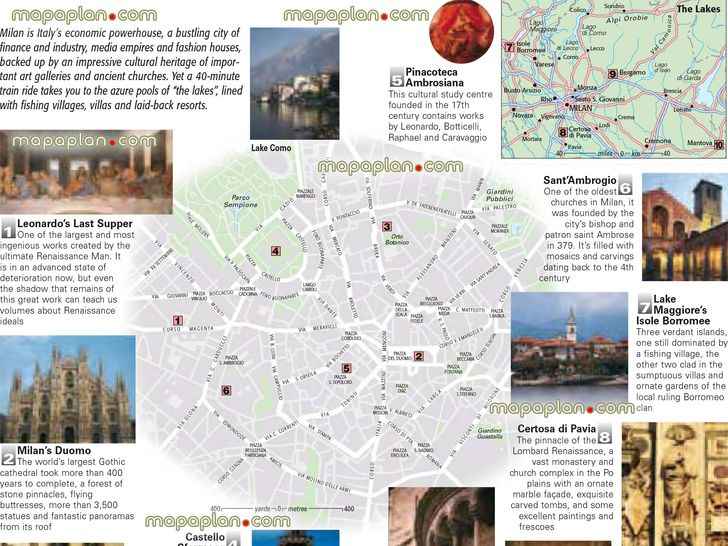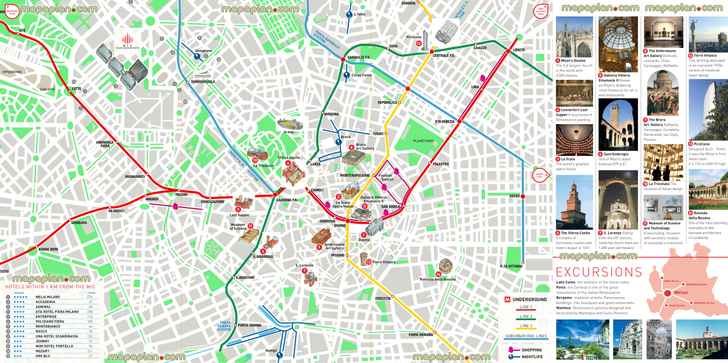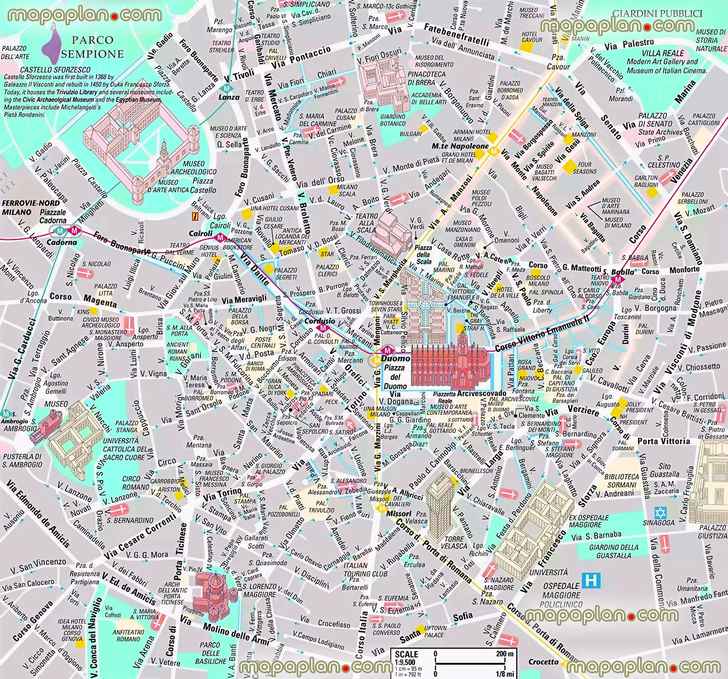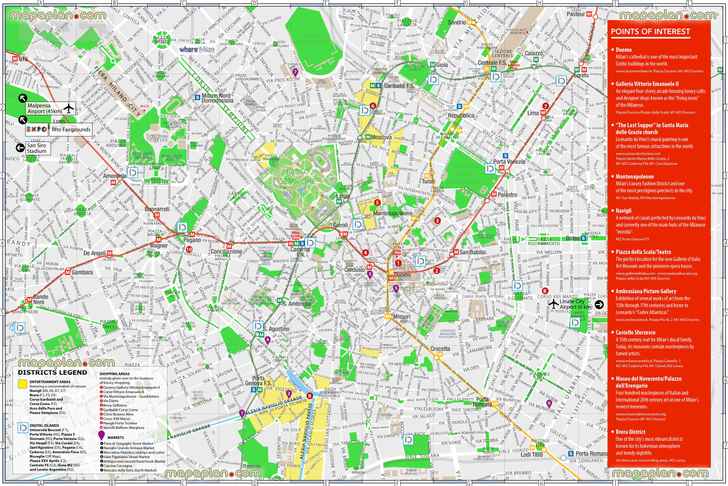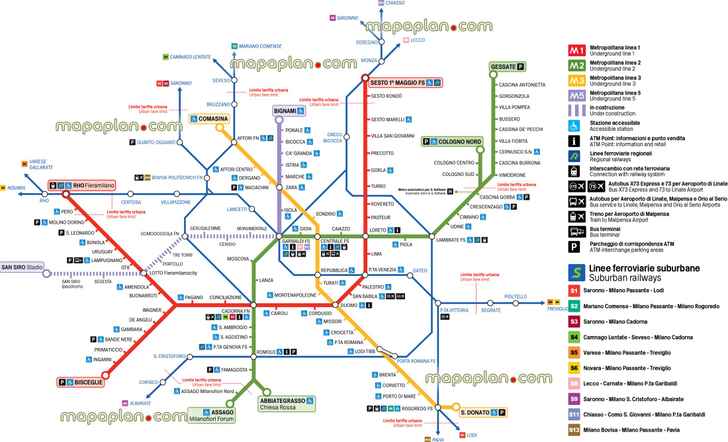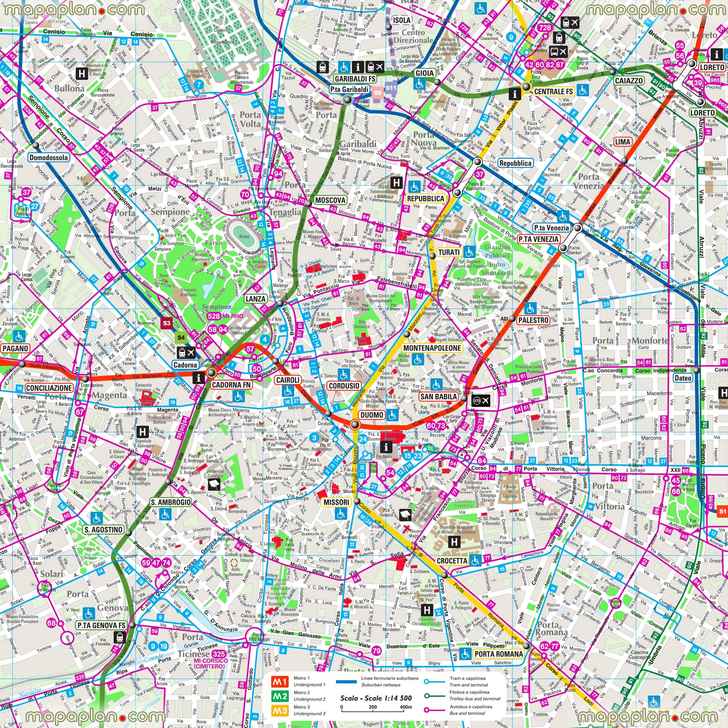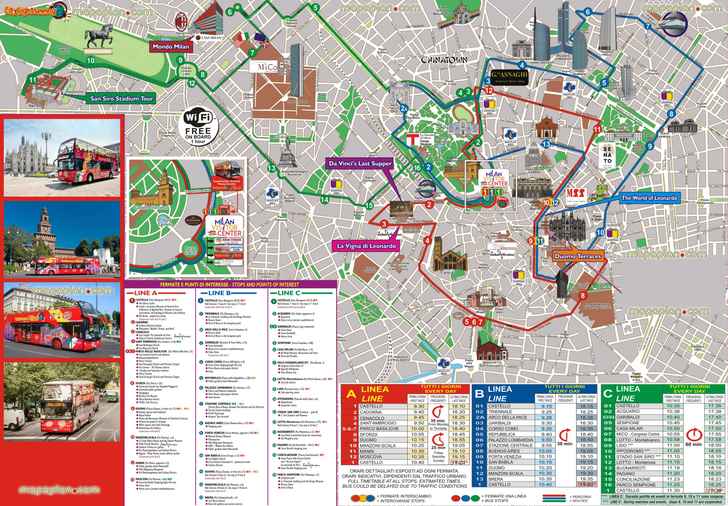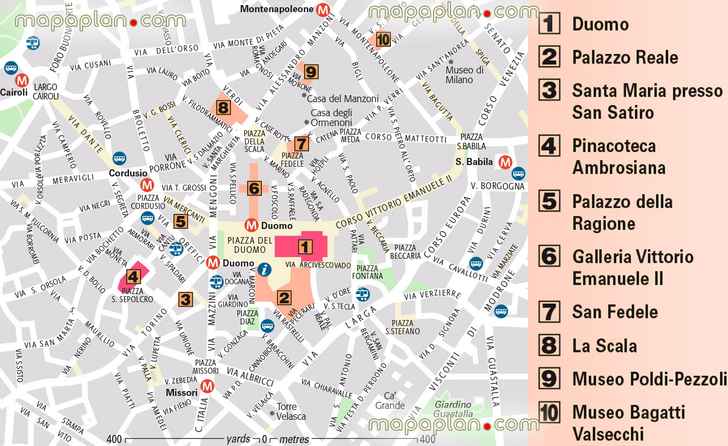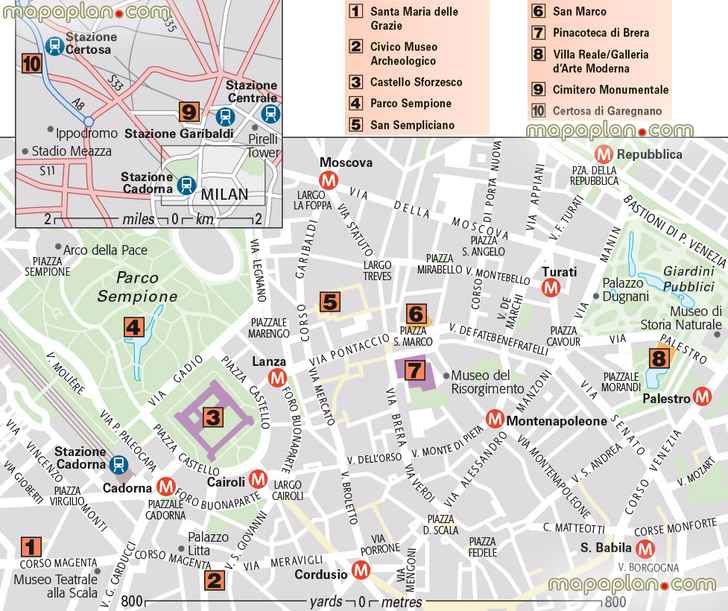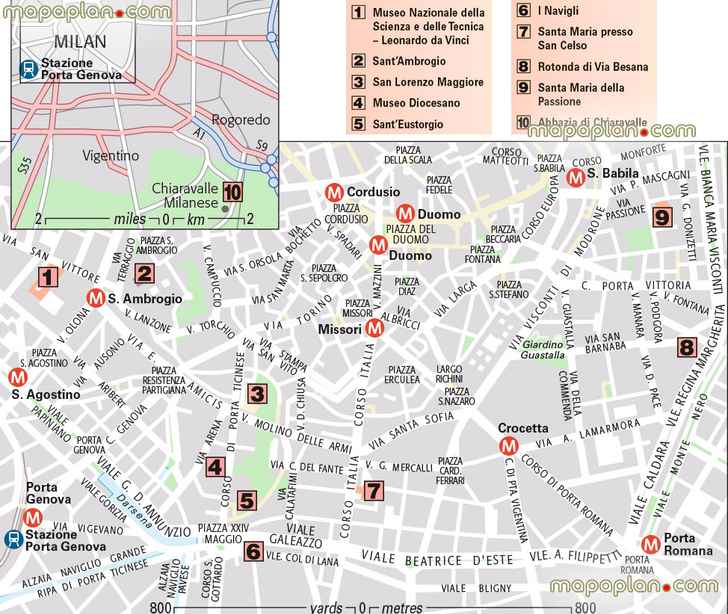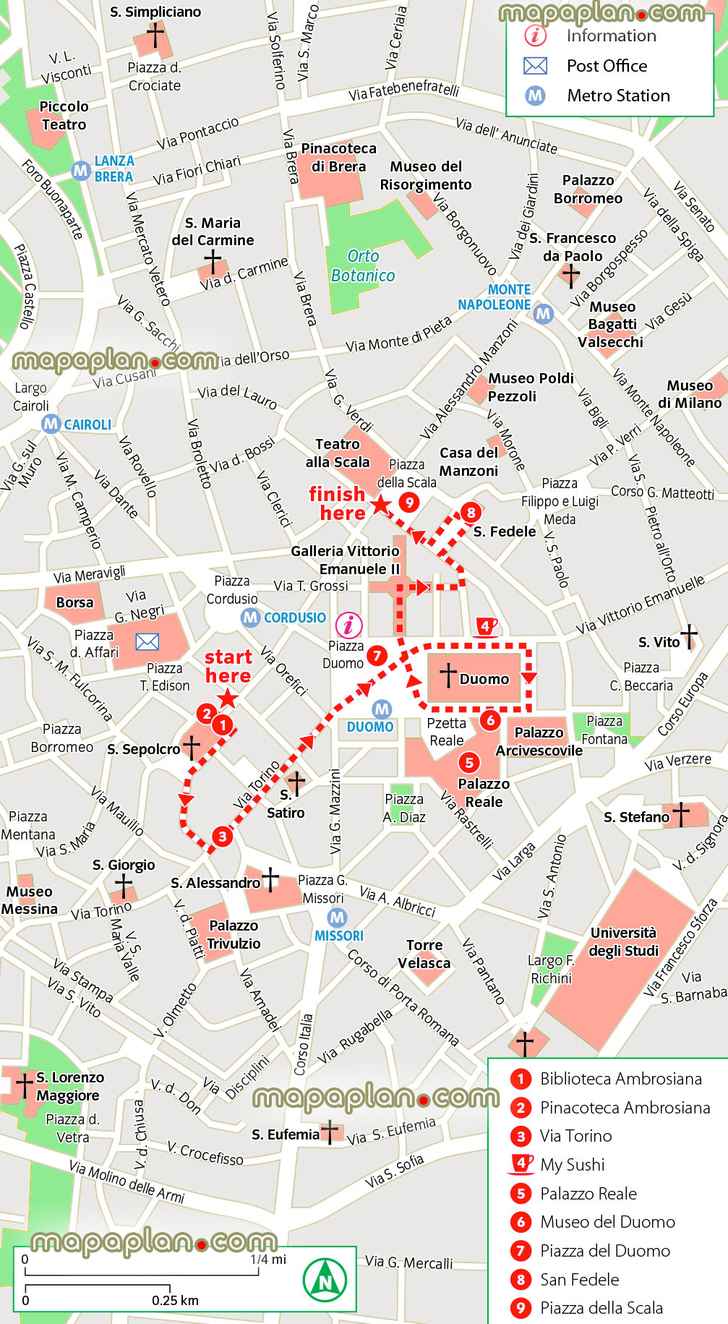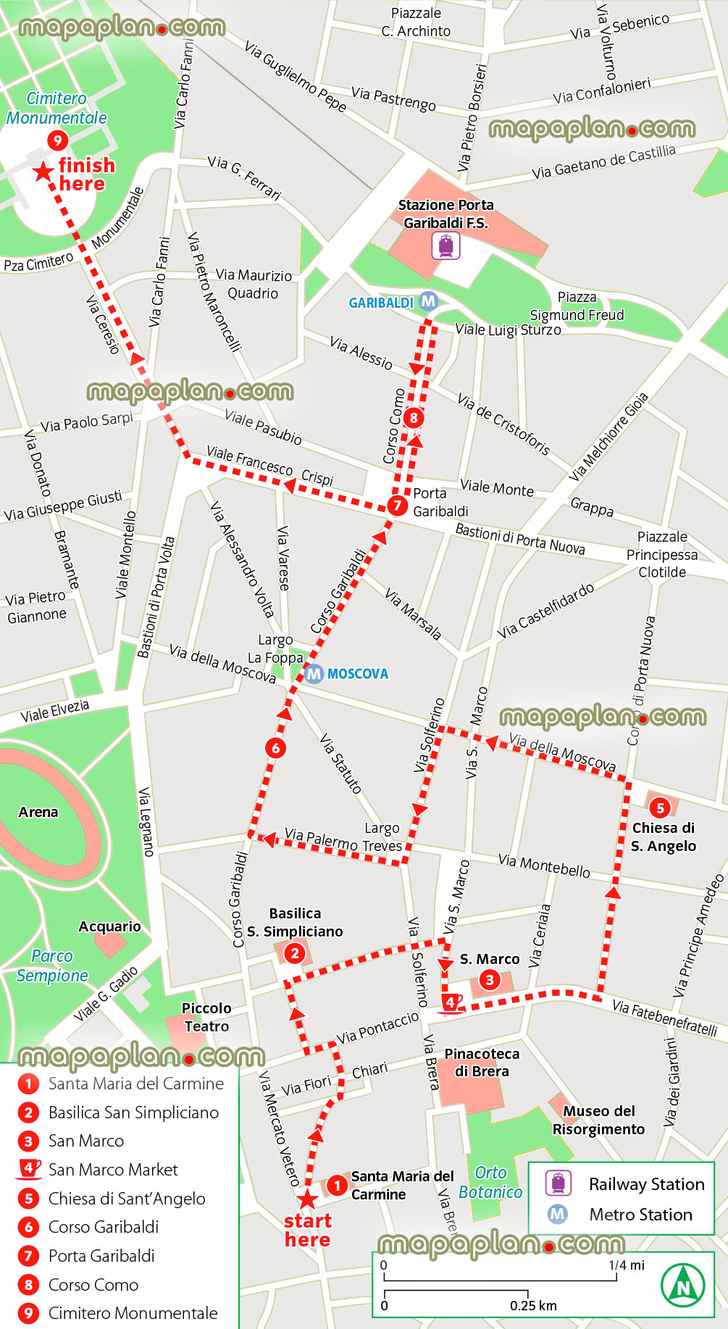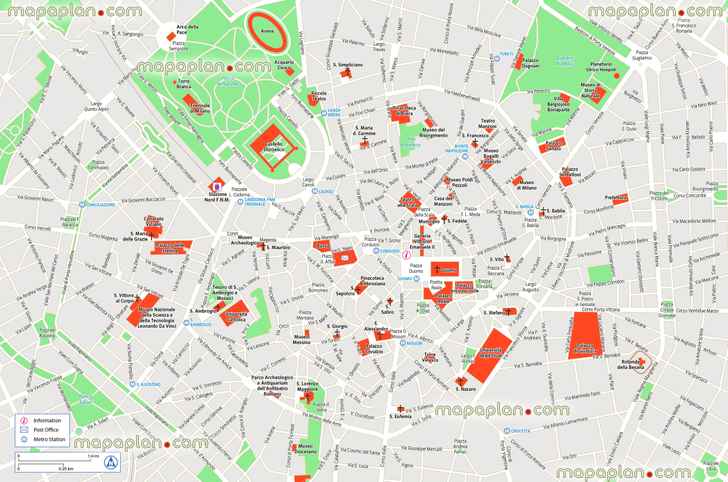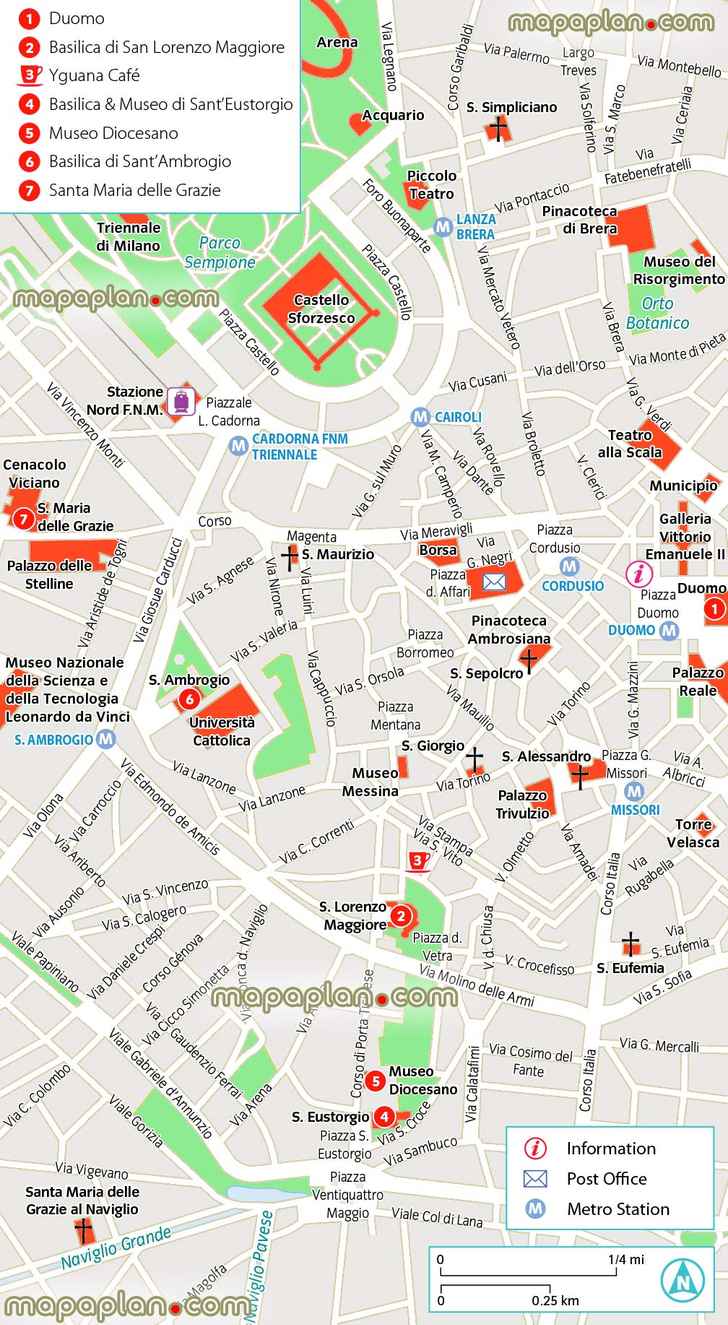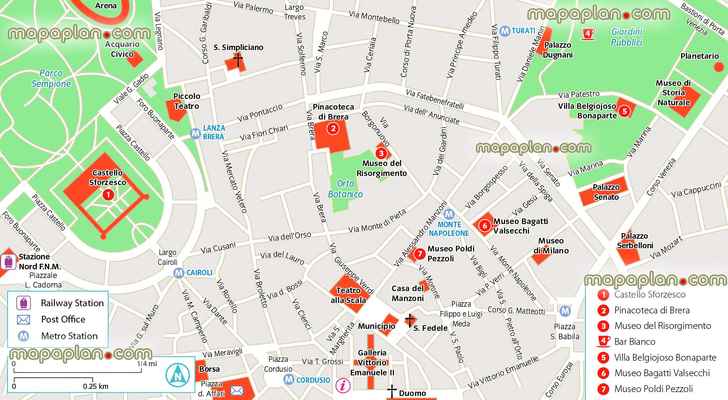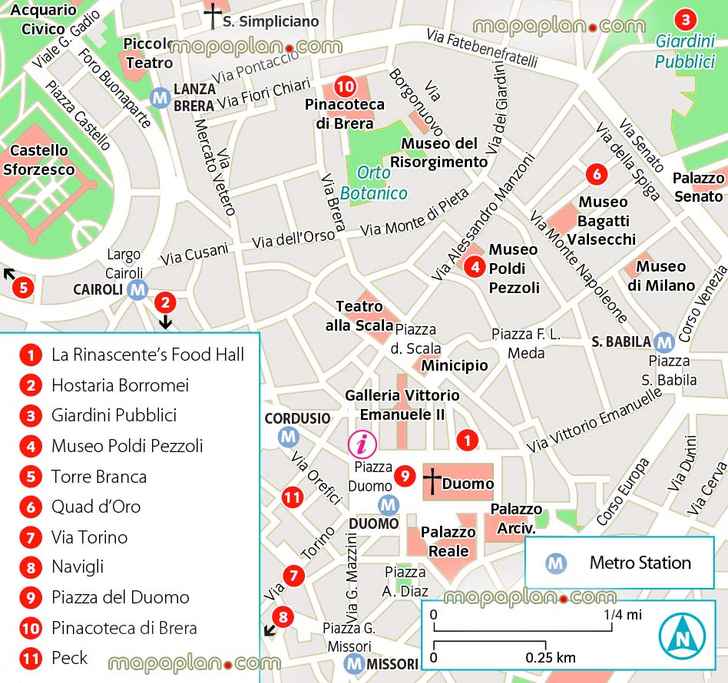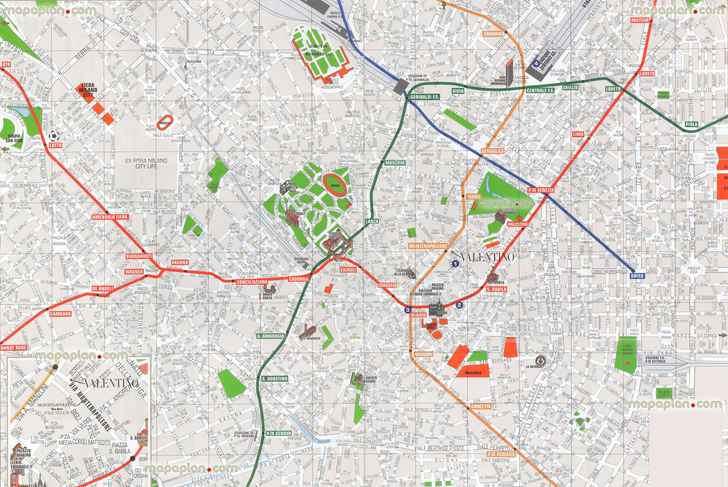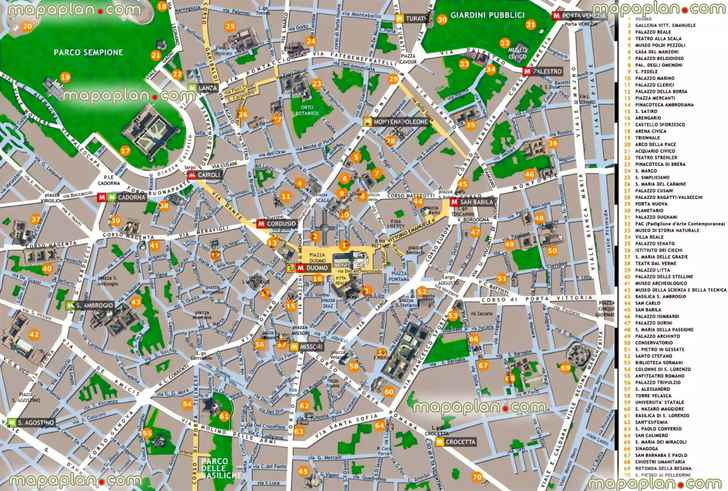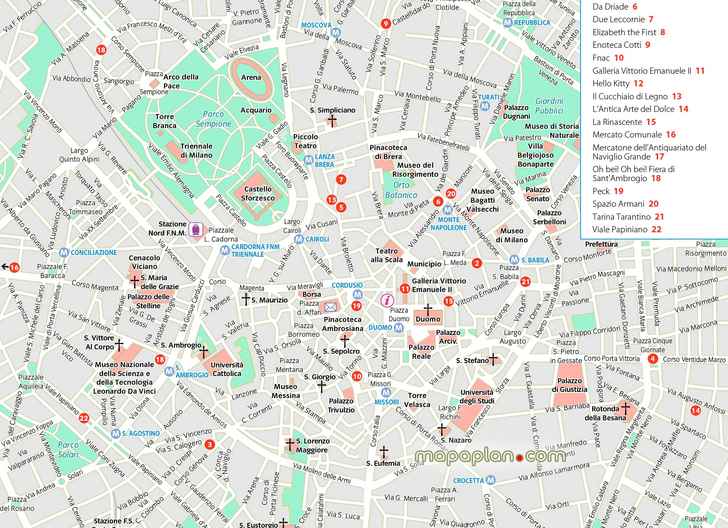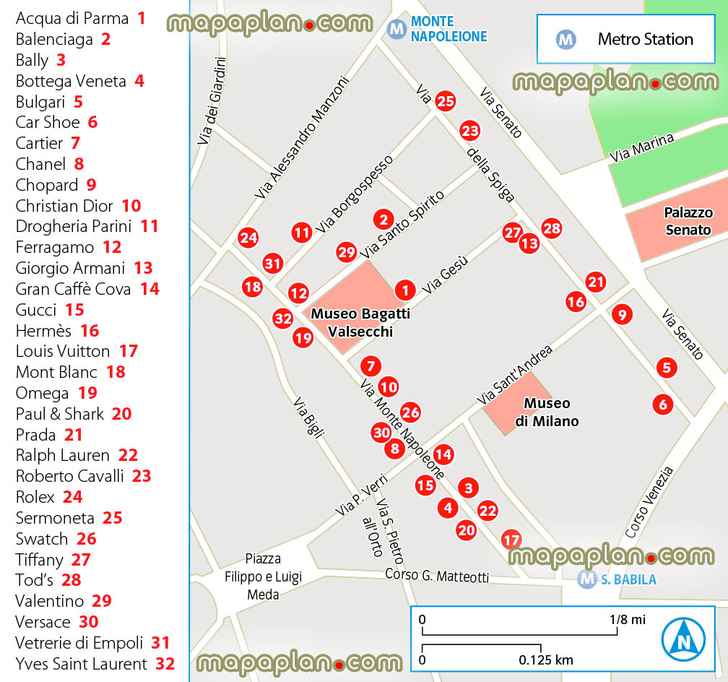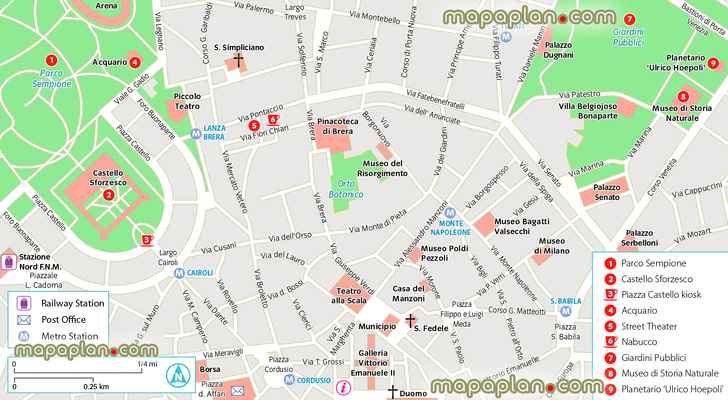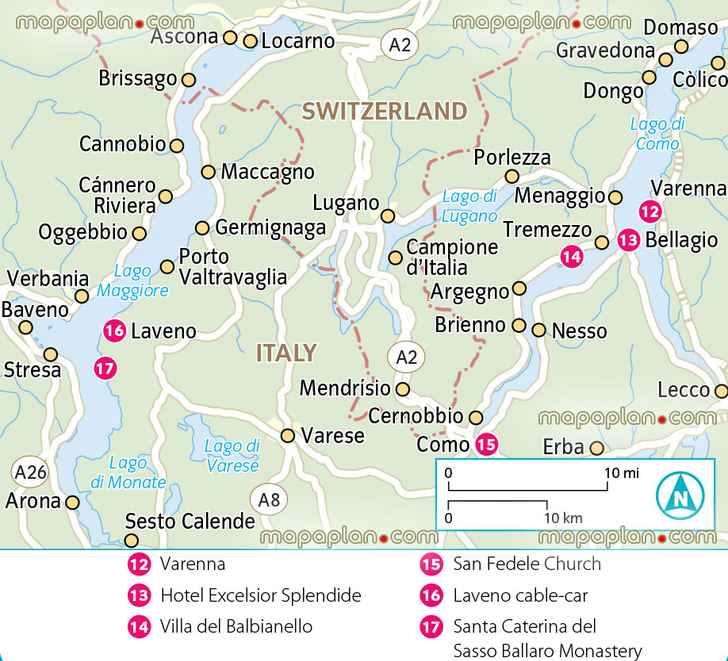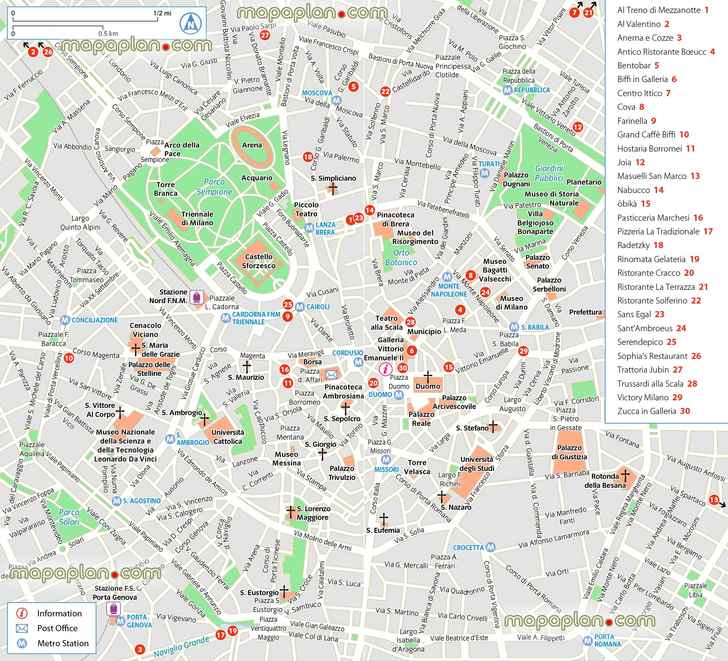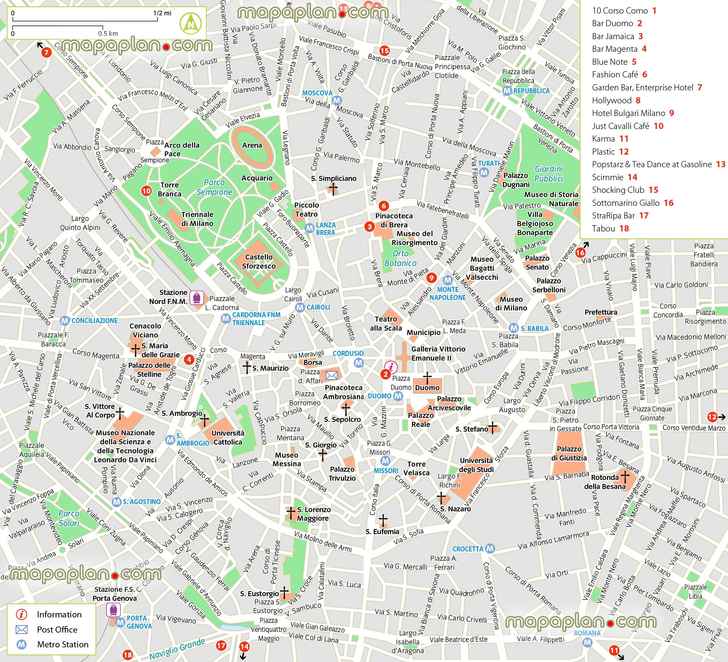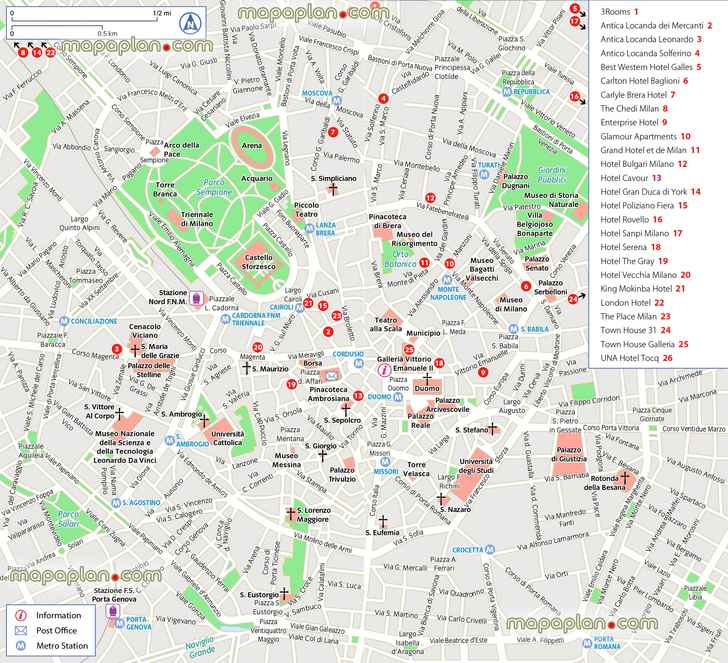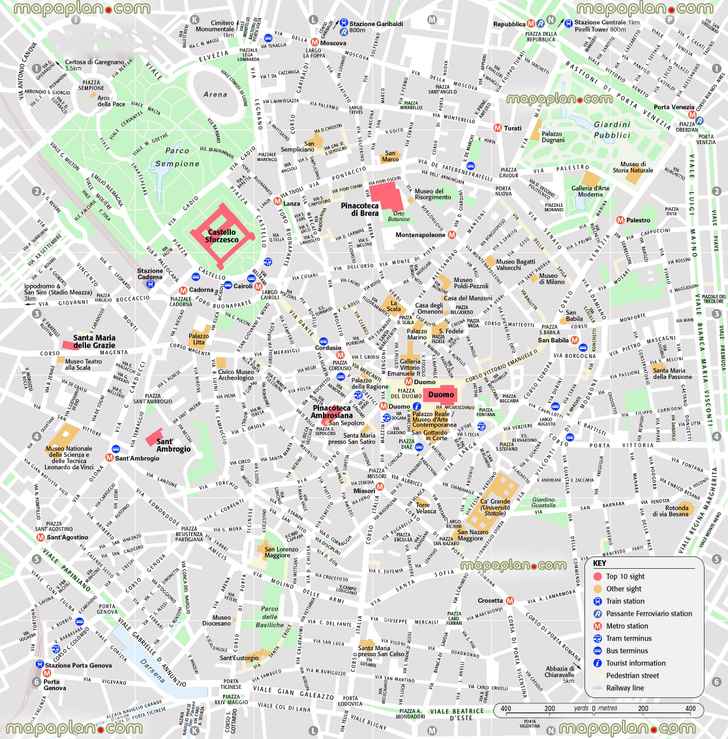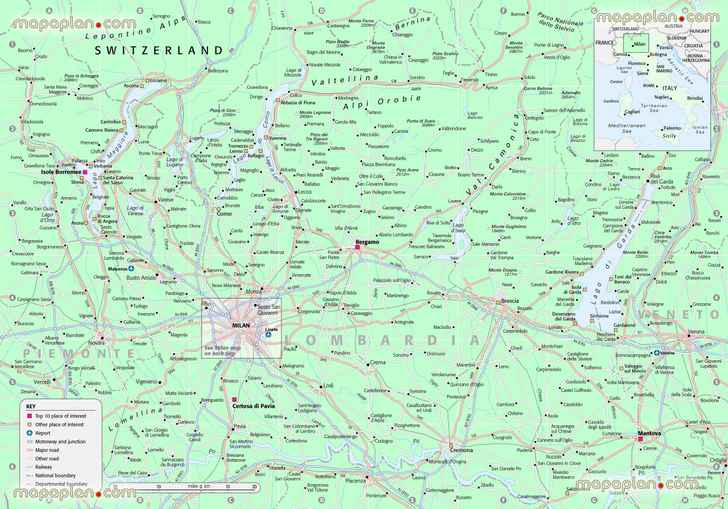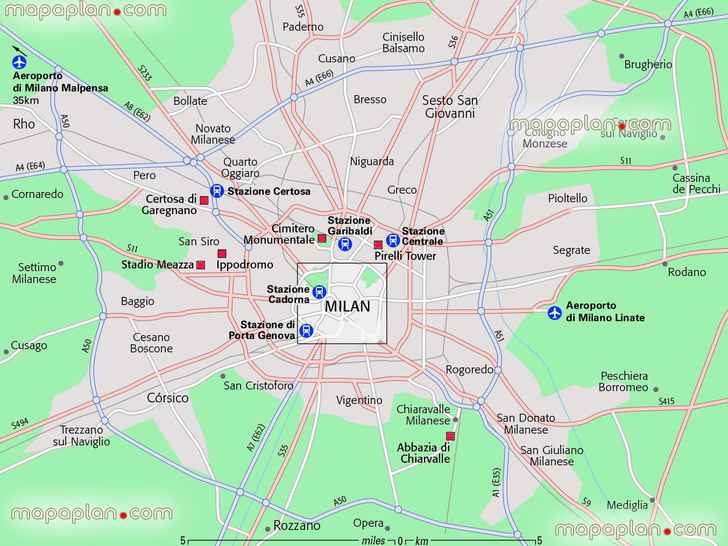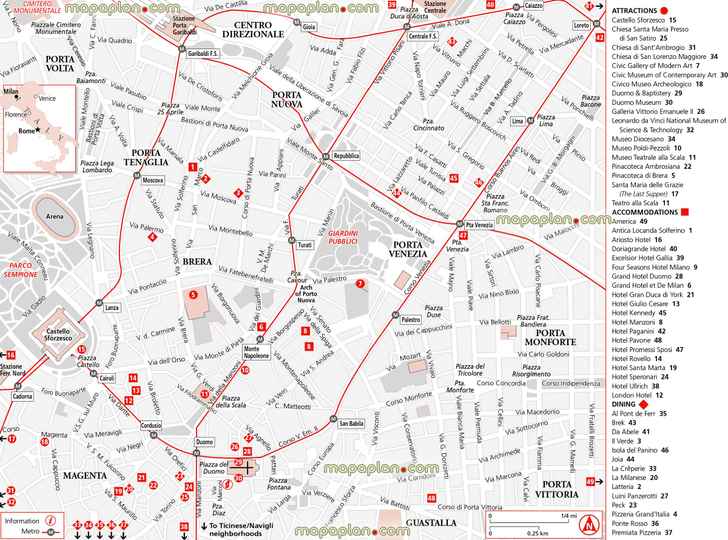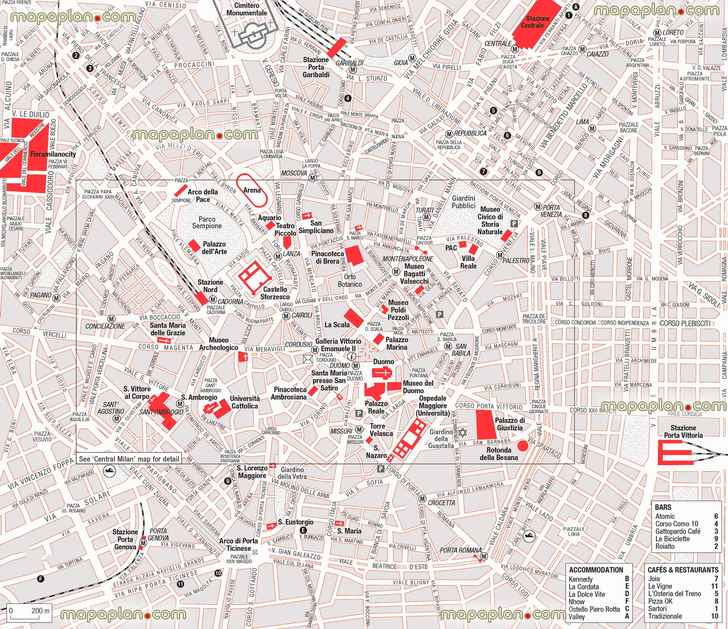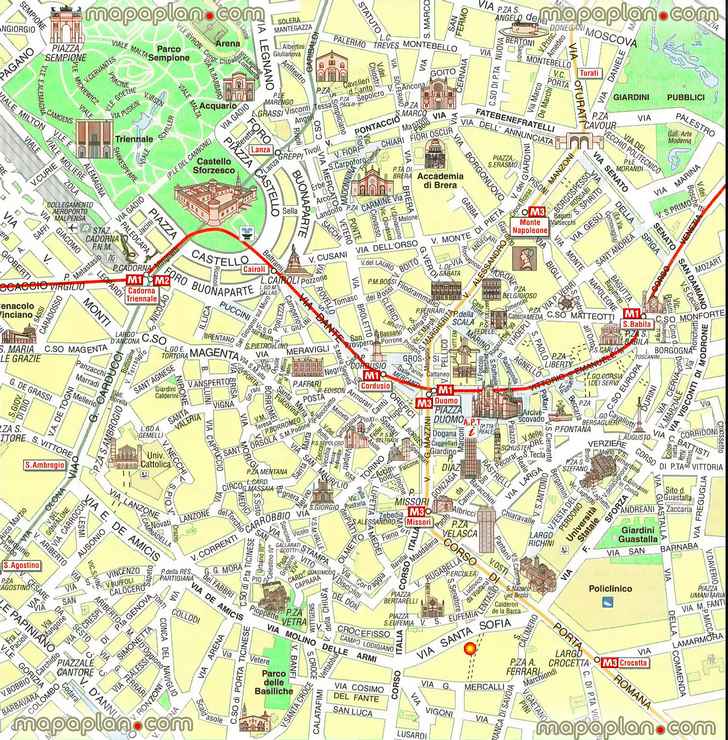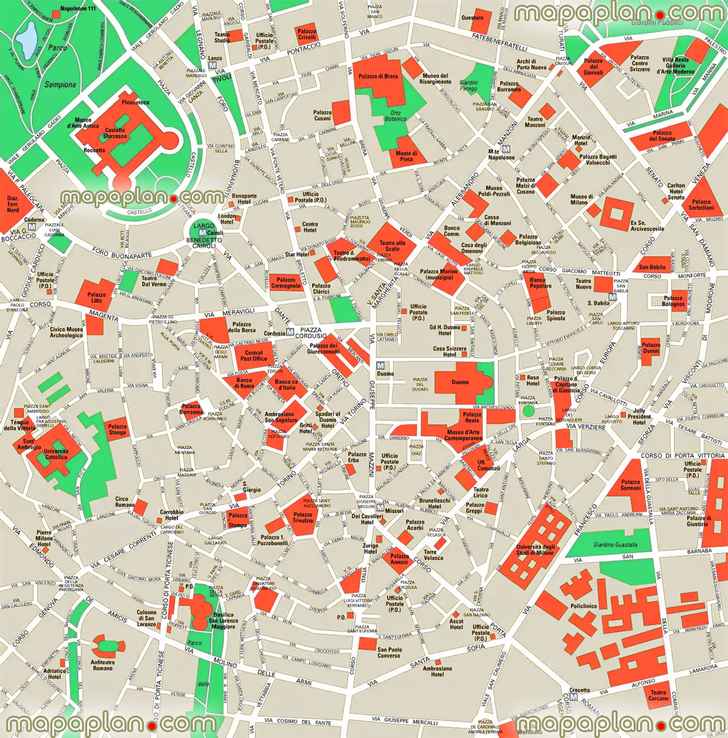 Map of top 10 attractions in Milan
The typical top ten attractions are listed below. You can find the detailed locations of these places on the maps above.
Milan Duomo Cathedral - With its ageless marble facade and countless pinnacles and spires piercing the sky, Milan's splendid Gothic cathedral is a veritable outdoor sculpture museum. It is the world's largest Gothic cathedral took more than 400 years to complete, a forest of stone pinnacles, flying buttresses, and more than 3,500 statues. For an unforgettable view, head to the roof.
Museo del Novecento - Milan's stunning collection of 20th-century art finally has the home it deserves: Italo Rota's remodelled Arengario with its floor-to-ceiling windows overlooking the Duomo.
Leonardo Da Vinci's Last Supper - Saved from WWII bombs by a bank of sandbags, da Vinci's Il Cenacolo (The Last Supper), on the refectory wall of Santa Maria delle Grazie, is one of the world's iconic images. It is one of the largest and most ingenious works created by the ultimate Renaissance Man. It is in an advanced state of deterioration now, but even the shadow that remains of this great work can teach us volumes about Renaissance ideals.
Galleria Vittorio Emanuele II - So much more than a shopping arcade, this neoclassical gallery is a soaring iron-and-glass structure known locally as il salotto bueno – the city's fine drawing room. Shaped like a crucifix, it also marks the passeggiata (promenade) route from Piazza del Duomo to Piazza di Marino and the doors of La Scala.
Castello Sforzesco - Massive castle which is now home to seven diverse museums arranged around two huge central piazzas. The long-time seat and residence of the Dukes of Milan, the Sforza castle is one of the biggest citadels in Europe with walls that once ran 3.5km and 12 sturdy bastions. Now home to collections of tapestries, archaeological artifacts, paintings by Bellini and Mantegna, and sculptures that include Michelangelo's final work, the Rondanini Pieta.
Pinacoteca Ambrosiana - This cultural study centre founded in the 17th century contains works by Leonardo, Botticelli, Raphael and Caravaggio.
Duomo Square (Piazza del Duomo) - Milan's centre is conveniently compact. The splendid cathedral sits in a vast piazza thronged with tourists and touts. From here, choose God or Mammon, art or music, or take in all four at the Galleria Vittorio Emanuele II, La Scala opera house and the galleries of Palazzo Reale. Further west, the city's interior design showrooms cluster around Piazza San Babila, amid grand Novecento and Liberty buildings.
Basilica di Sant'Ambrogio - One of the oldest churches in Milan, it was founded by the city's bishop and patron saint Ambrose in 379. It's filled with mosaics and carvings dating back to the 4th century.
Pinacoteca di Brera - One of the most important collections in Italy, with masterpieces from the 13th to the 20th century. Particularly strong on Renaissance art. Not to be missed. Founded in the 18th century alongside Italy's most prestigious art academy, this 17th-century palazzo houses one of Italy's finest collections of medieval and Renaissance art; it's inarguably the world's finest collection of northern Italian painting.
La Scala Opera - One of the most famous opera houses in the world. Take a guided tour of the backstage area, visit the museum, catch a classical performance or, if you're lucky enough to get a ticket, attend the opera.
Lake Maggiore's Isole Borromee Island - Three verdant islands, one still dominated by a fishing village, the other two clad in the sumptuous villas and ornate gardens of the local ruling Borromeo clan.
Certosa di Pavia - The pinnacle of the Lombard Renaissance, a vast monastery and church complex in the Po plains with an ornate marble façade, exquisite carved tombs, and some excellent paintings and frescoes.
Bergamo - The perfect balance of small town charm and sophisticated culture, medieval streets and Renaissance buildings, chic boutiques and hearty home-cooking.
Mantova - This town is known for its fine Renaissance palaces, its masterpieces by Mantegna and Giulio Romano and its position surrounded on three sides by wide, shallow, swamp-edged lakes. These man-made lakes make the area humid in summer and rather damp and chilly in winter, creating a slight air of melancholy.
Chruch Chiesa di San Maurizio al Monastero Maggiore - The oldest church in Milan attests to the days when the city was the capital of the Western Roman Empire.
Chiesa di Santa Maria presso San Satiro - Beautiful church, just south of Piazza del Duomo.
Stazione Centrale (Central Rail Station) - Majestic, chaotic, noisy, monumental and one of the most unique railway stations in Europe.
What are some interesting facts about Milan?
Getting around Milan - Milan's most famous sights are within walking distance of each other, with Castello Sforzesco, the Duomo, and Via Montenapoleone all 20 minutes apart. However, the public transport system, run by ATM, is a cheap and effective alternative to walking. Travel tickets are valid on all three systems: metros, trams, and buses. Metro stations are well signposted and trains frequent and speedy. Lines 1 (red, with stops for the Duomo and Galleria Vittorio Emanuele II) and 3 (yellow, with a stop at Via Montenapoleone) are the most useful for sightseeing.
Metro - Milan's metro consists of three main underground lines (red MM1, green MM2, yellow MM3) and the blue suburban line the Passante Ferroviario, and runs from 6am to around midnight. An unlimited one-/two-day ticket for bus, tram and metro costs can be bought at metro stations, tobacconists and newspaper stands. Tickets must be validated (time stamped) on buses and trams.
Tram - Milan's trams range from beloved orange, early-20th-century rattling cars to modern lightrail vehicles, crisscrossing and circling the city. Tickets must be prepurchased and validated when boarding. Important tram lines to remember are 1, 2, 3 (all running to the Duomo), 9 (circling the city to Porta Genova), and 29 and 30 (serving the middle ring road and Porta Venezia).
Milan by Streetcar / Tram - For an excellent overview of the city, hop aboard vintage 1920s tram no. 20, distinguished by CIAOMILANO emblazoned on its sides, for a tour with commentary in English and five other languages. The 2-hour tours are hop-on/hop-off for a full day and run daily from Piazza Castello (Metro: Cairoli).
Orientation - Central Milan's spider 's web of streets radiates from the city's geographical and spiritual heart, the Duomo (Cathedral). North of the Duomo is the Quadrilatero d'Oro (Golden Quad), Milan's designer shopping precinct. Northwest is the gentrified, former bohemian quarter of Brera, with narrow cobblestone streets, upmarket antique shops and alfresco cafés. The city's best nightlife is on and around Corso Como, further northwest, beyond which is the edgy Isola design district. Northeast of the Duomo is the Central Rail Station (Stazione Centrale). To the Duomo's south lies the Navigli canal district, while the Castello Sforzesco stands in the Parco Sempione to the west.
City layout - Think of Milan as a series of concentric circles radiating from the Piazza del Duomo at the center. Within the inner circle, once enclosed by the city walls, are many of the churches, museums, and shops that will consume your visiting hours. For a general overview of the lay of the land, obtain one of the serviceable maps, with indices, that the tourist offices provide for free. The city's major neighborhoods encircle the hub, Piazza del Duomo. Heading north from the Piazza del Duomo, walk through the glass-enclosed shopping center (the world's first), the Galleria Vittorio Emanuele II. Emerging from the northern end of the Galleria you'll be just steps away from Piazza della Scala and Milan's famous opera house. A 5-minute walk northeast along Via Manzoni takes you to Via Montenapoleone and the city's high-fashion shopping district, the epicenter of Italian design. A walk of about 10 minutes north of Piazza della Scala along Via Brera brings you into the atmospheric Brera neighborhood.
Tourist information - The APT Milano Information Office, on the corner of via Marconi and Piazza del Duomo, has maps, guidebooks and a free monthly magazine, full of listings and events, called Milano Mese. Also available as a free PDF download from their website.
Related keywords
2021, 2022, 2023, 2023, 2024, 2025, 2026, 2027, map, plan, download, print, printable, free, detailed, aerial, bird's eye, satellite, guide, planner, travel, sightseeing, visit, trip, tour, tourist, what to do, where to go, things to do, must see, top attractions, points of interest, places, sites, sights, buildings, spots, destinations, locations, landmark, museum, in a week, in 3 days, one day, city, route, bus, kids, children, top 10, top ten, popular, famous, interesting, highlights, public transport, rail, hotels, updated, metro, subway, underground, tube, downtown, coach, nightlife, pub, monument, satellite, accommodation, transit, transportation, supermarket, children, metro, subway, underground, tube
Seating plans and charts of entertainment venues showing detailed seat and row numbers
High resolution, printable travel guide maps of cities showing top tourist attractions