Marrakech top tourist attractions city travel maps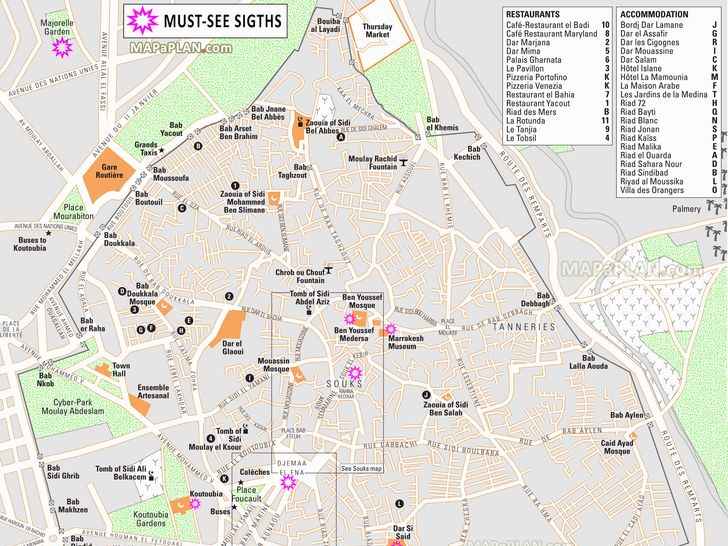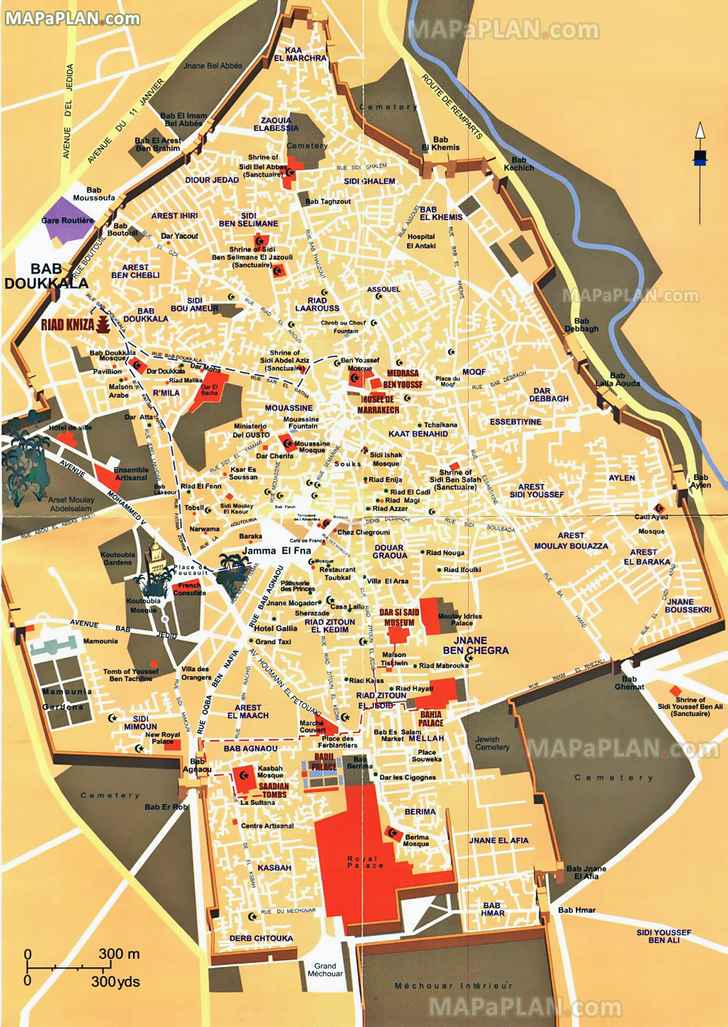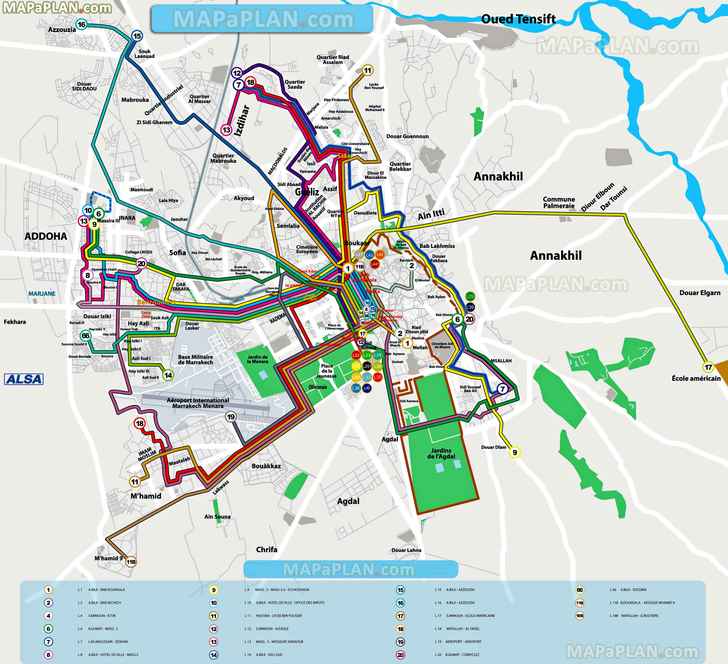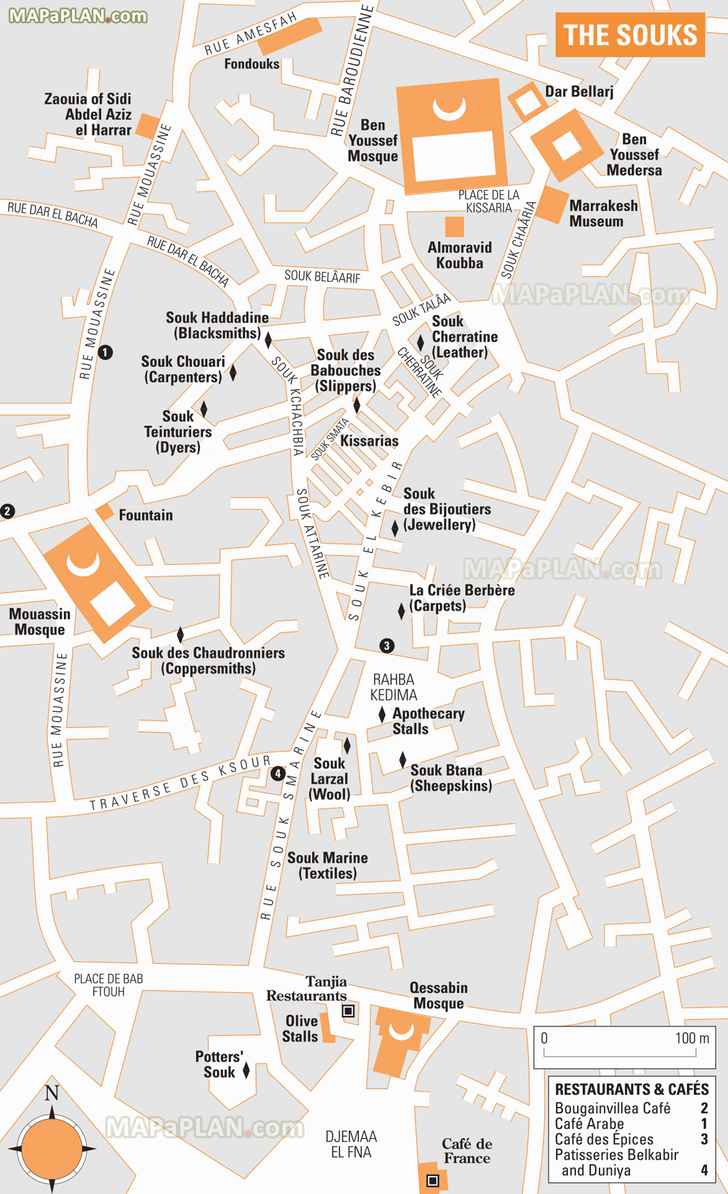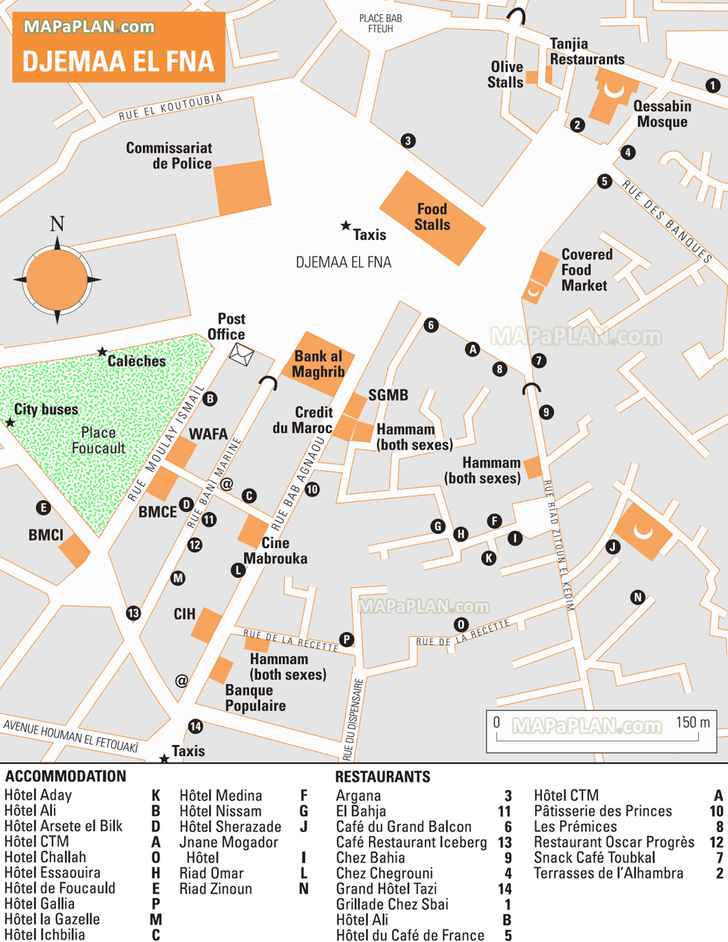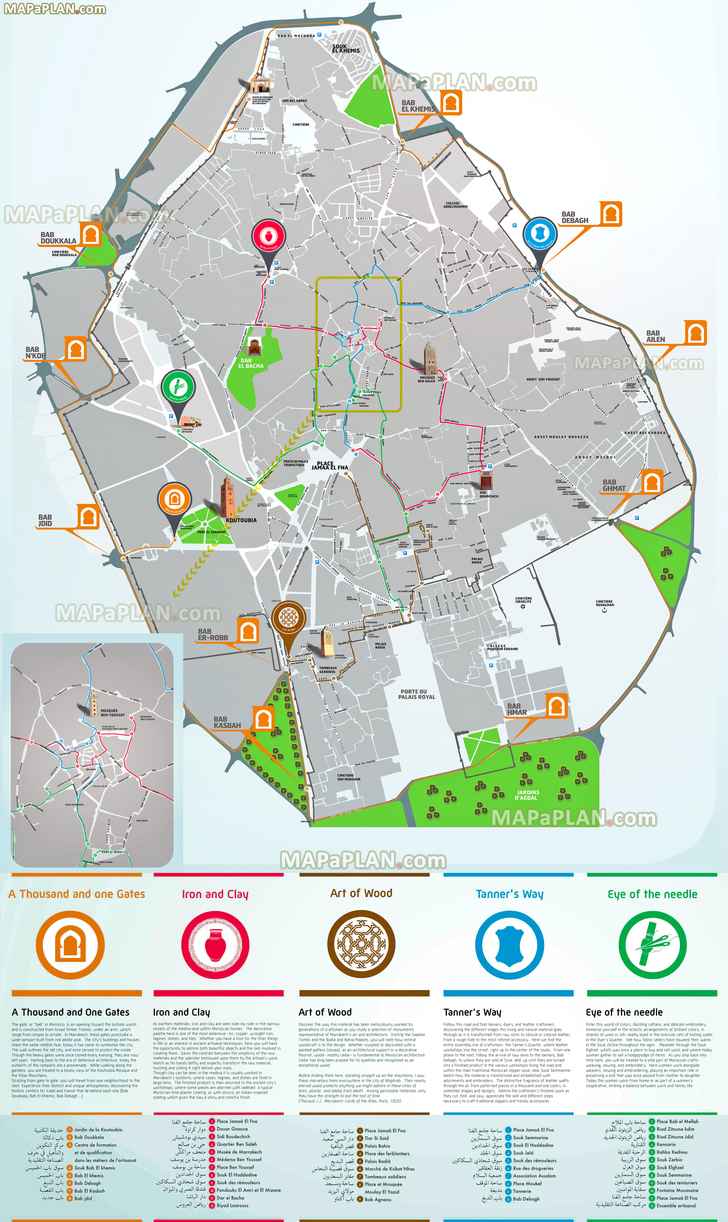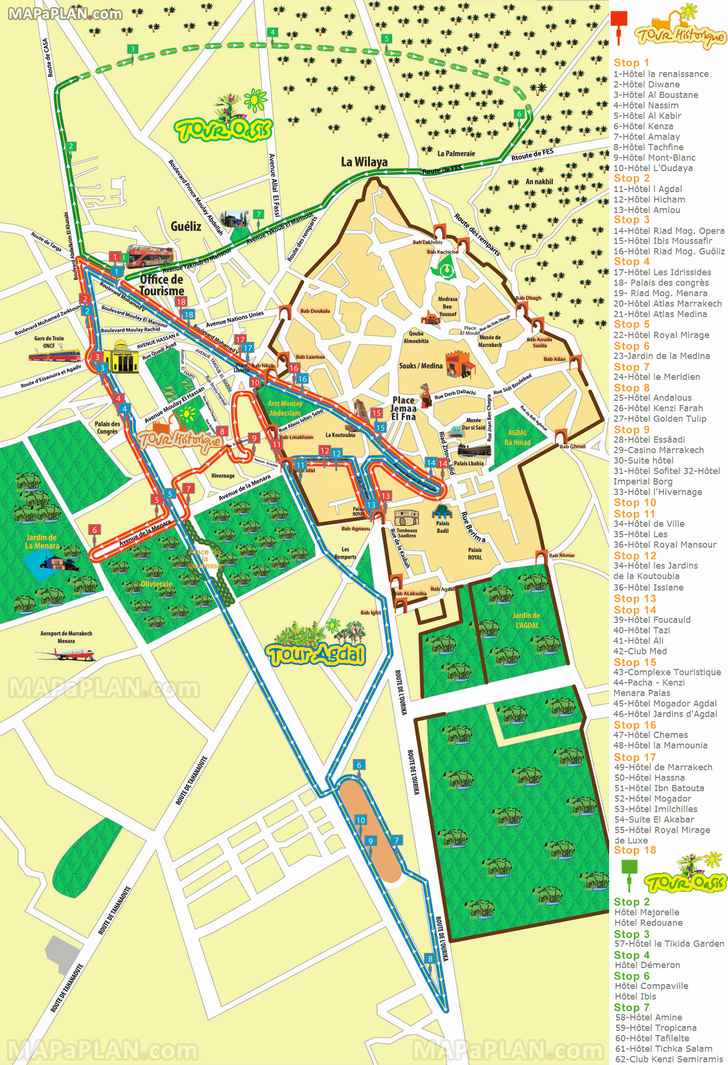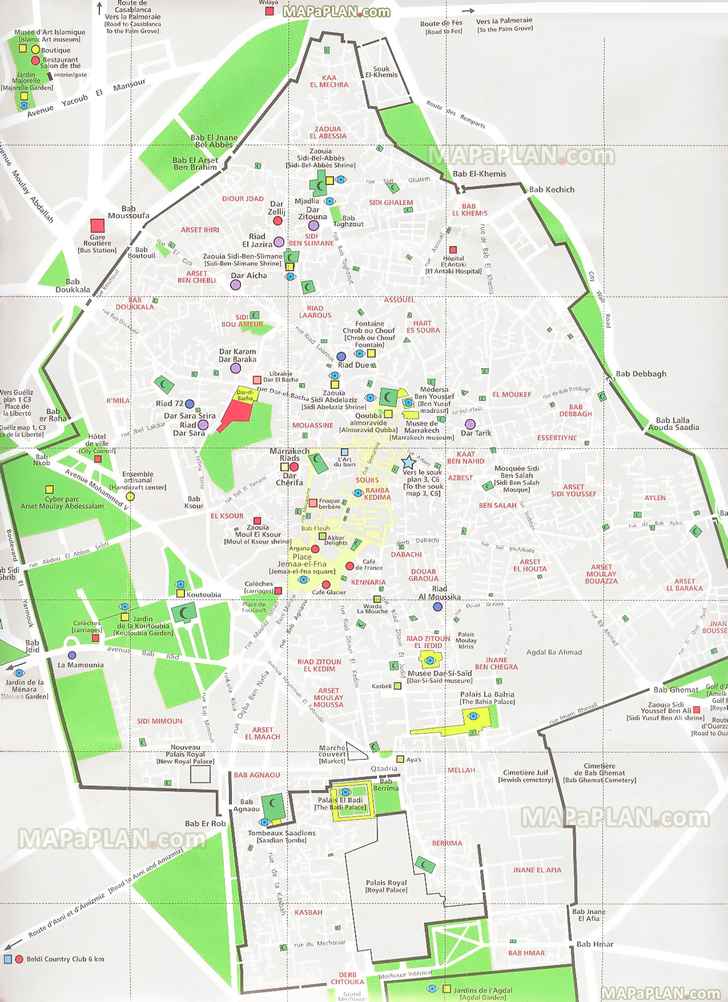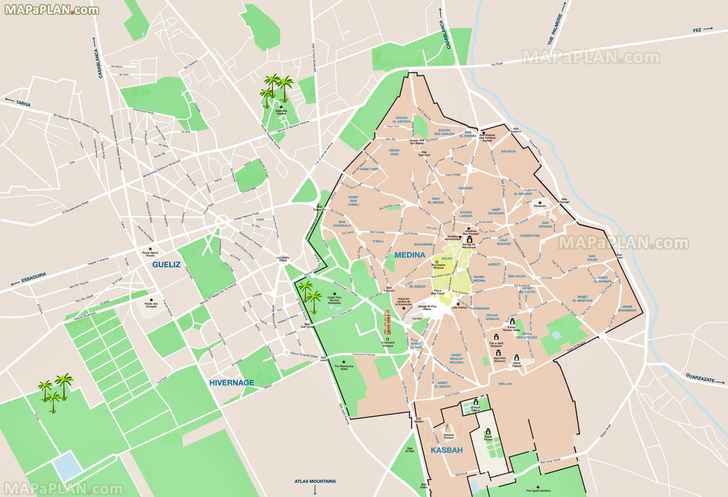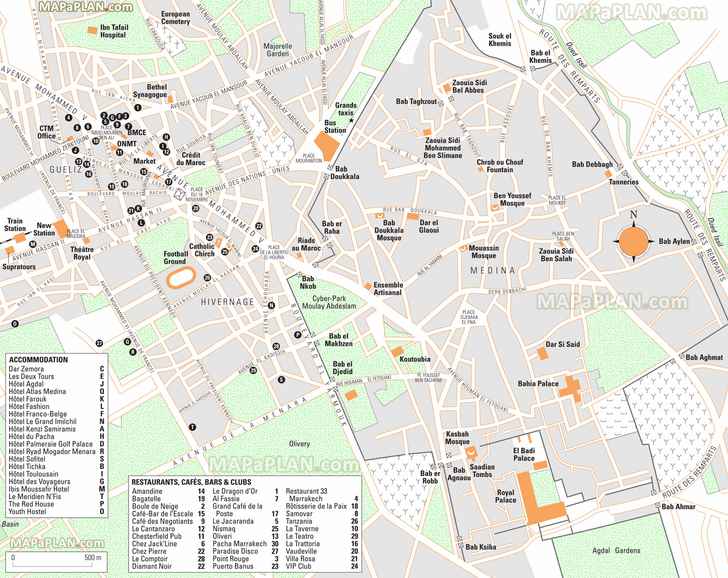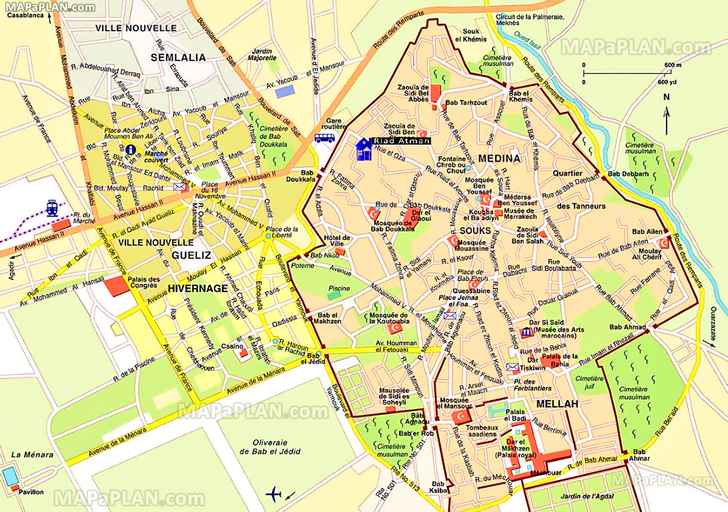 Map of top 10 attractions in Marrakech
The typical top ten attractions are listed below. You can find the detailed locations of these places on the maps above.
Circle the Minaret of the Koutoubia Mosque (Minaret) and visit the Koutoubia Gardens - Marrakech's landmark monument boasts a tower that dominates the skyline for miles around. Like most mosques in Morocco, it is closed to non-Muslims but it's an impressive sight nonetheless.
Have dinner at the Jemaa el-Fnaa square (aka Jemaa el-Fnaa, Djema el-Fna or Djemaa el-Fnaa) - Marrakech's famed square is the setting for an incredible spectacle that begins in the morning with snake charmers, West African Gnaoua musicians, and veiled nakkachat women ready to tattoo any bare piece of flesh with their henna-based designs. Come late afternoon, they are joined by all manner of performers—acrobats, dancers, musicians, and storytellers called halkas—and the square's heart converts to the country's largest open-air restaurant.
Take a walk through the narrow alleys of the souks (souqs) undercover markets - Laid out in the narrow streets to the north of central Jemaa El Fna are a dizzying array of souks, or bazaars. There are two main routes into their heart - rue Semarine (aka Souk Semarine) and rue Mouassine. Different areas specialize in their own specific wares including carpets, textiles (in the Dyers souk), woolen hats, cooked snails, spices, magic supplies, cotton, clothing, kaftans, blankets, raffia bags and baskets.
Visit the El Badi Palace (Palais Badii) - It is said that an army of labourers and craftsmen worked 25 years to complete the Badii Palace. When it was finished, it was said to be among the most magnificent palaces ever constructed, with walls and ceilings encrusted with gold and a massive pool with an island flanked by four sunken gardens. Unfortunately all that survives today are the denuded mudbrick ruins.
Admire the Bahia Palace (Palais de la Bahia) - Built in the 1890s by a powerful grand vizier (high official), the Bahia ('Brilliant') is a minor palace complex approached by a long garden driveway. Inside, arrows direct visitors through a succession of courtyards and private rooms that were used by the vizier and his four wives. All the rooms are lavishly decorated with zellij tiling, sculpted stucco and carved cedarwood.
Stay in a traditional riad house - Riad is a house in the medina with a courtyard. Uniquely Moroccan, they can range from a cosy four rooms to close to 20, from humble to ultra-stylish. The most widely known include Riad Amssafah, Ryad papillon, Ryan Mogador. Alternatively, some of the most popular hotels include Tazi, Le Caspien, Amine, Sherazade, Adam Park, Delano, Albatros Gardens, Ville, Med.
Stroll in the Jardin Majorelle botanical garden - Within this popular city sight is the former studio of the original owner, artist Jacques Majorelle, and its brilliant cobalt-blue exterior contrasts strikingly with the surrounding flora of this now botanical garden. Jardin Majorelle's current owner is the very colorful and fashionable Frenchman, Yves Saint Laurent (YSL).
Learn about Islamic scripture and law in the Ali Ben Youssef Madrasa Quranic school - It is not the oldest or most significant of Marrakech monuments, but the medersa is one of the city's most impressive buildings and allows entry to non-Muslims. It displays all the fine decorative detailing that characterizes what was the golden age of Moroccan architecture.
Explore Saadian Tombs - A tranquil garden hidden at the end of the narrowest of meandering passageways shelters the royal tombs of one of Morocco's ruling dynasties. This is a very small site, easily crowded by the presence of just a single tour group. Visit early morning or late afternoon for the best chance of avoiding the crush.
Indulge in a traditional Hammam body cleanse - A hammam is a Turkish-style steam bath, with a succession of rooms from cool to hot, and endless supplies of hot and cold water, which you fetch in buckets. The popular hammams include Les Bains de Marrakech, Douiria Derb el, Hammam El-Bacha, Hammam de la Rose.
Visit the tanneries to learn about leather making - A strong stomach is required to visit this particular quarter of the medina. This is where animal hides are turned into leather. The work is done by hand and involves the hides being soaked in open vats, which look like a paintbox of watercolours from a distance, but up close smell foul, like cesspits. The guides who show visitors around hand out sprigs of mint to hold under your nose.
Maison de la Photographie (house of photography) - If you are interested in photography, you need to visit the the Maison de la Photographie. The raid style museum located right in the medina showcases a private collection of fascinating Moroccan photography, including vintage Berber photographs from 1870 to 1950.
Other popular landmarks and activities include:
Ourika Valley - Easy on the eyes and city-stressed nerves, this blooming valley just 45 minutes from Marrakesh is the city's escape hatch.
Hop on a local rural bus to the High Atlas Mountains - The High Atlas, North Africa's greatest mountain range, contains some of the most intriguing and most beautiful regions of Morocco.
Catch a Caleche horse-drawn carriage ride - You can take a circuit of the city walls, or almost anywhere you care to go.
Marrakech Museum (Musee de Marrakesh) - It houses exhibitions of Moroccan art and sculpture, both traditional and contemporary.
Marrakech Museum of Photography and Visual Arts (MMPVA) - Housed in a new architecturally distinct building designed by renowned architect Sir David Chipperfield, the Museum sits adjacent to the historic Menara Gardens. The Museum is dedicated to exhibiting the best Moroccan, North African and international lens-based and traditional fine art.
Mamounia Hotel and Gardens - One of the world's great old hotels, since opening in 1923 the Mamounia has been welcoming the rich and famous; Winston Churchill was one of the most celebrated guests to have frequented this hotel. It is set within 7 hectares (17 acres) of delightful gardens surrounded by the city's 12th-century red ochre ramparts.
Menara gardens - The Menara Gardens, with their orchard, pool and pavilion, epitomize a typical Islamic garden. Laid out in the 12th century, the gardens feature a large pool overlooked by a green tile-roofed pavilion.
Maison Tiskiwine - Located en route to the Dar Si Said Museum, this is a private house belonging to the Dutch anthropologist Bert Flint. An avid documenter of tribal arts and crafts, particularly carpets, Flint had amassed a fascinating and vast collection.
Mellah Jewish Quarter - The old Jewish quarter lies immediately east of the kasbah. You can enter via the Souk El Bab Salaam, a busy, covered market street across from a rose-planted square. You will find here one of the city's last working synagogues.
What are some interesting facts about Marrakech?
Morocco is located in Northern Africa, bordering the North Atlantic Ocean and the Mediterranean Sea, between Algeria and Western Sahara. The country covers 446,550 square km of land, slightly larger than California, and slightly smaller than Spain.
Widely referred to as the 'Red City', Marrakech lies in Morocco's south western region, within sight of the High Atlas.
As with most North African cities, Marrakech is broken up into two distinct areas—Old City (also called Medina), which houses the souks (or market area) and Modern City, which houses the commercial quarter (Gueliz) and residential area (l'Hivernage) of the city.
The famous Djemma El Fna, the ancient square at the heart of the city, is the focal point of Marrakech and has been for centuries. By day and, especially, by night it attracts locals and tourists alike to be entertained by dancers, musicians and snake charmers, among others, and by purveyors of a huge variety of inexpensive street food.
The city's souk district, adjoining the square and extending over a wide area, its different sections linked by a confusing network of narrow lanes, is a haven for shoppers and bargain hunters. Here, you can find almost anything from traditional pottery to decorative metalwork, shoes and leather goods, fabrics, spices and much much more. The majority of the souk traders are multi lingual and, sometimes disconcertingly, they will often identify your nationality before you open your mouth!
Must-see attractions in Marrakech include the Majorelle Gardens, the Dar si Said museum, the El Bahia and El Badi palaces, the Medersa Ben Youssef (koranic school) and the Koutoubia mosque, the main landmark of the city with its lofty minaret.
Marrakech is rapidly becoming one of the leading golfing destinations. There are currently six courses, a couple of them offering 36 holes, and others are on the drawing board, all designed by some of the biggest names in golf course design.
Related keywords
2021, 2022, 2023, 2023, 2024, 2025, 2026, 2027, download, print, printable, free, detailed, aerial, bird's eye, guide, map, plan, planner, travel, sightseeing, visit, trip, tour, tourist, what to do, where to go, things to do, must see, top attractions, points of interest, places, sites, sights, buildings, spots, destinations, locations, landmark, museum, in a week, in 3 days, one day, city, route, bus, kids, children, top 10, top ten, popular, famous, interesting, highlights, public transport, rail, hotels, downtown, coach, nightlife, pub, monument, satellite, accommodation, transit, transporation, supermarket, children
Seating plans and charts of entertainment venues showing detailed seat and row numbers
High resolution, printable travel guide maps of cities showing top tourist attractions