Los Angeles top tourist attractions city travel maps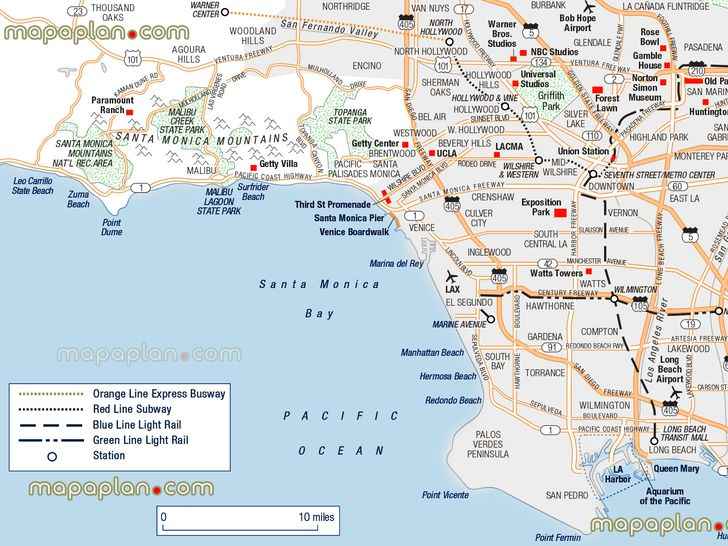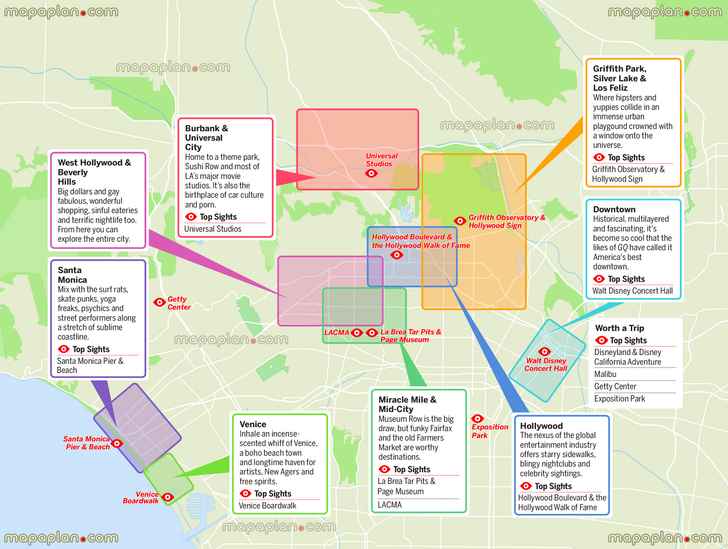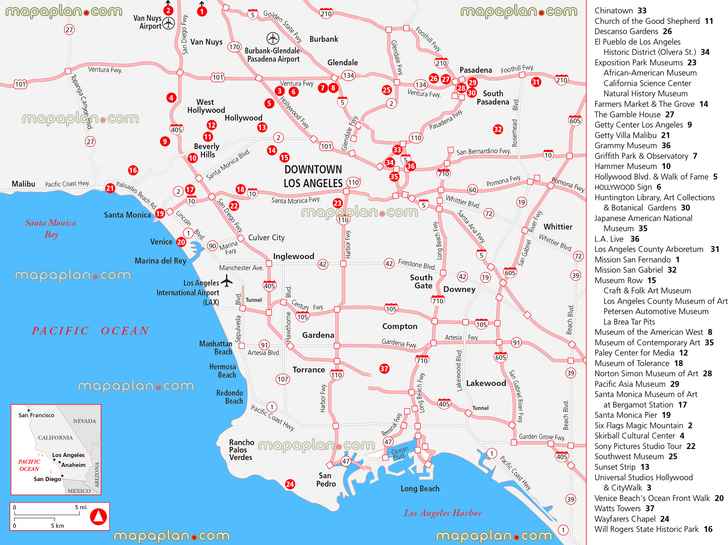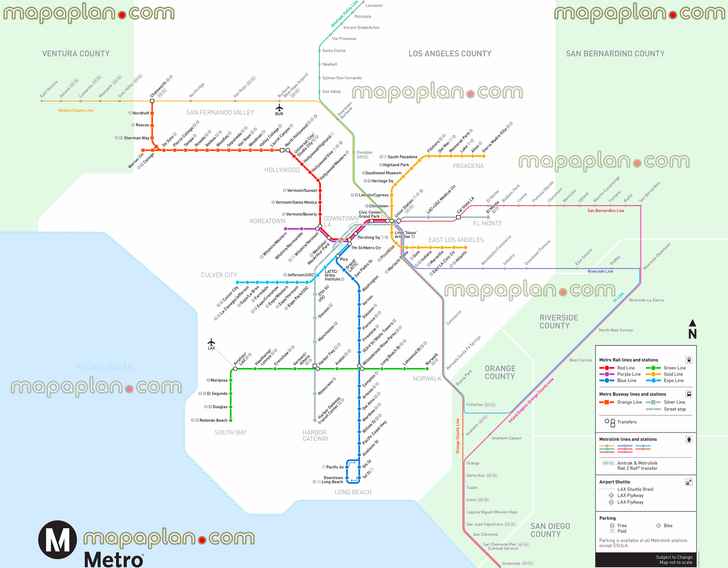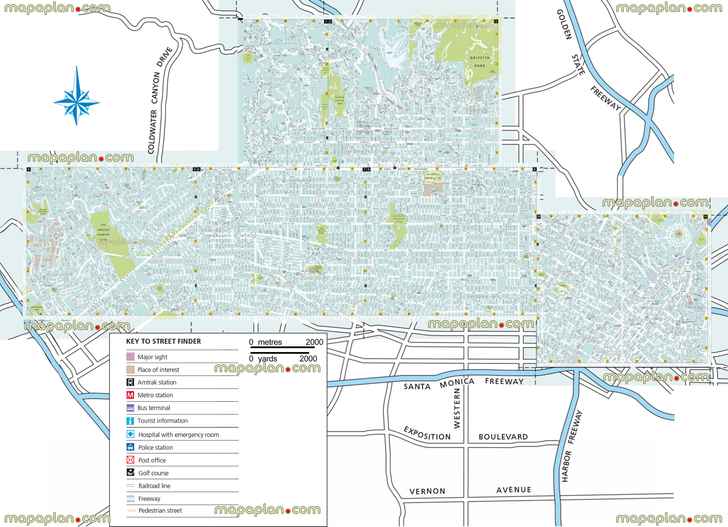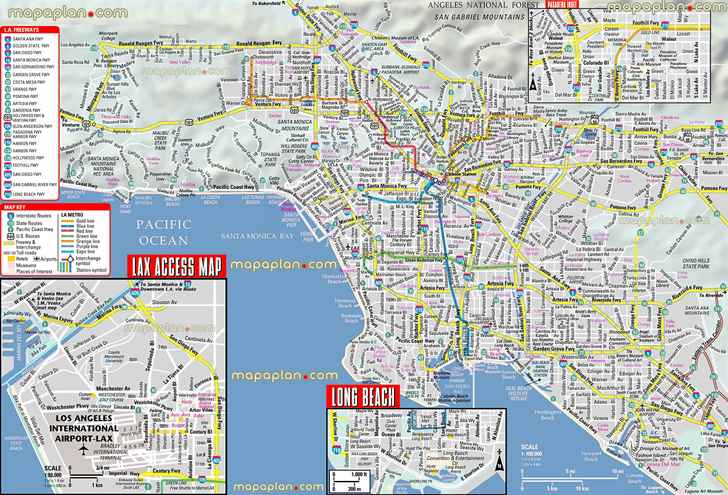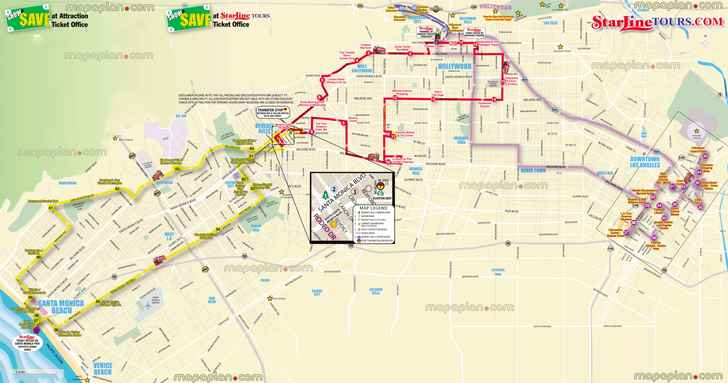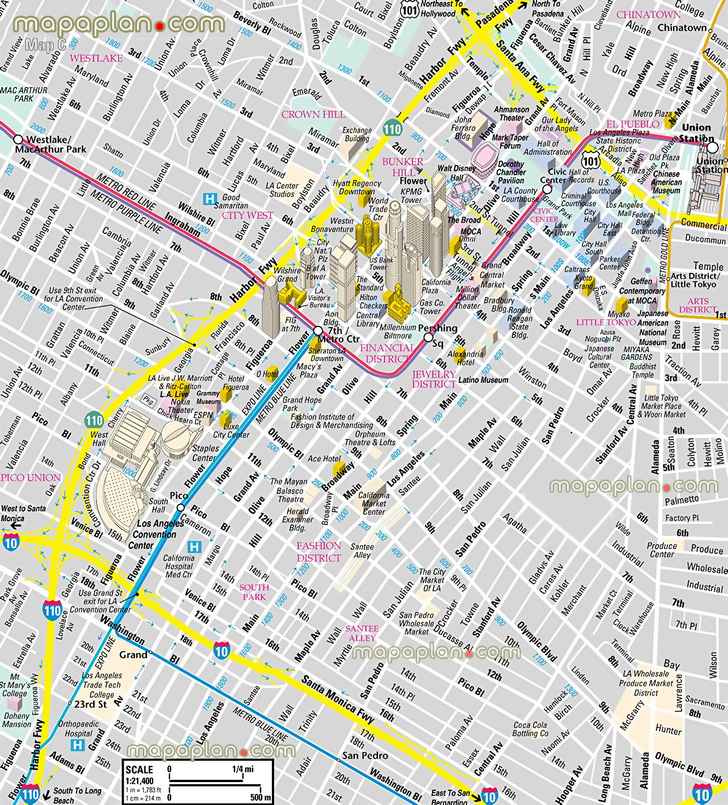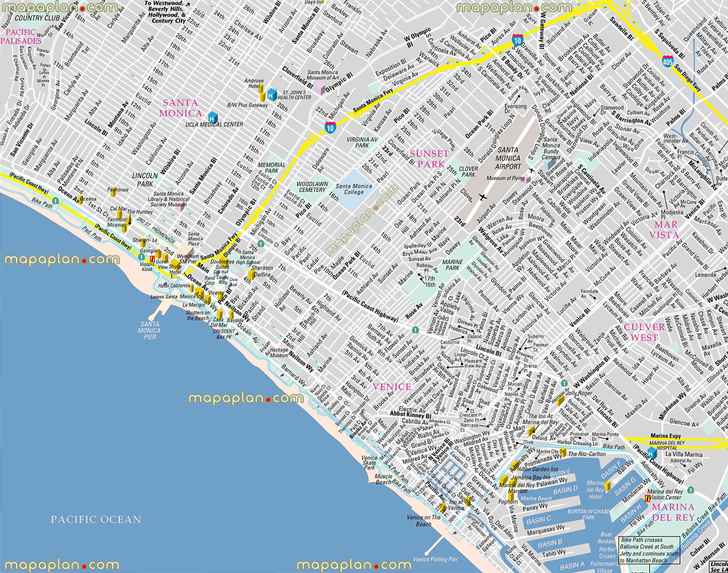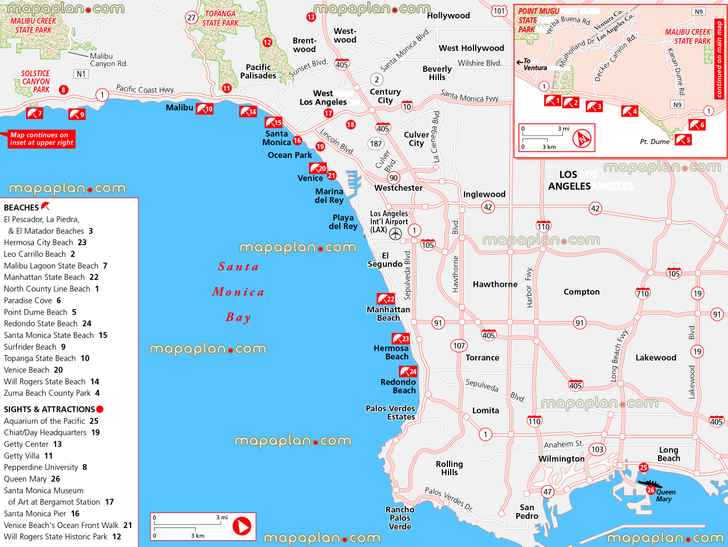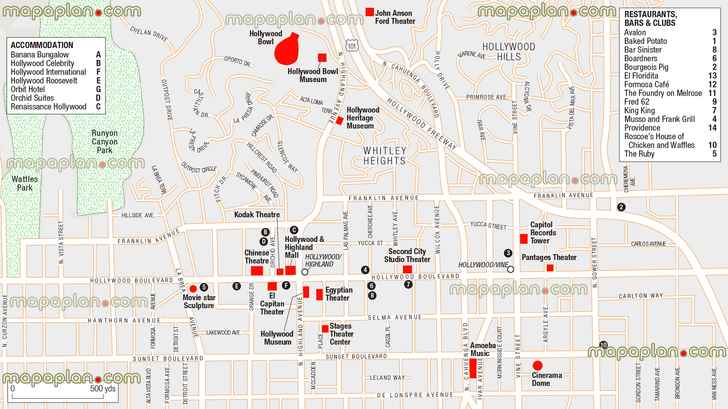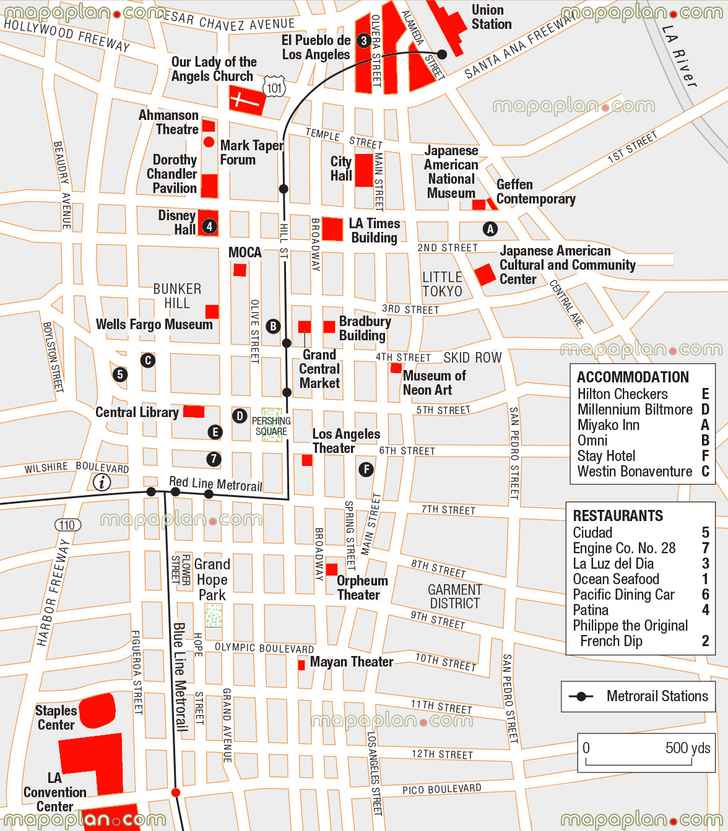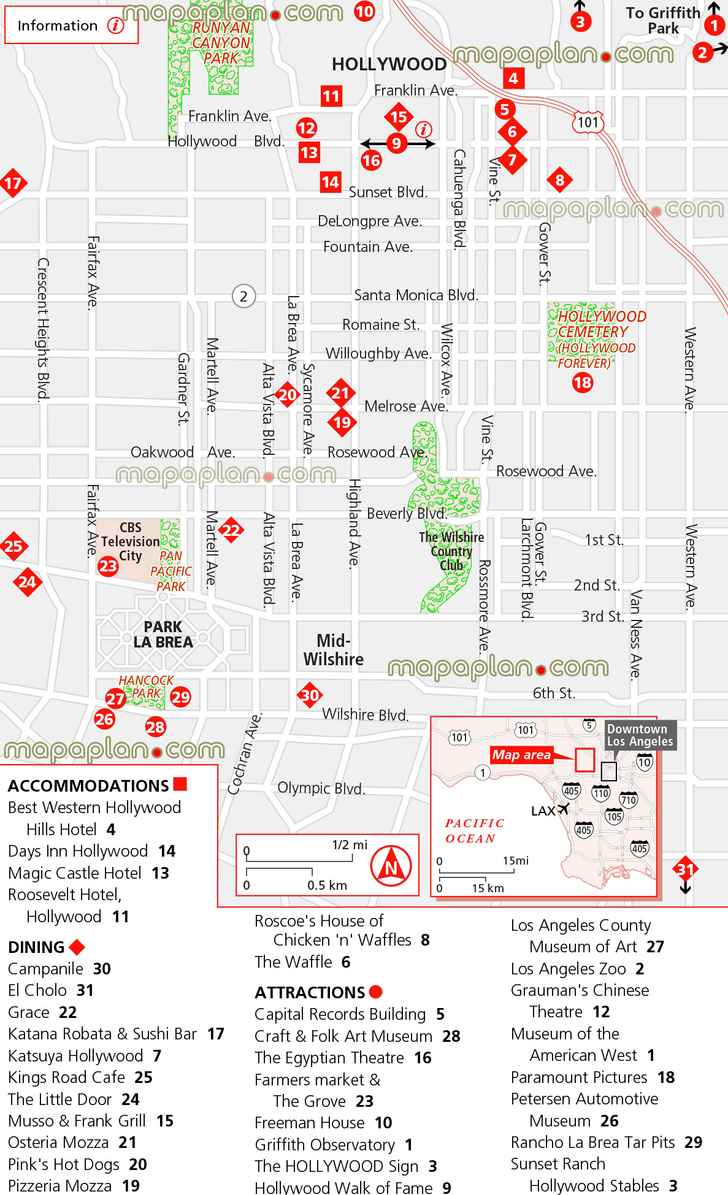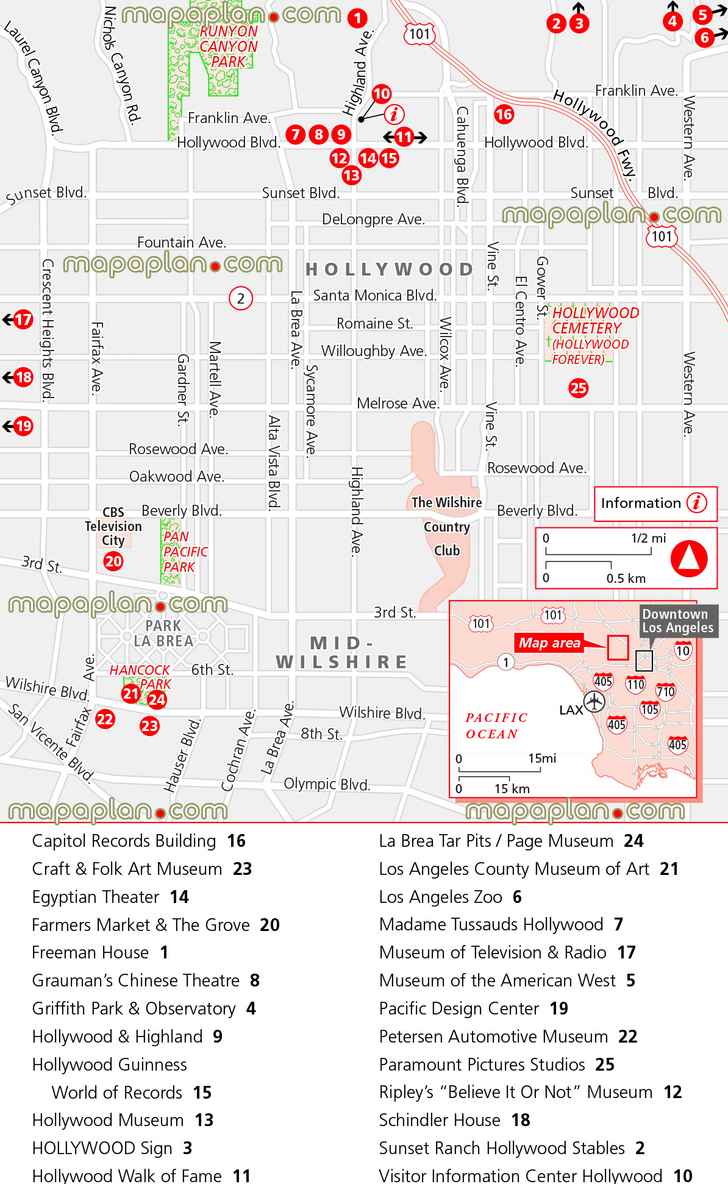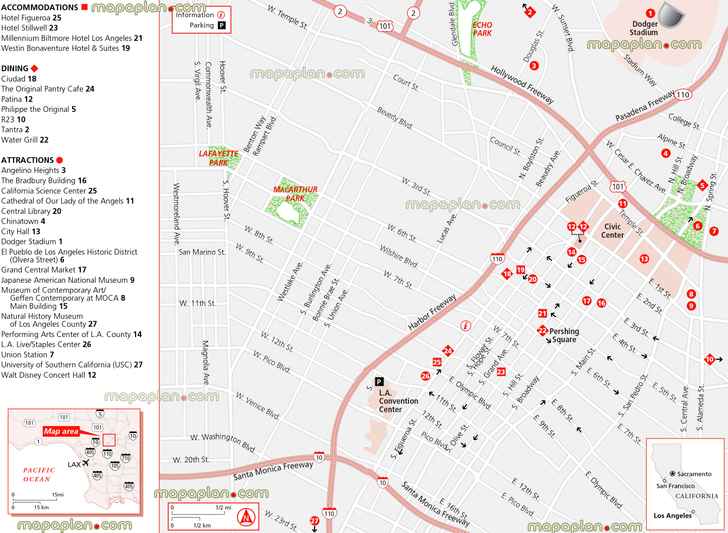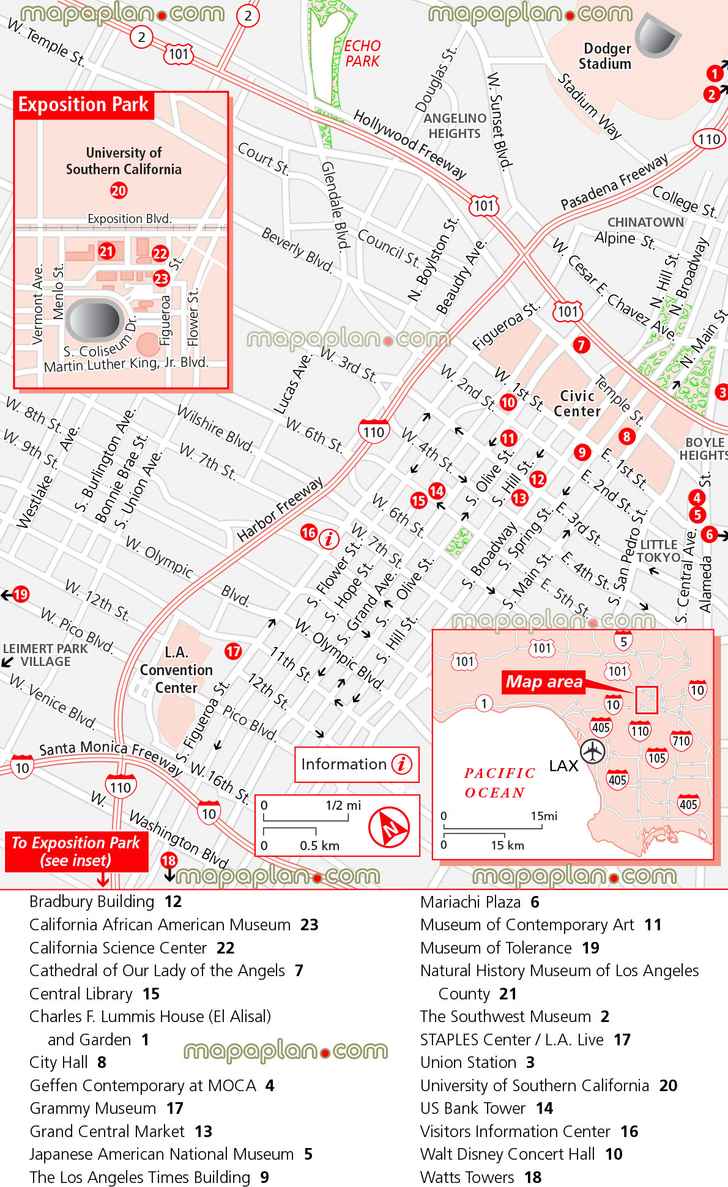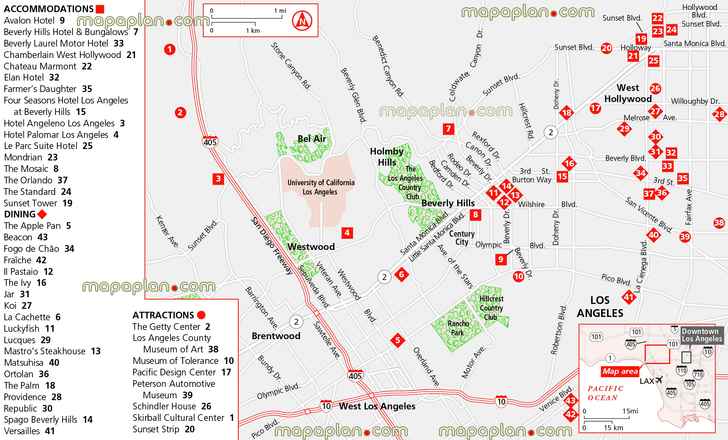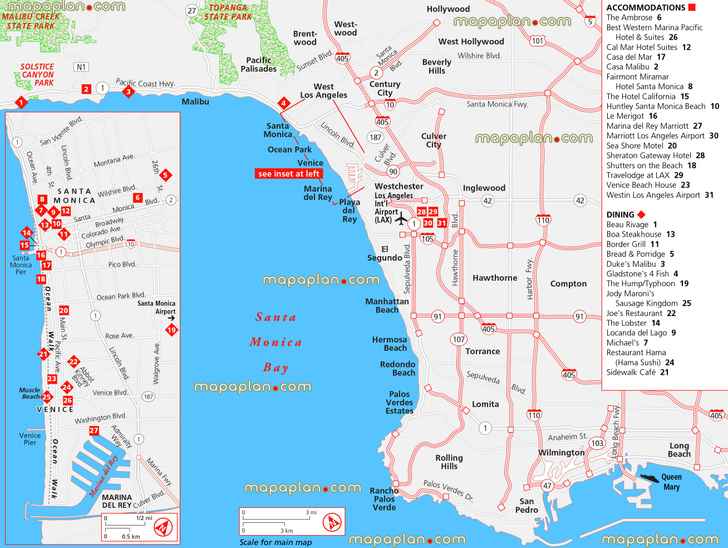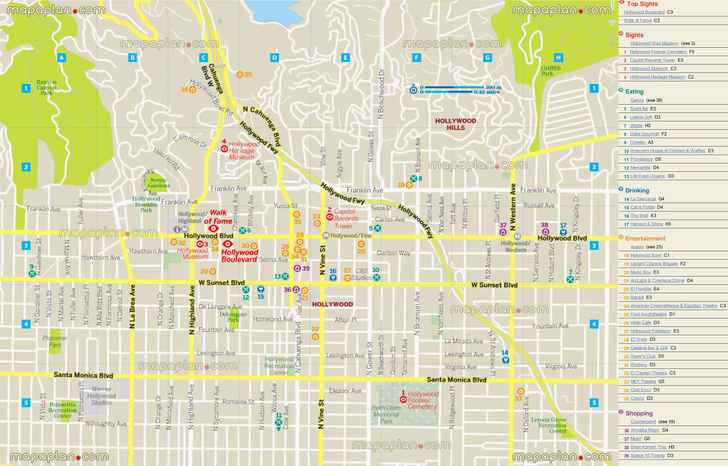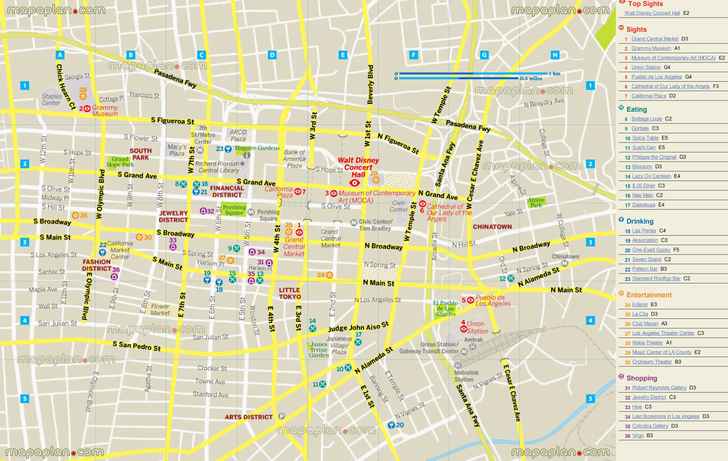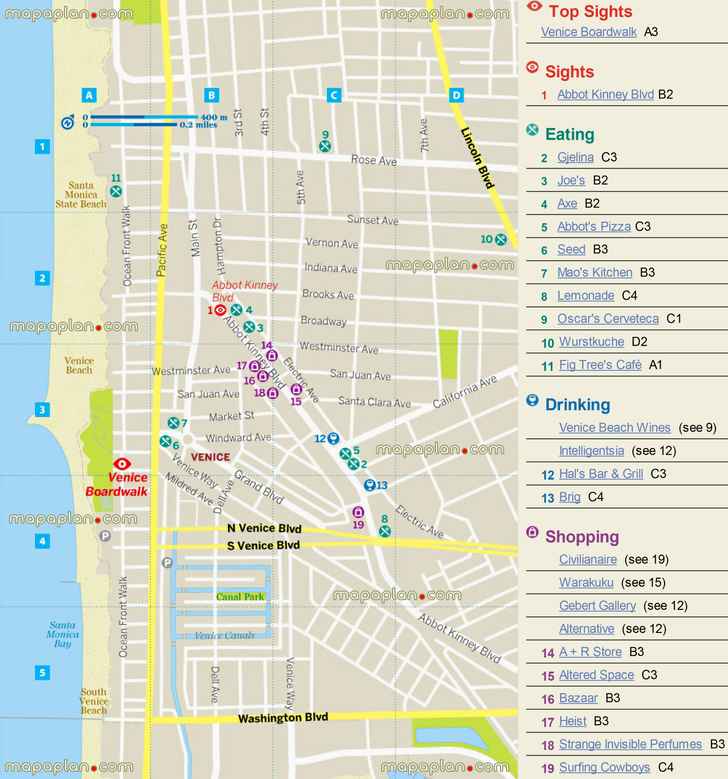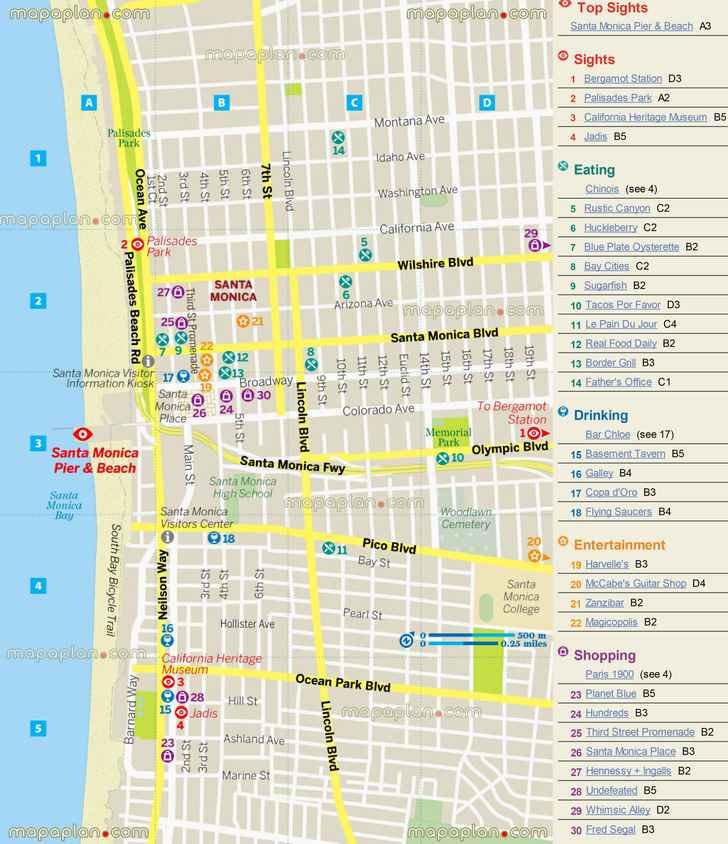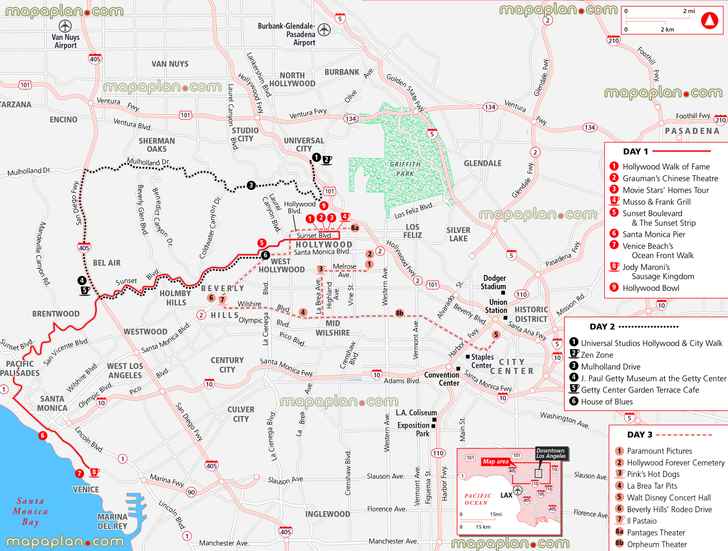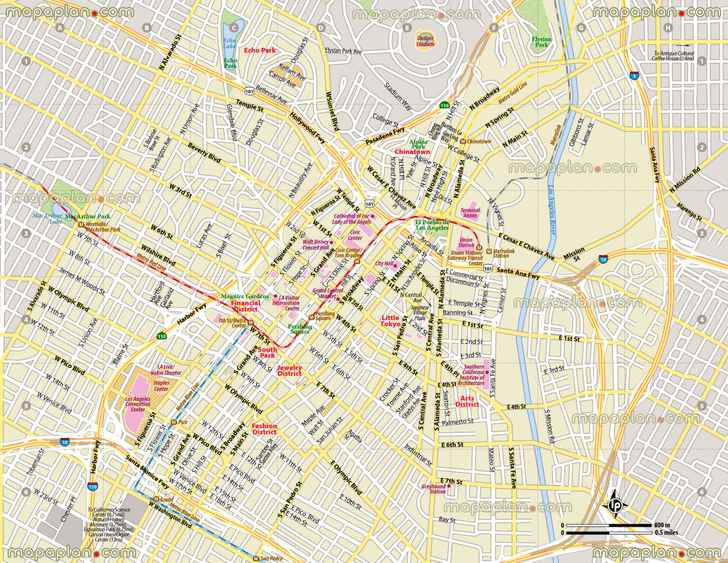 Map of top 10 attractions in Los Angeles
The typical top ten attractions are listed below. You can find the detailed locations of these places on the maps above.
Sunset Boulevard - One of the most famous roads in the world. Lined with clubs and hotels, the section known as Sunset Strip is the center of LA's nightlife.
The J Paul Getty Museum at the Getty Center - Situated on a hill and has stunning views across Los Angeles and the Santa Monica Mountains. Included in its world-class collection is Joseph Nollekens' marble statue of Venus. The Getty Center presents triple delights: a stellar art collection (Renaissance to David Hockney), Richard Meier's cutting-edge architecture, and truly captivating seasonal gardens.
LACMA (Los Angeles County Museum of Art) - Located in Hollywood's Hancock Park since 1965. The six museum buildings house a remarkable collection of European, American, Asian, Middle Eastern, and Japanese art. However LACMA is not just LA's premier museum, it's a vortex of art, jazz, film and culture not to be missed. A tour of LACMA offers a comprehensive survey of the history of art throughout the world. The museum has more than 100,000 objects that represent many cultures, dating from prehistoric to modern and contemporary periods.
Universal Studios - Just north of Hollywood, visitors can see working film sets on the Studio Tour. A series of thrilling rides, based on the studios' movies, includes Jurassic Park – The Ride.
Hollywood - The birthplace of the modern film industry. Its famous Hollywood sign stands out like a beacon above Tinseltown.
Santa Monica Pier & Beach - Perched on palm-lined bluffs overlooking beautiful beaches, boasts stunning views. It is LA's oldest, largest beach resort, with all the traditional seaside attractions, such as a pier and amusement park. Santa Monica is also known for its excellent restaurants, boutiques, exciting nightlife, and vibrant arts scene. Buy an ice-cream cone at one of the snack shacks and stroll seaward past the wooden carousel, roller coaster, and arcades, then buy a ticket to ride the Ferris wheel. Possibly the best way to see the area is by renting a bicycle and taking the coastal cycle path.
Golden Triangle - The area bordered by Santa Monica Boulevard, Wilshire Boulevard, and North Crescent Drive, known as the 'Golden Triangle,' is the business district of Beverly Hills. The shops, restaurants, and art galleries lining the streets are some of the most luxurious in the world. Cutting through the middle is Rodeo Drive, where many international designer boutiques are to be found. On Wilshire Boulevard, the cream of American department stores offer a heady mix of style and opulence. To the north are the beautifully manicured Beverly Gardens, the elegant Civic Center with its landmark City Hall, and the recently opened Museum of Television and Radio.
Hollywood Walk of Fame - Perhaps the only pavement in the city to be cleaned six times a week, the Walk of Fame is set with more than 2,000 polished marble stars. Since February 1960, celebrities from the worlds of film, radio, television, theater, and music have been immortalized on Hollywood Boulevard and Vine Street.
Venice Beach's Ocean Boardwalk and Canals - You haven't visited L.A. properly until you've rented some skates in Venice and embarrassed yourself in front of thousands while taking in the human carnival around you.
Farmers Market - Today the place has evolved into a sprawling marketplace with a carnival atmosphere, a kind of 'turf' version of San Francisco's Fisherman's Wharf. About 70 restaurants, shops, and grocers cater to a mix of workers from the CBS Television City complex, locals, and tourists brought here by the busload. Retailers sell greeting cards, kitchen implements, candles, and souvenirs, but everyone comes for the food stands, which offer oysters, hot doughnuts, Cajun gumbo, fresh-squeezed orange juice, corned beef sandwiches, fresh-pressed peanut butter, and all kinds of international fast foods. You can still buy produce here—it's no longer a farm-fresh bargain, but the selection's better than at the grocery store.
Other popular places to visit in greater Los Angeles & surrounding zones include:
Grove - At the eastern end of the Farmers Market is the Grove, a massive 575,000-square foot Vegas-style retail complex composed of various architectural styles ranging from Art Deco to Italian Renaissance. Miniature streets link the Grove to the Market via a double-deck electric trolley. Granted, it's all a bit Disney-gaudy, but the locals love it.
Griffith Observatory - Made world-famous in the film Rebel Without a Cause, Griffith Observatory's bronze domes have been Hollywood Hills landmarks since 1935. Closed for renovation for what seemed like forever, it finally reopened in November 2006 after a $93-million overhaul. The central dome houses the 300- seat Samuel Oschin Planetarium, where hourly screenings of a narrated 30-minute projection show called 'Centered in the Universe' reveal the stars and planets that are hidden from the naked eye by the city's ubiquitous lights and smog. The observatory also features 60 space-related exhibits designed to 'sparkle your imagination'.
Universal Studios Hollywood & CityWalk - A visit to Universal Studios Hollywood will accomplish three classic L.A. experiences in one swoop: taking a studio tour, visiting an amusement park, and strolling through an outdoor megamall.
Disneyland Resort - The resort's worldwide appeal is evident in the virtual United Nations of revelers traipsing through Adventureland, Fantasyland, Tomorrowland, and Disney's California Adventure park. It won't be long before the song 'It's a Small World' seems permanently stuck in your head.
Walt Disney Concert Hall - Built with a lot of Disney money but without a trace of goofiness, this stunning accomplishment of art and architecture is the crown jewel of Downtown.
Mulholland Drive - Ride past the homes with million-dollar views, and then stop at the public viewing pullouts to see the splayed-out city in all its smoggy glory. It's even more romantic at night, when the lights of the city and the valley twinkle below.
Malibu - An area of fine surfing beaches, wildlife havens, and private beach colonies nestled below rugged mountains.
Downtown - Attractions range from the skyscrapers of the Business District to the ethnic delights of Little Tokyo. Take a self-guided tour of the mind-blowing Walt Disney Concert Hall or cutting-edge Museum of Contemporary Art , stop in for a snack at the bustling Grand Central Market, pick up some inexpensive Mexican handicrafts along colorful and historic Olvera Street, and have dim sum in Chinatown.
Hollywood Bowl Rehearsals - Few people know about the Bowl's morning rehearsals, which are open to the public and absolutely free. Bring coffee and doughnuts and enjoy the best seats in the house. The Bowl is now sacred to Angelenos. Since 1922 it has been the summer home of the LA Philharmonic. Even though the acoustics are not perfect, the atmosphere cannot be beaten.
Paramount Pictures Studios - Yes, another studio tour, but this one's my favorite. Paramount is the only major studio still located in Hollywood, so its hallowed grounds are oozing with Hollywood history.
Rodeo Drive - let's go shopping along one of the wealthiest and most famous shopping streets in the world: Rodeo Drive. Within Beverly Hills' Golden Triangle - a 16-square-block area surrounding Rodeo Drive - are the couture shops from high fashion's old guard: Gucci, Armani, Yves Saint Laurent, Christian Dior, Ralph Lauren, Cartier, Tiffany, and all the rest.
Wilshire Boulevard's Museum Row - Natural history meets pop culture meets modern art along Museum Row. La Brea Tar Pits, Petersen Automotive Museum, Craft & Folk Art Museum, and Los Angeles County Museum of Art are all shoulder-to-shoulder in the heart of L.A. The only problem is that it's too much to see in a single day.
The Queen Mary - One of the most famous liners in the world is now permanently docked in Long Beach. The ship is still in use as a tourist attraction and luxury hotel. Many of its Art Deco features remain intact.
Natural History Museum of Los Angeles County - One of three museums in Exposition Park. The exhibits include this eight-million-year-old skeleton of a short legged rhinoceros.
Pasadena - An affluent community, with an ornate city hall. It grew up as a winter retreat for wealthy Easterners in the 19th century. Site of the Rose Bowl stadium, it has fine museums as well as excellent shopping and dining.
Huntington Library, Art Collections, and Botanical Gardens - Located in Pasadena. Include a wealth of treasures. The North Vista is one of the gardens' loveliest views.
El Pueblo - In the heart of Downtown Los Angeles is the site of the city's first settlement. The area's Mexican population throngs its churches, plaza, and colorful markets, especially at festival time.
Madame Tussauds Hollywood - In the heart of Hollywood, adjacent to Grauman's Chinese Theatre, the new Madame Tussauds Hollywood is the first-ever to be built from the ground up.
Museum of Jurassic Technology - Take a step back into time with this hidden gem. Inspired by the 'Wonder Cabinets' of old, this place can't help but drag you into to its bizarre and informative world. The exhibits border on science and fiction.
Petersen Automotive Museum - If you love cars, you will love this place.
Grauman's Chinese Theatre - Sid Grauman, the consummate showman, built this most opulent of movie houses, and named it the Chinese Theatre. It is big, with about 1,500 seats; the acoustics are perfect, and décor is lush, even for the 1920s. Over the years, many pictures premiered here.
Dolby (Kodak) Theatre - Take the tour of the theatre where the Oscars ceremony is held.
California Science Center - Admire the Space Shuttle Endeavour as well as let your children go through a set of hands-on scientific experiments.
Angels Flight Railway - Enjoy scenic views on this funicular street car ride.
Union Station - A beautiful station. It's worth taking a picture if you are nearby.
Nethercutt Museum - A unique museum presenting beautiful cars from the 1910s to 1930s as well as a furniture, antiques, dolls.
Additionally if you have sufficient time you can also visit the Fashion District, Beverly Hills, Walt Disney Concert Hall, Rodeo Drive, Santa Monica Boulevard, Wilshire Boulevard, North Crescent Drive, Beverly Hills Hotel, LAX International Airport Terminal, SoCal, Grand Central Market, Page Museum's fossils, Burbank, Miracle Mile, Mid-City, Port of Los Angeles, Muscle Beach Gym, Orange County, El Pueblo, Union Station, Nethercutt Museum, Staples Center arena, Runyon Canyon Park, Battleship USS Iowa BB-61, The Greek Theatre, Annenberg Space for Photography, Pierce Brothers Westwood Village Memorial Park, Warner Brothers & Sony Studios, Autry National Center, Dodger Stadium Cemetery, Los Angeles Zoo, Getty Villa, Convention Center, Grammy Museum, Hollywood Forever Cemetery, Travel Town Museum, Hollywood Wax Museum, City Hall, Venice Canal Historic District, Cabrillo Marine Aquarium, Echo nightclub, Bradbury Building, Grauman's Egyptian Theatre, Huntington Library, Chinatown, Japantown (Little Tokyo), Koreatown (Little Korea).
What are some interesting facts about Los Angeles?
People who work in films and television say we work in 'the industry.' All those who do not work in the industry are called 'civilians.'
Around 30% of California's population is foreign-born. Los Angeles has the most diverse multiethnic population of any US city. People from about 140 countries, speaking 86 different languages, call Los Angeles home.
The Academy of Motion Picture Arts & Sciences was dreamed up in the Biltmore during a 1927 entertainment industry banquet. An award statue was sketched on a napkin and a name penciled in: Oscar.
The City of Los Angeles sprawls over 467 square miles and, with around 4 million residents, is more populous than 25 states.
The Hollywood Sign is in Griffith Park, high in the hills of the westernmost projection of the park.
Sunset Boulevard is one of Los Angeles's oldest and longest thoroughfares. Originally a footpath used by the Indians to get from the LA River to the coast, it was later used as a wagon road by the earliest settlers in the pueblo. Today, the boulevard follows the route of the old trail along the lower edge of the foothills for 22 miles from Downtown Los Angeles to the sea.
The reason most people visit Beverly Hills is 'The Golden Triangle,' the area bounded by Cañon Drive, Wilshire Boulevard and Little Santa Monica, one of the most expensive shopping districts in the world.
While Beverly Hills may not actually be 'the best-policed six square miles on earth' (the Principality of Monaco probably deserves that title) the wealthy residents of this little village certainly do get unusually good police protection. While the undermanned Los Angeles Police department has a response time of 20-some minutes, Beverly Hills' is less than two minutes.
The TV series Baywatch got its inspiration from the County Lifeguard Baywatch Patrol, which is based in Marina del Rey. When not on patrol, the real Baywatch boats can be seen docked near Fisherman's Village.
When you are on Santa Monica Boulevard you are on historic Route 66, which cuts straight through Santa Monica and ends – overlooking the Pacific Ocean – 2,448 miles (4,000 kilometers) from its start in Chicago.
Related keywords
2021, 2022, 2023, 2023, 2024, 2025, 2026, 2027, map, plan, download, print, printable, free, detailed, aerial, bird's eye, satellite, guide, planner, travel, sightseeing, visit, trip, tour, tourist, what to do, where to go, things to do, must see, top attractions, points of interest, places, sites, sights, buildings, spots, destinations, locations, landmark, museum, in a week, in 3 days, one day, city, route, bus, kids, children, top 10, top ten, popular, famous, interesting, highlights, public transport, rail, hotels, updated, metro, subway, underground, tube, downtown, coach, nightlife, pub, monument, satellite, accommodation, transit, transportation, supermarket, children, metro, subway, underground, tube
Seating plans and charts of entertainment venues showing detailed seat and row numbers
High resolution, printable travel guide maps of cities showing top tourist attractions