London printable map of top tourist attractions & city travel guide
London city centre free travel guide - Must-see sights & best destinations to visit - London top tourist attractions map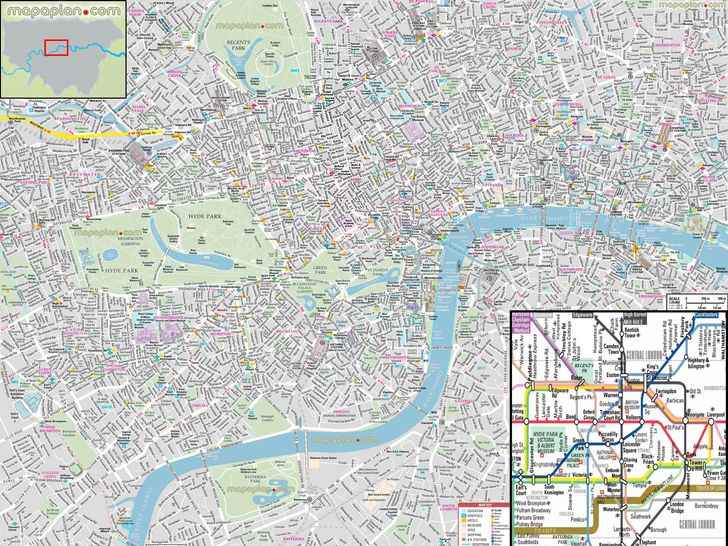 You can view, download or print a full, high resolution (detailed, large) version of this image by clicking on the plan itself
Maps of best attractions in London, UK
London maps will guide you to the best destinations in the city. London is very easy for visitors to find their way around, largely doe to an excellent tube (metro) and bus transportation system. London's top sights, plus hotels, restaurants, and many of the city's key landmarks are plotted on our detailed city plans. Public transportation points (metro subway & trains) are also marked, and indicated by the symbols listed in the maps key. Armed with these maps, you should be able to find the accurate location of must-see places. After all, London is one of the culture capitals of the world and is brimming with exciting things to see and do. Take a breathtaking trip on the London Eye; explore the amazing collections in galleries and museums as diverse as the Tate Modern and Natural History Museum; immerse yourself in the history of the city at Westminster Abbey or the Tower of London; meet a celebrity at Madame Tussauds; take your pick from long-running West End musicals; shop in an iconic department store such as Harrods or Selfridges; or enjoy a world-class concert at the O2 London Arena, the Wembley Stadium or the Royal Albert Hall. You don't need to travel far to find green space in London. The capital is home to beautiful Royal Parks and Gardens, including Hyde Park, St James's Park, Richmond Park or Key Gardens. It doesn't matter how many times you visit, you've never seen it all in London. There's always something new, from a pop-up burger joint in East London to a blockbuster exhibition at one of London's galleries. There's something different to experience every day in London. This page includes a range of maps and plans which will help you make the most of your visit to London. If you are either a first-time tourist looking for the top 10 must-do sights or if you are returning to London to discover something new - all you need to ensure an enjoyable trip is some advance planning. For some help in narrowing down the options, we present you with a range of high resolution maps which will help you find the detailed locations of the must-see sights - just click on a selected map to access a large version that can be downloaded and printed, or saved onto your mobile device.
Map of top 10 attractions in London
From London Eye, the National Gallery and Tower of London, below are London's most visited tourist attractions. Many of the attractions in the top 10 are free: there's no better place to soak up some culture. Whether you prefer history or modern art, you'll find it here.
British Museum - The world-famous British Museum exhibits the works of man from prehistoric to modern times from around the world. Highlights include the Rosetta Stone, the Parthenon sculptures, and the mummies in the Ancient Egypt collection. Entry is free but special exhibitions require tickets.
Tate Modern - Sitting grandly on the banks of the Thames is Tate Modern, Britain's national museum of modern and contemporary art. Its unique shape is due to it previously being a power station. Inside you'll find temporary exhibitions by top artists from Damien Hirst to Gauguin. The gallery's restaurants offer fabulous views across the city. Entry is free.
National Gallery - The crowning glory of Trafalgar Square, London's National Gallery is a vast space, filled with Western European paintings from the 13th to the 19th centuries. In this iconic art gallery you can find works by masters such as Van Gogh, da Vinci, Botticelli, Constable, Renoir, Titian and Stubbs. Entry is free.
Natural History Museum - As well as the permanent (and permanently fascinating!) dinosaur exhibition, the Natural History Museum boasts a collection of the biggest, tallest and rarest animals in the world. See a life-sized Blue Whale, a 40-million-year-old spider, and the beautiful Central Hall. Entry is free but special exhibitions require tickets.
London Eye - The London Eye is a major feature of London's skyline. It is the world's highest observation wheel, with 32 capsules, each weighing 10 tonnes, and holding up to 25 people. Climb aboard for a breathtaking experience, with unforgettable views of more than 55 of London's most famous landmarks – all in just 30 minutes!
Science Museum - From the future of space travel to asking that difficult question, "Who am I?", the Science Museum makes your brain perform Olympic-standard mental gymnastics. See, touch and experience the major scientific advances of the last 300 years; don't forget the awesome Imax cinema. Entry is free but some exhibitions require tickets.
Victoria and Albert Museum - The V&A celebrates art and design with 3,000 years worth of amazing artefacts from around the world. A real treasure trove of goodies, you never know what you'll discover next: furniture, paintings, sculpture, metalwork, and textiles, the list goes on and on… Entry is free but special exhibitions require tickets.
Madame Tussauds - At Madame Tussauds, you'll come face-to-face with some of the world's most famous faces. From Shakespeare to Lady Gaga you'll meet influential figures from showbiz, sport, politics and even Royalty. Strike a pose with Usain Bolt, kiss Brad Pitt or receive a once-in-a-lifetime audience with Her Majesty the Queen.
Royal Museums Greenwich - Visit the world's largest maritime museum, the historic Queen's House, and the Royal Observatory Greenwich: all now part of the Royal Museums Greenwich. Stand astride the Prime Meridian, touch a meteorite, and see the stars in the planetarium. Some are free to enter; some charges apply.
Tower of London - Take a tour with one of the Yeoman Warders around the Tower of London, one of the world's most famous buildings. Discover its 900-year history as a royal palace, prison and place of execution, arsenal, jewel house and zoo! Gaze up at the White Tower, tiptoe through a medieval king's bedchamber and marvel at the Crown Jewels.
What are some interesting facts about London?
The Houses of Parliament are officially known as the Palace of Westminster and it is the largest palace in the country with 1,000 rooms and 100 staircases.
Big Ben is the bell, not the clock tower. Its chime is in the key of E.
More than half of the London Underground network in fact runs above ground. Above you can see the detailed map of the London Tube network.
London buses were not always red. Before 1907, different routes had different-coloured buses.
All black-cab drivers in the city, must master 320 basic routes, all of the 25,000 streets that are scattered within those routes, and about 20,000 landmarks and places interest within a six-mile radius of Charing Cross to pass the Knowledge, the insanely difficult London geography test thats is required of them. It can take one between two and four years to learn this.
The architect of the Oxo Tower, forbidden from including an electrified advertising hoarding in the building, instead incorporated the company's name in the windows on all four sides.
Marble Arch was designed by John Nash in 1828 as the entrance to Buckingham Palace, but was moved to Hyde Park when Queen Victoria expanded the palace. It contains a tiny office once used as a police station.
There is a 19th century time capsule under the base of Cleopatra's Needle - the 68ft, 3,450-year-old obelisk on the Embankment - containing a set of British currency, a railway guide, a Bible, and 12 portraits of "the prettiest English ladies".
London was the first city to reach a population of more than one million, in 1811. It remained the largest city in the world until it was overtaken by Tokyo in 1957.
If London was a country it would be the eighth largest in Europe.
London is the first city that hosted the Olympics three times in 2012, 1908 and 1948.
London was once the capital city of 6 countries at the same time! During World War II, London was one of the few "safe" cities left in Europe for those who opposed the Nazi regime. It soon became a safe haven for displaced governments of the countries that Hitler had invaded, first with Poland's government-in-exile taking up residence, followed by those of Norway, Belgium, Holland and France.
Keywords
map, plan, download, print, printable, free, detailed, points of interest, places, sites, sights, underground, tube
Seating plans and charts of entertainment venues showing detailed seat and row numbers
Amsterdam Ziggo Dome Arena seating plan with seat numbers
Anaheim Honda Center seating plan with seat numbers
Atlanta Philips Arena seating plan with seat numbers
Belfast Odyssey SSE Arena seating plan with seat numbers
Birmingham Genting NEC Arena (LG Arena) seating plan with seat numbers
Birmingham Barclaycard Arena (NIA National Indoor Arena) seating plan with seat numbers
Boston TD Garden seating plan with seat numbers
Brighton Centre seating plan with seat numbers
Calgary Scotiabank Saddledome seating plan with seat numbers
Cardiff Millennium Stadium seating plan with seat numbers
Cardiff Motorpoint Arena seating plan with seat numbers
Charlotte Time Warner Cable Arena seating plan with seat numbers
Chicago United Center seating plan with seat numbers
Cologne Lanxess Arena seating plan with seat numbers
Dallas American Airlines Center seating plan with seat numbers
Dallas AT&T Stadium seating plan with seat numbers
Derby Velodrome Arena seating plan with seat numbers
Detroit Palace of Auburn Hills seating plan with seat numbers
Dublin 3Arena (O2 Arena) seating plan with seat numbers
Edmonton Rexall Place seating plan with seat numbers
EagleBank Arena seating plan with seat numbers
Gdańsk Ergo Arena seating plan with seat numbers
Glasgow Hydro SSE Arena seating plan with seat numbers
Glendale Gila River Arena (Jobing.com Arena) seating plan with seat numbers
Kraków Tauron Arena seating plan with seat numbers
Las Vegas New T-Mobile Arena seating plan with seat numbers
Leeds First Direct Arena seating plan with seat numbers
Liverpool Echo Arena seating plan with seat numbers
London O2 Arena seating plan with seat numbers
London Royal Albert Hall seating plan with seat numbers
London Twickenham Stadium seating plan with seat numbers
London Wembley Arena SSE seating plan with seat numbers
London Wembley Stadium seating plan with seat numbers
Los Angeles Forum Inglewood seating plan with seat numbers
Los Angeles Staples Center seating plan with seat numbers
Louisville KFC Yum! Center seating plan with seat numbers
Manchester Phones4u Arena seating plan with seat numbers
Melbourne Rod Laver Arena seating plan with seat numbers
Memphis FedExForum seating plan with seat numbers
Miami American Airlines Arena seating plan with seat numbers
Nashville Bridgestone Arena seating plan with seat numbers
New Orleans Smoothie King Center arena seating plan with seat numbers
New York Barclays Center Arena seating plan with seat numbers
New York Madison Square Garden seating plan with seat numbers
Newark Prudential Center seating plan with seat numbers
Newcastle Metro Radio Arena seating plan with seat numbers
Nottingham Motorpoint Arena (Capital FM Arena) seating plan with seat numbers
Oakland Oracle Arena seating plan with seat numbers
Oklahoma City Chesapeake Energy Arena seating plan with seat numbers
Orlando Amway Center seating plan with seat numbers
Oslo Spektrum Arena seating plan with seat numbers
Oslo Telenor Arena seating plan with seat numbers
Perth Arena seating plan with seat numbers
Phoenix Talking Stick Resort Arena (US Airways Center) seating plan with seat numbers
Pittsburgh Consol Energy Center seating plan with seat numbers
Portland Moda Center (Rose Garden Arena) seating plan with seat numbers
Rosemont Allstate Arena seating plan with seat numbers
Saint Paul Xcel Energy Center seating plan with seat numbers
San Antonio AT&T Center seating plan with seat numbers
San Jose SAP Center seating plan with seat numbers
Sheffield Motorpoint Arena seating plan with seat numbers
St. Louis Scottrade Center seating plan with seat numbers
Sunrise BB&T Center seating plan with seat numbers
Sydney Allphones Arena seating plan with seat numbers
Toronto Air Canada Centre seating plan with seat numbers
Tulsa BOK Center seating plan with seat numbers
Uncasville Mohegan Sun Arena seating plan with seat numbers
Vancouver Rogers Arena seating plan with seat numbers
Vienna Wiener Stadthalle seating plan with seat numbers
Washington DC Verizon Center seating plan with seat numbers
Winnipeg MTS Centre seating plan with seat numbers
Zürich Oerlikon Hallenstadion seating plan with seat numbers
High resolution, printable travel guide maps of cities showing top tourist attractions
Amsterdam top tourist attractions map
Bangkok top tourist attractions map
Barcelona top tourist attractions map
Beijing top tourist attractions map
Berlin top tourist attractions map
Budapest top tourist attractions map
Cambridge top tourist attractions map
Chicago top tourist attractions map
Dubai top tourist attractions map
Florence top tourist attractions map
Hong Kong top tourist attractions map
Istanbul top tourist attractions map
Las Vegas top tourist attractions map
Lisbon top tourist attractions map
London top tourist attractions map
Los Angeles top tourist attractions map
Marrakech top tourist attractions map
New York top tourist attractions map
Oxford top tourist attractions map
Paris top tourist attractions map
Prague top tourist attractions map
Rome top tourist attractions map
San Francisco top tourist attractions map
Singapore top tourist attractions map
Sydney top tourist attractions map
Tokyo top tourist attractions map
Venice top tourist attractions map