Hong Kong top tourist attractions city travel maps
Free travel guide with must-see places, best historic destinations, main sights, landmarks, great spots - Hong Kong top tourist attractions map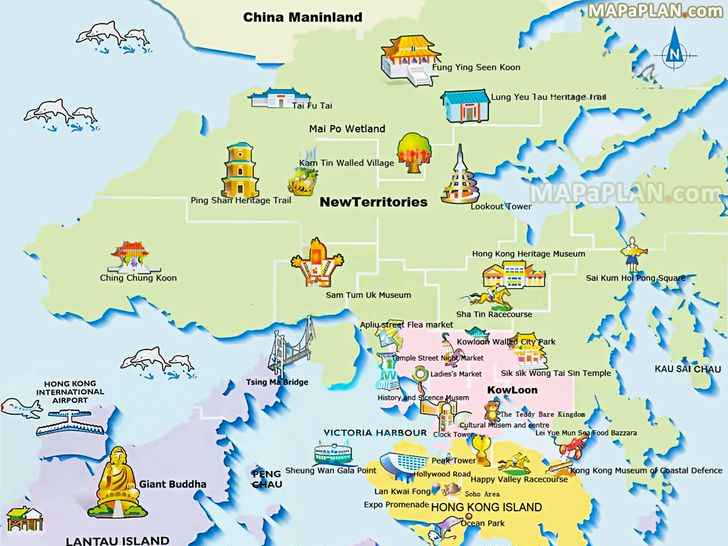 You can view, download or print a full, high resolution (detailed, large) version of this image by clicking on the plan itself
Maps of best attractions in Hong Kong, China
Hong Kong maps will guide you to the best destinations in this cosmopolitan city. Hong Kong, Asia's world city, offers visitors the opportunity to experience a vibrant living culture featuring a unique fusion where 'east meets west'. This bustling city features world-class tourism service including transportation, nightlife, restaurants, hotel accommodations, theatres, infrastructure. You can experience everything from fantastic shopping malls and a delightful diversity of dining tastes to a wonderful world of colourful art festivals and signature attractions. Compact and pedestrian friendly, it is also blessed with abundant natural beauty, where you can discover stunning mountain views, idyllic islands and serene beaches. Our detailed maps will help you if you are wondering where to stay and what sights to visit. You can find the detailed locations of the must-see sights including Ngong Ping 360 Cable Car, Victoria Peak Tower, Star Ferry, Jumbo Kingdom Floating Restaurant, Kowloon, Tian Tan Giant Buddha, Ladies' Street Market, Symphony of Lights, Lantau Island, Ocean Park, Disneyland, Aberdeen Harbour, Hong Kong Zoo & Botanical Garden - just click on a selected map to access a high resolution version that can be downloaded and printed; or saved onto your mobile device.
Map of top 10 attractions in Hong Kong
The typical top ten attractions are listed below. You can find the detailed locations of these places on the maps above.
Ride the Star Ferry across the Victoria Harbour.
Take the Peak Tram up 373 metres to the top of the Victoria Peak and enjoy one of the world's most spectacular cityscapes from the Sky Terrace in the Peak Tower. And by the way, you can visit the Madame Tussauds there too!
Walk the Avenue of Stars in the Victoria Harbour to see the names of Hong Kong's movie icons (including Jackie Chang & Bruce Lee monument statue) while enjoying the Symphony of Lights free show and stunning views of the harbour towers.
Shop while listening to the opera singers in the Temple Street night market bazaa.
Take Ngong Ping 360 cable car to the Lantau island to visit the big Giant Tian Tan Buddha, Po Lin Monastery, Wisdom path, Tai O fisher Village.
Enjoy the thrill rides and giant pandas in the Ocean Park Hong Kong.
Enjoy the spectacular city skyline from the Tsim Sha Tsui Promenade.
Hunt for clothing bargains and practise your haggling skills in the Ladies' Street Market.
Experience the magic, adventure and the world's favourite cast of Disney characters in the Hong Kong Disneyland.
Visit the Hong Kong's best-kept secret - the islands. There are more than 260 to explore, with Lantau, Lamma, Peng Chau and Cheung Chau closest to the mainland. Ferries, including the famous Star Ferry, run from Central Pier 7.
Other interesting places worth visiting include:
Visit the Sik Sik Yuen Wong Tai Sin Temple.
Clock Tower - a reminder of Hong Kong's colonial heritage.
Relax in the Salt Spa in Tsim Sha Tsui's K11 Art Mall.
Admire the nature in the Sai Kung National Geopark.
visit the Hollywood Road and Upper Lascar Row (also known as "Cat Street").
What are some interesting facts about Hong Kong?
With 11,000 restaurants, you could eat out three times a day for 10 years in Hong Kong and never eat at the same restaurant twice.
Feng Shui or Chinese geomancy plays a key role in shaping architecture, business and lifestyles in Hong Kong, so much so that the government had to compensate residents living around civil construction projects for disturbing their feng shui.
Hong Kong has the world's most affordable Michelin star rates dishes at less than USD2 per dish.
The longest bi-cable aerial ride in Asia is Ngong Ping 360. This 25-minute ride from Tung Chung offers stunning views of Lantau Island including the Ngong Ping Village, Giant Buddha, Po Lin Monastery and Wisdom Path.
'A Symphony of Lights' is recognised by Guinness World Records as as the world's 'Largest Permanent Light and Sound Show'.
Street food in Hong Kong is a unique culinary experience with stalls jutting out into pedestrian sidewalks offers skewers of cooked meat, offal, vegetables and cut fresh fruits. Mongkok is one of the most popular street food destinations with locals and visitors.
Hong Kong has more Rolls Royce's per person than any other city in the world.
Bruce Lee was the 1957 Hong Kong Cha Cha dancing champion.
When you are on Lantau Island, you defenitly have to visit the Tian Tan Buddha (or Big Buddha). This is the biggest sitting Buddha in the world. The buddha is 34 meters tall and can be spotted already from far away. The Tian Tan Buddha is one of the five large Buddha's in China and can be reached by climbing a large stairs.
Keywords
download, print, printable, free, detailed, aerial, bird's eye, guide, a-z map, plan, planner, travel, sightseeing, visit, trip, tour, tourist, what to do, where to go, things to do, must see, top attractions, points of interest, places, sites, sights, buildings, spots, destinations, locations, landmark, museums, churches, in a week, in 3 days, one day, old city, route, bus, kids, children, top 10, top ten, popular, famous, interesting, highlights, metro, subway, underground, tube
Seating plans and charts of entertainment venues showing detailed seat and row numbers
Amsterdam Ziggo Dome Arena seating diagram with seat numbers
Anaheim Honda Center seating diagram with seat numbers
Atlanta Philips Arena seating diagram with seat numbers
Belfast Odyssey SSE Arena seating diagram with seat numbers
Birmingham Genting NEC Arena (LG Arena) seating diagram with seat numbers
Birmingham Barclaycard Arena (NIA National Indoor Arena) seating diagram with seat numbers
Boston TD Garden seating diagram with seat numbers
Brighton Centre seating diagram with seat numbers
Calgary Scotiabank Saddledome seating diagram with seat numbers
Cardiff Millennium Stadium seating diagram with seat numbers
Cardiff Motorpoint Arena seating diagram with seat numbers
Charlotte Time Warner Cable Arena seating diagram with seat numbers
Chicago United Center seating diagram with seat numbers
Cologne Lanxess Arena seating diagram with seat numbers
Dallas American Airlines Center seating diagram with seat numbers
Dallas AT&T Stadium seating diagram with seat numbers
Derby Velodrome Arena seating diagram with seat numbers
Detroit Palace of Auburn Hills seating diagram with seat numbers
Dublin 3Arena (O2 Arena) seating diagram with seat numbers
Edmonton Rexall Place seating diagram with seat numbers
EagleBank Arena seating diagram with seat numbers
Gdańsk Ergo Arena seating diagram with seat numbers
Glasgow Hydro SSE Arena seating diagram with seat numbers
Glendale Gila River Arena (Jobing.com Arena) seating diagram with seat numbers
Kraków Tauron Arena seating diagram with seat numbers
Las Vegas New T-Mobile Arena seating diagram with seat numbers
Leeds First Direct Arena seating diagram with seat numbers
Liverpool Echo Arena seating diagram with seat numbers
London O2 Arena seating diagram with seat numbers
London Royal Albert Hall seating diagram with seat numbers
London Twickenham Stadium seating diagram with seat numbers
London Wembley Arena SSE seating diagram with seat numbers
London Wembley Stadium seating diagram with seat numbers
Los Angeles Forum Inglewood seating diagram with seat numbers
Los Angeles Staples Center seating diagram with seat numbers
Louisville KFC Yum! Center seating diagram with seat numbers
Manchester Phones4u Arena seating diagram with seat numbers
Melbourne Rod Laver Arena seating diagram with seat numbers
Memphis FedExForum seating diagram with seat numbers
Miami American Airlines Arena seating diagram with seat numbers
Nashville Bridgestone Arena seating diagram with seat numbers
New Orleans Smoothie King Center arena seating diagram with seat numbers
New York Barclays Center Arena seating diagram with seat numbers
New York Madison Square Garden seating diagram with seat numbers
Newark Prudential Center seating diagram with seat numbers
Newcastle Metro Radio Arena seating diagram with seat numbers
Nottingham Motorpoint Arena (Capital FM Arena) seating diagram with seat numbers
Oakland Oracle Arena seating diagram with seat numbers
Oklahoma City Chesapeake Energy Arena seating diagram with seat numbers
Orlando Amway Center seating diagram with seat numbers
Oslo Spektrum Arena seating diagram with seat numbers
Oslo Telenor Arena seating diagram with seat numbers
Perth Arena seating diagram with seat numbers
Phoenix Talking Stick Resort Arena (US Airways Center) seating diagram with seat numbers
Pittsburgh Consol Energy Center seating diagram with seat numbers
Portland Moda Center (Rose Garden Arena) seating diagram with seat numbers
Rosemont Allstate Arena seating diagram with seat numbers
Saint Paul Xcel Energy Center seating diagram with seat numbers
San Antonio AT&T Center seating diagram with seat numbers
San Jose SAP Center seating diagram with seat numbers
Sheffield Motorpoint Arena seating diagram with seat numbers
St. Louis Scottrade Center seating diagram with seat numbers
Sunrise BB&T Center seating diagram with seat numbers
Sydney Allphones Arena seating diagram with seat numbers
Toronto Air Canada Centre seating diagram with seat numbers
Tulsa BOK Center seating diagram with seat numbers
Uncasville Mohegan Sun Arena seating diagram with seat numbers
Vancouver Rogers Arena seating diagram with seat numbers
Vienna Wiener Stadthalle seating diagram with seat numbers
Washington DC Verizon Center seating diagram with seat numbers
Winnipeg MTS Centre seating diagram with seat numbers
Zürich Oerlikon Hallenstadion seating diagram with seat numbers
High resolution, printable travel guide maps of cities showing top tourist attractions
Amsterdam street names map with places of interest
Bangkok street names map with places of interest
Barcelona street names map with places of interest
Beijing street names map with places of interest
Berlin street names map with places of interest
Budapest street names map with places of interest
Cambridge street names map with places of interest
Chicago street names map with places of interest
Dubai street names map with places of interest
Florence street names map with places of interest
Hong Kong street names map with places of interest
Istanbul street names map with places of interest
Las Vegas street names map with places of interest
Lisbon street names map with places of interest
London street names map with places of interest
Los Angeles street names map with places of interest
Marrakech street names map with places of interest
New York street names map with places of interest
Oxford street names map with places of interest
Paris street names map with places of interest
Prague street names map with places of interest
Rome street names map with places of interest
San Francisco street names map with places of interest
Singapore street names map with places of interest
Sydney street names map with places of interest
Tokyo street names map with places of interest
Venice street names map with places of interest