Delhi printable map of top tourist attractions & city travel guide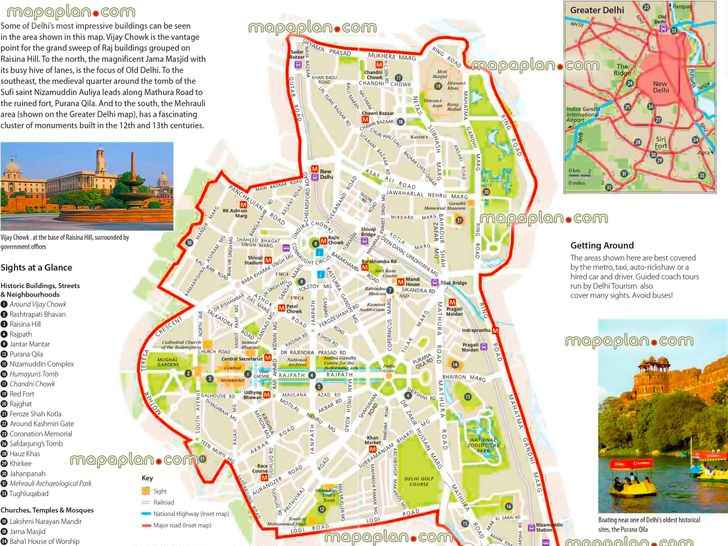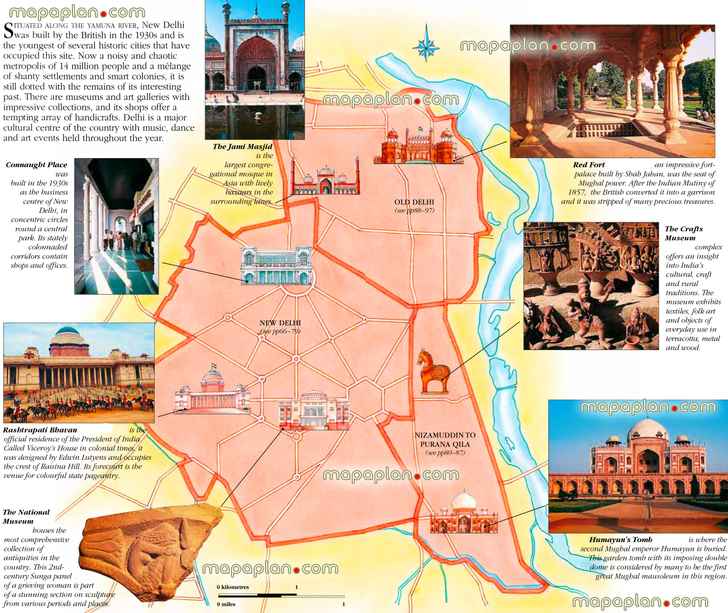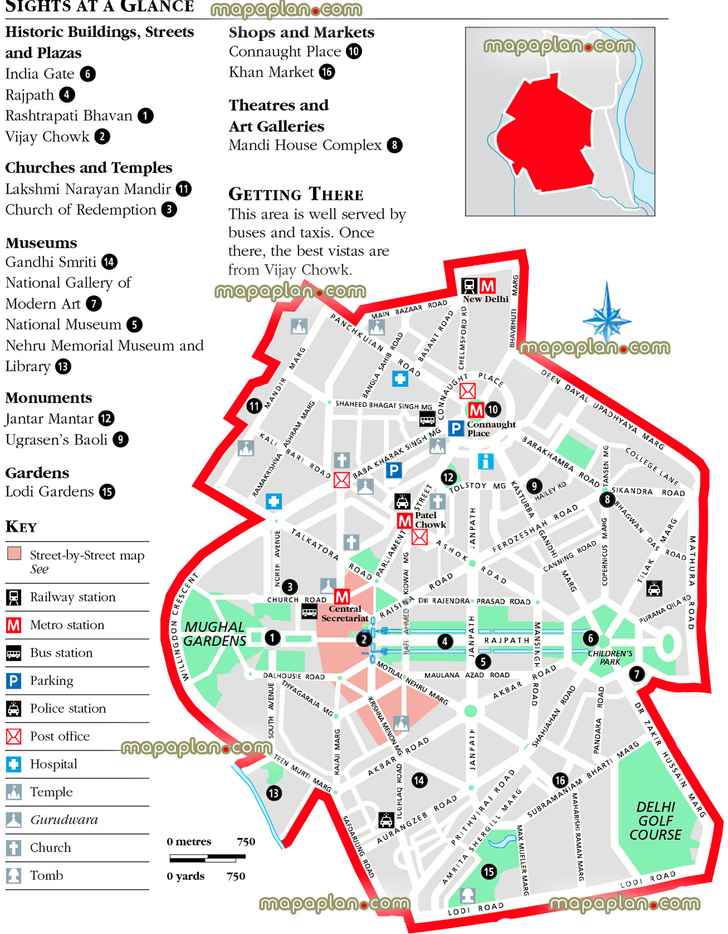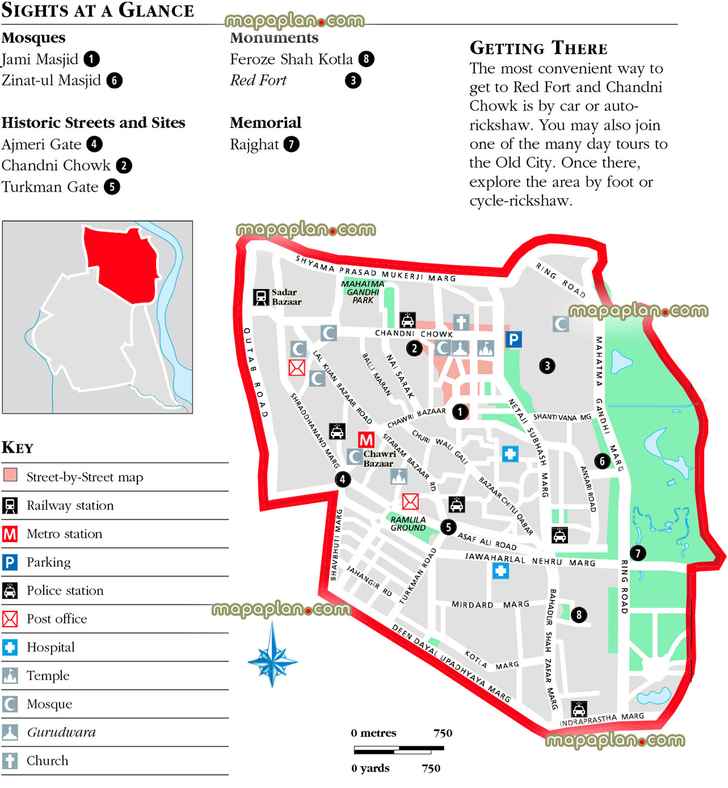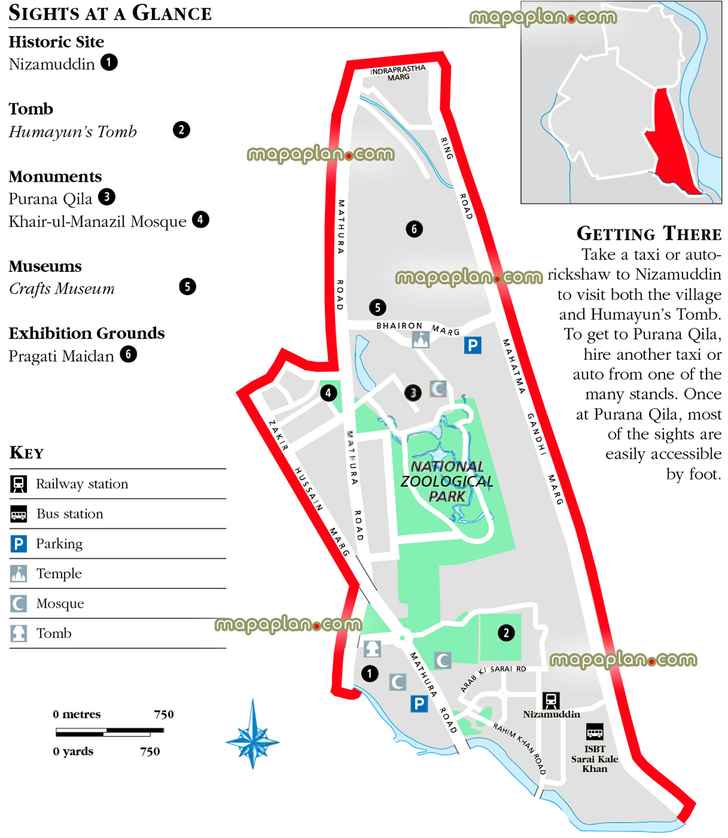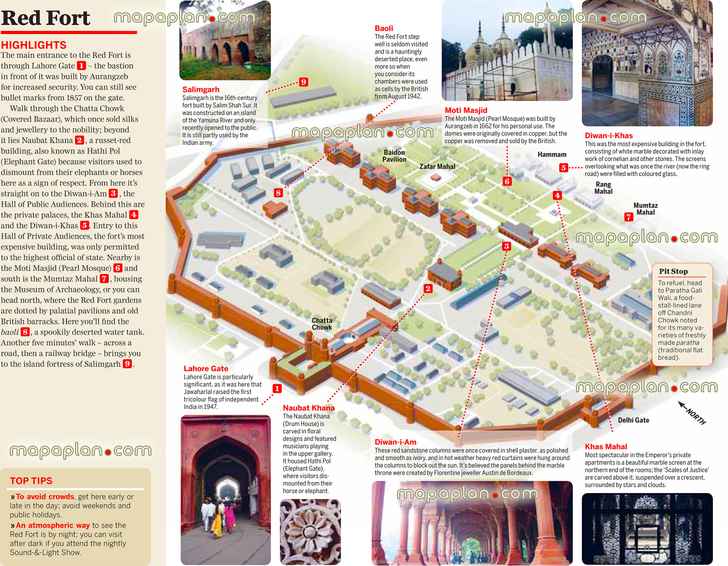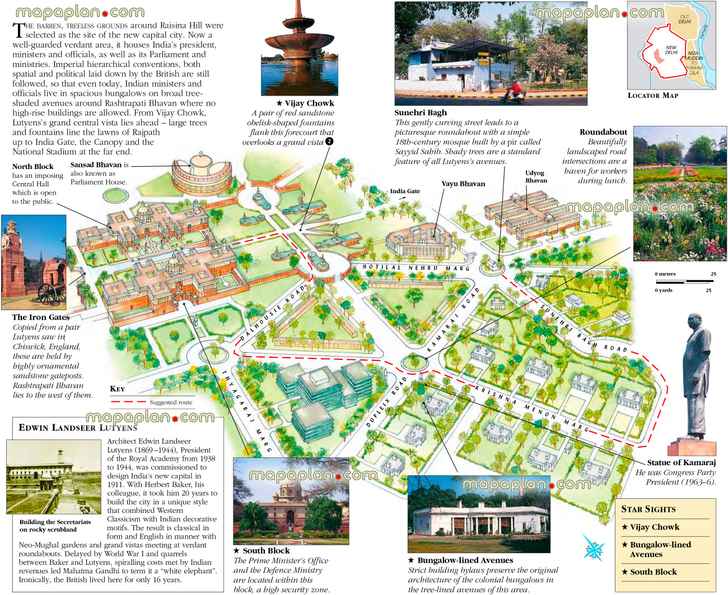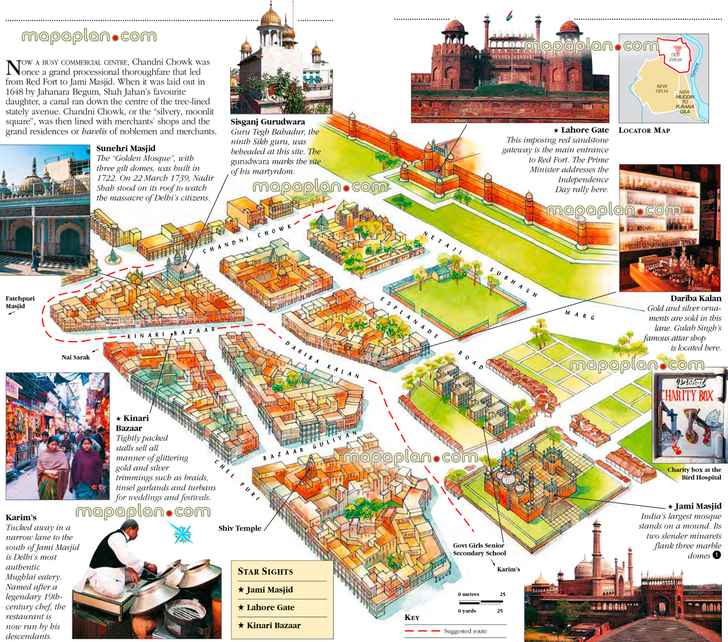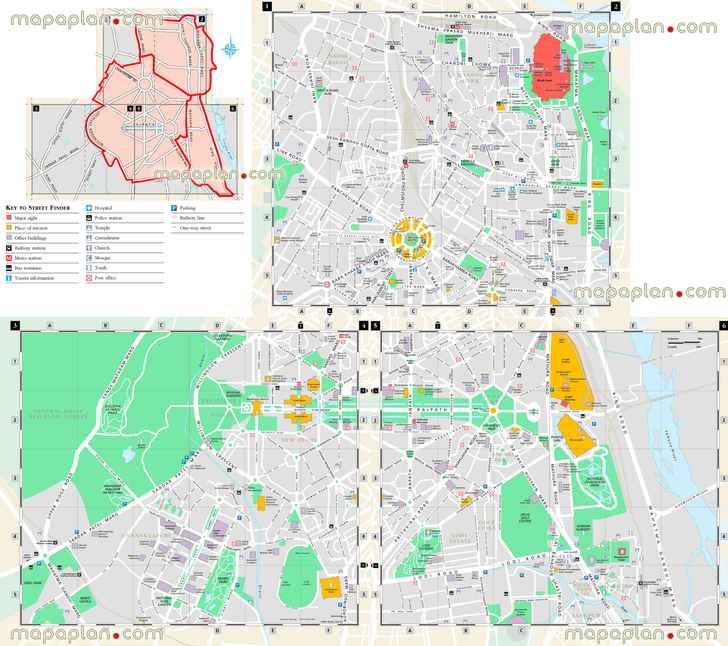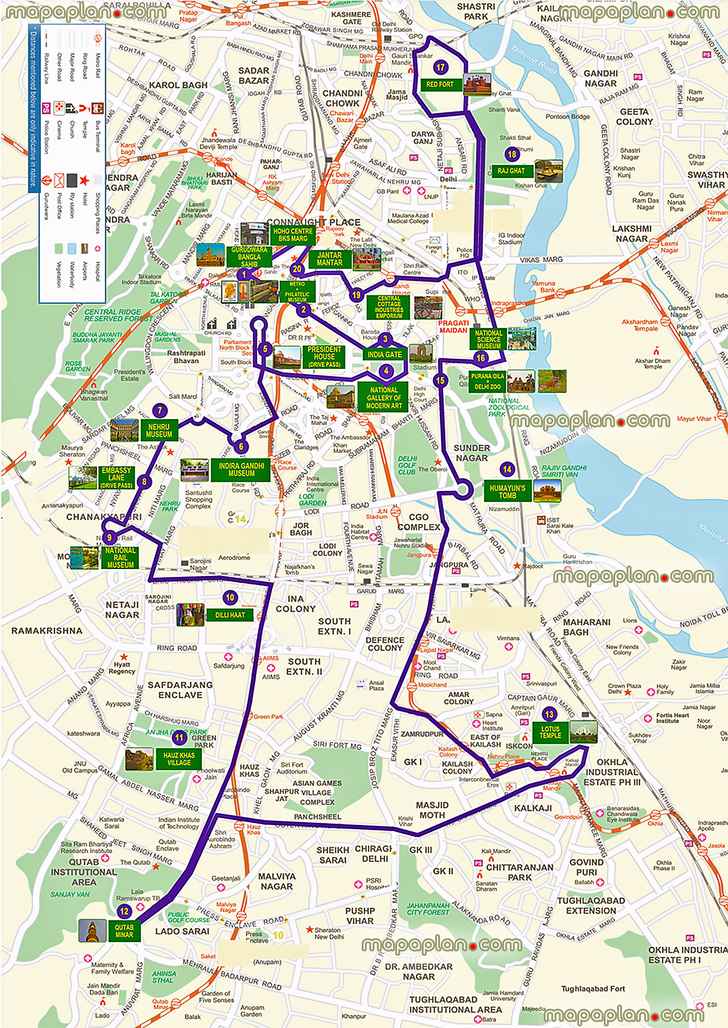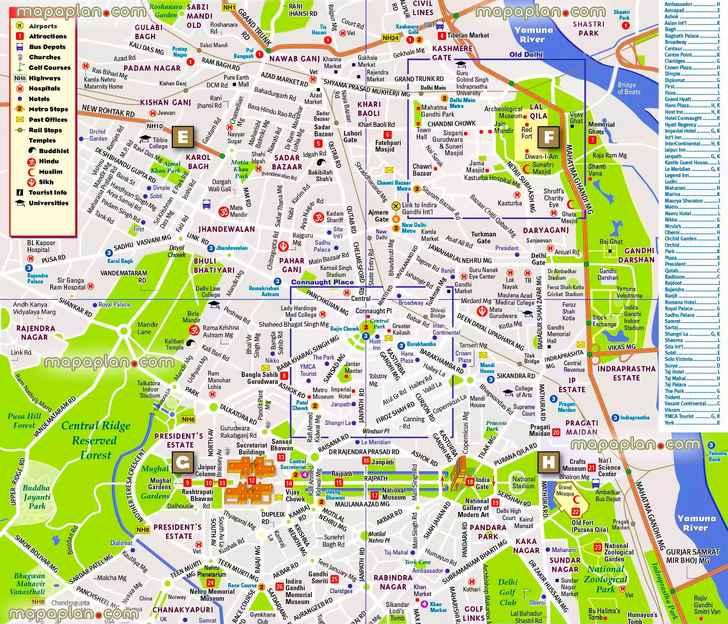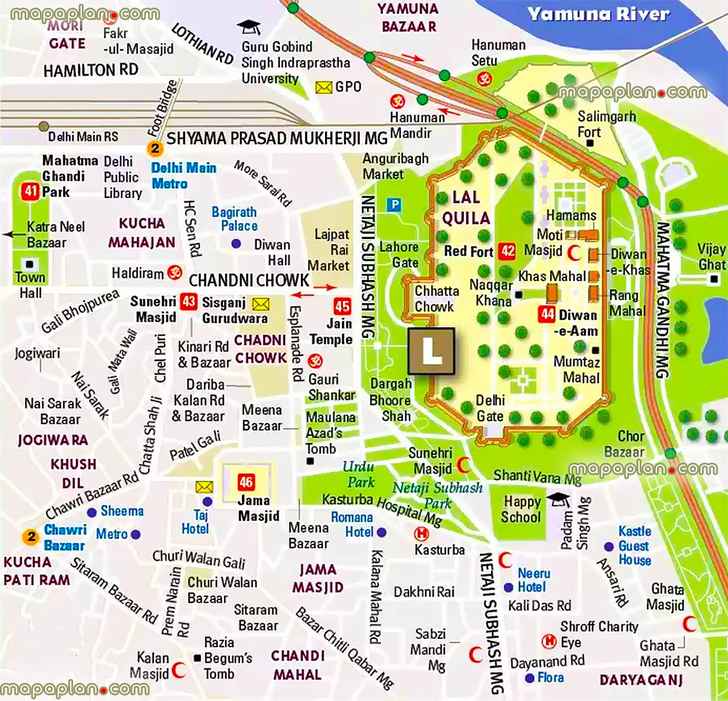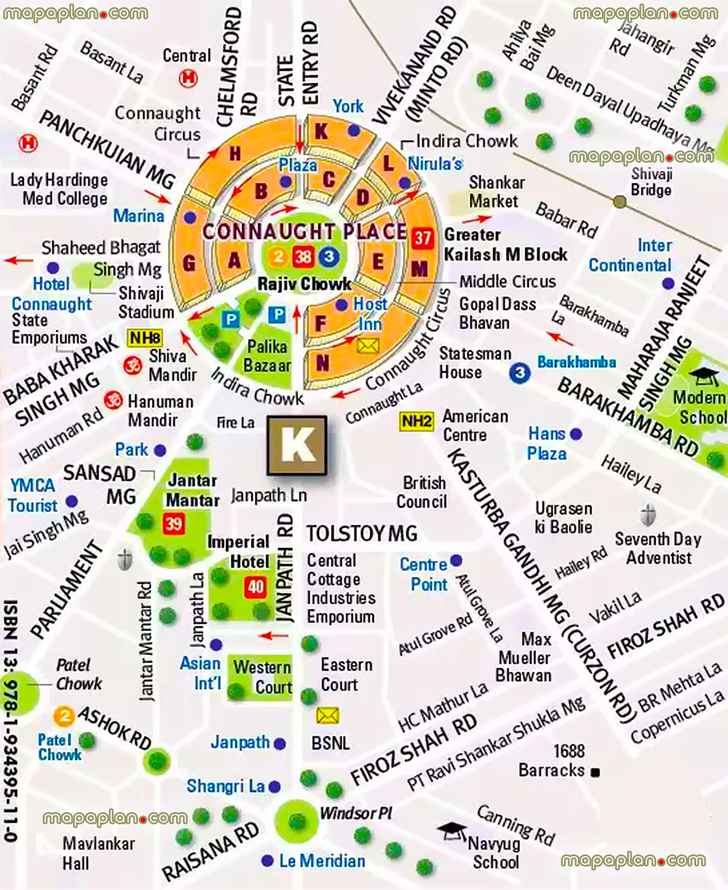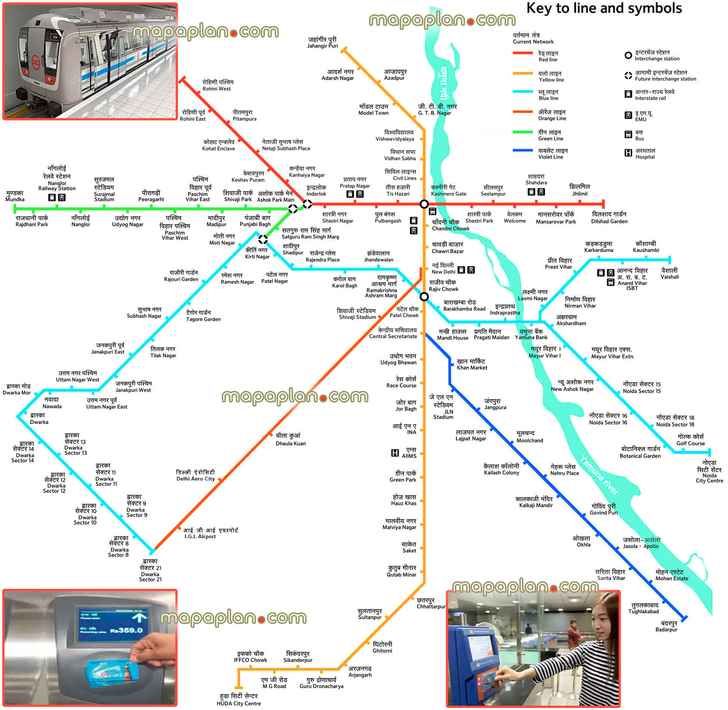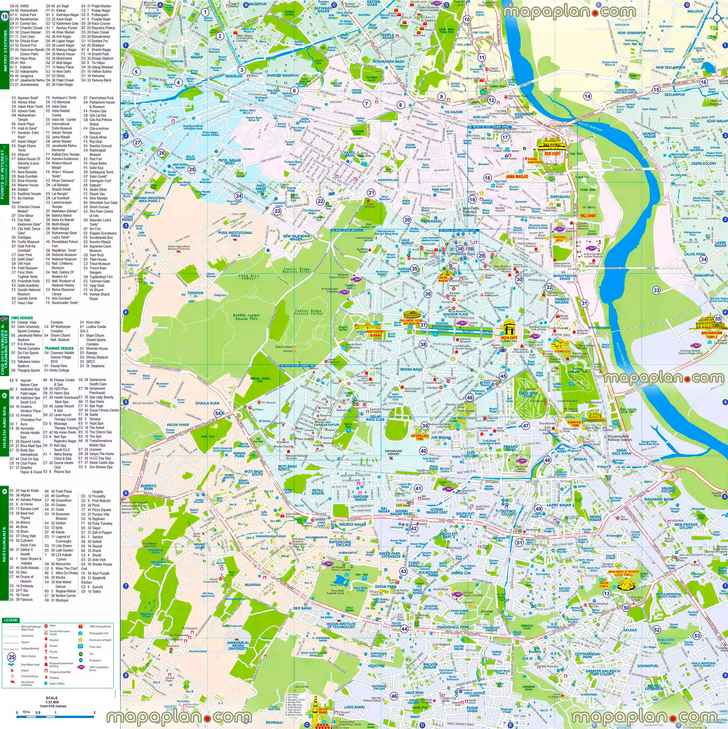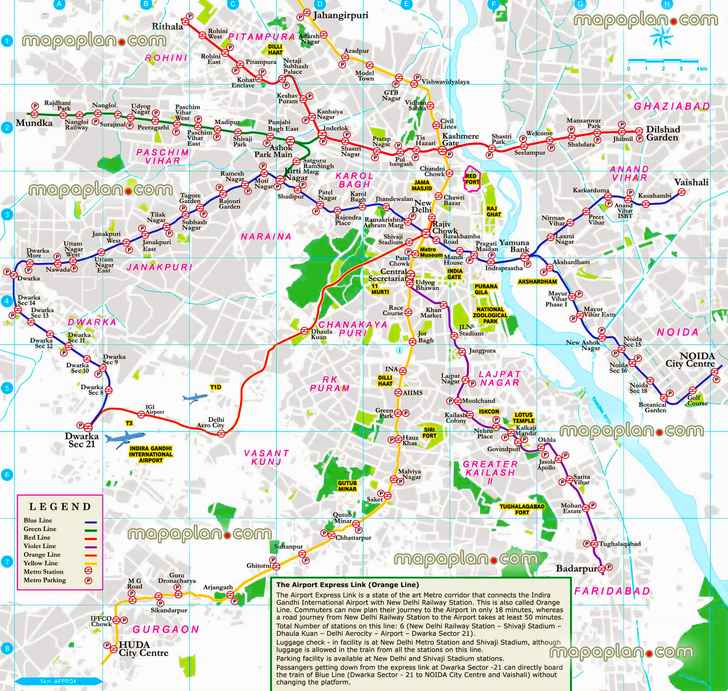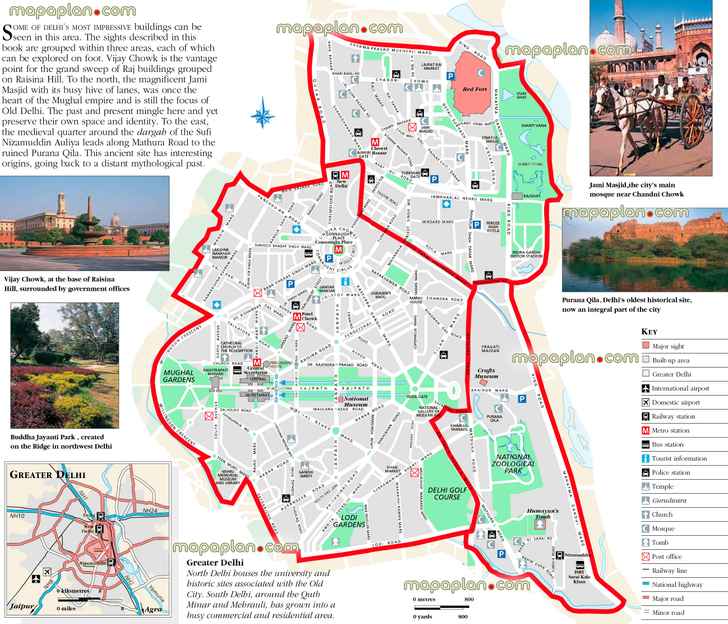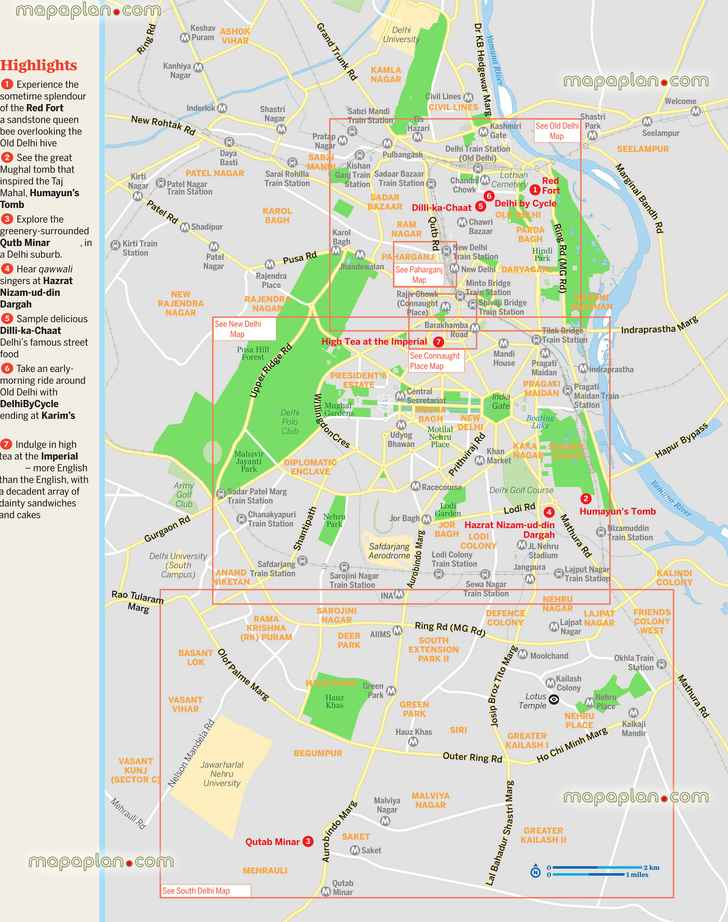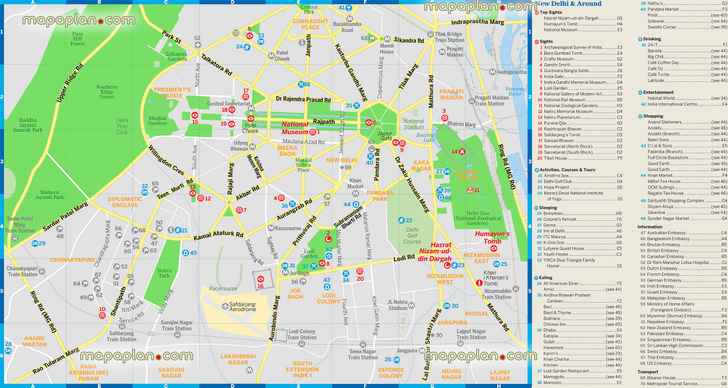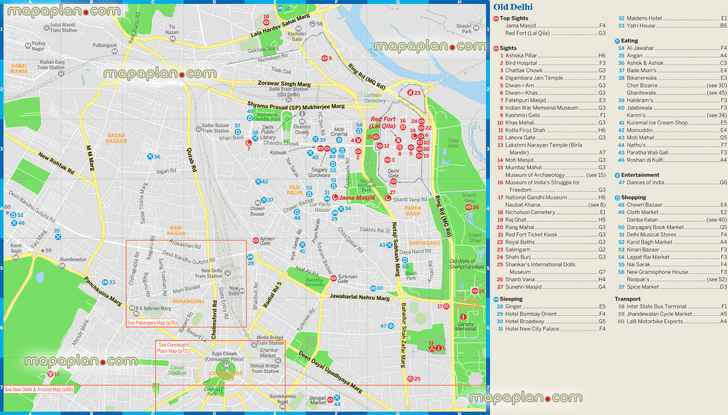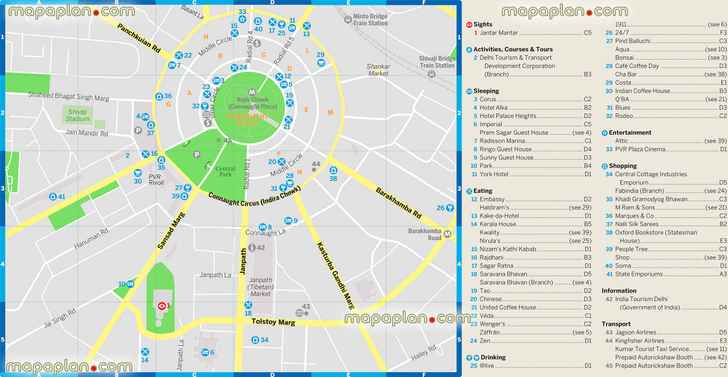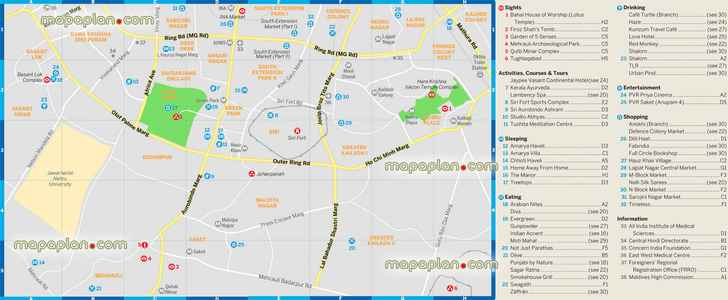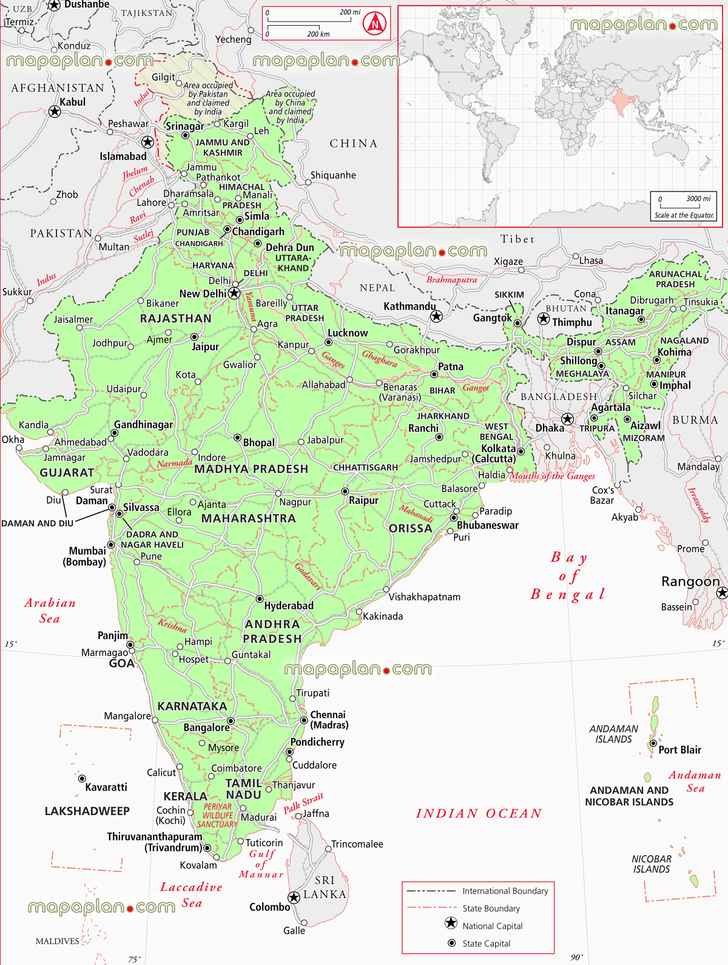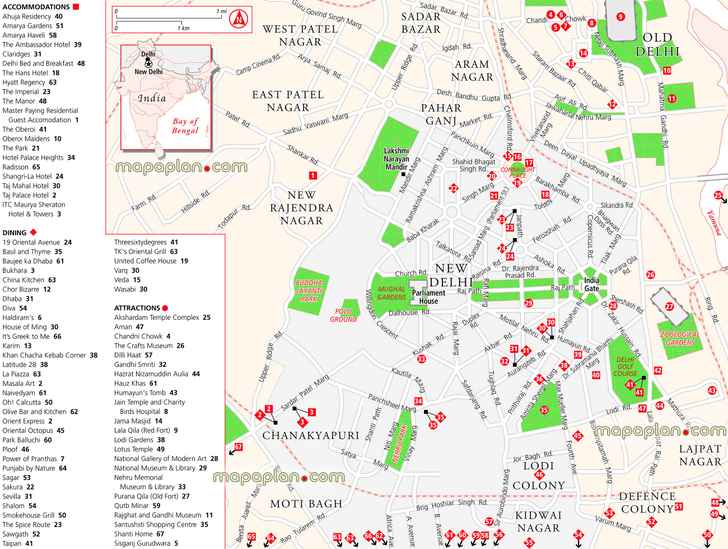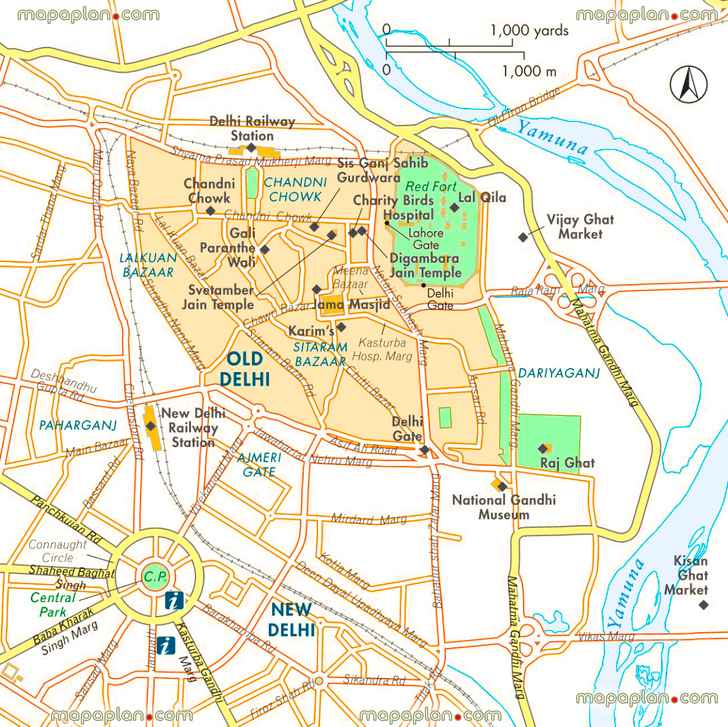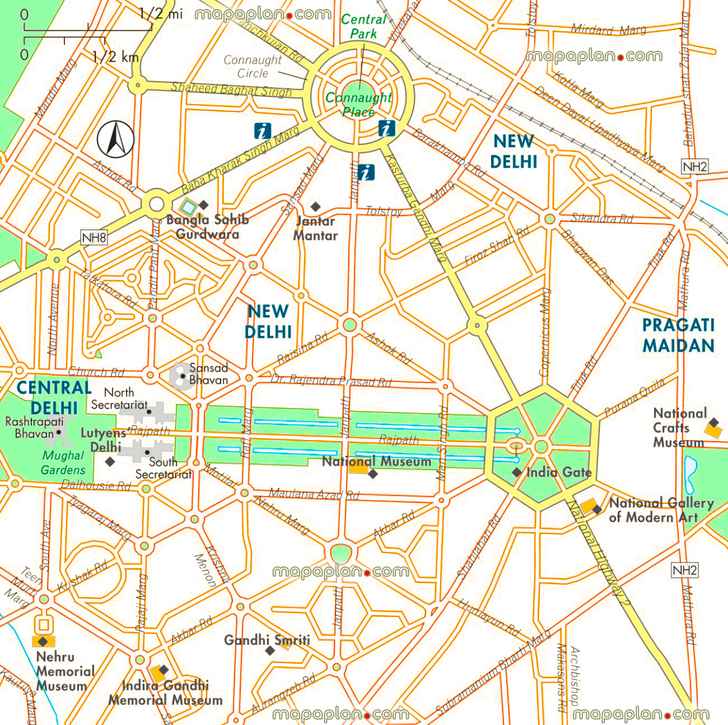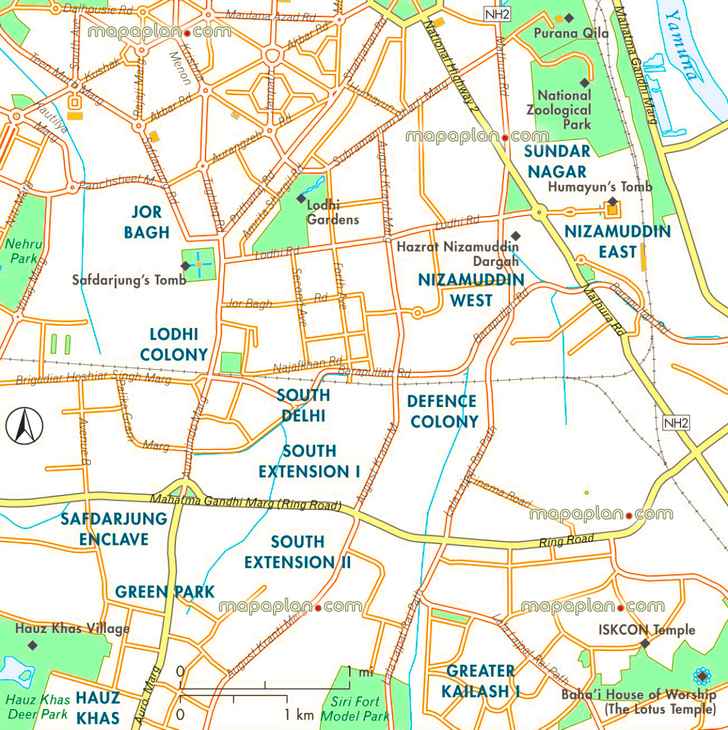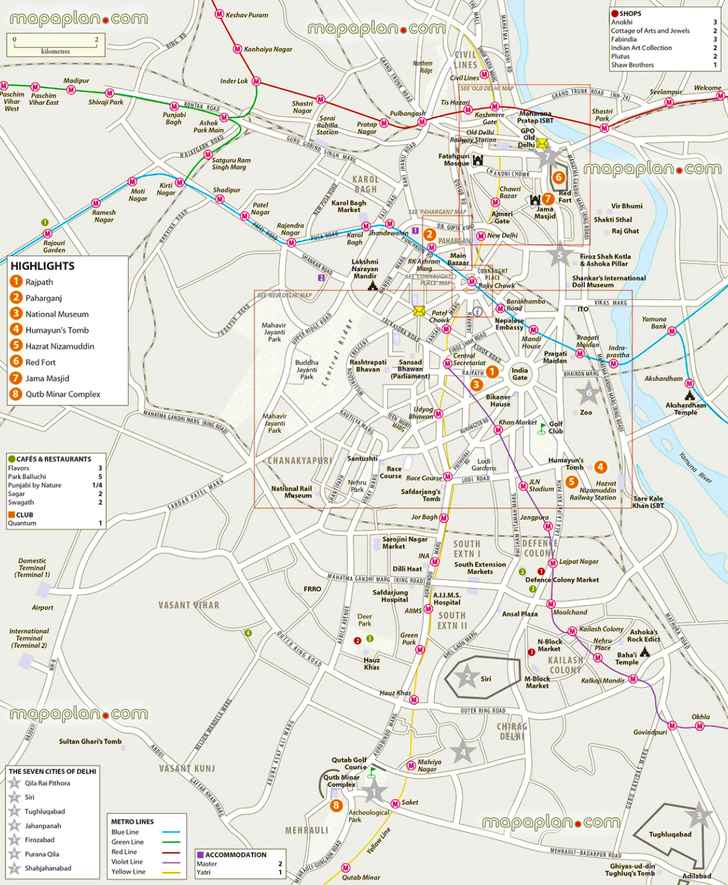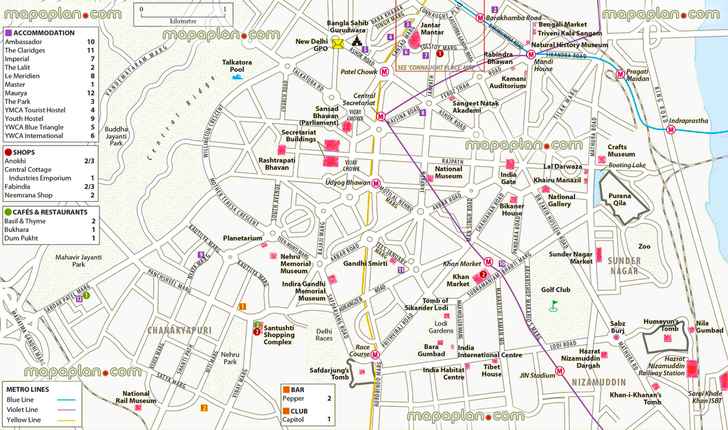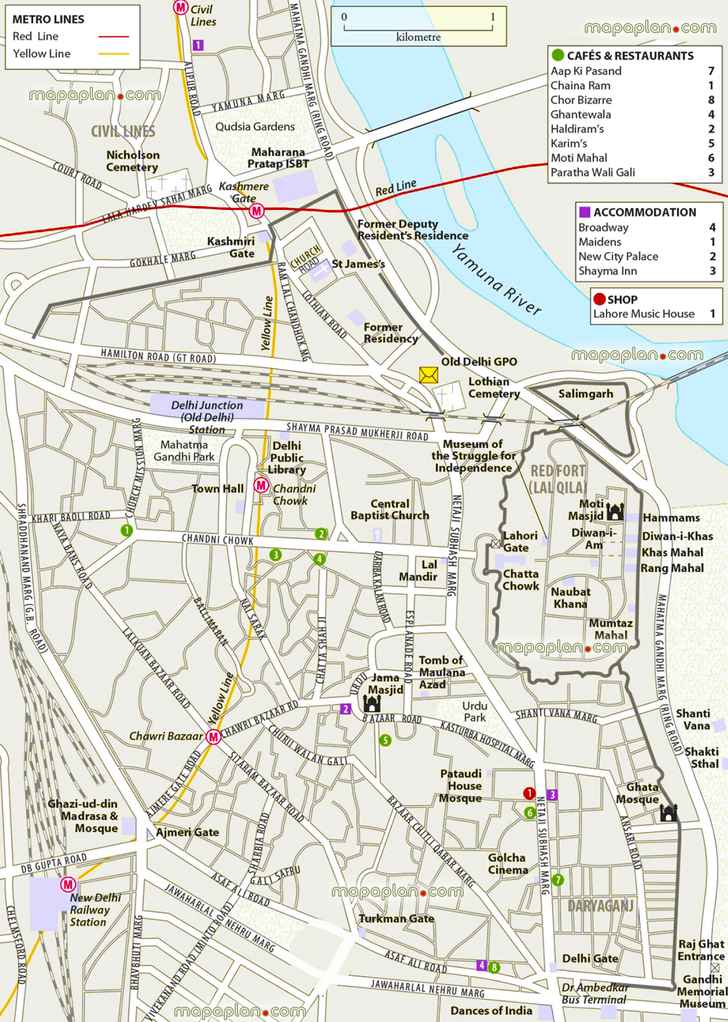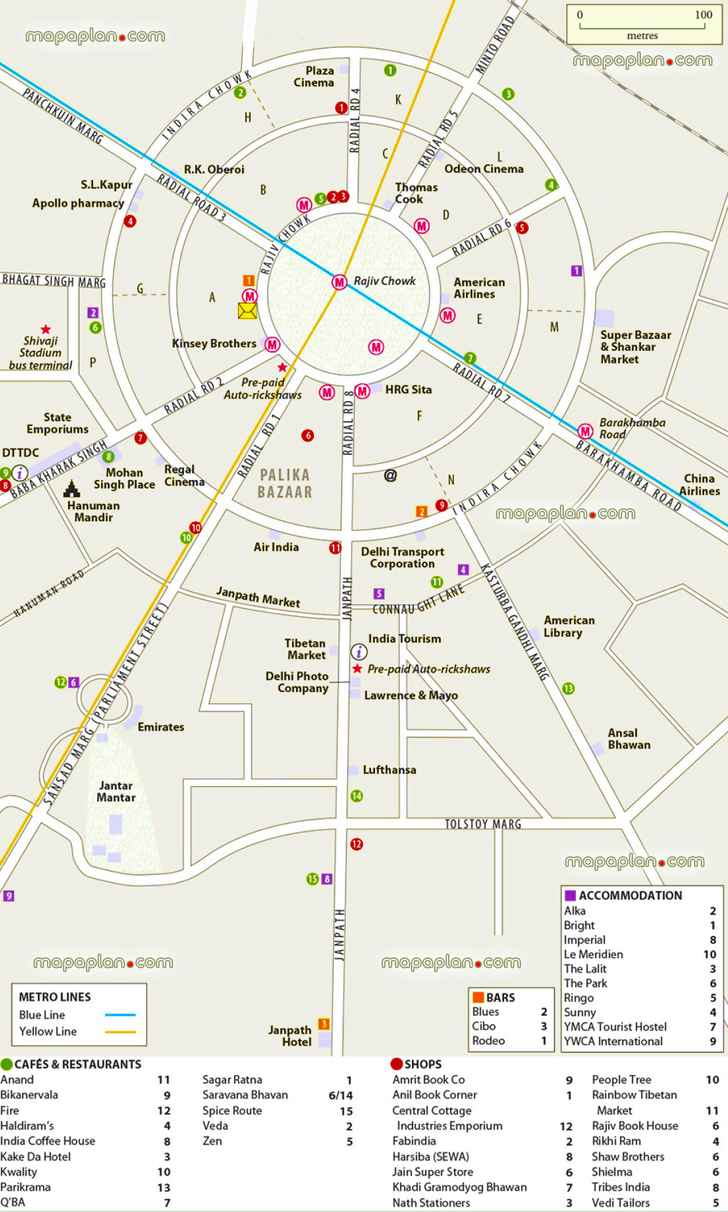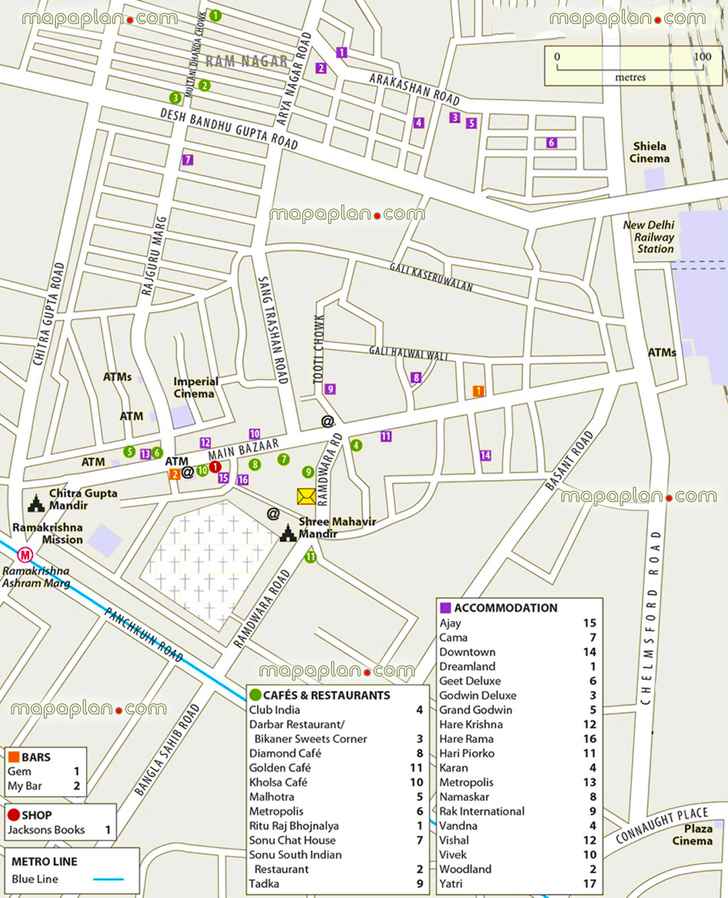 Map of top 10 attractions in Delhi
The typical top ten attractions are listed below. You can find the detailed locations of these places on the maps above.
Vijay Chowk - Vijay Chowk or 'Victory Square', a large piazza at the base of Raisina Hill, was planned as a commanding approach to the Viceroy's House, now the Indian President's residence. Vijay Chowk is flanked by two long, classical Secretariat buildings (the North and South Blocks), which house several ministries as well as the Prime Minister's Office.
Lotus Temple (Bahai House of Worship) - Delhi's Baha'i Temple is an iconic piece of modern architecture that dominates the surrounding suburban sprawl. Twenty-seven spectacular giant white petals of marble in the shape of an unfolding lotus spring from nine pools and walkways, to symbolize the nine unifying spiritual paths of the Baha'i faith; each petal alcove contains an extract from the Baha'i holy scriptures. Set amid well-maintained gardens, the temple is at its most impressive at sunset. The lotus flower is a symbol of purity and spirituality throughout India, and Delhi's Baha'i Temple celebrates this in a unique architectural way. The Lotus Temple, as the Baha'i House of Worship is also known, is probably Delhi's most iconic modern holy site and one of the most visited places in the world. This lotus-shaped innovative structure is a world where silence and order prevail.
Rashtrapati Bhavan - Designed by Sir Edwin Lutyens as the British Viceroy's Palace, Rashtrapati Bhavan, situated at the crest of Raisina Hill, is now the official residence of the President of India.
Jama Masjid - One of the world's largest mosques, whose three domes are visible from miles around. Don't miss the panoramic view from the south minaret. Visitors are welcome any time except during prayers.
Chandni Chowk - Old Delhi's main thoroughfare, Chandni Chowk was once a sublime canal lined with trees and some of the most opulent bazaars in the whole of Asia. Today it is the heart of Old Delhi, a bustling area where religious and commercial activity mix easily. It is lined with shrines of various religions, including the fascinating Digambar Jain Temple.
Red Fort (Lal Qila) - The largest of Old Delhi's monuments is Lal Qila, known in English as the Red Fort because of the red sandstone from which it was built. It was built as the main residence of the royal family. It's an important top attraction, and combines Indo-Persian architecture to perfection. Red sandstone battlements give this imperial citadel its name, Lal ('Red') Qila ('Fort'). The Red Fort remains a powerful symbol of Indian nationhood. Each night except Monday, a sound-and-light show takes place in the Red Fort.
Lakshmi Narayan Mandir - Northwest of New Delhi GPO and directly west of Connaught Place, is a modern Hindu temple that also welcomes tourists. A fairly typical example of modern Indian temple architecture, with its marble entrance and ochre and maroon shikhars (spires), the Birla Mandir, as it is popularly known, has images of Vishnu and his consort Lakshmi in its main shrine. The main shrine is dedicated to Lakshmi, goddess of wealth, and her consort Narayana, aka Vishnu, the preserver of life.
Connaught Place (CP) - This shopping complex, with its Palladian arches and stuccoed colonnades, was designed as a deliberate contrast to the noises and chaos of an Indian bazaar. CP it takes the form of a circle, divided by eight radial roads and three ring roads into blocks lettered A–N. The term Connaught Place originally referred to the inner circle, the outer one being Connaught Circus (now Indira Chowk). CP is crammed with restaurants, bars, shops, cinemas, banks and airline offices.
India Gate - Anchoring a traffic circle near the far end of Rajpath from the Indian government, this massive sandstone arch commemorates soldiers of the British Indian Army.
Rajpath - Running east of Vijay Chowk is Rajpath, a two-mile-long avenue used for parades, with ornamental fountains, canals and lawns on either side. This wide boulevard epitomizes the spirit of the British Raj.
National Museum - The National Museum, just south of Rajpath, provides a good overview of Indian culture and history. Five millennia of Indian history can be explored at the National Museum, with a collection of more than 200,000 pieces of Indian art.
Paharganj - North of Connaught Place and directly west of New Delhi railway station, Paharganj, centred around Main Bazaar, provides the first experience of the Subcontinent for many budget travellers. Packed with cheap hotels, restaurants, cafés and dhabas, and with a busy fruit and vegetable market halfway along, it's also a paradise for shoestring shoppers seeking psychedelic clothing, joss sticks, bags and oils of patchouli or sandalwood.
Gandhi Smriti - The Gandhi Smriti is the house where the Mahatma lived his last days. Visitors can view an exhibition about his life, and follow in his last footsteps to the spot where he died.
Lodi Gardens - A picturesque park located 2km west of Nizamuddin along Lodi Road and landscaped around some imposing 15th- century tombs. Lodhi Gardens is one of Delhi's most picturesque Hazrat Nizamuddin Aulia parks, and a favourite haunt of joggers & yoga enthusiasts.
Purana Qila - The majestic fortress of Purana Qila, literally 'Old Fort', stands on an ancient site that has been continuously occupied since 1000 BC, as archaeological excavations have revealed.
Humayun's Tomb - Close to the medieval Muslim centre of Nizamuddin, Humayun's Tomb stands at the crossroads of the Lodi and Mathura roads. A prototype for the Taj Mahal, whose lovely gardens offer an escape from the heat. Humayun, the second Mughal emperor, is buried in this tomb, the first great example of a Mughal garden tomb, and inspiration for several later monuments, such as the incomparable Taj Mahal. Resting on an immense two-story platform, the tomb structure of red sandstone and white marble is surrounded by gardens intersected by water channels.
Bazaars of Old Delhi - Old Delhi bazaars are legendary. An English visitor over a 100 years ago, wrote in praise of the 'Cashmere shawls, gold and silver embroidery, jewellery, enamels and carpets' found here. Today the great wholesale bazaars of Chandni Chowk still retain a souk-like quality. Their narrow streets are lined with shops, whose goods spill out onto the pavements.
INA Market - This lively bazaar retains all the trappings of a traditional Indian market but also sells imported foodstuffs such as cheese, pasta and exotic varieties of seafood.
Qutub Minar Complex & Mehrauli - The ruins of Delhi's first incarnation, a thirteenth-century city dominated by an impressive Victory Tower. India's highest single tower, Qutb Minar, marks the site of the first Muslim kingdom in North India.
Nizamuddin Complex - A historic necropolis dedicated to the memory of various Sufi saints.
Swaminarayan Akshardham Temple - One of the newest additions to Delhi's spiritual scene is Akshardham temple: a theme park of polytheistic Hinduism. This bulwark of pink sandstone and Italian marble - possibly the largest Hindu temple in the world - is undeniably dramatic. Set in landscaped gardens with a musical fountain, the temple incorporates traditional and craftsmanship as well as an IMAX film about the sect's founder.
Raj Ghat - Ghats are steps that lead into the water of the Yamuna River. Ghats have been used in India for centuries, for mundane things like washing clothes and bathing, but also for worship and funeral cremation. Raj Ghat, east of Delhi Gate – really more a park than a ghat – is the place where Mahatma Gandhi was cremated.
Gandhi Memorial Museum - Opposite Raj Ghat southwest corner, the small Gandhi Memorial Museum houses some of Gandhi's photographs and writings.
Other attractions shown on our maps include: National Crafts Museum, Rajghat, National Gallery of Modern Art, Jantar Mantar, Kashmiri Gate, National Gandhi Museum, Shwetamber Jain Temple, Indira Gandhi Memorial Museum, ISKCON Temple, National Rail Museum, National Zoological Park, Hazrat Nizamuddin Aulia, Safdarjung's Tomb, Mehrauli Archaeological Park, Dargah Qutub Sahib, Sunehri Bagh Mosque, Mandi House Complex, Nizamuddin Complex, Bangla Sahib Gurudwara.
What are some interesting facts about Delhi?
Tourist information centre & maps - To pick up a free foldaway map of Delhi or to get up-to-date information on sights, city tours, and taxi/rickshaw prices, head for the India Tourism Office near Connaught Place.
Getting around in Delhi city - Most of the areas of Delhi shown on our maps are best covered by the metro, taxi, auto-rickshaw or a hired car and driver. In contrast, the narrow lanes of Old Delhi are a walker's delight, though you can hop on a cycle rickshaw if you get tired. The challenge Delhi presents is to find areas—beyond the Old City—in which walking is a viable mode of exploration. One of these areas is the central British-built commercial hub, Connaught Place. 'CP' is a tourist magnet for its travel agent bucket shops, restaurants, and shops, as well as proximity to a number of mid-range and budget hotels. It's also the location of Delhi's main Metro station.
Using metro trains - The city's metro service is air-conditioned, reliable, and state-of-the-art. With new stations and lines opening for service every few months, subway service is rapidly changing the face of the city. It's a convenient way to move between Connaught Place (Rajiv Chowk station), Lutyens' Delhi (Central Secretariat station), and Old Delhi (Chandni Chowk and Chawri Bazaar stations). For example, getting to Old Delhi from CP is three stops and takes about 15 minutes. The most popular lines are red, yellow, blue, green, violet, and the airport express, which links the airport with the centrally located New Delhi stop, which is close to the New Delhi railway stop. Maps are available at the official tourist office and often at your hotel concierge desk. The Rajiv Chowk station is massive; ask for directions as you go.
Navigating Delhi using our maps - India's capital has more sights than any other city in India, but they are concentrated in three distinct areas—Old Delhi, New Delhi, and South Delhi (known as the Qutb Minar Complex)—which should be tackled as separate tours (or at a push, two could be grouped together). The best way to cover a lot of ground in Delhi is to hire a car, especially if you're on a limited schedule. Avoid tackling Old Delhi on your first day if you've never been to India before—its startling chaos can be overwhelming. Starting with New Delhi will also give you a better idea of the aesthetic and cultural dichotomy between the two areas. A drive through the graceful avenues of the British capital will ease you gently into the capital, but don't let it lull you into a state of pleasant, orderly inertia. The rest of the city requires that all your senses be in working order. Depending on your interests, visit South and Central Delhi's monuments (Humayun's and Safdarjung's tomb, the Qutub Minar, Lodhi Gardens, Hazrat Nizamuddin Dargah), some sites commemorating the leaders of India's independence movement (the Nehru Museum or Gandhi Smriti), a museum, or a temple or gurudwara (Sikh temple). When you're ready, plunge into Old Delhi—explore the Lal Qila (Red Fort) and the stunning Jama Masjid, then venture into Chandni Chowk. Make sure to eat at the famous Gali Paranthe Wali and the restaurant Karim's.
Orientation - Although Delhi is spread out, the areas of interest to travellers are relatively easy to navigate. In Old Delhi there's the main Inter State Bus Terminal (ISBT) and, to the south, the New Delhi train station. Near this station, acting as a sort of buffer zone between the old and new cities, is Paharganj, jam-packed with cheap accommodation. New Delhi can be further subdivided into the business and residential areas around Connaught Place (the city's core) and the government areas around Rajpath to the south. Running south from Connaught Place is Janpath, which has the tourist office, hotels and a shopping strip. The domestic terminals of the Indira Gandhi International Airport are 15km southwest of the centre and the international terminal is a further 8km away.
About Delhi - The vast urban sprawl of contemporary Delhi is, in fact, a conglomeration of several distinct enclaves, chief among which are Old Delhi, with its 16th- and 17th-century Mughal-built monuments and congested souk-like bazaars; and New Delhi with its wide avenues, grand vistas and Colonial mansions, built by the British in the 1930s as their imperial capital. New Delhi has government buildings and also houses the Diplomatic Enclave where all the embassies are located. The picturesque 12th-century ruins of citadels built by the first Islamic rulers can be seen in the Qutb-Mehrauli area, and the affluent new middle class suburbs of South Delhi lie close by. Slums and shanty towns dot the outer fringes of the city.
Old Delhi - Anchored by Lal Qila (the Red Fort) and Jama Masjid, India's largest mosque, the walled Old City (originally called Shahjahanabad) provides the best glimpse into the city's treasured Mughal past, with a chaotic mix of colors and scents that stir the senses. Narrow, winding lanes branch off the main avenue, Chandni Chowk, crowded with wholesale markets, ancient shops, hidden monuments, and crumbling havelis (mansions).
Central Delhi - With the India Gate memorial at its heart, the capital built in interlocking circles by the British is now home to government buildings, parks, upscale markets, and the low-lying bungalows of the country's most powerful citizens.
South Delhi - The suburbs to the south of Central Delhi include semi-gated residential colonies, markets, and commercial districts. Here, too, are some of the oldest monuments in the capital, lovely parks, and charming locales such as Hauz Khas Village. It also has many of Delhi's can't-miss sites, including Humayun's Tomb and the Qutub Minar.
Seven Cities of Delhi shown on our maps - Delhi is said to consist of seven successive cities, with British-built New Delhi making an eighth. In truth, Delhi has centred historically on three main areas: Lal Kot and extensions to its northeast, where the city was located for most of the Middle Ages; Old Delhi, the city of the Mughals, founded by Shah Jahan in the seventeenth century; and New Delhi, built by the British just in time to be the capital of independent India.
Shopping in Delhi - The hallmark of shopping in Delhi is the bewildering variety of merchandise, markets and styles. Besides Connaught Place, almost every residential colony boasts a market. Old, established shops, bazaars and markets co-exist happily with glitzy, high-end boutiques and department stores and one can buy anything from seasonal fruits and traditional handicrafts to designer clothes and the latest imported electronic items. New Delhi's main shopping centres are in and around Connaught Place and Janpath where the state emporiums and Cottage Industries offer an exciting and varied range of textiles, jewellery and souvenirs at fixed and reasonable prices. In the north is Chandni Chowk, the traditional market, while to the south are Khan Market, Sundar Nagar and Santushti, the old urban villages of Hauz Khas, Shahpur Jat and Mehrauli, and Dilli Haat, a crafts bazaar on Aurobindo Marg.
Getting around the wider Delhi region - Delhi has good air, rail and road links to the rest of the region. There are daily flights to Leh, Srinagar, Amritsar and Chandigarh. Amritsar and Chandigarh are also connected to Delhi by fast trains and a National Highway.
Related keywords
2021, 2022, 2023, 2023, 2024, 2025, 2026, 2027, map, plan, download, print, printable, free, detailed, aerial, bird's eye, satellite, guide, planner, travel, sightseeing, visit, trip, tour, tourist, what to do, where to go, things to do, must see, top attractions, points of interest, places, sites, sights, buildings, spots, destinations, locations, landmark, museum, in a week, in 3 days, one day, city, route, bus, kids, children, top 10, top ten, popular, famous, interesting, highlights, public transport, rail, hotels, updated, metro, subway, underground, tube, downtown, coach, nightlife, pub, monument, satellite, accommodation, transit, transportation, supermarket, children, metro, subway, underground, tube, dwg
Seating plans and charts of entertainment venues showing detailed seat and row numbers
High resolution, printable travel guide maps of cities showing top tourist attractions