Copenhagen printable map of top tourist attractions & city travel guide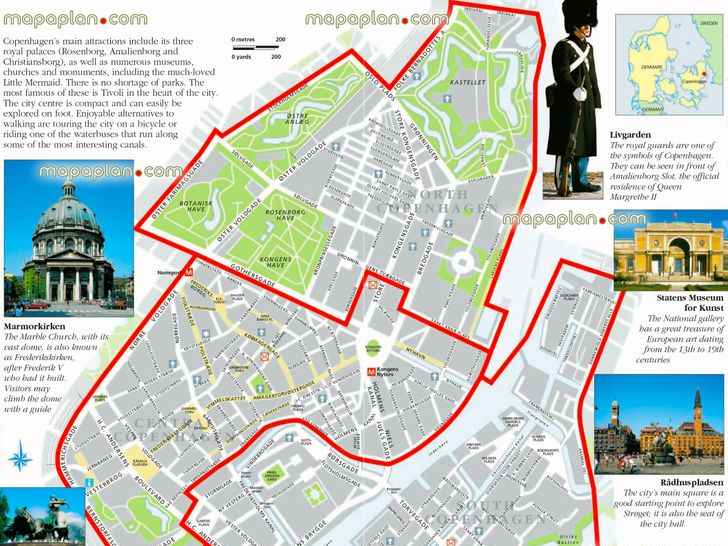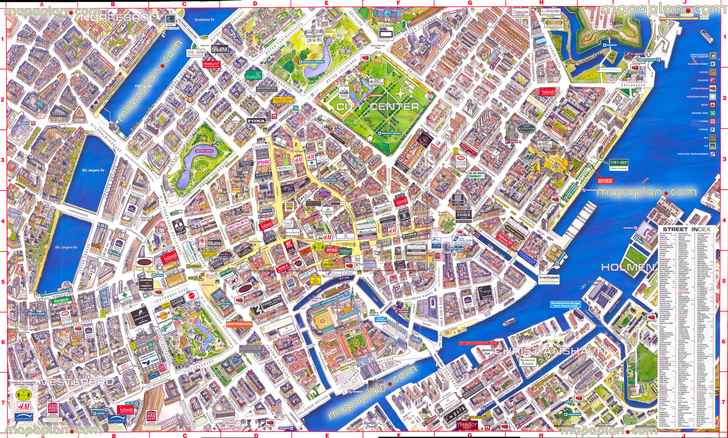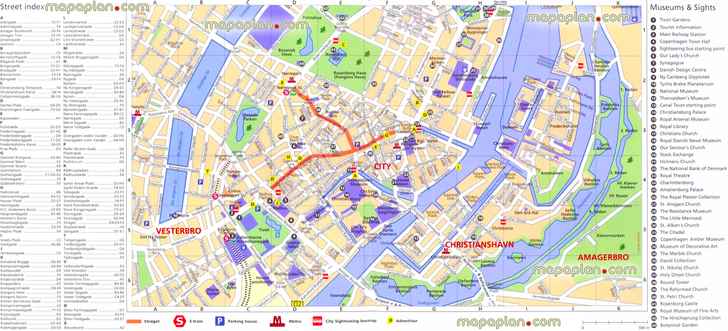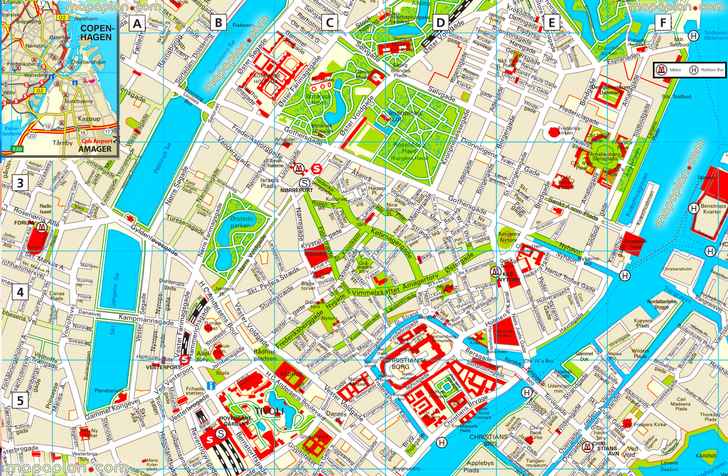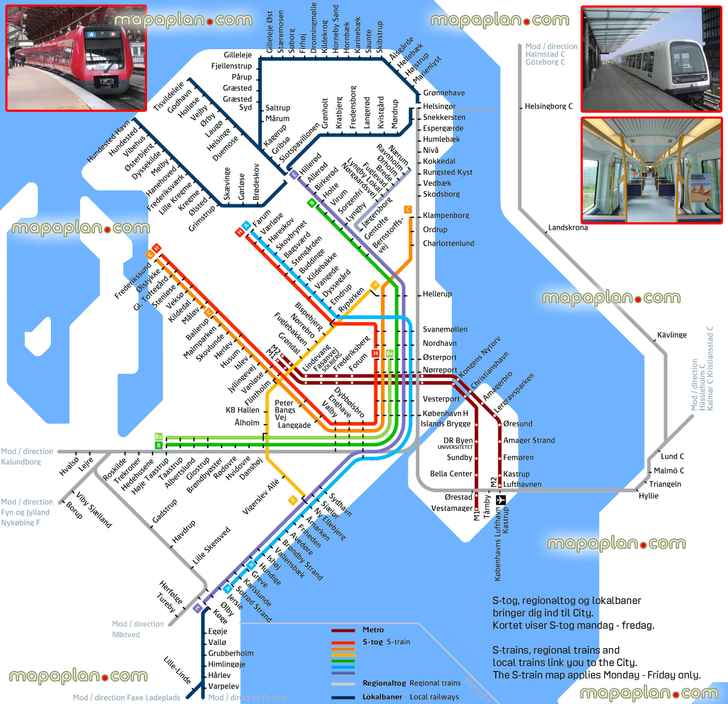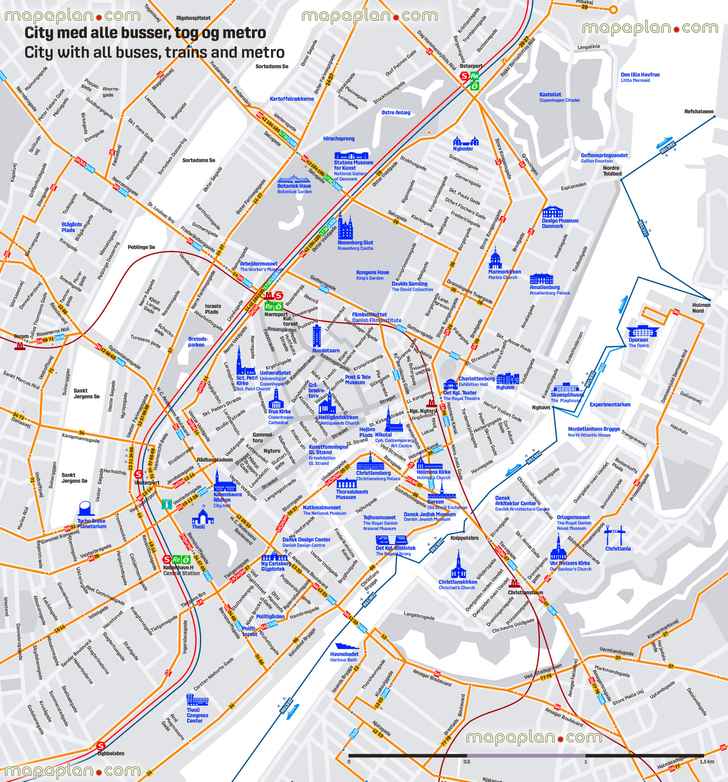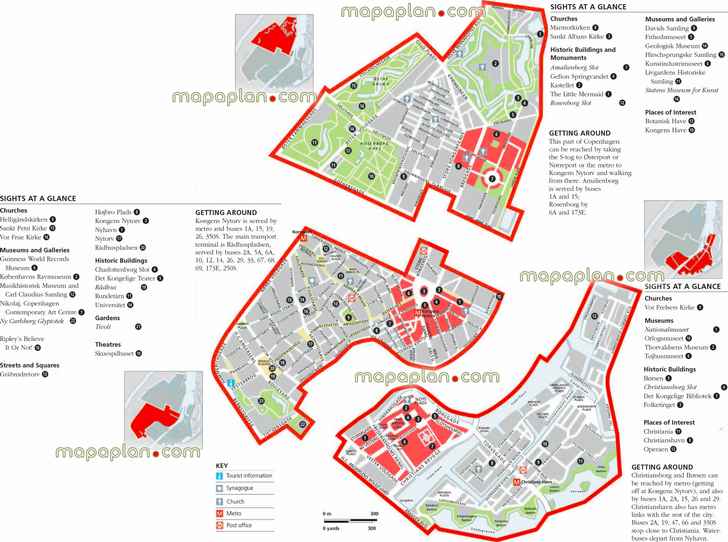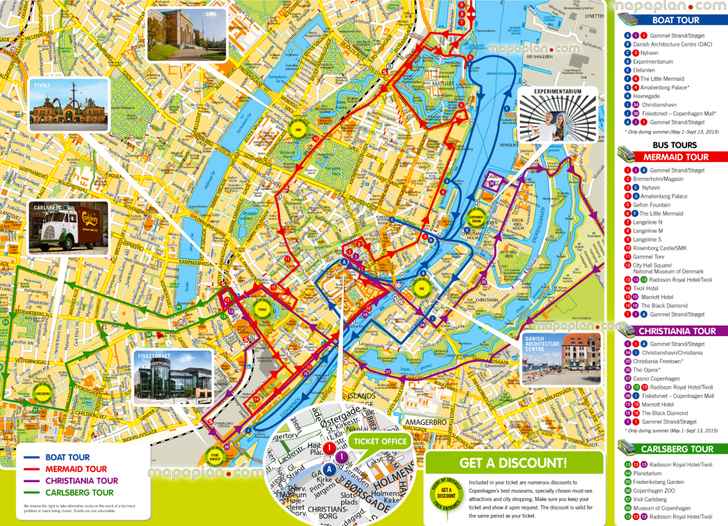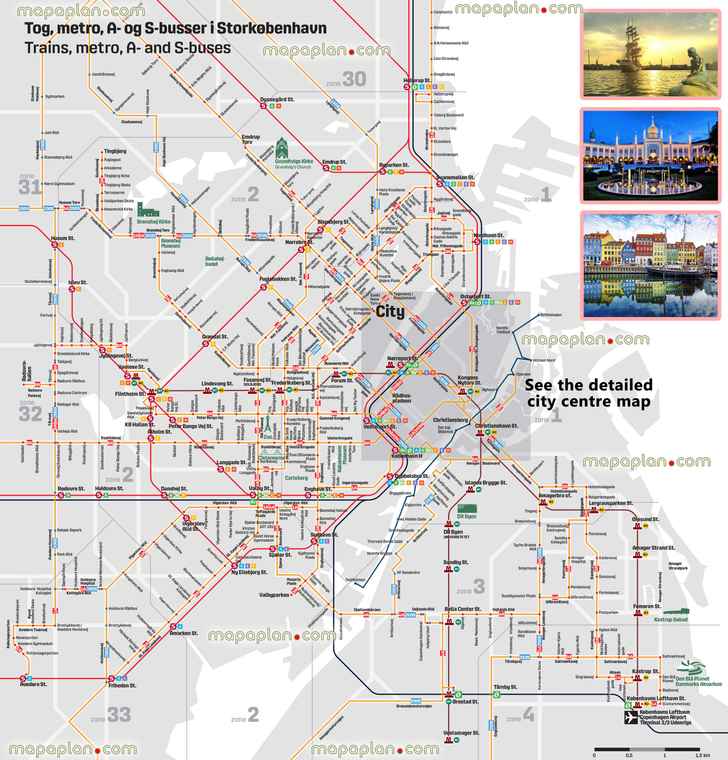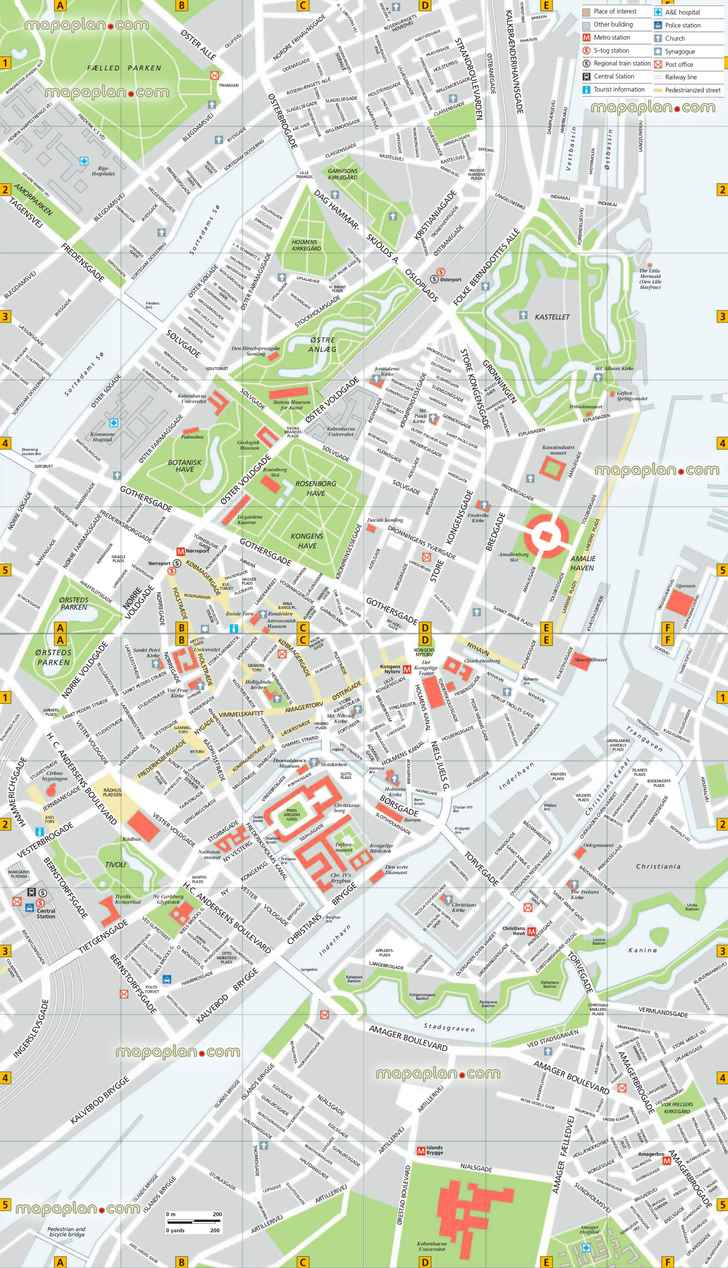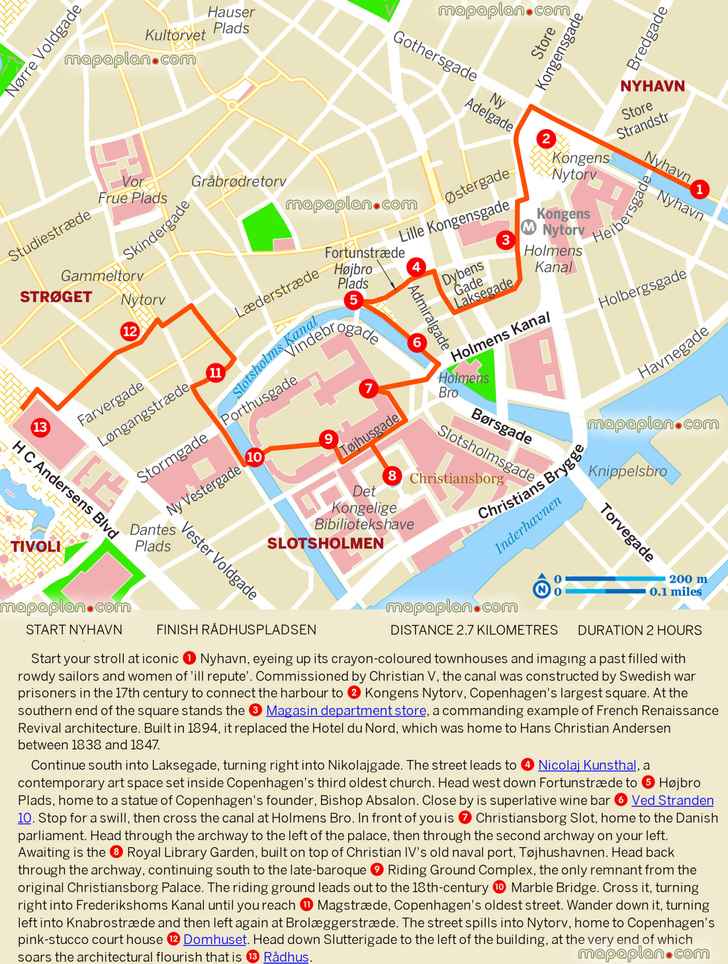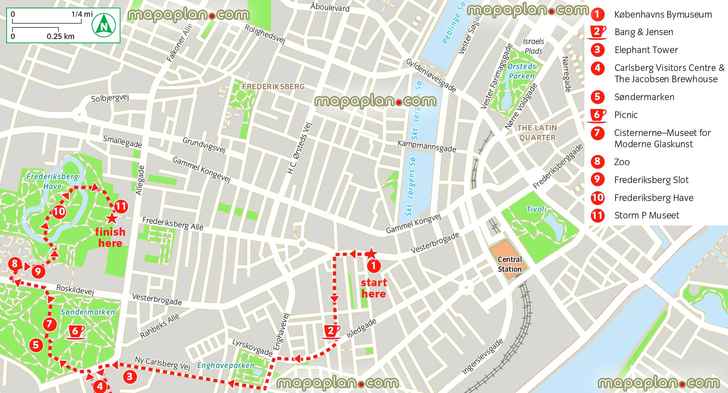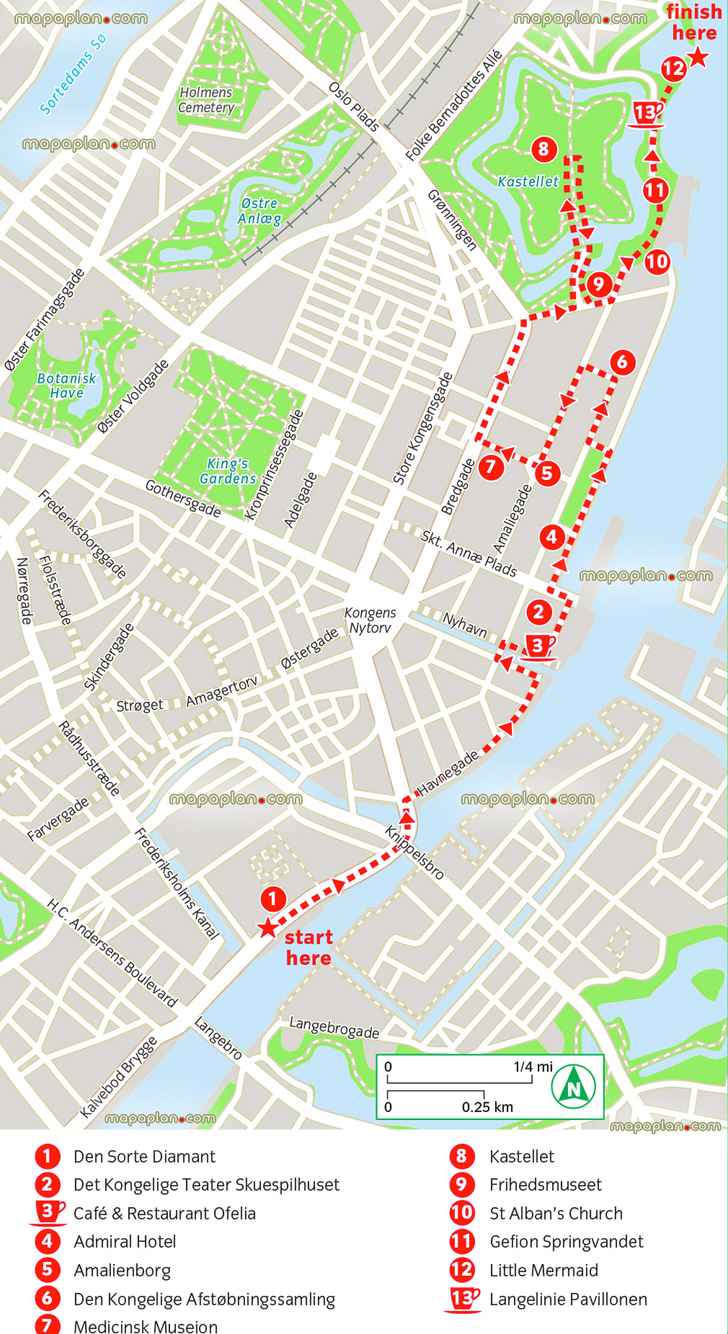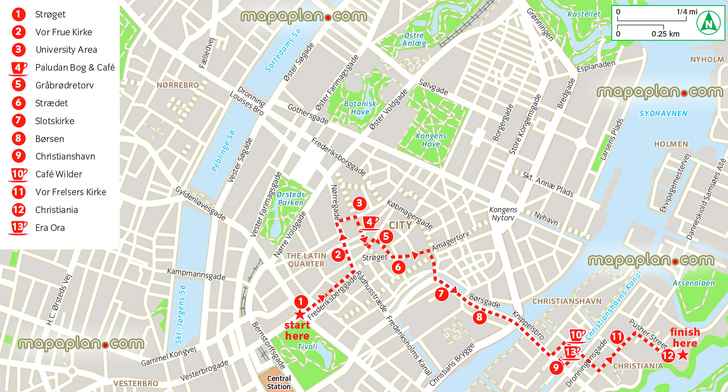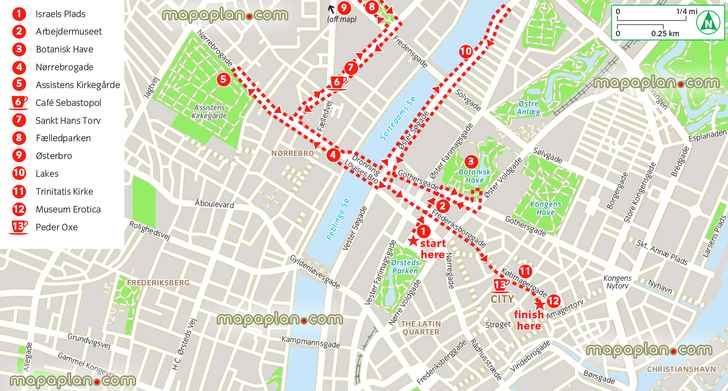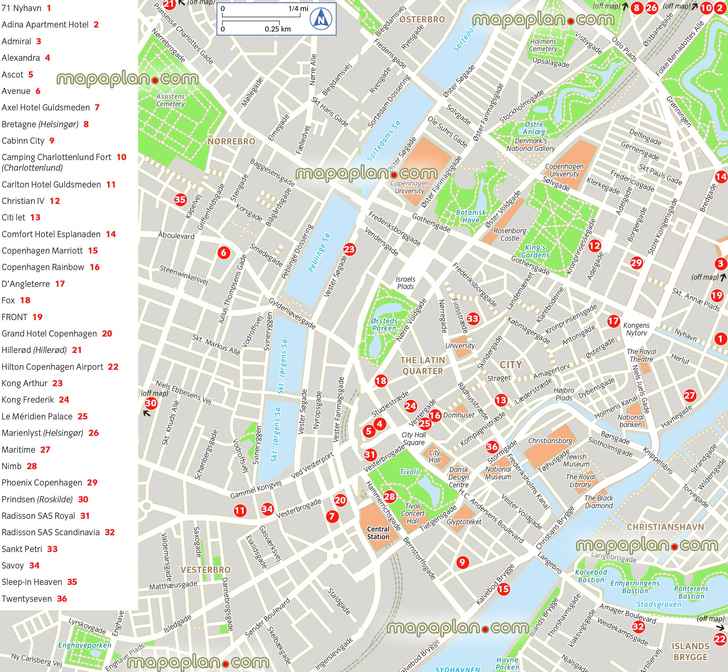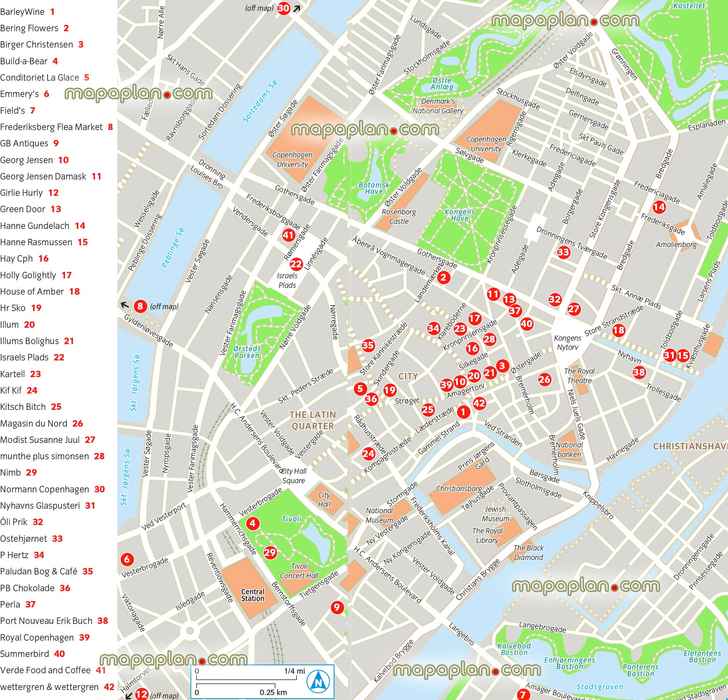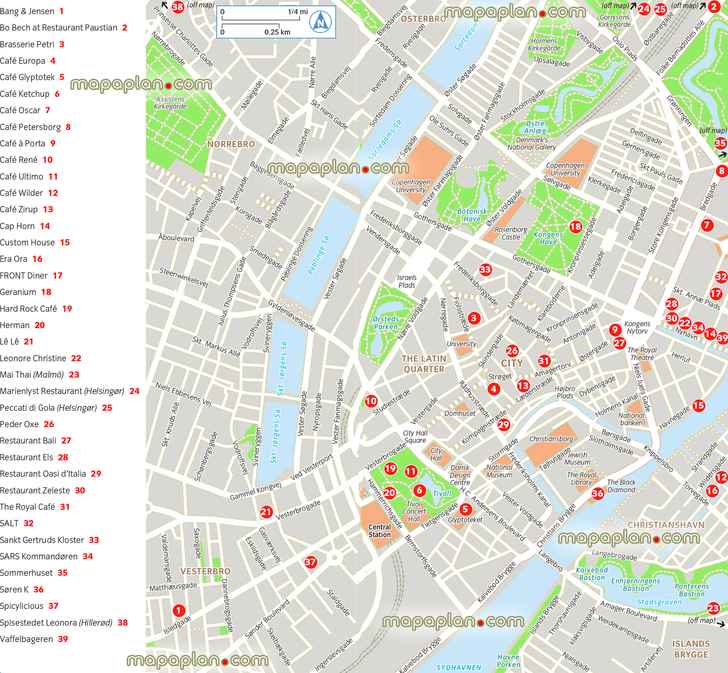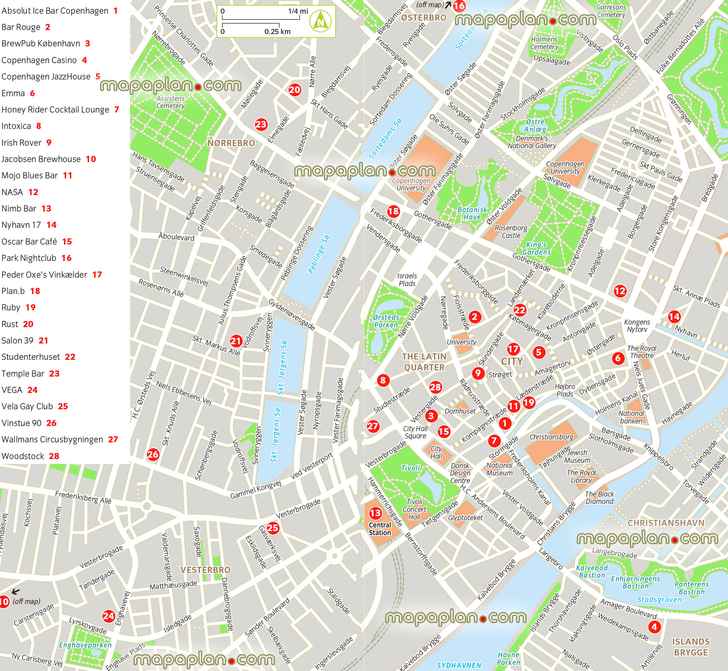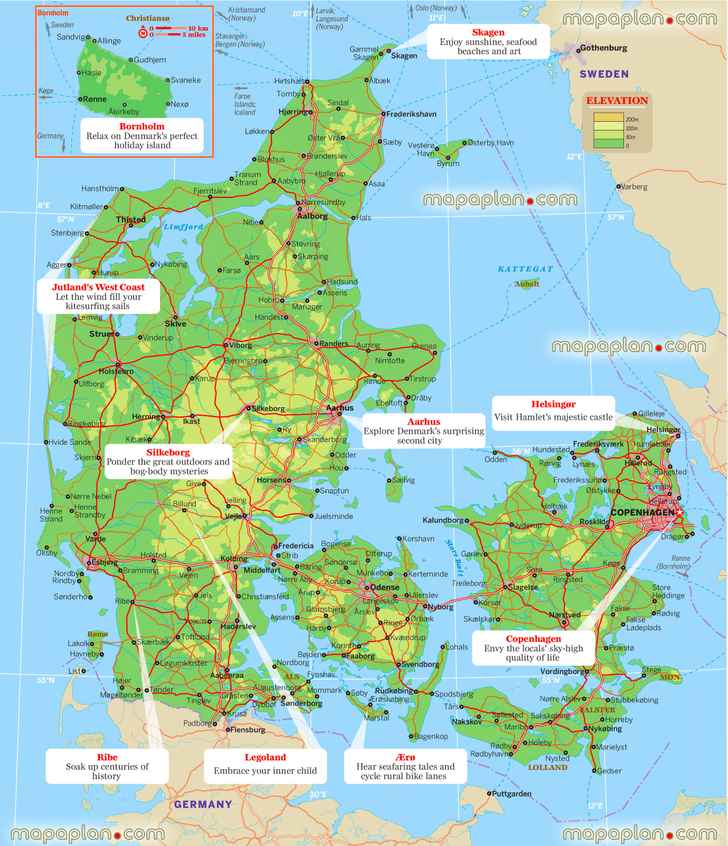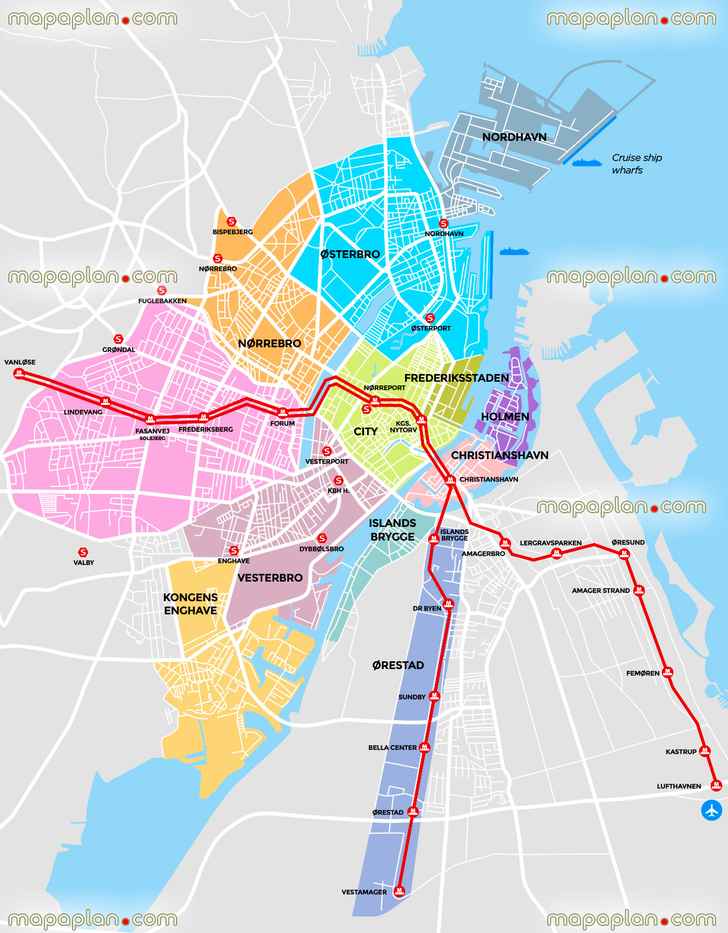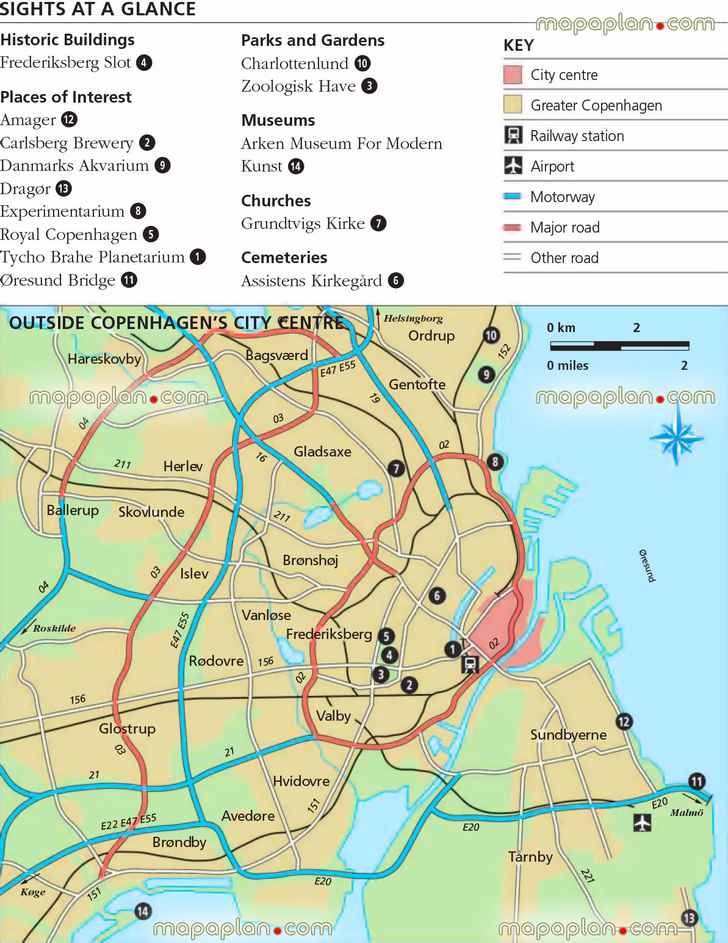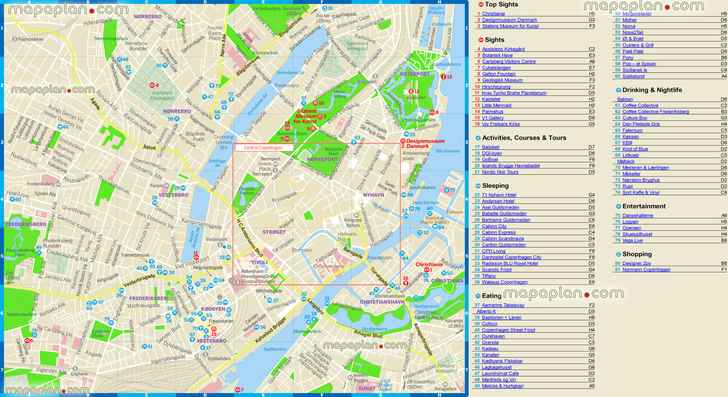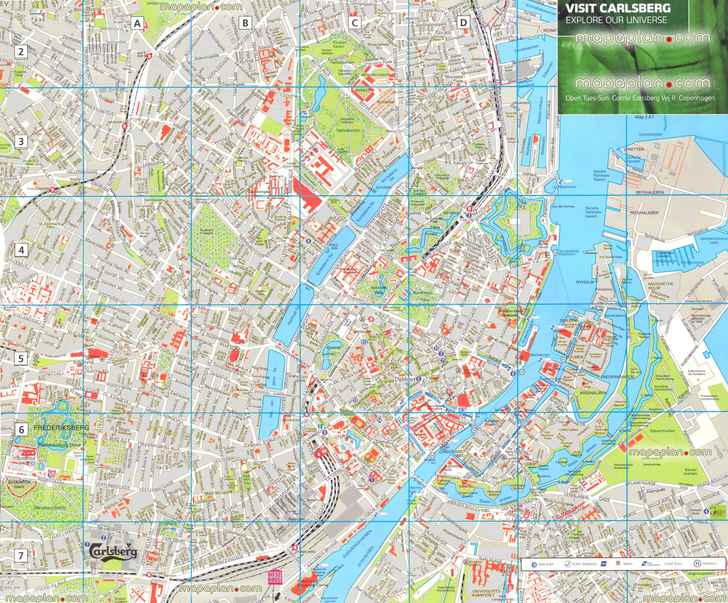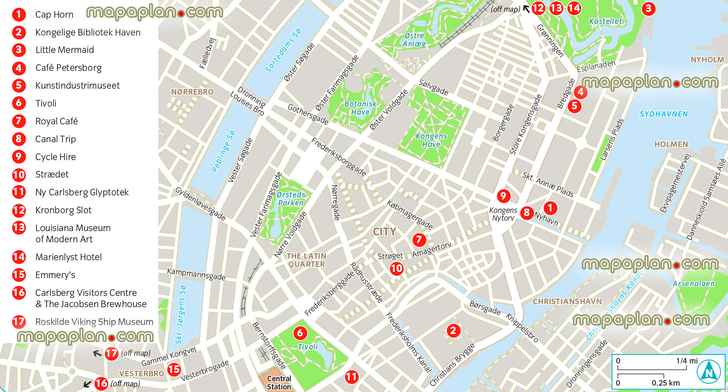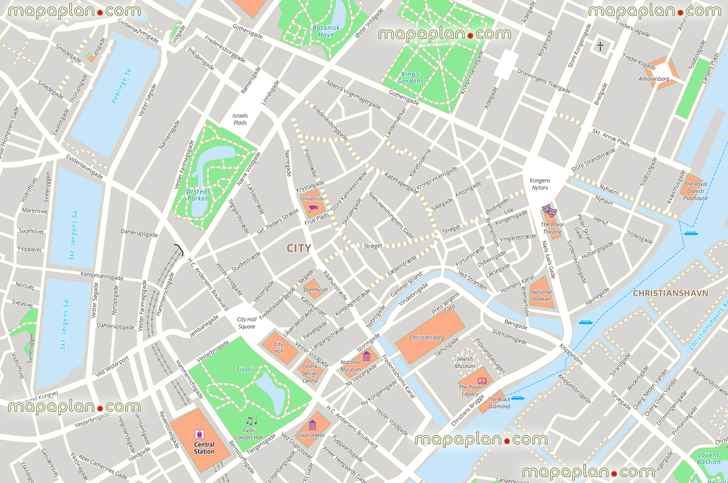 Map of top 10 attractions in Copenhagen
The typical top ten attractions are listed below. You can find the detailed locations of these places on the maps above.
Tivoli Gardens - Situated in the heart of the city, Tivoli is a shamelessly charming combination of amusement rides, flower gardens, food pavilions, carnival games and open-air stage shows. Dating from 1843, the entertainment park is Denmark's most popular attraction. Visitors can ride the roller coaster (named 'The Demon'), take in the famous fireworks display at night or just soak up the timeless, storybook atmosphere in what is the city's best-loved drawcard.
Ny Carlsberg Glyptotek Talk about putting sudsy beer money to good use. The Glyptotek, behind Tivoli, is one of the great art museums of Europe.
City Hall Square (Radhuspladsen), Radhus (Town Hall) and World Clock - The city's large central square is a good starting point to explore the Stroget shopping street. It is flanked on one side by the city hall (or radhus) and on another by Copenhagen's municipal bus terminus, marks the heart of Copenhagen. The bustling pedestrian shopping street Stroget begins at the northeast side of Radhuspladsen, while the historic pleasure garden, Tivoli, glitters to the southwest.
National Museum (Nationalmuseet) - For a crash course in Danish history and culture, you couldn't do better than spending an afternoon at Nationalmuseet, opposite the western entrance to Slotsholmen. The National Museum has first claims on virtually every antiquity found on Danish soil. These range from the Upper Palaeolithic period to the 1840s and include Stone Age tools, Viking weaponry and impressive Bronze Age, Iron Age and rune-stone collections.
Stroget / Gammel Strand - Stretching from Radhuspladsen to Kongens Nytorv, pedestrian shopping street Stroget – pronounced 'stroll' – weaves its way through Copenhagen's historical core. Technically consisting of five continuous streets, this is the city's 'Main Street' – a veritable catwalk buzzing with shoppers, camera-toting tourists and street performers of varying talent. At its western end, it's a somewhat tacky medley of souvenir stores, mediocre fashion brands and kebab shops. The scene improves further east towards Kongens Nytorv.
Latin Quarter - Located north of Stroget (around the old campus of Kobenhavns Universitet, or Copenhagen University), its collection of snug cafes and bars, secondhand bookshops and offbeat boutiques make it a great area for some lazy ambling. The university has largely outgrown its original quarters and moved to a new campus on Amager, but parts of the old campus, including the law department, remain here.
Round Tower (Rundetaarn) - For the most panoramic view of the city of Copenhagen, climb the spiral ramp (no steps) leading up to the top of this tower. The spiral walk to the top is unique in European architecture, measuring 268m in length and winding itself seven times around the hollow core of the tower, forming the only link between the individual parts of the building complex.
Marble Church (Marmorkirken) - Also called Frederikskirken, Marmorkirken is a stately neo baroque church located a block west of Amalienborg Slot. The church's massive dome, which was inspired by St Peter's in Rome and measures more than 30m in diameter, is one of Copenhagen's most impressive landmarks.
National Gallery of Denmark (SMK, Statens Museum for Kunst) - Statens Museum is the largest art museum in the country, thanks to an enormous, light-filled modern extension constructed in recent times. Its collection covers seven centuries of art in Europe, ranging from medieval works with stylised religious themes to free-form modern art.
Nyhavn (New Haven) - When the sun pours over Copenhagen, you can do a lot worse than killing a beer by the Nyhavn canal. Built to connect Kongens Nytorv to the harbour, the canal was long a haunt for sailors and writers, including Hans Christian Andersen, who lived there for most of his life. These days Nyhavn is the city's default postcard image, defined by smitten tourists, brightly coloured gabled townhouses, herring buffets and foaming ale. Behind the bustle is the blue-blooded quarter of Frederiksstaden, home to Denmark's much-loved royal family.
Rosenborg Castle (Rosenborg Slot) - To the east of Norreport proper is the beautiful early- 17th-century Rosenborg Slot with its fairy-tale moat-and-garden setting. The 24 rooms in the castle's upper levels are chronologically arranged, housing the furnishings and portraits of each monarch from Christian IV to Frederik VII.
Christiansborg Palace (Christiansborg Slot) - On the island of Slotsholmen Christiansborg Palace serves as the ceremonial headquarters of the Danish Royal Family as well as being the seat the Folketinget, Danish parliament.
Botanical Garden (Botanisk Have) - Get to free to the 10-hectare Botanisk Have & discover arbours, terraces, rock gardens and ponds. Within the gardens is the Palmehus (Palm House), a large walkthrough glasshouse containing a lush collection of tropical plants. There's also a cactus house, an orchid greenhouse, and endangered species greenhouse.
Other attractions shown on our maps include: Gefionspringvandet Fountain, Little Mermaid, Kastellet (The Citadel), Thorvaldsens Museum, The Royal Library (Det Kongelige Bibliotek), Theatre Museum (Teatermuseet), Ruins under Christiansborg (Ruinerne under Christiansborg), Dansk Design Center, Designmuseum Danmark, Charlottenborg, Christianshavn, Noerreport, Nørrebro, Christiania, Amalienborg Palace, Experimentarium, Zoologisk Museum, V1 Gallery, Visit Carlsberg - Brewery Visitors Center, Langelinie, Planetarium, Zoo, Frederiksberg Garden, Vesterbro Square, Copenhagen Cathedral (Vor Frue Kirke), Carlsberg Glyptotek, Sankt Petri Kirke, Davids Samling Museum, Copenhagen Mall (Fisketorvet).
What are some interesting facts about Copenhagen?
Tourist information center & maps - Tourist information center is located adjacent to the main entrance of Tivoli. You can pick up a free map showing Copenhagen attractions, public transport and latest travel deals. This free & detailed map of Copenhagen also includes street indexes and keys for major attractions. It shows the entire greater Copenhagen area and includes a detailed blow-up of the city centre. You can also pick one up from the airport information desk or the front desk of most hotels. Although there's not much that the free tourist map doesn't show, you can also buy commercial maps and street directories at bookshops.
Getting around - Copenhagen is a walker's paradise, neat and compact. Many of the major sightseeing attractions are close to one another. The city centre is compact and can easily be explored on foot. Enjoyable alternatives to walking are touring the city on a bicycle or riding one of the water buses that run along some of the most interesting canals.
Public transport - A joint zone fare system includes Copenhagen Transport buses; State Railway, Metro, and S-tog trains in Copenhagen and North Zealand; plus some private railway routes within a 40km (25-mile) radius of the capital, enabling you to transfer from train to bus and vice versa with the same ticket.
City layout - The heart of Old Copenhagen is a warren of pedestrian streets, bounded by Norreport Station to the north, Radhuspladsen (Town Hall Square) to the west, and Kongens Nytorv, a busy square that's positioned at the top of the Nyhavn Canal, to the east. Stroget, the longest continuous pedestrians-only route in Europe, goes east from Town Hall Square to Kongens Nytorv, and is made up of five interconnected streets: Frederiksberggade, Nygade, Vimmelskaftet, Amagertorv, and ostergade. Stroget is lined with shops, bars, restaurants, pizza parlors, and, in summer, sidewalk cafes. Pistol Straede contains a maze of galleries, restaurants, and boutiques, housed in restored 18th-century buildings. Fiolstræde (Violet St.), a dignified street with antiques shops and bookshops, cuts through the university (Latin Quarter). If you turn into Rosengaarden at the top of Fiolstræde, you'll come to Kultorvet (Coal Square), just before you reach Norreport Station. Here you join the third main pedestrian street, Kobmagergade (Butcher St.), which winds around and finally meets Stroget at Amagertorv. At the end of Stroget you approach Kongens Nytorv (King's Square). This is the site of the Royal Theater and Magasin, the largest department store in Copenhagen. This will put you at the beginning of Nyhavn, the former seamen's quarter that has been gentrified into an upmarket area of expensive restaurants, apartments, cafes, and boutiques. The center of Copenhagen is Radhuspladsen (Town Hall Square). From here it's a short walk to the Tivoli Gardens, the major attraction of Copenhagen, the Central Railroad Station, and the Bus Station terminus. Vesterbrogade, a wide, densely trafficked boulevard, passes by Tivoli en route to the Central Railroad Station. H. C. Andersens Boulevard, a major avenue named after Denmark's most famous writer, runs beside the Radhuspladsen and Tivoli Gardens.
Related keywords
2021, 2022, 2023, 2023, 2024, 2025, 2026, 2027, map, plan, download, print, printable, free, detailed, aerial, bird's eye, satellite, guide, planner, travel, sightseeing, visit, trip, tour, tourist, what to do, where to go, things to do, must see, top attractions, points of interest, places, sites, sights, buildings, spots, destinations, locations, landmark, museum, in a week, in 3 days, one day, city, route, bus, kids, children, top 10, top ten, popular, famous, interesting, highlights, public transport, rail, hotels, updated, metro, subway, underground, tube, downtown, coach, nightlife, pub, monument, satellite, accommodation, transit, transportation, supermarket, children, metro, subway, underground, tube, dwg
Seating plans and charts of entertainment venues showing detailed seat and row numbers
High resolution, printable travel guide maps of cities showing top tourist attractions