Budapest top tourist attractions city travel maps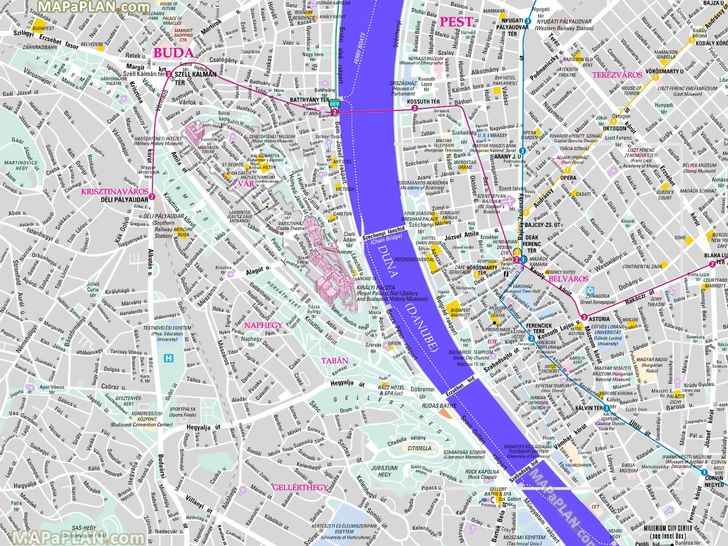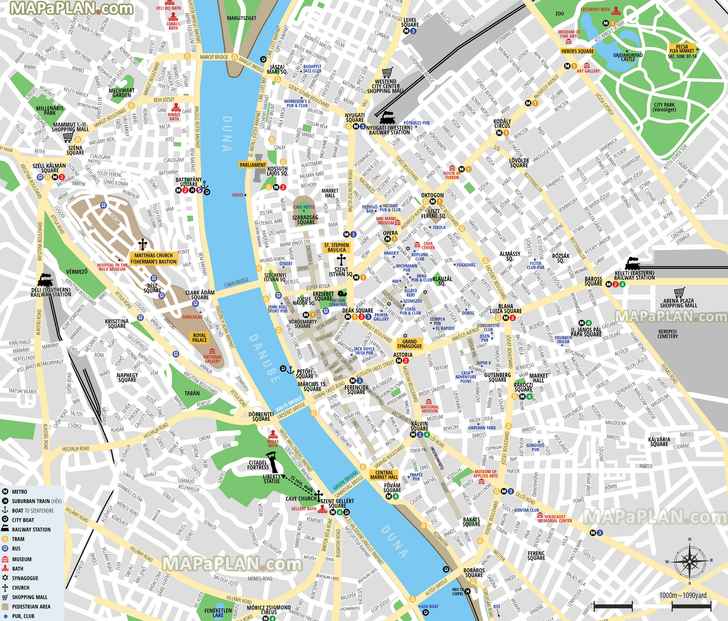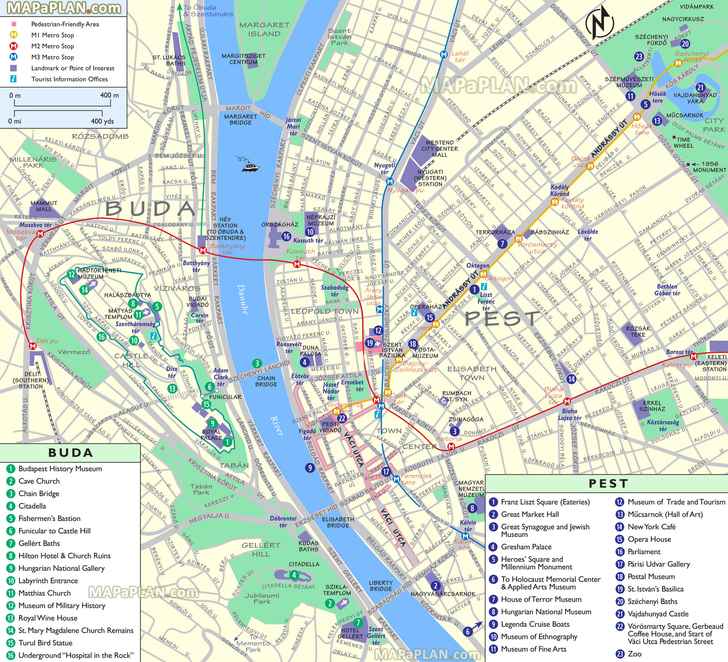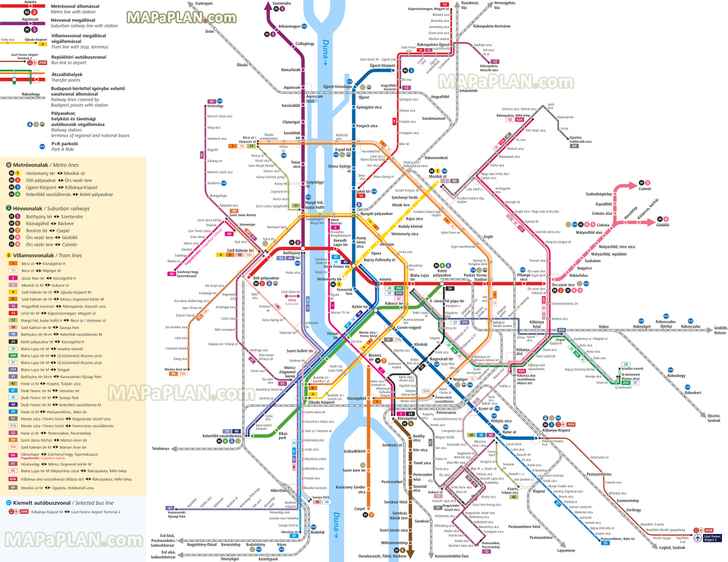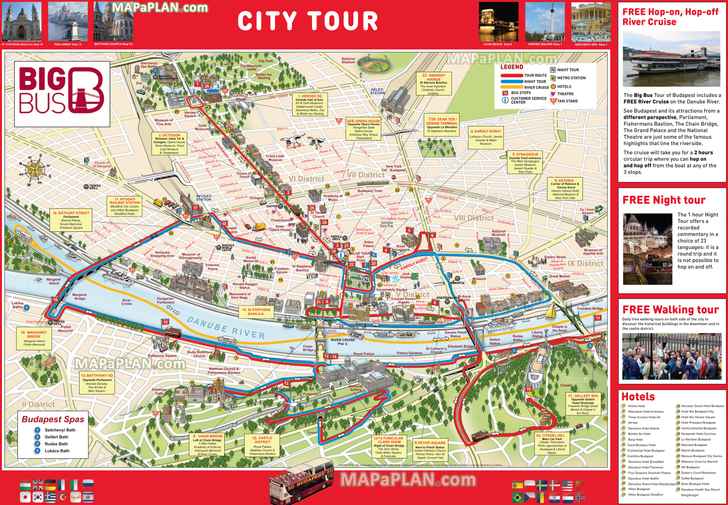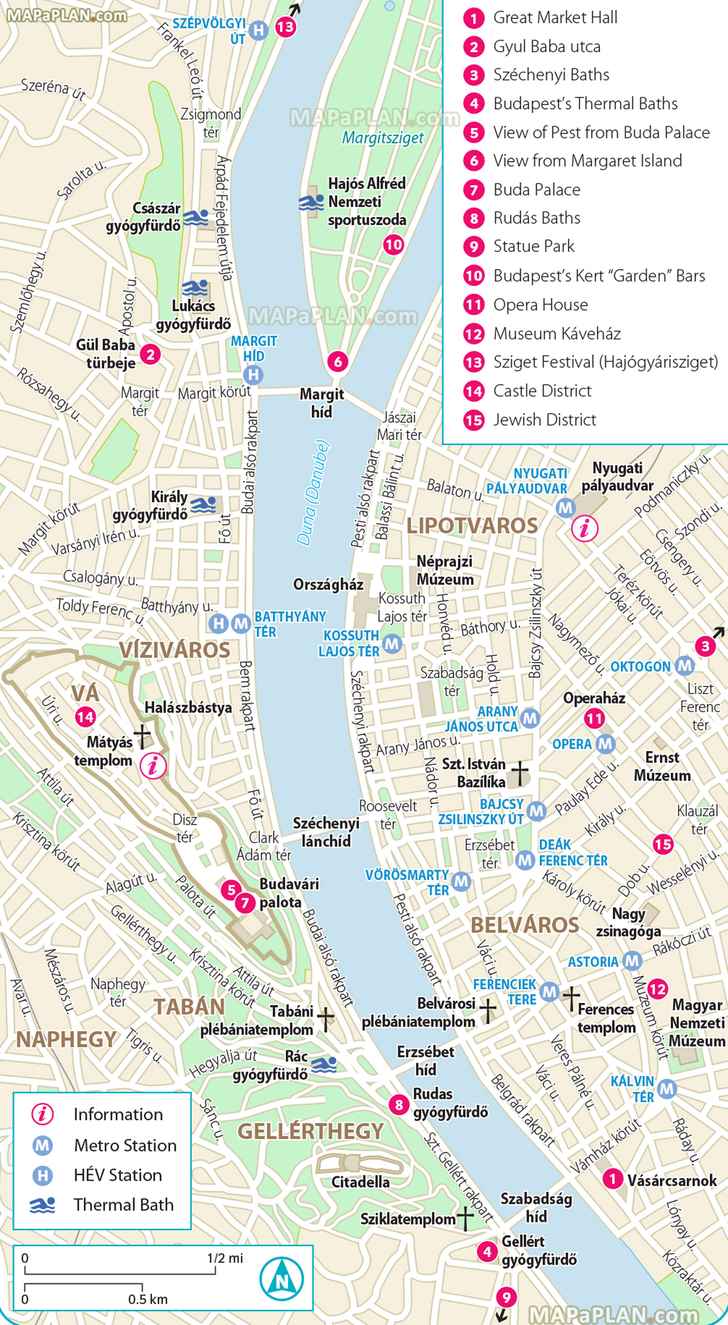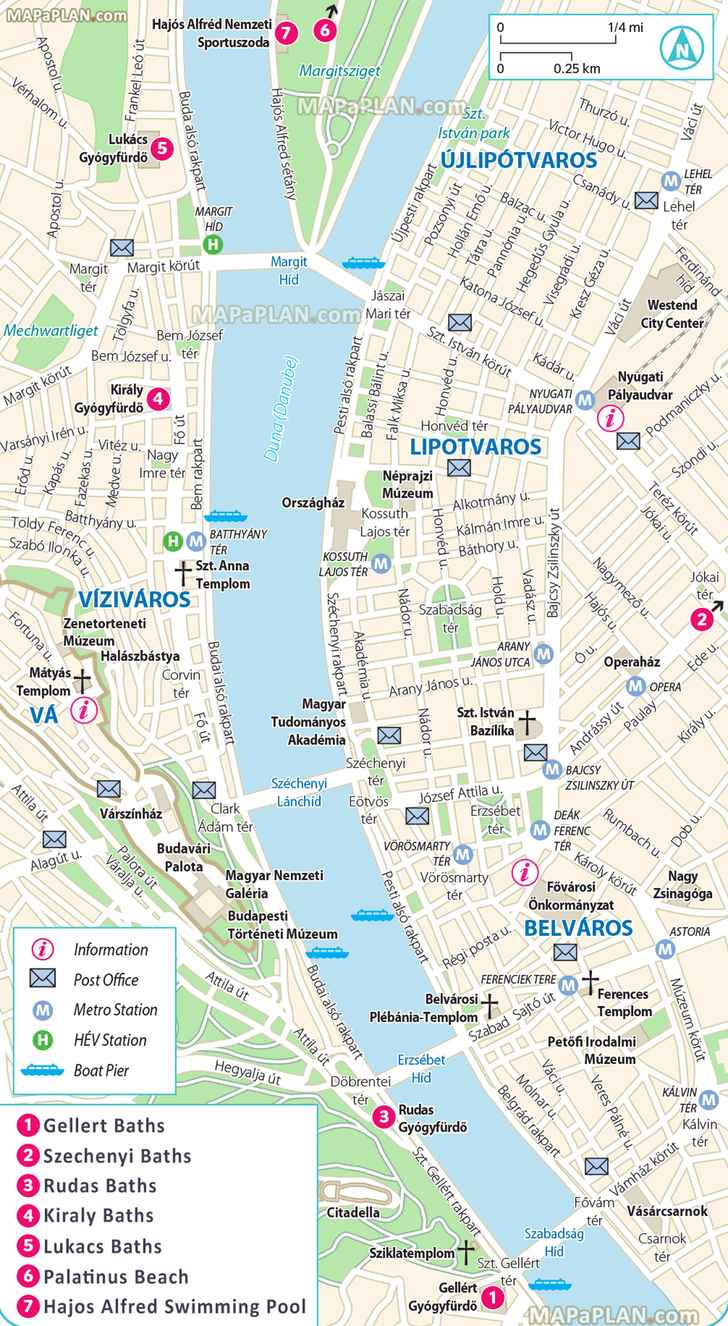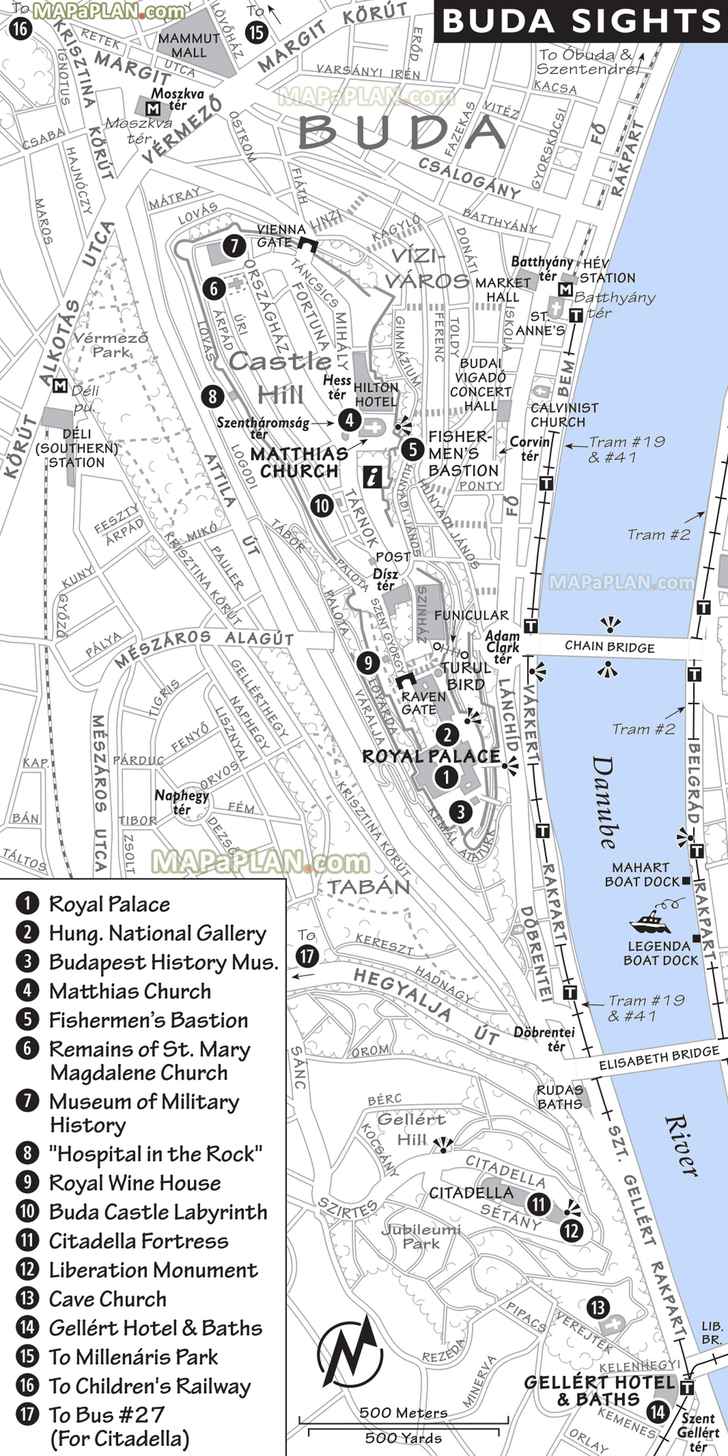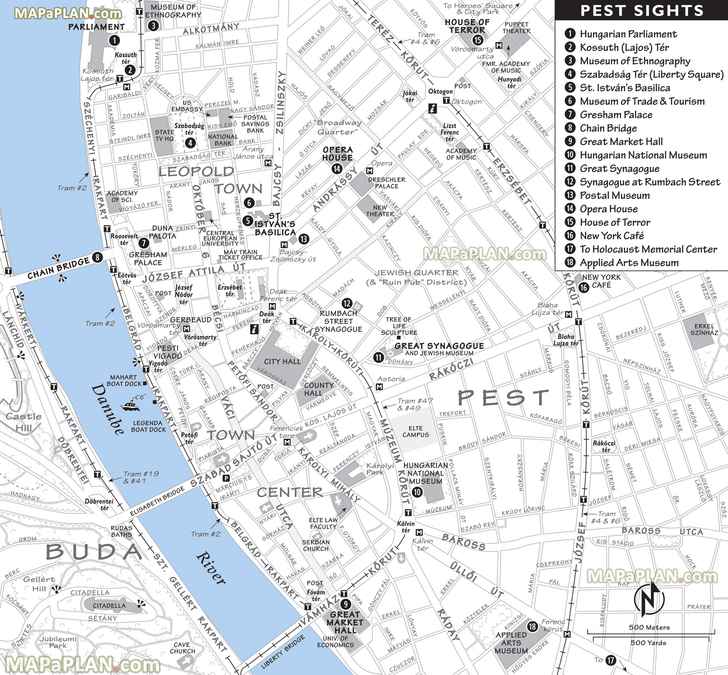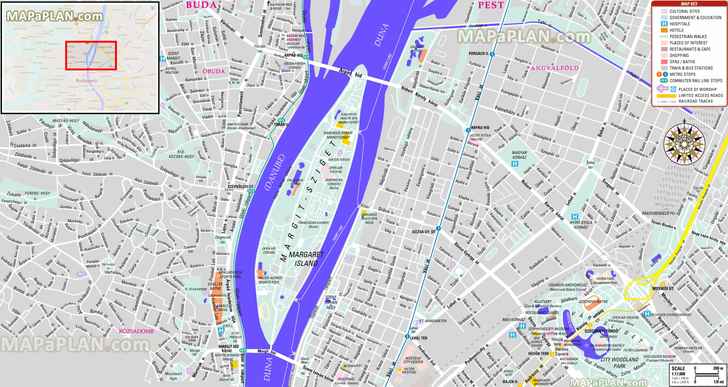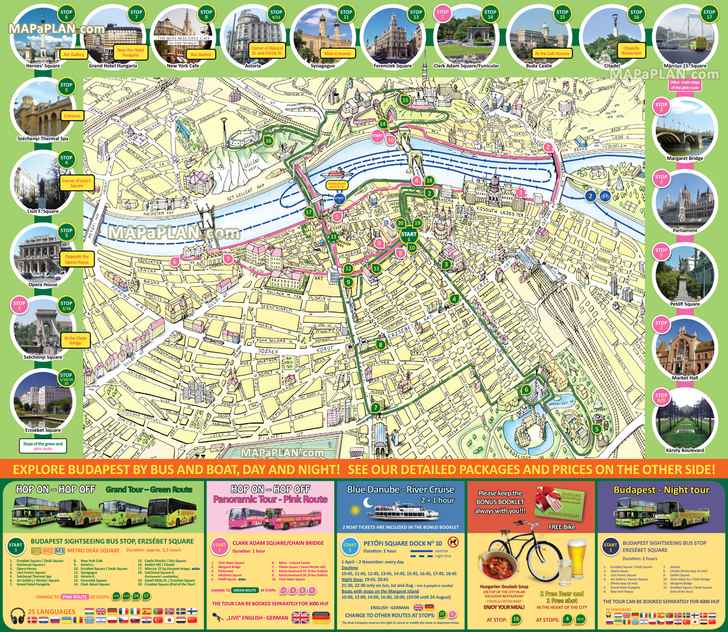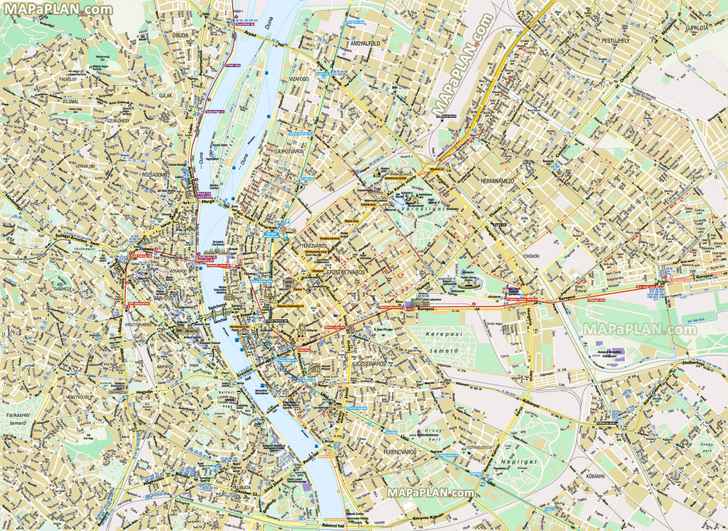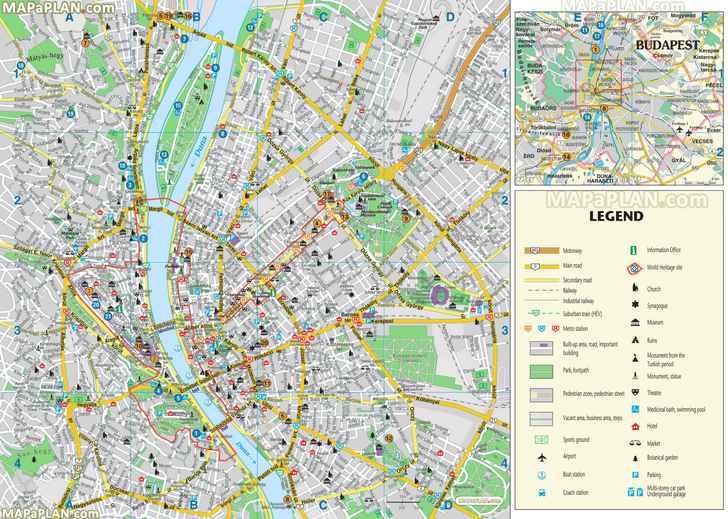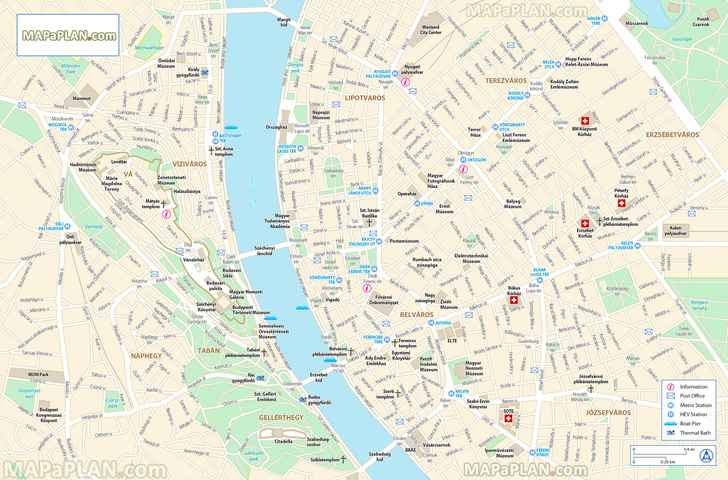 Map of top 10 attractions in Budapest
The typical top ten attractions are listed below. You can find the detailed locations of these places on the maps above.
Szechenyi Baths - Budapest's steamy soaking scene in City Park — the city's single best attraction.
Great Market Hall - Colorful Old World shopping mall with produce, eateries, souvenirs, and great people-watching.
House of Terror - Harrowing remembrance of Nazis and communist secret police in former headquarters/torture site.
Hungarian Parliament - Vast riverside government center with remarkable interior.
Heroes' Square - Mammoth tribute to Hungary's historic figures, fronted by art museums.
Great Synagogue (Grand Synagogue) - The world's second-largest, with fancy interior, good museum, and memorial garden.
Gellert Baths - Touristy baths in historic Buda hotel.
Walk Across the Chain Bridge - The Chain Bridge was considered to be one of the wonders of the world and the architect was so immensely proud of his work that he challenged anyone to find fault with the bridge. It is said that when it was discovered that the lions that stand guard at either end are missing their tongues, the architect committed suicide.
City Park (Varosliget) - Budapest's backyard, with Art Nouveau zoo, Transylvanian Vajdahunyad Castle replica, amusement park, and Szechenyi Baths.
Margaret Island - Budapest's traffic-free urban playground, with spas, ruins, gardens, a game farm, and fountains, set in the middle of the Danube.
Other popular landmarks and activities include:
Vaci Utca Street - A street famous for its shops and korzo (promenade) since the eighteenth century.
Gellert Hill Liberation Monument - Situated in a park on Gellért Hill, the monument is visible from all over the city. It is now one of the symbols of Budapest.
Hungarian State Opera House - Neo-Renaissance splendor and affordable opera.
Hungarian National Gallery - Top works by Hungarian artists, housed in the Royal Palace.
Memento Park - Larger-than-life communist statues all collected in one park, on the outskirts of town.
Hospital in the Rock - Fascinating underground network of hospital and bomb-shelter corridors from WWII and the Cold War.
Szabadsag Ter - Monumental square with a controversial obelisk honoring Soviet 'liberators'.
St. Istvan's Basilica - Budapest's largest church, with a saint's withered fist and great city views.
Take a Danube River Cruise - Budapest is beautiful by day, but absolutely stunning by night as the buildings lining the banks of the Danube twinkle and reflect on the dark waters.
Matthias Church - Landmark Neo-Gothic church with gilded history-book interior and revered 16th-century statue of Mary and Jesus.
Lookout from the Fisherman's Bastion - The neo-Gothic terrace of the Fisherman's Bastion is located on the Castle Hill and provides panoramic views of the city.
What are some interesting facts about Budapest?
The name 'Budapest' is the composition of the city names 'Buda' and 'Pest,' which merged along with third part Obuda (Ancient Buda) into a single city in 1873.
Budapest is a host to a number of World Heritage Sites, including its banks of the Danube, the Buda Castle Quarter, Andrassy Avenue, Heroes' Square and the Millennium Underground Railway. It is also ranked as the most livable Central/Eastern European city on EIU's quality of life index, Europe's 7th most idyllic place to live by Forbes, and as the 9th most beautiful city in the world by UCityGuides.
Budapest has the second oldest metro in the world, built after the one build in London. Work on the first (yellow) metro live began in 1896. Today the city is served by 4 lines.
The city has more thermal springs than any other capital in the world. An amazing 70 million liters of thermal water rises to the surface daily. As a result, there a number of medicinal baths all around Budapest, which have been enjoyed by millions of people since the Roman Empire.
You'll find one of the world's longest passenger tram in Budapest. It's a 54-metre (177 ft) long Siemens Combino, which run at 60 to 90 second intervals at peak time and 3–4 minutes off-peak and is usually packed with people. Aside from trams, the city's public transportation also includes three metro lines, as well as buses, trolleybuses, suburban railway lines, a boat service, a cogwheel railway, a funicular, and a chairlift called Libego.
Budapest is a host to the popular Sziget Festival, which is visited by some 400,000 people. It takes place on a large Hajogyari-sziget island where both locals and tourists come to have a fun time.
Related keywords
2021, 2022, 2023, 2023, 2024, 2025, 2026, 2027, download, print, printable, free, detailed, aerial, bird's eye, guide, map, plan, planner, travel, sightseeing, visit, trip, tour, tourist, what to do, where to go, things to do, must see, top attractions, points of interest, places, sites, sights, buildings, spots, destinations, locations, landmark, museum, in a week, in 3 days, one day, city, route, bus, kids, children, top 10, top ten, popular, famous, interesting, highlights, public transport, rail, hotels, metro, subway, underground, tube
Seating plans and charts of entertainment venues showing detailed seat and row numbers
High resolution, printable travel guide maps of cities showing top tourist attractions