Brussels printable map of top tourist attractions & city travel guide
Brussels city centre free travel guide - Top 10 must-see sights & best destinations - Brussels top tourist attractions map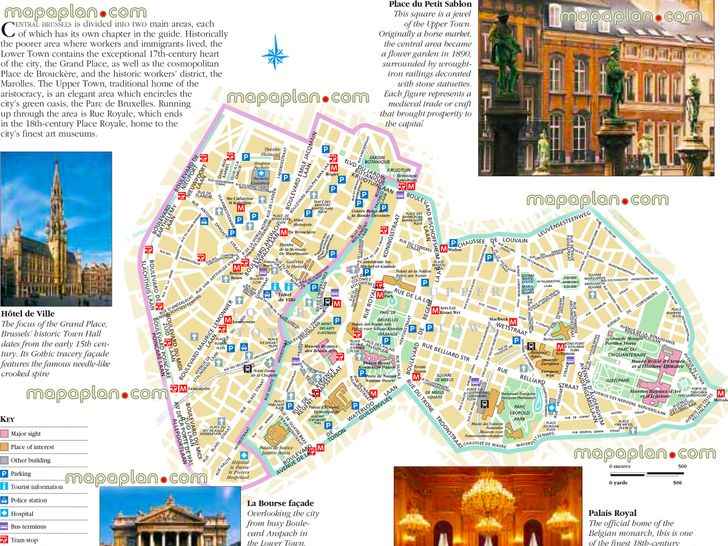 You can view, download or print a full, high resolution (detailed, large) version of this image by clicking on the plan itself
Maps of best attractions in Brussels, Belgium
Brussels maps will guide you to the best destinations in the city. The easiest way to get around the centre of Brussels is to walk, but to get from one side of the centre to the other, or to reach some of the outlying attractions, you'll need to use public transport. Central Brussels is well served by trams which encircle the old town. However, the tiny streets are often pedestrianized, and usually the quickest and most enjoyable means of transport for short distances is on foot. Otherwise metro stations are well placed. Brussels city center is small enough that walking is a viable option. The best solution is to use our maps to plan a combination of walking tours and trips on an excellent public transportation. Beyond the center, public transportation is a virtual necessity. Brussels top sights and key landmarks to visit are plotted on our detailed city plans. Public transportation points are also marked, and indicated by the symbols listed in the maps key. Armed with these maps, you should be able to find the accurate location of must-see places. Mapping out a trip to explore Brussels can be far from the usual. This page includes a range of maps and plans which will help you make the most of your visit to Brussels. If you are either a first-time tourist looking for the top 10 must-do sights or if you are returning to Brussels to discover something new - all you need to ensure an enjoyable trip is some advance planning. For some help in narrowing down the options, we present you with a range of high resolution maps which will help you find the detailed locations of the must-see sights - just click on a selected map to access a large version that can be downloaded and printed, or saved onto your mobile device. When in Brussels, you can also get free pocket-size maps of the city from the tourist information centres.
Brussels, Belgium Lower Town city center free printable interactive visitor's detailed guide map download for tourists showing inner city old town, must-see sights, sightseeing places of interest, public transport metro stations & tram stops plan - Brussels top tourist attractions map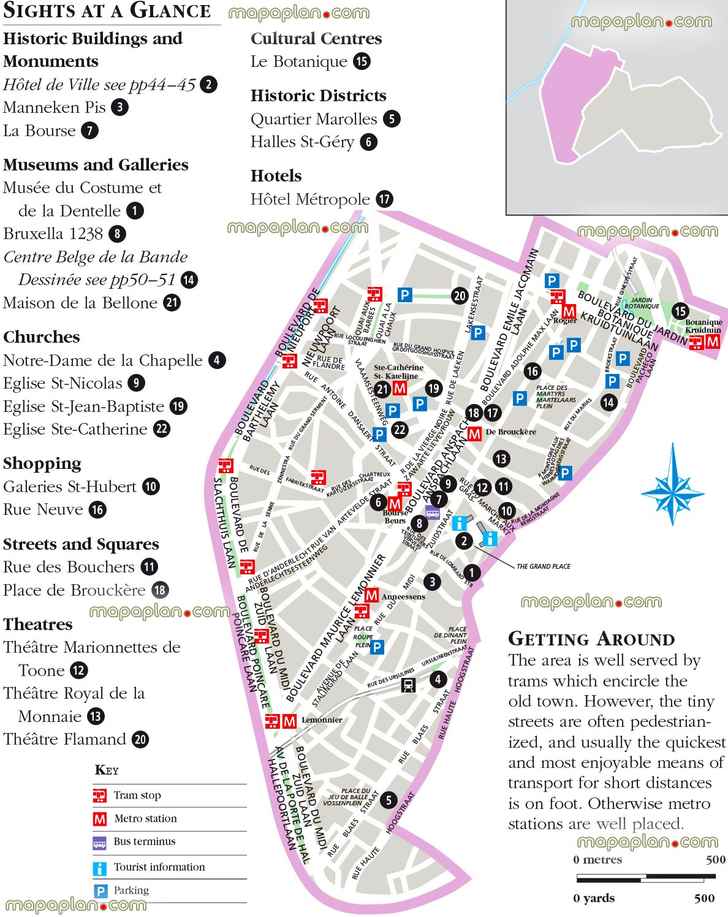 You can view, download or print a full, high resolution (detailed, large) version of this image by clicking on the plan itself
Map of top 10 attractions in Brussels
The typical top ten attractions are listed below. You can find the detailed locations of these places on the maps above.
Grand Place (Grote Markt) - Quite simply the most theatrical medieval square in Europe, with a magnificent array of gabled guild houses and a spectacular town hall. The geographical, historical & commercial heart of the city, the Grand Place is the first port of call for most visitors to Brussels. It is quite simply one of the most uniformly beautiful enclosed city squares in the world. This bustling cobblestone square remains the civic centre, centuries after its creation, and offers the finest surviving example in one area of Belgium's ornate 17th-century architecture. Open-air markets took place on or near this site as early as the 11th century, but by the end of the 14th century Brussels' town hall, the Hotel de Ville, was built, and city traders added individual guildhouses in a medley of styles.
Hotel de Ville - From the south side of the Grand-Place, the newly scrubbed and polished Hotel de Ville, or town hall, dominates proceedings, its 96-metre spire soaring high above two long series of robust windows, whose straight lines are mitigated by fancy tracery, striking gargoyles, solid statuettes and an arcaded gallery.
St. Michael and St. Gudula Cathedral - Although more than a little plain to look at, both outside and inside, compared to the generally extravagantly decorated run of Gothic cathedrals, St-Michel's, dedicated to the city's patron St. Michael, and to St. Gudula, has much to commend it.
Manneken-Pis - The centuries-old fountain- statue of a small boy making water with a "what-a-clever-boyam- I" look on his face, has become a much-loved symbol of the city.
Our Lady of the Chapel (Notre-Dame de la Chapelle) - This Romanesque-Gothic church is interesting both historically and architecturally.
Place Royale - Brussels royal square stands at the meeting point of rue de la Regence and rue Royale, two streets that hold many of the city's premier attractions.
Royal Palace (Palais Royal) - The King's Palace, today is used for state receptions.
Belgian Comic Strip Center (Centre Belge de la Bande Dessinee) - A Victor Horta–designed department store hosts this temple to Belgian and international cartoons. Pride of place goes, naturally, to Herge's beloved Tintin.
Parc de Bruxelles - Opposite the Palais Royal, the Parc de Bruxelles is the most central of the city's larger parks, along whose tree-shaded footpaths civil servants and office workers stroll at lunchtime, or race to catch the Metro in the evenings.
Royal Fine Arts Museum (Musees Royaux des Beaux-Arts) - Brussels' major gallery covers everything from early Flemish painting to surrealist master Magritte, who has his own dedicated gallery. Don't miss Bruegel's Fall of Icarus. A few metres from place Royale, at the start of rue de la Regence, the Musees Royaux des Beaux Arts comprises two interconnected museums, one displaying modern art from the nineteenth century onwards, the other older works. Brueghel, Rubens, Van Dyke, Magritte – this splendid collection takes the visitor on a tour of some of the greatest names in art.
Musical Instrument Museum (MIM, Musee des Instruments de Musique) - Newly rehoused in a magnificent Art Nouveau building, the "MIM" contains thousands of instruments – ancient, modern, ethnic and just plain wacky.
Horta Museum (Musee Horta) - Victor Horta was the original Art Nouveau architect; his own house was the perfect expression of his art – down to the last doorknob. The building is now preserved as a shrine to Art Nouveau.
Parc du Cinquantenaire - The EU district boasts the spacious and leafy Parc du Cinquantenaire, ringed by impressive museums including a military museum and one dedicated solely to cars. The Golden Jubilee Park has extensive gardens which at their heart have a triumphal arch topped by a bronze four-horse chariot sculpture, representing Brabant Raising the National Flag.
Sablon District - The Sablon district anchors the southern end of the Upper Town and in its midst is place du Petit Sablon, a small rectangular area which was laid out as a public garden in 1890 after previous use as a horse market.
Place du Grand Sablon - The Upper Town's most elegant square, perfect for hanging out on a summer's afternoon.
Place du Jeu de Balle Page - Not as cheap as it once was, but still what a flea market should be, full of delectable old junk.
Atomium - Stand Under the Seven Giant Spheres of the Atomium and hope that none of the giant spheres of this colossal representation of an iron atom will fall on your head.
Other popular attractions worth visiting include: Musee Gueuze, Maison du Roi, Museum of Modern Art, Museum of Natural Sciences, Mini Europe, Autoworld, Planète Chocolat (chocolatier factory) tour, Bourse (Stock Exchange).
What are some interesting facts about Brussels?
Tourist information centre - The city tourist office is Brussels International Tourism, at the Hotel de Ville (Town Hall). You can pick up visitor's guides and maps here. This includes a fairly detailed street map of the inner city, with the main tourist attractions marked.
Getting around - Central Brussels is well served by trams which encircle the old town. However, the tiny streets are often pedestrianized, and usually the quickest and most enjoyable means of transport for short distances is on foot. Otherwise metro stations are well placed. Brussels city center is small enough that walking is a viable option, but it's not that small and traffic can be heavy and frantic, adding up to a tiring experience. The best solution if you have several days is to slice your time into segments for walking tours. Otherwise, a combination of walking and using the excellent public transportation is best. Beyond the center, public transportation is a virtual necessity.
Public transport - Detailed maps of the integrated transit network - Metro (subway ), tram (streetcar), and bus - are available free from the tourist information office.
Orientation - The centre of Brussels is contained within a clearly defined shape called the Pentagon. Nowadays this outline is formed by a busy ring road called the Petite Ceinture. The road follows the path of the old city walls, a huge 14th-century construction 9 km (6 miles) long. Few traces of the walls have survived, but one old city gate, the Porte de Hal, still stands, and gives a fair indication of just how massive the fortifications must have been. Most of historic Brussels is contained within these bounds, including both the commercial and popular districts of the Lower Town, and the aristocratic quarter of the Upper Town, which includes the Royal Palace. The result is that Brussels is still a very compact city. You can walk right across the Pentagon in about half an hour. As well as monuments and cultural gems, you will find a concentration of excellent places to stay and eat, good shops, and vibrant cafes and bars.
City layout - Brussels is flat in its center and western reaches, where the now-vanished River Senne once flowed. To the east a range of low hills rises to the upper city, which is crowned by the Royal Palace and has some of the city's most affluent residential and prestigious business and shopping districts. The Grand-Place (Grote Markt in Dutch) stands at the very heart of Brussels, and is both a starting point and reference point for most visitors. An excellent railway network runs almost directly through the middle of the city, with Gare du Nord (Noord Station) just across the northern rim of the Petite Ceinture, Gare Centrale (Centraal Station) in the city center not far from the Grand-Place, and Gare du Midi (Zuidstation) near the southern rim.
Keywords
map, plan, download, print, printable, free, detailed, aerial, bird's eye, satellite, guide, planner, travel, sightseeing, visit, trip, tour, tourist, what to do, where to go, things to do, must see, top attractions, points of interest, places, sites, sights, buildings, spots, destinations, locations, landmark, museum, in a week, in 3 days, one day, city, route, bus, kids, children, top 10, top ten, popular, famous, interesting, highlights, public transport, rail, hotels, updated, metro, subway, underground, tube, downtown, coach, nightlife, pub, monument, satellite, accommodation, transit, transportation, supermarket, children, metro, subway, underground, tube
Seating plans and charts of entertainment venues showing detailed seat and row numbers
Amsterdam Ziggo Dome Arena seating plan with seat numbers
Anaheim Honda Center seating plan with seat numbers
Atlanta Philips Arena seating plan with seat numbers
Belfast Odyssey SSE Arena seating plan with seat numbers
Birmingham Genting NEC Arena (LG Arena) seating plan with seat numbers
Birmingham Barclaycard Arena (NIA National Indoor Arena) seating plan with seat numbers
Boston TD Garden seating plan with seat numbers
Brighton Centre seating plan with seat numbers
Calgary Scotiabank Saddledome seating plan with seat numbers
Cardiff Millennium Stadium seating plan with seat numbers
Cardiff Motorpoint Arena seating plan with seat numbers
Charlotte Time Warner Cable Arena seating plan with seat numbers
Chicago United Center seating plan with seat numbers
Cologne Lanxess Arena seating plan with seat numbers
Dallas American Airlines Center seating plan with seat numbers
Dallas AT&T Stadium seating plan with seat numbers
Derby Velodrome Arena seating plan with seat numbers
Detroit Palace of Auburn Hills seating plan with seat numbers
Dublin 3Arena (O2 Arena) seating plan with seat numbers
Edmonton Rexall Place seating plan with seat numbers
EagleBank Arena seating plan with seat numbers
Gdańsk Ergo Arena seating plan with seat numbers
Glasgow Hydro SSE Arena seating plan with seat numbers
Glendale Gila River Arena (Jobing.com Arena) seating plan with seat numbers
Kraków Tauron Arena seating plan with seat numbers
Las Vegas New T-Mobile Arena seating plan with seat numbers
Leeds First Direct Arena seating plan with seat numbers
Liverpool Echo Arena seating plan with seat numbers
London O2 Arena seating plan with seat numbers
London Royal Albert Hall seating plan with seat numbers
London Twickenham Stadium seating plan with seat numbers
London Wembley Arena SSE seating plan with seat numbers
London Wembley Stadium seating plan with seat numbers
Los Angeles Forum Inglewood seating plan with seat numbers
Los Angeles Staples Center seating plan with seat numbers
Louisville KFC Yum! Center seating plan with seat numbers
Manchester Phones4u Arena seating plan with seat numbers
Melbourne Rod Laver Arena seating plan with seat numbers
Memphis FedExForum seating plan with seat numbers
Miami American Airlines Arena seating plan with seat numbers
Nashville Bridgestone Arena seating plan with seat numbers
New Orleans Smoothie King Center arena seating plan with seat numbers
New York Barclays Center Arena seating plan with seat numbers
New York Madison Square Garden seating plan with seat numbers
Newark Prudential Center seating plan with seat numbers
Newcastle Metro Radio Arena seating plan with seat numbers
Nottingham Motorpoint Arena (Capital FM Arena) seating plan with seat numbers
Oakland Oracle Arena seating plan with seat numbers
Oklahoma City Chesapeake Energy Arena seating plan with seat numbers
Orlando Amway Center seating plan with seat numbers
Oslo Spektrum Arena seating plan with seat numbers
Oslo Telenor Arena seating plan with seat numbers
Perth Arena seating plan with seat numbers
Phoenix Talking Stick Resort Arena (US Airways Center) seating plan with seat numbers
Pittsburgh Consol Energy Center seating plan with seat numbers
Portland Moda Center (Rose Garden Arena) seating plan with seat numbers
Rosemont Allstate Arena seating plan with seat numbers
Saint Paul Xcel Energy Center seating plan with seat numbers
San Antonio AT&T Center seating plan with seat numbers
San Jose SAP Center seating plan with seat numbers
Sheffield Motorpoint Arena seating plan with seat numbers
St. Louis Scottrade Center seating plan with seat numbers
Sunrise BB&T Center seating plan with seat numbers
Sydney Allphones Arena seating plan with seat numbers
Toronto Air Canada Centre seating plan with seat numbers
Tulsa BOK Center seating plan with seat numbers
Uncasville Mohegan Sun Arena seating plan with seat numbers
Vancouver Rogers Arena seating plan with seat numbers
Vienna Wiener Stadthalle seating plan with seat numbers
Washington DC Verizon Center seating plan with seat numbers
Winnipeg MTS Centre seating plan with seat numbers
Zürich Oerlikon Hallenstadion seating plan with seat numbers
High resolution, printable travel guide maps of cities showing top tourist attractions
Amsterdam top tourist attractions map
Bangkok top tourist attractions map
Barcelona top tourist attractions map
Beijing top tourist attractions map
Berlin top tourist attractions map
Bruges top tourist attractions map
Brussels top tourist attractions map
Budapest top tourist attractions map
Cambridge top tourist attractions map
Chicago top tourist attractions map
Dubai top tourist attractions map
Dublin top tourist attractions map
Edinburgh top tourist attractions map
Florence top tourist attractions map
Frankfurt top tourist attractions map
Hong Kong top tourist attractions map
Istanbul top tourist attractions map
Las Vegas top tourist attractions map
Lisbon top tourist attractions map
London top tourist attractions map
Los Angeles top tourist attractions map
Madrid top tourist attractions map
Marrakech top tourist attractions map
Milan top tourist attractions map
New York top tourist attractions map
Oxford top tourist attractions map
Paris top tourist attractions map
Prague top tourist attractions map
Rome top tourist attractions map
San Francisco top tourist attractions map
Singapore top tourist attractions map
Sydney top tourist attractions map
Tokyo top tourist attractions map
Venice top tourist attractions map
Vienna top tourist attractions map