Bangkok top tourist attractions city travel maps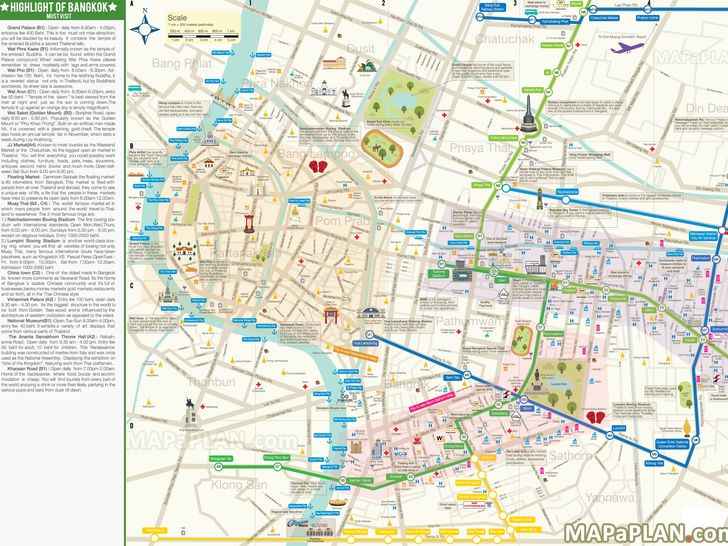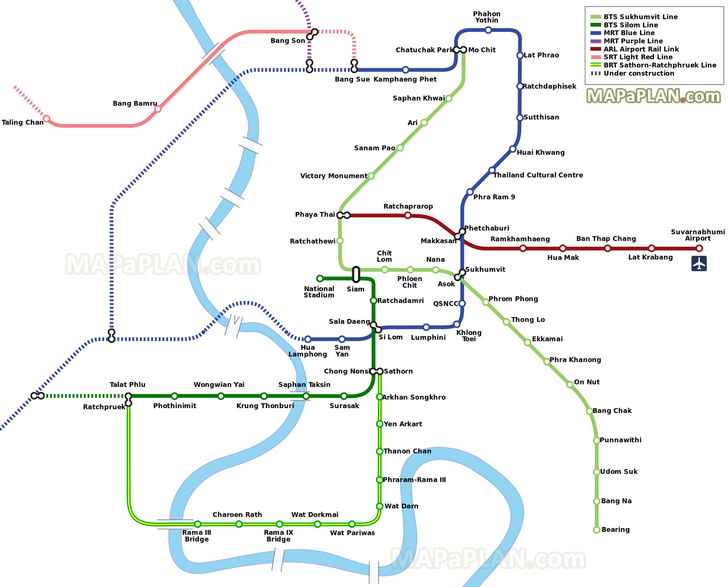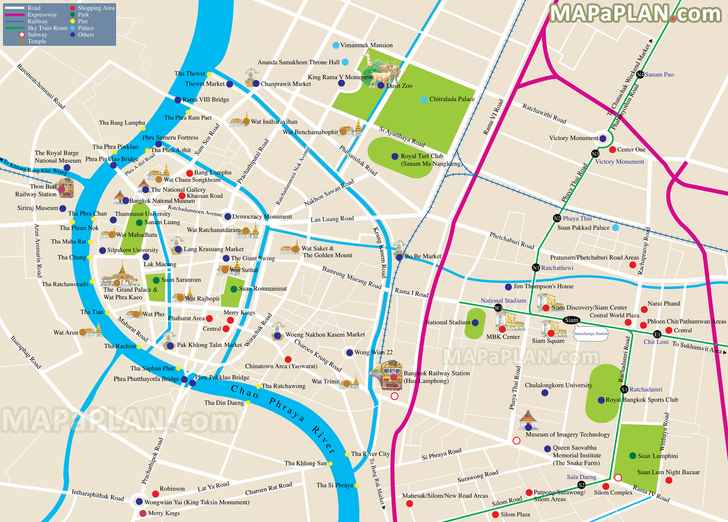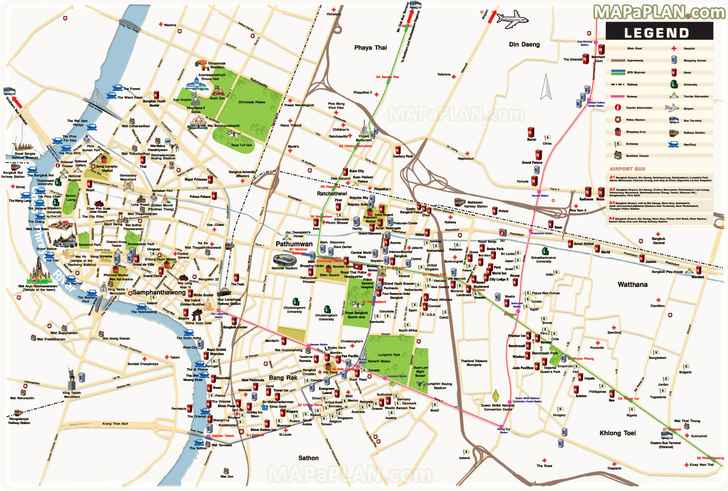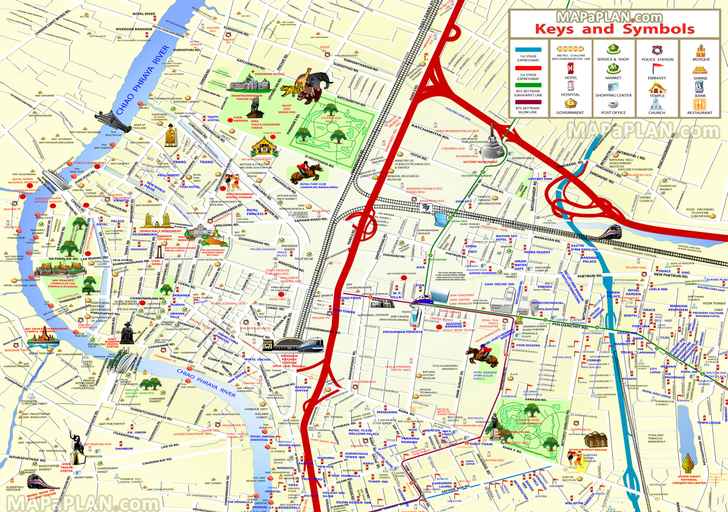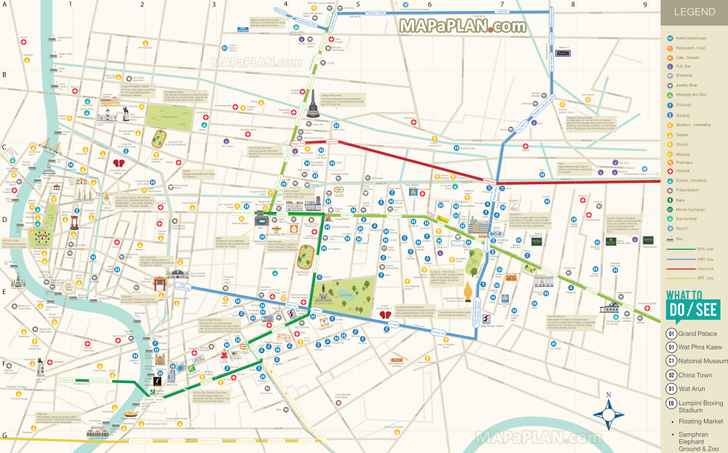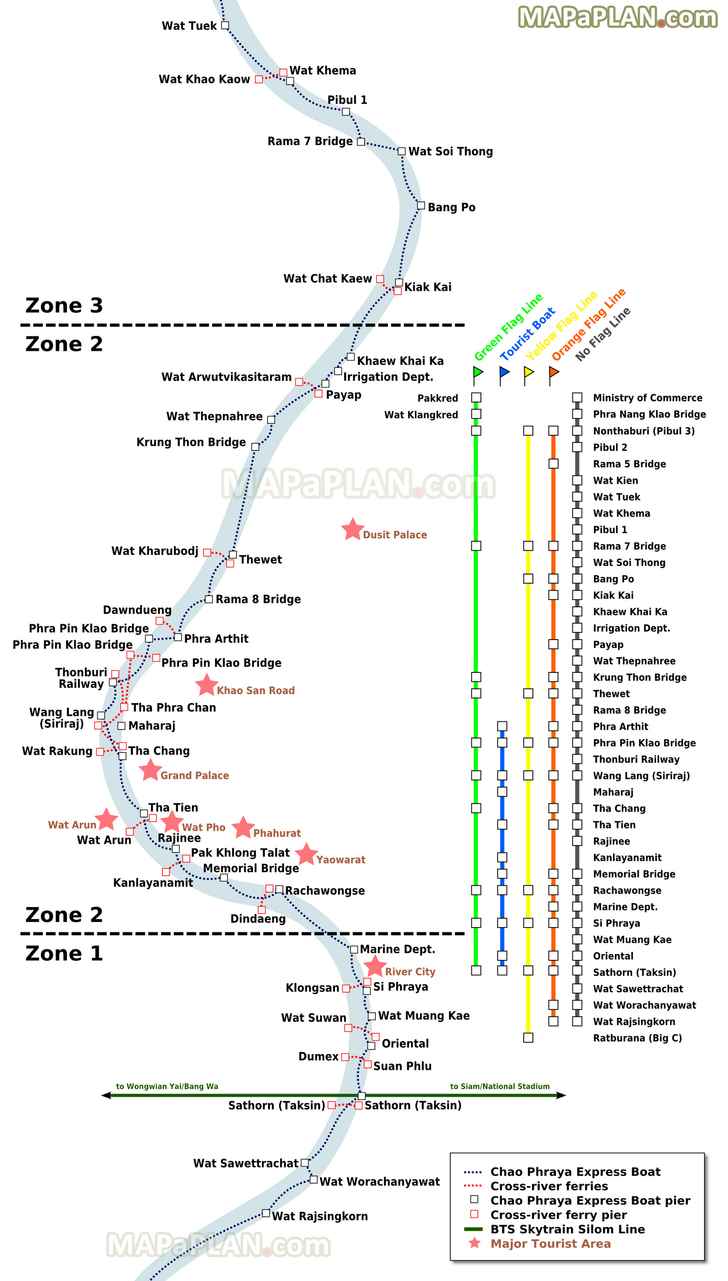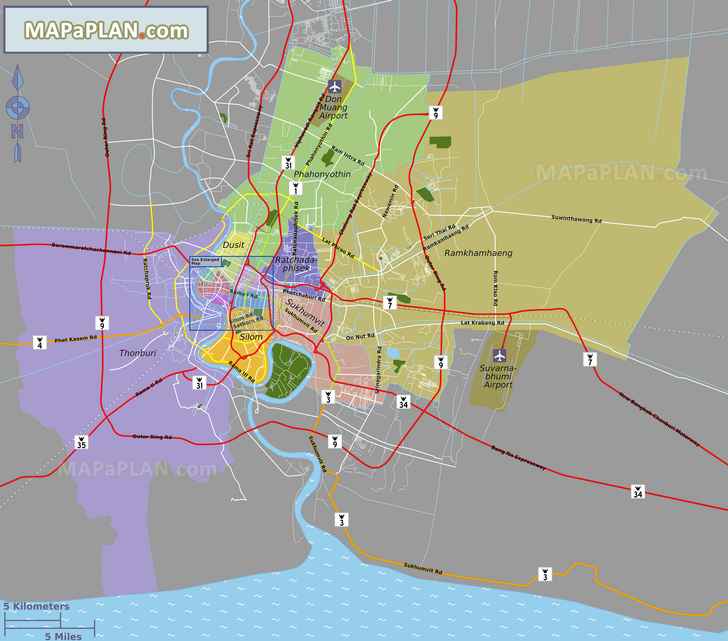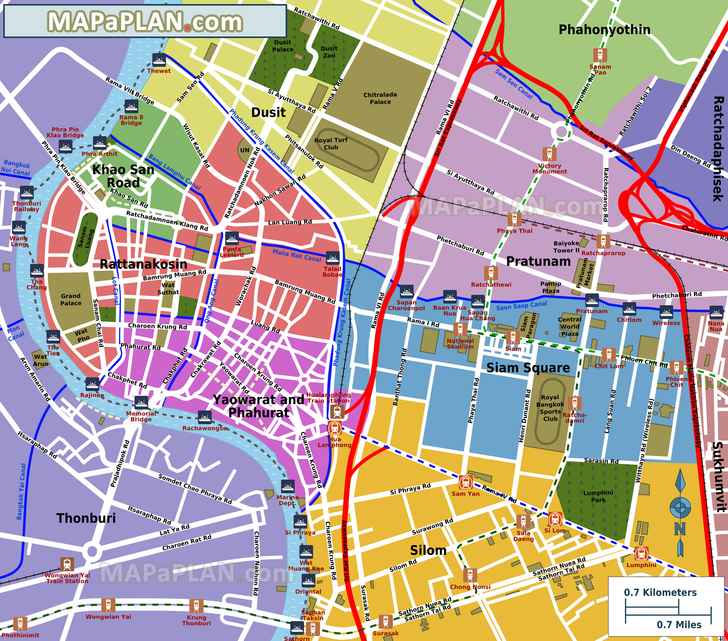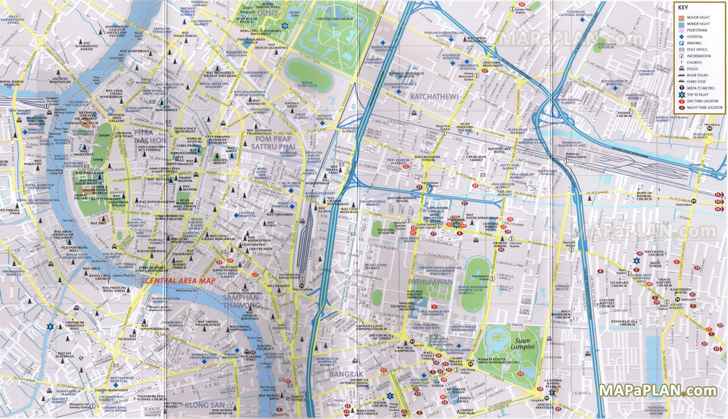 Map of top 10 attractions in Bangkok
The typical top ten attractions are listed below. You can find the detailed locations of these places on the maps above.
Wat Arun (The Temple of Dawn), Riverside
Grand Palace & Wat Prakeaw, Old City
Floating Market, Damnoen Saduak
Chinatown (Yaowarat), Chinatown
Wat Pho, Old City
Chao Phraya River & Waterways, Riverside
Chatuchak Weekend Market, Chatuchak
Khao San Road, Old City
Soi Cowboy red-light district, Sukhumvit (Asoke)
Jim Thompson's House, Siam
What are some interesting facts about Bangkok?
Longest name - Bangkok currently holds the Guinness record for having the longest name of a place. Apparently 'Bangkok' is just the short version because the city's ceremonial name is 'Krung Thep Mahanakhon Amon Rattanakosin Mahinthara Yuthaya Mahadilok Phop Noppharat Ratchathani Burirom Udomratchaniwet Mahasathan Amon Piman Awatan Sathit Sakkathattiya Witsanukam Prasit'. This means 'The city of angels, the great city, the residence of the Emerald Buddha, the impregnable city (of Ayutthaya) of God Indra, the grand capital of the world endowed with nine precious gems, the happy city, abounding in an enormous Royal Palace that resembles the heavenly abode where reigns the reincarnated god, a city given by Indra and built by Vishnukarn.'
It's HOT! - Several years ago, Bangkok was named the hottest city in the world by the World Meteorological Organization. It may not be the hottest city in the world every single day but you can be sure it's pretty consistent. Touring the Grand Palace (a large complex of palaces and temples) at 10 in the morning is almost unbearable due to the scorching heat. When exploring the city, be sure to keep hydrated and bring an umbrella.
Underwear is a must - We all know underwear is pretty essential, but not as much as in Thailand and Bangkok, where leaving the house with no underwear on can very well land you in jail. Going bare-chested in public is illegal too.
Bangkok is home to the world's largest airport control tower - It is located at Suvarnabhumi Airport and is 132.2 meters tall.
Monkey Buffet - One of the country's most unusual festivals is the annual Monkey Buffet, held in front of the Pra Prang Sam Yot temple in Lopburi province. More than 600 monkeys are invited to feast on over two tonnes of grilled sausage, fresh fruit, ice cream and other treats. The locals see it as a thank you to the monkeys which inhabit the village and bring thousands of tourists there each year.
Bangkok has an elephant building! - There is a building that is made up of three towers intended to look like an elephant which is Thailand's national animal. This unique landmark is located in the Chatuchak district.
The city is sinking - Due to heavy (literally) development, Bangkok is sinking at a rate of 2-5 cm per year. This combined with rising sea levels may make the city a bit more Venice-like in the not-so-distant future.
Bangkok was once the 'Venice of the East' - There was once an abundant system of canals in the Bangkok area and many of the original buildings stood on stilts. As Bangkok grew larger, however, most of the canals were filled and paved.
Floating markets - The Bangkok area is home to several very popular floating markets including Damnoen Saduak Floating Market, Taling Chan Market, Bang Ku Wiang Market, and Amphawa Floating Market. Visitors can find boats selling fresh tropical produce, coconut juice, and delicious local food cooked right on the small boats!
Bangkok's busiest tourist area is Khao San Road - Khao San Road is located in the district of Rattanakosin about a block from the Chao Phraya River. This backpackers' haven is known for cheap accommodations, a plethora of shops, and a chill bar scene great for people watching. Khao San Road also has some of the most diverse and budget friendly food options in Bangkok.
Bangkok was home to the legendary American art collector Jim Thompson - Jim Thompson dedicated much of his life to revitalizing Thai silk and introducing it to some of the world's most renowned fashion empires. According to Time magazine 'he almost singlehanded(ly) saved Thailand's vital silk industry from extinction.' The American businessman mysteriously disappeared into Malaysian jungle in 1967. Sources say that he went for a walk one day, never to return, and his disappearance still remains a great mystery. His elegant and artistic former house in Bangkok remains one of the city's popular tourist attractions.
Soi dogs - The word soi means side street and most major roads will have numbered sois along its length. You will also notice an abundance of stray dogs which many refer to as 'soi dogs.'
Water bottles - Many Thai believe that leaving bottles of water along the front of a building will discourage soi dogs from urinating there. You can see shopfronts at the end of the day with a row of plastic water bottles on the sidewalk.
Erawan Shrine - The popular Erawan Shrine downtown was built to appease angered spirits that were causing delays and accidents during the construction of what is now the Grand Hyatt Erawan Hotel.
Street water fight - Every April Bangkok hosts the world's largest street water fight during the Thai New Year holiday known as the Songkran Festival.
Golden Buddha - The 5.5-ton Golden Buddha at Wat Traimit in Bangkok is the not only the largest solid gold Buddha in the world, but also the most valuable (moneywise) religious object.
Thais love their king - No doubt. The nation's adoration for him is particularly apparent in Bangkok where pictures and posters of the royal power can be found in almost every other street. Take note that it's also illegal to say anything bad about the king or to even laugh at a picture of him. In the cinemas, a short tribute clip to the king is played before a movie starts and everyone is expected to stand up and pay respect.
Land of smiles - Bangkok lives up to Thailand's nickname as the 'Land of Smiles'. As peace-loving people with ready smiles, Thais exude pleasant auras and generally seek harmony over social conflict. A lot of tourists like going back to Bangkok simply because of the charm and warmth of its people. While it has its share of crimes, Bangkok remains to be one of the friendliest cities in the world.
Related keywords
2021, 2022, 2023, 2023, 2024, 2025, 2026, 2027, download, print, printable, free, detailed, aerial, bird's eye, guide, map, plan, planner, travel, sightseeing, visit, trip, tour, tourist, what to do, where to go, things to do, must see, top attractions, points of interest, places, sites, sights, buildings, spots, destinations, locations, landmark, museum, in a week, in 3 days, one day, city, route, metro, subway, underground, tube, bus, kids, chidren, top 10, top ten, popular, famous, interesting, highlights
Seating plans and charts of entertainment venues showing detailed seat and row numbers
High resolution, printable travel guide maps of cities showing top tourist attractions