Bangalore printable map of top tourist attractions & city travel guide
Bangalore city centre free travel guide - Top 10 must-see sights & best destinations - Bangalore top tourist attractions map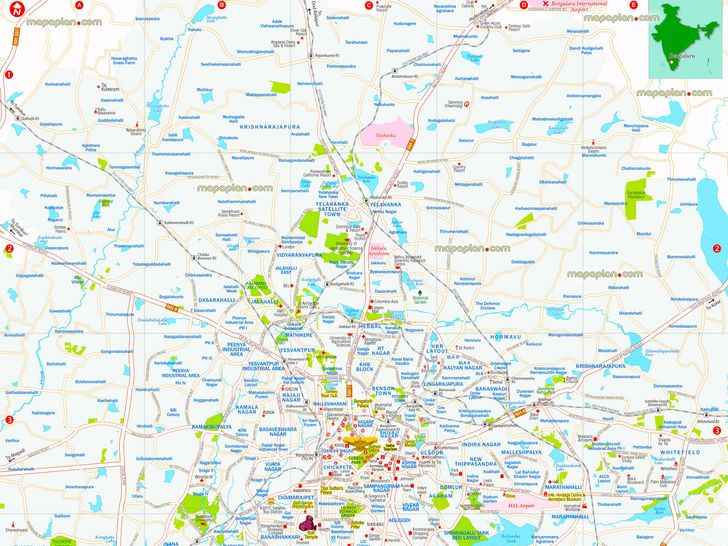 You can view, download or print a full, high resolution (detailed, large) version of this image by clicking on the plan itself
Maps of best attractions in Bangalore, India
Bangalore maps will guide you to the best destinations in the city. Bengaluru is vast, but the three central areas of particular interest to visitors are Gandhi Nagar (the old part of town); Mahatma Gandhi (MG) Rd (the heart of British-era Bangalore); and the Central Business District (CBD), north of MG Rd. The Central bus stand and the City train station are in Gandhi Nagar. The Krishnarajendra (City) Market is here and a few historical relics are to the south, including Lalbagh Botanical Gardens. Bangalore top sights and key landmarks to visit are plotted on our detailed city plans. Public transportation points are also marked, and indicated by the symbols listed in the maps key. Armed with these maps, you should be able to find the accurate location of must-see places. Mapping out a trip to explore Bangalore can be far from the usual. This page includes a range of maps and plans which will help you make the most of your visit to Bangalore. If you are either a first-time tourist looking for the top 10 must-do sights or if you are returning to Bangalore to discover something new - all you need to ensure an enjoyable trip is some advance planning. For some help in narrowing down the options, we present you with a range of high resolution maps which will help you find the detailed locations of the must-see sights - just click on a selected map to access a large version that can be downloaded and printed, or saved onto your mobile device. When in Bangalore, you can also get free pocket-size maps of the city from the tourist information centre.
Bangalore, India virtual interactive 3d map - City center free printable visitor's detailed tourist guide download showing inner old & new town buildings, must-see sights, sightseeing places of interest, hotels, nightlife, best museums, art galleries, churches, shopping, historic city centre - Bangalore top tourist attractions map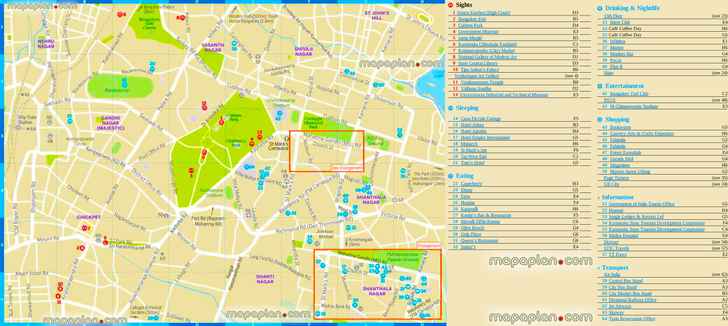 You can view, download or print a full, high resolution (detailed, large) version of this image by clicking on the plan itself
Map of top 10 attractions in Bangalore
The typical top ten attractions are listed below. You can find the detailed locations of these places on the maps above.
Cubbon Park - In the heart of Bengaluru's business district is Cubbon Park, a welcome green space in the heart of the city, shaded by massive clumps of bamboo. Cubbon Park is entered from the western end of MG Road, presided over by a statue of Queen Victoria.
Gandhi Nagar - Locally known as Majestic, Gandhi Nagar (the old quarters)is a crowded area where Bengaluru's central bus stand and the City train station are located.A few historical relics lie to its south,including Lalbagh Botanical Gardens and Tipu Sultan's palace. About 4km east are the high streets bounded by Mahatma Gandhi (MG), Brigade,St Mark's and Residency (FM Cariappa)Rds. This is Bengaluru's cosmopolitanhub, with parks, tree-lined streets, churches,grand houses and military establishments.In between are sandwiched the golf club, theracecourse and the cricket stadium.
Mahtma Gandhi MG Road - Located some 4km east from the Gandhi Nagar. The area is bounded by MG Road, Brigade, St Mark's and Residency (FM Cariappa)Rds. It is Bengaluru''s retail and entertainmenthub. Here are parks, tree-lined streets,churches, grand houses and the army compoundsthat are integral to this military town.Between the two areas you''ll find the golf cluband racecourse, close to which are severaltop-end hotels. MG Road Market is located right next to the BrigadeRoad. Dotted with shops of every kind, it has numerousstores selling sarees along with various showrooms.
Commercial Street - It is a shopping area that is perfect for fashion products, junk or gold jewellery. The market is specifically known for its food outlets.
Brigade Road - The most visited of all, the largely spread market at Brigade Road is visited by every tourist and attracts the young crowd of Bengaluru. The city's best movie theatre, Rex is also located here as is the oldest grocery store, Nilgiri's.
Vidhana Soudha - Located on the northwest edge of Cubbon Park, Vidhana Soudha, is the largest civic structure of its kind in the country. Kengal Hanumanthaiah, chief minister at the time, wanted a "people's palace" that,following the transfer of power from the royal Wadiyar dynasty to a legislature, would "reflect the power and dignity of the people". In theory its design is entirely Indian, but its overall effect is not unlike the bombastic colonial architecture built in the so-called Indo-Saracenic style.
Lalbagh Botanical Gardens - 4 km south of the centre. Spreading over 240 acres, the gardens are pleasant to visit during the day. Great sunsets and city views can be had from the central hill,which is topped by a small shrine.
City Market - If you're an early riser, the one sight that is an absolute must, is a visit to the bustling City Market - an absolute riot of colors, sights, smells, and sounds, with mounds of flowers and fresh vegetables.
Tipu's Summer Palace and Palace Grounds - Just southeast of the City Market near the fairytale-like Jama Masjid – whitewashed and rambling and still in regular use – lies Tipu's Summer Palace, a two-storey, mostly wooden structure. Next door there is the Venkataramana Swamy Temple and the gopura entranceway.
Bull Temple - Located 6km south of the City Bus Stand, in the Basavanagudi area, Kempe Gowda's sixteenth-century Bull Temple houses a massive monolithic Nandi bull.
Sri Radha Krishna Mandir (ISKCON temple) - Some 8km north of the centre lies ISKCON's (International Society of Krishna Consciousness)gleaming temple, a hybrid of ultra-modern glass and vernacular south Indian architecture.
Karnataka Chitrakala Parishath Art Gallery - This visual-arts gallery is Bengaluru's best. You''llsee a wide range of Indian and internationalcontemporary art.
Krishnarajendra City Market - For a pungent taste of traditional urban India,dive into this bustling wholesale fresh-producemarket and the dense gridof commercial streets that surround it. Thisis the main Muslim area of the city and you''llalso find several mosques here, including theimpressively massive lilac-painted Jama Masjid.
Gavi Gangadhareshwara Temple - One of Bengaluru's oldest temples.
Other attractions shown on our detailed maps include: Government Museum, Visvesvaraya Industrial and Technical Museum, State Central Library, Dodda Ganesha Temple, Aerospace Museum & Heritage Centre, St Mark's Cathedral, Shiva Temple, Shanthala Nagar, Ulsoor Lake, Attara Kacheri.
What are some interesting facts about Bangalore?
Bengaluru on the map - The centre of modern Bengaluru lies about 4km east of Kempe Gowda Circle (and the bus and railway stations), near MG Road, where you'll find most of the mid-range accommodation,restaurants, shops, tourist information and banks. Leafy Cubbon Park, and its less than exciting museums, lie on its eastern edge, while the oldest, most "Indian" part of the city extends south from the railway station, a warren of winding streets at their most dynamic in the hubbub of the City and Gandhi markets. Bengaluru's tourist attractions are spread out: monuments such as Tipu's Summer Palace and the Bull Temple are some way south of the centre. Most, if not all, can be seen on a half day tour, but if you explore on foot, be warned that Bengaluru has some of the worst pavements in India.
Tourist information centre - For information on Bengaluru, Karnataka and neighbouring states, go to the excellent India Tourism Office in Trump Tower, where you can pick up free pop up maps for both city and state. Apart from booths at the City railway station and at the airport, Karnataka State Tourism Development Corporation also has two city offices: there's one at Badami House, NR Square. Another, the head office, is on the second floor of Khanija Bhavan, Race Course.
City orientation with our detailed maps - Finding your way around Bengaluru can be difficult at times without detailed maps. In certain areas, roads are named after their widths (eg 80ft Rd).The city also follows a system of mains and crosses: 3rd cross, 5th main, Residency Rd,for example, refers to the third lane on the fifth street branching off Residency Road.
Old Bengaluru - In spite of rapid development, vestiges of the city's historic past are still found in the streets of Old Bengaluru, south of the city centre. In contrast to the relentless modernization of the rest of Bengaluru, this area contains monuments from the period of the Gowdas to that of Haider Ali and Tipu Sultan, and bears witness to the city's history from the 16th to the 19th centuries.
Keywords
map, plan, download, print, printable, free, detailed, aerial, bird's eye, satellite, guide, planner, travel, sightseeing, visit, trip, tour, tourist, what to do, where to go, things to do, must see, top attractions, points of interest, places, sites, sights, buildings, spots, destinations, locations, landmark, museum, in a week, in 3 days, one day, city, route, bus, kids, children, top 10, top ten, popular, famous, interesting, highlights, public transport, rail, hotels, updated, metro, subway, underground, tube, downtown, coach, nightlife, pub, monument, satellite, accommodation, transit, transportation, supermarket, children, metro, subway, underground, tube, dwg
Seating plans and charts of entertainment venues showing detailed seat and row numbers
Amsterdam Ziggo Dome Arena seating plan with seat numbers
Anaheim Honda Center seating plan with seat numbers
Atlanta Philips Arena seating plan with seat numbers
Belfast Odyssey SSE Arena seating plan with seat numbers
Birmingham Genting NEC Arena (LG Arena) seating plan with seat numbers
Birmingham Barclaycard Arena (NIA National Indoor Arena) seating plan with seat numbers
Boston TD Garden seating plan with seat numbers
Brighton Centre seating plan with seat numbers
Calgary Scotiabank Saddledome seating plan with seat numbers
Cardiff Millennium Stadium seating plan with seat numbers
Cardiff Motorpoint Arena seating plan with seat numbers
Charlotte Time Warner Cable Arena seating plan with seat numbers
Chicago United Center seating plan with seat numbers
Cologne Lanxess Arena seating plan with seat numbers
Dallas American Airlines Center seating plan with seat numbers
Dallas AT&T Stadium seating plan with seat numbers
Derby Velodrome Arena seating plan with seat numbers
Detroit Palace of Auburn Hills seating plan with seat numbers
Dublin 3Arena (O2 Arena) seating plan with seat numbers
Edmonton Rexall Place seating plan with seat numbers
EagleBank Arena seating plan with seat numbers
Gdańsk Ergo Arena seating plan with seat numbers
Glasgow Hydro SSE Arena seating plan with seat numbers
Glendale Gila River Arena (Jobing.com Arena) seating plan with seat numbers
Kraków Tauron Arena seating plan with seat numbers
Las Vegas New T-Mobile Arena seating plan with seat numbers
Leeds First Direct Arena seating plan with seat numbers
Liverpool Echo Arena seating plan with seat numbers
London O2 Arena seating plan with seat numbers
London Royal Albert Hall seating plan with seat numbers
London Twickenham Stadium seating plan with seat numbers
London Wembley Arena SSE seating plan with seat numbers
London Wembley Stadium seating plan with seat numbers
Los Angeles Forum Inglewood seating plan with seat numbers
Los Angeles Staples Center seating plan with seat numbers
Louisville KFC Yum! Center seating plan with seat numbers
Manchester Phones4u Arena seating plan with seat numbers
Melbourne Rod Laver Arena seating plan with seat numbers
Memphis FedExForum seating plan with seat numbers
Miami American Airlines Arena seating plan with seat numbers
Nashville Bridgestone Arena seating plan with seat numbers
New Orleans Smoothie King Center arena seating plan with seat numbers
New York Barclays Center Arena seating plan with seat numbers
New York Madison Square Garden seating plan with seat numbers
Newark Prudential Center seating plan with seat numbers
Newcastle Metro Radio Arena seating plan with seat numbers
Nottingham Motorpoint Arena (Capital FM Arena) seating plan with seat numbers
Oakland Oracle Arena seating plan with seat numbers
Oklahoma City Chesapeake Energy Arena seating plan with seat numbers
Orlando Amway Center seating plan with seat numbers
Oslo Spektrum Arena seating plan with seat numbers
Oslo Telenor Arena seating plan with seat numbers
Perth Arena seating plan with seat numbers
Phoenix Talking Stick Resort Arena (US Airways Center) seating plan with seat numbers
Pittsburgh Consol Energy Center seating plan with seat numbers
Portland Moda Center (Rose Garden Arena) seating plan with seat numbers
Rosemont Allstate Arena seating plan with seat numbers
Saint Paul Xcel Energy Center seating plan with seat numbers
San Antonio AT&T Center seating plan with seat numbers
San Jose SAP Center seating plan with seat numbers
Sheffield Motorpoint Arena seating plan with seat numbers
St. Louis Scottrade Center seating plan with seat numbers
Sunrise BB&T Center seating plan with seat numbers
Sydney Allphones Arena seating plan with seat numbers
Toronto Air Canada Centre seating plan with seat numbers
Tulsa BOK Center seating plan with seat numbers
Uncasville Mohegan Sun Arena seating plan with seat numbers
Vancouver Rogers Arena seating plan with seat numbers
Vienna Wiener Stadthalle seating plan with seat numbers
Washington DC Verizon Center seating plan with seat numbers
Winnipeg MTS Centre seating plan with seat numbers
Zürich Oerlikon Hallenstadion seating plan with seat numbers
High resolution, printable travel guide maps of cities showing top tourist attractions
Amsterdam top tourist attractions map
Bangalore top tourist attractions map
Bangkok top tourist attractions map
Barcelona top tourist attractions map
Beijing top tourist attractions map
Berlin top tourist attractions map
Bruges top tourist attractions map
Brussels top tourist attractions map
Budapest top tourist attractions map
Cambridge top tourist attractions map
Chicago top tourist attractions map
Copenhagen top tourist attractions map
Delhi top tourist attractions map
Dubai top tourist attractions map
Dublin top tourist attractions map
Edinburgh top tourist attractions map
Florence top tourist attractions map
Frankfurt top tourist attractions map
Hong Kong top tourist attractions map
Istanbul top tourist attractions map
Las Vegas top tourist attractions map
Lisbon top tourist attractions map
London top tourist attractions map
Los Angeles top tourist attractions map
Madrid top tourist attractions map
Marrakech top tourist attractions map
Milan top tourist attractions map
New York top tourist attractions map
Oxford top tourist attractions map
Paris top tourist attractions map
Prague top tourist attractions map
Rome top tourist attractions map
San Francisco top tourist attractions map
Singapore top tourist attractions map
Sydney top tourist attractions map
Tokyo top tourist attractions map
Venice top tourist attractions map
Vienna top tourist attractions map
Washington DC top tourist attractions map