Amsterdam top tourist attractions city travel maps
City centre detailed street travel plan with must-see places to visit & tram, metro lines - Amsterdam top tourist attractions map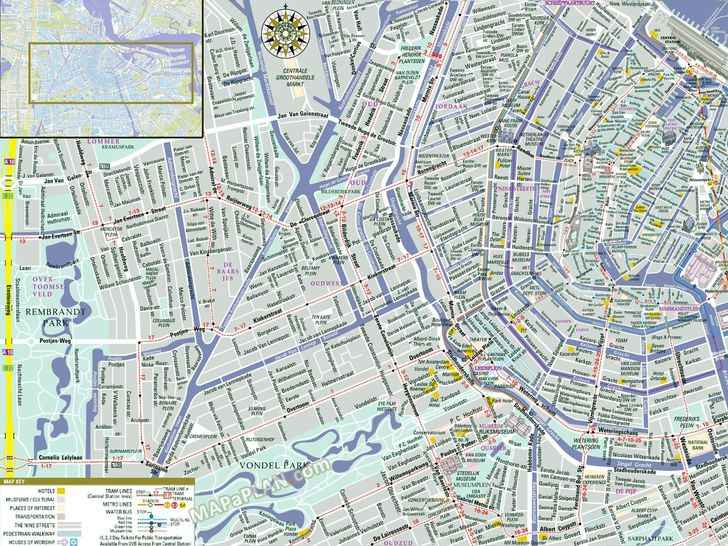 You can view, download or print a full, high resolution (detailed, large) version of this image by clicking on the plan itself
Maps of best attractions in Amsterdam
Amsterdam maps will help you find the best destinations in this unique city. Amsterdam is one of the most popular tourist destinations in Europe, receiving more than 4.63 million international visitors annually, this is excluding the 16 million day trippers visiting the city every year. The number of visitors has been growing steadily over the past decade. This can be attributed to an increasing number of European visitors. Two thirds of the hotels are located in the city's centre. Hotels with 4 or 5 stars contribute 42% of the total beds available and 41% of the overnight stays in Amsterdam. The room occupation rate was 78% in 2006, up from 70% in 2005. The majority of tourists (74%) originate from Europe. The largest group of non-European visitors come from the United States, accounting for 14% of the total. Certain years have a theme in Amsterdam to attract extra tourists. For example, the year 2006 was designated "Rembrandt 400", to celebrate the 400th birthday of Rembrandt van Rijn. Some hotels offer special arrangements or activities during these years. The average number of guests per year staying at the four campsites around the city range from 12,000 to 65,000.
Map of top 10 attractions in Amsterdam
The typical top ten attractions are listed below. You can find the detailed locations of these places on the maps above.
Take a Canal Tour
Explore Dutch Art in the Rijksmuseum, Rembrandt House Museum, Van Gogh Museum
Visit Anne Frank House
Stop and smell the flowers in the Flower Markets
Take a stroll in De Wallen - Amsterdam's red light district
Ride a bicycle
Experience the Cannabis Coffeeshop Culture
Walk Through Vondelpark
Have a hunk of Gouda cheese stuffed in a fresh bread roll
Walk the famous '9 Streets' shopping district to pick up cutting-edge fashion
What are some interesting facts about Amsterdam?
By some estimates, Amsterdam has more bikes (1 million) than people (about 750,000). There are twice as many bikes as cars in the country.
Amsterdam is has a LOT of museums. Let's put things into perspective. Netherlands has more than 70 museums. Out of these, more than 51 are located in Amsterdam. The city has more museums per square metre than any other city in the world. There's a museum for everything here, from the life of a particular painter (like Rembrandt, for instance) to beer, tulips, sex or drugs.
A quarter of Amsterdam happens to be below sea level. At its lowest point, the city is 6.7 metres below sea level. Most of the country has been reclaimed from the sea, thanks to the ingenuity of Dutch engineers. In fact, several of Amsterdam's engineers were called in to help repair New Orleans' levies after Hurricane Katrina.
Amsterdam has more canals than Venice. While Venice is the most well-known canalled city in the world, this isn't because of quantity. Often called the "Venice of the North," Amsterdam boasts over 165 canals that compose a comprehensive network throughout the entire city.
Amsterdam has one of the most famous Red Light Districts in the world with window prostitution. There are almost 500 such windows in Amsterdam, next to brothels etc. Daily, about 1,000 prostitutes are working in Amsterdam and in a given year, the city sees about 8,000 different prostitutes.
There are over 200 'coffee shops' in Amsterdam where you are allowed to buy up to 5 grams of cannabis (marihuana or hash). Since the 1970s, buying of cannabis has been decriminalized. Five grams, by the way, is enough to stay sky high for several days. Most other drugs are banned, however.
In 2008, a tobacco smoking ban was introduced in Dutch cafes and restaurants, but you are still allowed to smoke marihuana and hash in Dutch coffee shops - if only you don't mix it with regular tobacco… That's bad for you, you see...
While Amsterdam is the capital city of The Netherlands, the Dutch government and parliament are located in The Hague.
Amsterdam has a rather large alternative money system (LETS). If you become a member, you can buy and sell bikes, furniture, hair cuts or translation services for "noppes" (Dutch slang for "nothing") instead of euros. Interestingly, "erotic services" are banned.
Keywords
download, print, printable, free, detailed, aerial, bird's eye, guide, map, plan, planner, travel, sightseeing, visit, trip, tour, tourist, what to do, where to go, things to do, must see, top attractions, points of interest, places, sites, sights, buildings, spots, destinations, locations, landmark, museum, in a week, in 3 days, one day, city, route, metro, subway, underground, tube, bus, kids, chidren, top 10, top ten, popular, famous, interesting, highlights
Seating plans and charts of entertainment venues showing detailed seat and row numbers
Amsterdam Ziggo Dome Arena seating arrangement
Anaheim Honda Center seating arrangement
Atlanta Philips Arena seating arrangement
Belfast Odyssey SSE Arena seating arrangement
Birmingham Genting NEC Arena (LG Arena) seating arrangement
Birmingham Barclaycard Arena (NIA National Indoor Arena) seating arrangement
Boston TD Garden seating arrangement
Brighton Centre seating arrangement
Calgary Scotiabank Saddledome seating arrangement
Cardiff Millennium Stadium seating arrangement
Cardiff Motorpoint Arena seating arrangement
Charlotte Time Warner Cable Arena seating arrangement
Chicago United Center seating arrangement
Cologne Lanxess Arena seating arrangement
Dallas American Airlines Center seating arrangement
Dallas AT&T Stadium seating arrangement
Derby Velodrome Arena seating arrangement
Detroit Palace of Auburn Hills seating arrangement
Dublin 3Arena (O2 Arena) seating arrangement
Edmonton Rexall Place seating arrangement
EagleBank Arena seating arrangement
Gdańsk Ergo Arena seating arrangement
Glasgow Hydro SSE Arena seating arrangement
Glendale Gila River Arena (Jobing.com Arena) seating arrangement
Kraków Tauron Arena seating arrangement
Las Vegas New T-Mobile Arena seating arrangement
Leeds First Direct Arena seating arrangement
Liverpool Echo Arena seating arrangement
London O2 Arena seating arrangement
London Royal Albert Hall seating arrangement
London Twickenham Stadium seating arrangement
London Wembley Arena SSE seating arrangement
London Wembley Stadium seating arrangement
Los Angeles Forum Inglewood seating arrangement
Los Angeles Staples Center seating arrangement
Louisville KFC Yum! Center seating arrangement
Manchester Phones4u Arena seating arrangement
Melbourne Rod Laver Arena seating arrangement
Memphis FedExForum seating arrangement
Miami American Airlines Arena seating arrangement
Nashville Bridgestone Arena seating arrangement
New Orleans Smoothie King Center arena seating arrangement
New York Barclays Center Arena seating arrangement
New York Madison Square Garden seating arrangement
Newark Prudential Center seating arrangement
Newcastle Metro Radio Arena seating arrangement
Nottingham Motorpoint Arena (Capital FM Arena) seating arrangement
Oakland Oracle Arena seating arrangement
Oklahoma City Chesapeake Energy Arena seating arrangement
Orlando Amway Center seating arrangement
Oslo Spektrum Arena seating arrangement
Oslo Telenor Arena seating arrangement
Perth Arena seating arrangement
Phoenix Talking Stick Resort Arena (US Airways Center) seating arrangement
Pittsburgh Consol Energy Center seating arrangement
Portland Moda Center (Rose Garden Arena) seating arrangement
Rosemont Allstate Arena seating arrangement
Saint Paul Xcel Energy Center seating arrangement
San Antonio AT&T Center seating arrangement
San Jose SAP Center seating arrangement
Sheffield Motorpoint Arena seating arrangement
St. Louis Scottrade Center seating arrangement
Sunrise BB&T Center seating arrangement
Sydney Allphones Arena seating arrangement
Toronto Air Canada Centre seating arrangement
Tulsa BOK Center seating arrangement
Uncasville Mohegan Sun Arena seating arrangement
Vancouver Rogers Arena seating arrangement
Vienna Wiener Stadthalle seating arrangement
Washington DC Verizon Center seating arrangement
Winnipeg MTS Centre seating arrangement
Zürich Oerlikon Hallenstadion seating arrangement
High resolution, printable travel guide maps of cities showing top tourist attractions
Amsterdam metro map with places of interest
Bangkok metro map with places of interest
Barcelona metro map with places of interest
Beijing metro map with places of interest
Berlin metro map with places of interest
Budapest metro map with places of interest
Cambridge metro map with places of interest
Chicago metro map with places of interest
Dubai metro map with places of interest
Florence metro map with places of interest
Hong Kong metro map with places of interest
Istanbul metro map with places of interest
Las Vegas metro map with places of interest
Lisbon metro map with places of interest
London metro map with places of interest
Los Angeles metro map with places of interest
Marrakech metro map with places of interest
New York metro map with places of interest
Oxford metro map with places of interest
Paris metro map with places of interest
Prague metro map with places of interest
Rome metro map with places of interest
San Francisco metro map with places of interest
Singapore metro map with places of interest
Sydney metro map with places of interest
Tokyo metro map with places of interest
Venice metro map with places of interest