Wembley Stadium seat and row numbers detailed seating chart
Detailed seat, row and block numbers exact chart for Beyonce concert - Wembley Stadium seating plan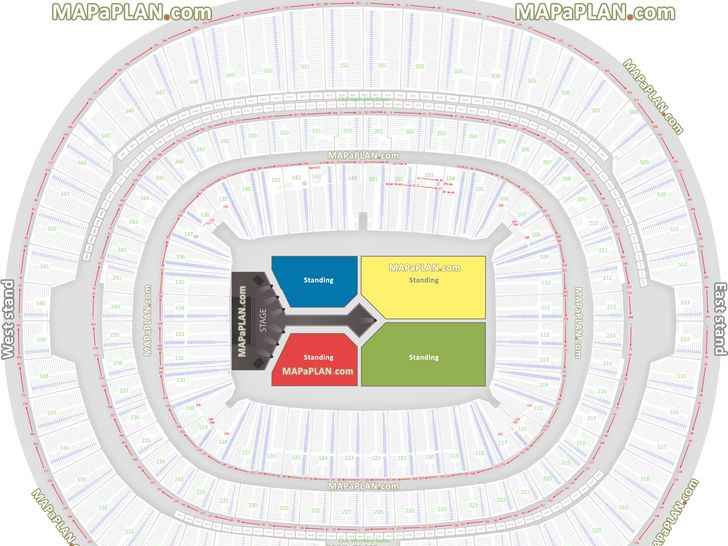 You can view, download or print a full, high resolution (detailed, large) version of this image by clicking on the plan itself
About Wembley Stadium
Wembley Stadium is a football stadium located in Wembley Park in London. It opened in 2007 and was built on the site of the previous 1923 Wembley Stadium. The earlier Wembley stadium, originally called the Empire Stadium, was often referred to as "The Twin Towers" and was one of the world's most famous football stadia until its demolition in 2003. The 90,000-capacity venue (105,000 combined seating and standing) is the second largest stadium in Europe, and serves as England's national stadium. The pitch size (dimensions) is 115 yd (105 m) long by 75 yd (69 m) wide. Besides football, Wembley is often configured to hold many other events, particularly major concerts. The stadium's signature feature is a circular section lattice arch of 7 m internal diameter with a 315 m span, and rising to 133 m. It supports all the weight of the north roof and 60% of the weight of the retractable roof on the southern side. The archway is the world's longest unsupported roof structure.
About Wembley Stadium
Best view seats
Level 2 (Club Wembley) is said to offer the best view. However every block in this well designed venue has a great unrestricted view. In fact, not a single seat in Wembley Stadium has restricted view! Typically the couple of rirst (front) rows in every block may seem to provide a slighly better experience. The seats themselves whilst not roomy, are perfeclty fine.
Events
Wembley host a range of live concerts, gigs and tours. Artist who performed here include: Robbie Williams, Take That, U2, Arctic Monkeys, Muse, Bruce Springsteen, Coldplay, Muse, Green Day, Elton John, Jonas Brothers, Killers, Killers, Lee Evans, Metallica, Oasis, Take That, Roger Waters, Lee Evans, X Factor, Summertime Ball, National Day of Prayer
The stadium hosts regular footbal, rugby and other sporting events. These include: England national football team, FA Cup Final and Semi Finals, The Football League Cup Final, The FA Community Shield, The Football League Play Off Finals, Johnstone's Paint Trophy (JPT), Carling Cup Final, UEFA Champions League Final, Charity Shield, Carnegie Challenge Cup, JPT, London 2012 Olympics Football Tournament, the Rugby Football League Challenge Cup Final, regular season NFL (Americal football) game.
Location and transport
Address: Wembley Stadium, Wembley, London, Postcode: HA9 0WS, United Kingdom
Tube and Overground: nearest stations are Wembley Park Station (Jubilee and Metropolitan Lines) and Wembley Central Station (Bakerloo and London Overground Lines)
Trains: nearest stations is Wembley Stadium Station (Chiltern Railways)
Bus stops/ routes: 18, 83, 92 and 224.
Parking: There are two official car parks on site: Green car park (Open Air) and Red car park (Multi-Storey). To avoid disappointment you can pre-book parking via the CSP Parking website. On arrival just head for Green car park and the Marshals will direct you on from there.
Congestion zone: Wembley Stadium is not withing the congestion zone.
Disabled access: Wembley Stadium has been built to the highest specifications offering every visitor an unrivalled event-day experience. There is an accessible entrance at every set of turnstiles for wheelchair users, semi-ambulant visitors and those accompanied by assistance dogs. All turnstiles are manned by trained stewards. Wembley Stadium is proving to be the ultimate match-day experience for visually impaired football fans thanks to an exclusive 90-minute commentary service. There are 310 places for wheelchair users and an equal number for their personal assistants. These seats are distributed across each of the levels.
Tickets
Depending on the event tickets are usually sold via Ticketmaster, the FA, or the NFL UK. Tickets box office (collection point) is located in Elvin House on Stadium Way
Facilities
Local hotels: Ibis, Holiday Inn, Hilton, Premier Inn, Quality Hotel Wembley
Local restaurants: Alisan, Arena Restaurant, Association Restaurant, Coffee Pod, Icons Bar, McDonalds, Moore Spice, Sugar Mill Desserts, T.G.I. Friday's, 5 Star Catering Units
Interesting facts
The original Wembley Stadium was known as the Empire Stadium, and was built as the centrepiece of a British Empire Exhibition at the end of the First World War
Though not officially opened by King George V until 23 April 1924, the stadium hosted its first FA Cup final the previous year, when an estimated 200,000 people crammed in to watch Bolton Wanderers FC defeat West Ham United FC 2-0. That match famously became known as the 'White Horse final', as a mounted policeman took to the pitch to keep fans at bay.
Wembley hosted the 1948 Olympic Games and also the final of EURO '96 but, from an English perspective, unquestionably its finest hour came on 30 July 1966, when Geoff Hurst scored a hat-trick to inspire England to a 4-2 extra-time win against West Germany in the final of the FIFA World Cup.
The stadium has a circumference of 1 km.
The new pitch is four metres lower than the previous pitch
There are 107 steps in the trophy presentation route – the old stadium had 39 steps.
At Wembley trophies are presented to the winning team from the Royal Box rather than on the pitch. The Royal Box is in the traditional position - in the middle of the north stand - as in the old Wembley Stadium.
Each of the two giant screens in new stadium is the size of 600 domestic television sets.
Wembley Stadium's concerts can hold over 3 times more people than the O2 London Arena or over 13 times more people than the Royal Albert Hall.
Keywords
admission, area, away fans, best seats, birds eye, block, box office, boxes, bus, car, car park, charges, chart, city, collection point, comedian, concerts, detailed, dimensions, directions, disabled access, England, entrance, event, exact, football, full, gates, general admission, getting there, gigs, google, ground, home fans, hotels, in detail, individual seating, interactive, layout, level, line, local, lower tier, Manchester Arena, map, matches, music, nearest, numbers, official, overground, parks, plan, prices, public transport, reserved, restaurants, restricted view, review, routes, row, seat, seating, stage, stand, standing, station, stops, tickets, tour, train, travel, tube, unreserved, upper tier, venue, view, virtual tour, visitors, 2013, 2014, 2015, 2016, 2017, family enclosure, row 21, Saracens Football Club, soccer, Bobby Moore Seats, entrance a b c d e f g h j k l m n p, Olympic Way, Royal Way, block 101 102 103 104 105 106 107 108 109 110 111 112 113 114 115 116 117 118 119 120 121 122 123 124 125 126 127 128 129 130 131 132 133 134 135 136 137 138 139 140 141 142 143 201 202 203 204 205 206 207 208 209 210 211 212 213 214 215 216 217 218 219 220 221 222 223 224 225 226 227 228 229 230 231 232 233 234 235 236 237 238 239 240 241 242 243 244 245 246 247 248 249 250 251 252 501 502 503 504 505 506 507 508 509 510 511 512 513 514 515 516 517 518 519 520 521 522 523 524 525 526 527 528 529 530 531 532 533 534 535 536 537 538 539 540 541 542 543 544 545 546 547 548 549 550 551 552
Seating plans and charts of entertainment venues showing detailed seat and row numbers
Amsterdam Ziggo Dome Arena seating plan with row numbers
Anaheim Honda Center seating plan with row numbers
Atlanta Philips Arena seating plan with row numbers
Belfast Odyssey SSE Arena seating plan with row numbers
Birmingham Genting NEC Arena (LG Arena) seating plan with row numbers
Birmingham Barclaycard Arena (NIA National Indoor Arena) seating plan with row numbers
Boston TD Garden seating plan with row numbers
Brighton Centre seating plan with row numbers
Calgary Scotiabank Saddledome seating plan with row numbers
Cardiff Millennium Stadium seating plan with row numbers
Cardiff Motorpoint Arena seating plan with row numbers
Charlotte Time Warner Cable Arena seating plan with row numbers
Chicago United Center seating plan with row numbers
Cologne Lanxess Arena seating plan with row numbers
Dallas American Airlines Center seating plan with row numbers
Dallas AT&T Stadium seating plan with row numbers
Derby Velodrome Arena seating plan with row numbers
Detroit Palace of Auburn Hills seating plan with row numbers
Dublin 3Arena (O2 Arena) seating plan with row numbers
Edmonton Rexall Place seating plan with row numbers
EagleBank Arena seating plan with row numbers
Gdańsk Ergo Arena seating plan with row numbers
Glasgow Hydro SSE Arena seating plan with row numbers
Glendale Gila River Arena (Jobing.com Arena) seating plan with row numbers
Kraków Tauron Arena seating plan with row numbers
Las Vegas New T-Mobile Arena seating plan with row numbers
Leeds First Direct Arena seating plan with row numbers
Liverpool Echo Arena seating plan with row numbers
London O2 Arena seating plan with row numbers
London Royal Albert Hall seating plan with row numbers
London Twickenham Stadium seating plan with row numbers
London Wembley Arena SSE seating plan with row numbers
London Wembley Stadium seating plan with row numbers
Los Angeles Forum Inglewood seating plan with row numbers
Los Angeles Staples Center seating plan with row numbers
Louisville KFC Yum! Center seating plan with row numbers
Manchester Phones4u Arena seating plan with row numbers
Melbourne Rod Laver Arena seating plan with row numbers
Memphis FedExForum seating plan with row numbers
Miami American Airlines Arena seating plan with row numbers
Nashville Bridgestone Arena seating plan with row numbers
New Orleans Smoothie King Center arena seating plan with row numbers
New York Barclays Center Arena seating plan with row numbers
New York Madison Square Garden seating plan with row numbers
Newark Prudential Center seating plan with row numbers
Newcastle Metro Radio Arena seating plan with row numbers
Nottingham Motorpoint Arena (Capital FM Arena) seating plan with row numbers
Oakland Oracle Arena seating plan with row numbers
Oklahoma City Chesapeake Energy Arena seating plan with row numbers
Orlando Amway Center seating plan with row numbers
Oslo Spektrum Arena seating plan with row numbers
Oslo Telenor Arena seating plan with row numbers
Perth Arena seating plan with row numbers
Phoenix Talking Stick Resort Arena (US Airways Center) seating plan with row numbers
Pittsburgh Consol Energy Center seating plan with row numbers
Portland Moda Center (Rose Garden Arena) seating plan with row numbers
Rosemont Allstate Arena seating plan with row numbers
Saint Paul Xcel Energy Center seating plan with row numbers
San Antonio AT&T Center seating plan with row numbers
San Jose SAP Center seating plan with row numbers
Sheffield Motorpoint Arena seating plan with row numbers
St. Louis Scottrade Center seating plan with row numbers
Sunrise BB&T Center seating plan with row numbers
Sydney Allphones Arena seating plan with row numbers
Toronto Air Canada Centre seating plan with row numbers
Tulsa BOK Center seating plan with row numbers
Uncasville Mohegan Sun Arena seating plan with row numbers
Vancouver Rogers Arena seating plan with row numbers
Vienna Wiener Stadthalle seating plan with row numbers
Washington DC Verizon Center seating plan with row numbers
Winnipeg MTS Centre seating plan with row numbers
Zürich Oerlikon Hallenstadion seating plan with row numbers
High resolution, printable travel guide maps of cities showing top tourist attractions
Amsterdam metro map with attractions
Bangkok metro map with attractions
Barcelona metro map with attractions
Beijing metro map with attractions
Berlin metro map with attractions
Budapest metro map with attractions
Cambridge metro map with attractions
Chicago metro map with attractions
Dubai metro map with attractions
Florence metro map with attractions
Hong Kong metro map with attractions
Istanbul metro map with attractions
Las Vegas metro map with attractions
Lisbon metro map with attractions
London metro map with attractions
Los Angeles metro map with attractions
Marrakech metro map with attractions
New York metro map with attractions
Oxford metro map with attractions
Paris metro map with attractions
Prague metro map with attractions
Rome metro map with attractions
San Francisco metro map with attractions
Singapore metro map with attractions
Sydney metro map with attractions
Tokyo metro map with attractions
Venice metro map with attractions