Bridgestone Arena center seat & row numbers detailed seating chart
Detailed seat & row numbers end stage concert sections floor plan map with arena lower, club & upper bowl level layout - Nashville Bridgestone Arena seating chart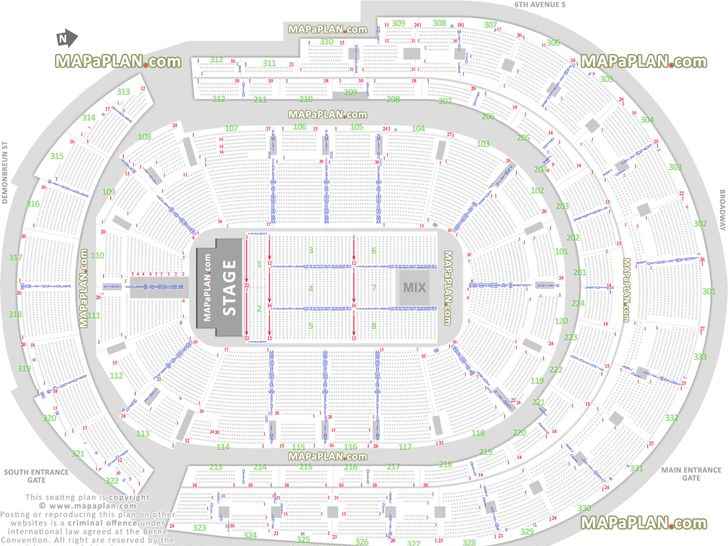 You can view, download or print a full, high resolution (detailed, large) version of this image by clicking on the plan itself
What are the best seats in the Nashville Bridgestone Arena, TN?
In the end-stage fully seated concert configuration the best seats in the Bridgestone Arena are the first rows in floor sections 1, 2 and then 3, 4, 5. The floor rows further back are OK however all floor seating is set on a flat floor so if a tall person is sitting (or standing) in front of you the view may be slightly obstructed/ restricted. The rows in the floor sections are typically numbered 1-22, whereas the seats are mostly numbered from 1 up to 12 or 16 ascending right to left when looking at the stage. When buying your tickets you can use the venue seating charts on this page to find the individual seat numbers offering optimum central view of the stage. Please note that for some events the floor seats are rearranged and the floor forms a general admission standing section or sports area (Nashville Predators hockey, basketball). Surrounding the floor are lower level 100, middle 200 and upper bowl 300 sections numbered 101-120, 201-224 and 301-333. These are set on inclined risers so even the back rows can enjoy an unrestricted view of the stage. The top seats in the lower tier are close to the stage in sections 107, 114, 106, 115 and then 105, 116. In fact, these locations should offer much better experience than the back floor sections. Sections 103-118 offer a good, full view of the entire stage, however at a considerable distance so you will probably not be able to see the facial expressions of the performer. Row numbers are AA-MM and then A up to R in 100s, and A-K in 200s, and A up to T in 300s. Seat #1 in the bowl sections is closest to the section with a higher number and the seats numbering is from 1 up to 33 in some sections. The exact seat numbers are shown on our seating charts.
View from Section 311 - Row M - Seat 13 - Virtual venue 3d interactive interior tour & upper level inside picture without general admission (GA) showing suites & All Inclusive Zone - Nashville Bridgestone Arena seating chart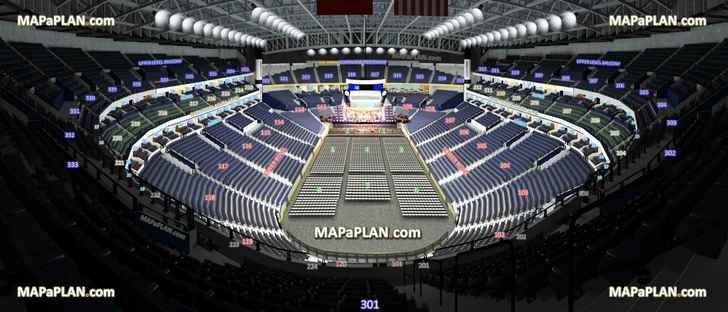 You can view, download or print a full, high resolution (detailed, large) version of this image by clicking on the plan itself
What are the section numbers in the Nashville Bridgestone Arena?
Nashville Bridgestone Arena has a capacity of between 5,100 - 20,000 seats (depending on the event) located in the following sections:
Floor sections for concerts - 1, 2, 3, 4, 5, 6, 7, 8. There may also be Pit or General Admission standing areas. Additionally for some events there may be additional sections (9, 10).
Floor sections for basektball games - Courtside & VIP.
100 level sections (Premium Lower Bowl level, Lexus Inner Circle First and Second Row glass seats, Dex All-Inclusive Zone, Premium Shoot Twice Lower Bowl, Lower Bowl End Zone) - 101, 102, 103, 104, 105, 106, 107, 108, 109, 110, 111, 112, 113, 114, 115, 116, 117, 118, 119, 120. The Penalty Box, rear of stage view, sideline, baseline and corner sections can be located on the seating charts above. The Nashville Predators Home Team bench is at the front of sections 116-117, whereas the Visitors Bench is at the front of sections 114-115. The home team side shoots twice (double attack) towards sections 110-111. The Lexus Lounge is located behind sections 101, 120 on the event level. The Band Stand is between sections 110-111.
200 level sections (Gary Force Acura Club Level Sideline & Shoot Once seats, middle bowl level) - 201, 202, 203, 204, 205, 206, 207, 208, 209, 210, 211, 212, 213, 214, 215, 216, 217, 218, 219, 220, 221, 222, 223, 224. The Club Seats are located on this level.
300 level sections (Upper Bowl Balcony Sideline & Goal Zone, All You Can Eat Adult and Family Mezzanine) - 301, 302, 303, 304, 305, 306, 307, 308, 309, 310, 311, 312, 313, 314, 315, 316, 317, 318, 319, 320, 321, 322, 323, 324, 325, 326, 327, 328, 329, 330, 331, 332, 333.
Lower Suites 1-42 (S1, S2, S3, S4, S5, S6, S7, S8, S9, S10, S11, S12, S13, S14, S15, S16, S17, S18, S19, S20, S21, S22, S23, S24, S25, S26, S27, S28, S29, S30, S31, S32, S33, S34, S35, S36, S37, S38, S39, S40, S41, S42).
Upper Suites on the Gary Force Acura Level 1-30 (C1, C2, C3, C4, C5, C6, C7, C8, C9, C10, C11, C12, C13, C14, C15, C16, C17, C18, C19, C20, C21, C22, C23, C24, C25, C26, C27, C28, C29, C30). Additionally there is also an Opera Box C15 and C16. Altogether there are 72 executive hospitality VIP rental suites.
Other facilities include: Lexus Lounge, Cumberland 501 Club, restaurants, bars, Main Entrance Gate, South Entrance.
How many rows are there in the Nashville Bridgestone Arena, TN?
Flat floor seating sections typically have rows from 1 up to 22.
100s sections have rows from AA to MM (AA, BB, CC, DD, EE, FF, GG, HH, JJ, KK, LL, MM) followed by A up to R. Please note that there is no row I or O.
200s sections have rows from A up to K.
300s sections have rows from A up to T (A, B, C, D, E, F, G, H, J, K, L, M, N, P, Q, R, S, T).
Additionally some sections have accessible rows (WC, WCC, wheelchair, handicap, disabled, ADA).
The worst seats are located in the back rows on the 300 upper bowl level. These may offer a relatively limited / partial / obstructed view.
A range of Standing Room Only (SRO) places may be offered for some events.
How many seats are there in a row in the Nashville Bridgestone Arena, Tennessee?
The number of seats varies from row to row and section to section, however the typical number of seats is as follows:
Floor sections typically have rows with up to 12 or 16 seats.
100s sections have rows with up to 33 seats.
200s sections have rows with up to 20 seats.
300s sections have rows with up to 27 seats.
What are some of the biggest shows that will take place or have taken place in the Nashville Bridgestone Arena?
Some of the biggest names in show business have been scheduled to perform or performed in the Nashville Bridgestone Arena. This includes: 5 Seconds of Summer, 30 Seconds To Mars, Afrojack, Alicia Keys, All-Star Game, Andrea Bocelli, Arenacross, Ariana Grande, Avicii, Barbra Streisand, Beyonce, Billy Currington, Black and Brown Comedy Get Down, Bon Jovi, boxing, Britney Spears, Bruce Springsteen, Bruno Mars, Bryan Adams, Celine Dion, Chase Bryant, Chris Brown, Cirque du Soleil Circus, CMT Music Awards, Coldplay, Davis Cup Tennis, Def Leppard, Depeche Mode, Disney, Disney On Ice, DJ Drama, Eagles, Ed Sheeran, Elton John, Enrique Iglesias, Eric Hutchinson, Eros Ramazzotti, Fall Out Boy, Fleetwood Mac, Foo Fighters, Gavin DeGraw, George Michael, Harlem Globetrotters, Hillsong United, Hoodie Allen, Hunter Hayes, Imagine Dragons, Iron Maiden, Jason Mraz, Jay Z, Jingle Ball, John Legend, Justin Bieber, Justin Timberlake, Kanye West, Katy Perry, Kelly Clarkson, Kings of Leon, Kylie Minogue, Lady Antebellum, Lady Gaga, Lenny Kravitz, Leonard Cohen, Lil' Wayne, Linkin Park, Lionel Richie, Lorde, Madonna, Mariah Carey, Mark Knopfler, Maroon 5, Marvel Universe Live, Metallica, Michael Bublé, Miley Cyrus, Monster Jam, Muse, Nashville Kats AFL, NBA basketball, NCAA tournament, New Kids on the Block NKOTB, NHL hockey, Nickelback, Nicki Minaj, Nitro Circus, One Direction, Outcry, Paul McCartney, Paul Simon, PBR Professional Bull Riders, Pearl Jam, Pentatonix, Pink, Placido Domingo, Prince, Queen + Adam Lambert, Radiohead, Rihanna, Robbie Williams, Sam Hunt, Selena Gomez, Sesame Street Live, Shakira, Shania Twain, Sting, Styx, Taylor Swift, Tesla, The Black Keys, The Charlie Daniels Band, The Rolling Stones, The Script, The Who, Tim McGraw, Timbaland, Toto, Train, U2, UFC MMA Mixed Martial Arts, Usher, Van Morrison, Winter Jam Tour Spectacular, Wiz Khalifa, Women's Final Four, WWE Wrestling
Related keywords
January, February, March, April, May, June, July, August, September, October, November, December, 2012, 2013, 2014, 2015, 2016, 2017, 2018, 2019, 2020, Ticketmaster, 3d seat viewer, VIP advice, pdf, photo, pictures, pics, images
Seating plans and charts of entertainment venues showing detailed seat and row numbers
Amsterdam Ziggo Dome Arena venue seating arrangement
Anaheim Honda Center venue seating arrangement
Atlanta Philips Arena venue seating arrangement
Belfast Odyssey SSE Arena venue seating arrangement
Birmingham Genting NEC Arena (LG Arena) venue seating arrangement
Birmingham Barclaycard Arena (NIA National Indoor Arena) venue seating arrangement
Boston TD Garden venue seating arrangement
Brighton Centre venue seating arrangement
Calgary Scotiabank Saddledome venue seating arrangement
Cardiff Millennium Stadium venue seating arrangement
Cardiff Motorpoint Arena venue seating arrangement
Charlotte Time Warner Cable Arena venue seating arrangement
Chicago United Center venue seating arrangement
Cologne Lanxess Arena venue seating arrangement
Dallas American Airlines Center venue seating arrangement
Dallas AT&T Stadium venue seating arrangement
Derby Velodrome Arena venue seating arrangement
Detroit Palace of Auburn Hills venue seating arrangement
Dublin 3Arena (O2 Arena) venue seating arrangement
Edmonton Rexall Place venue seating arrangement
EagleBank Arena venue seating arrangement
Gdańsk Ergo Arena venue seating arrangement
Glasgow Hydro SSE Arena venue seating arrangement
Glendale Gila River Arena (Jobing.com Arena) venue seating arrangement
Kraków Tauron Arena venue seating arrangement
Las Vegas New T-Mobile Arena venue seating arrangement
Leeds First Direct Arena venue seating arrangement
Liverpool Echo Arena venue seating arrangement
London O2 Arena venue seating arrangement
London Royal Albert Hall venue seating arrangement
London Twickenham Stadium venue seating arrangement
London Wembley Arena SSE venue seating arrangement
London Wembley Stadium venue seating arrangement
Los Angeles Forum Inglewood venue seating arrangement
Los Angeles Staples Center venue seating arrangement
Louisville KFC Yum! Center venue seating arrangement
Manchester Phones4u Arena venue seating arrangement
Melbourne Rod Laver Arena venue seating arrangement
Memphis FedExForum venue seating arrangement
Miami American Airlines Arena venue seating arrangement
Nashville Bridgestone Arena venue seating arrangement
New Orleans Smoothie King Center arena venue seating arrangement
New York Barclays Center Arena venue seating arrangement
New York Madison Square Garden venue seating arrangement
Newark Prudential Center venue seating arrangement
Newcastle Metro Radio Arena venue seating arrangement
Nottingham Motorpoint Arena (Capital FM Arena) venue seating arrangement
Oakland Oracle Arena venue seating arrangement
Oklahoma City Chesapeake Energy Arena venue seating arrangement
Orlando Amway Center venue seating arrangement
Oslo Spektrum Arena venue seating arrangement
Oslo Telenor Arena venue seating arrangement
Perth Arena venue seating arrangement
Phoenix Talking Stick Resort Arena (US Airways Center) venue seating arrangement
Pittsburgh Consol Energy Center venue seating arrangement
Portland Moda Center (Rose Garden Arena) venue seating arrangement
Rosemont Allstate Arena venue seating arrangement
Saint Paul Xcel Energy Center venue seating arrangement
San Antonio AT&T Center venue seating arrangement
San Jose SAP Center venue seating arrangement
Sheffield Motorpoint Arena venue seating arrangement
St. Louis Scottrade Center venue seating arrangement
Sunrise BB&T Center venue seating arrangement
Sydney Allphones Arena venue seating arrangement
Toronto Air Canada Centre venue seating arrangement
Tulsa BOK Center venue seating arrangement
Uncasville Mohegan Sun Arena venue seating arrangement
Vancouver Rogers Arena venue seating arrangement
Vienna Wiener Stadthalle venue seating arrangement
Washington DC Verizon Center venue seating arrangement
Winnipeg MTS Centre venue seating arrangement
Zürich Oerlikon Hallenstadion venue seating arrangement
High resolution, printable travel guide maps of cities showing top tourist attractions
Amsterdam central attractions maps
Bangkok central attractions maps
Barcelona central attractions maps
Beijing central attractions maps
Berlin central attractions maps
Budapest central attractions maps
Cambridge central attractions maps
Chicago central attractions maps
Dubai central attractions maps
Florence central attractions maps
Hong Kong central attractions maps
Istanbul central attractions maps
Las Vegas central attractions maps
Lisbon central attractions maps
London central attractions maps
Los Angeles central attractions maps
Marrakech central attractions maps
New York central attractions maps
Oxford central attractions maps
Paris central attractions maps
Prague central attractions maps
San Francisco central attractions maps
Singapore central attractions maps
Sydney central attractions maps
Tokyo central attractions maps
Venice central attractions maps