Bridgestone Arena center seat & row numbers detailed seating chart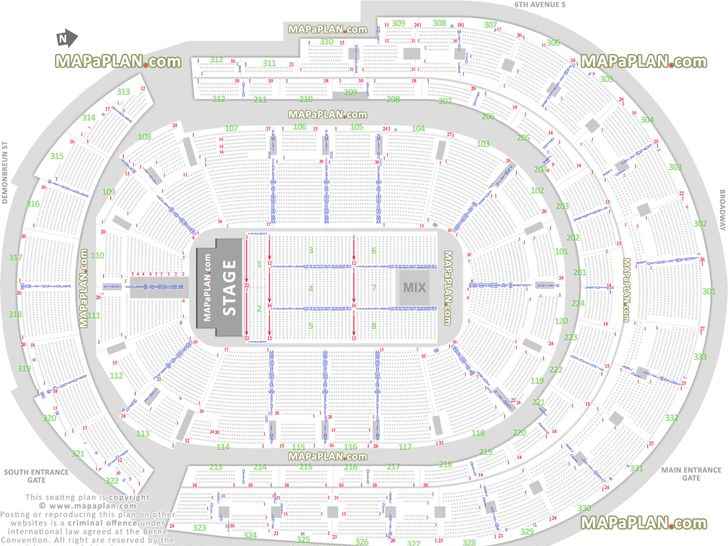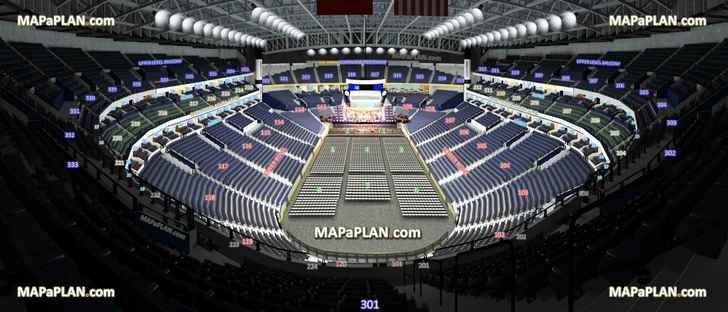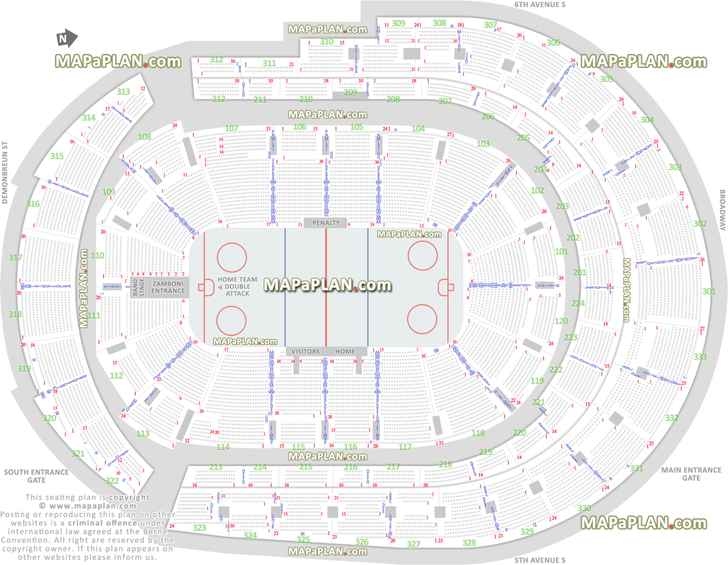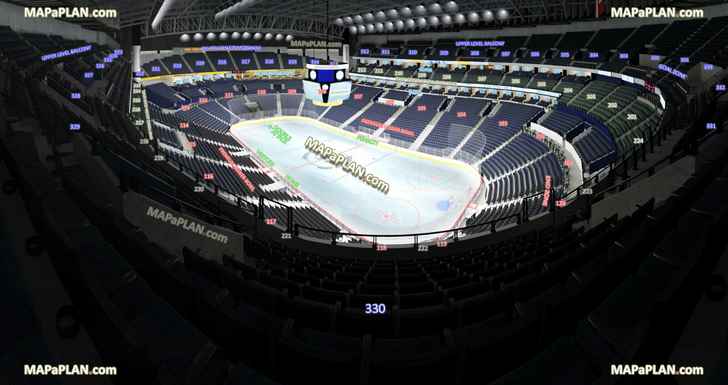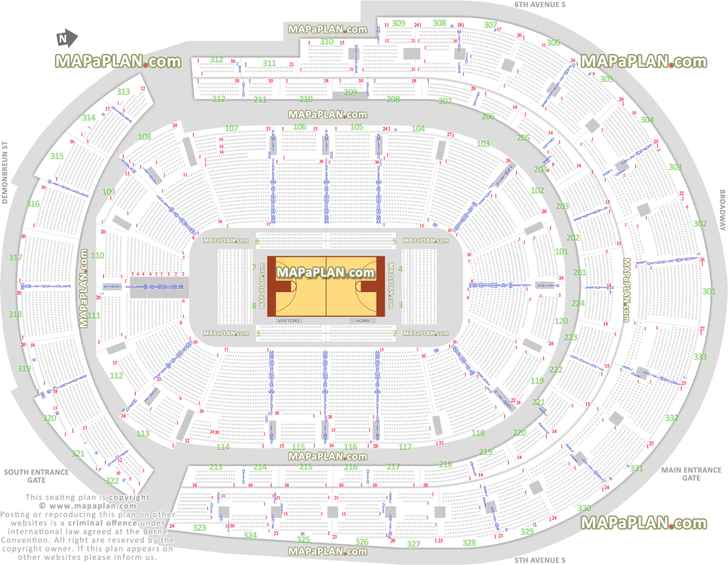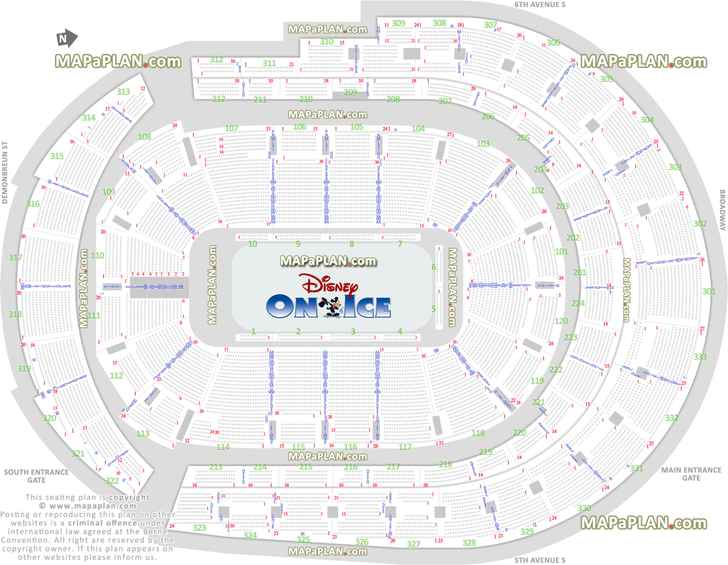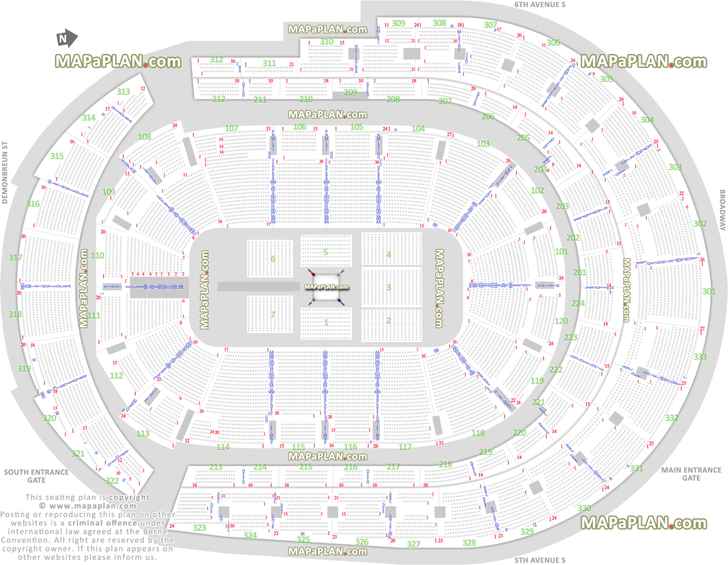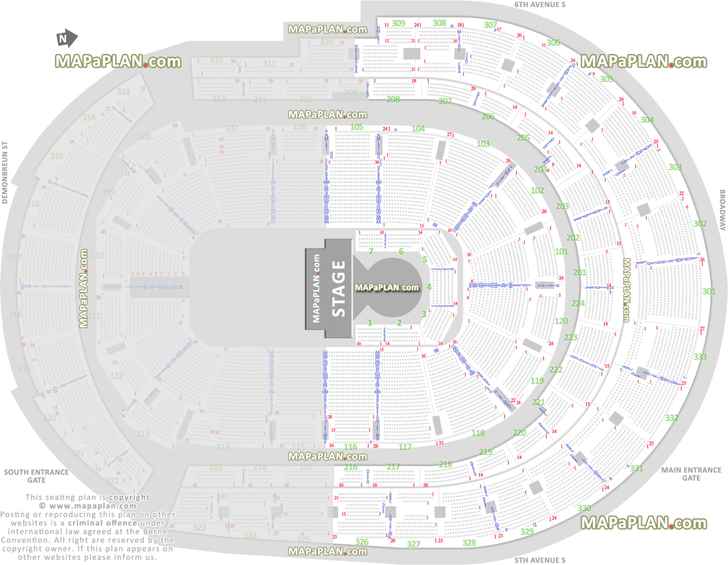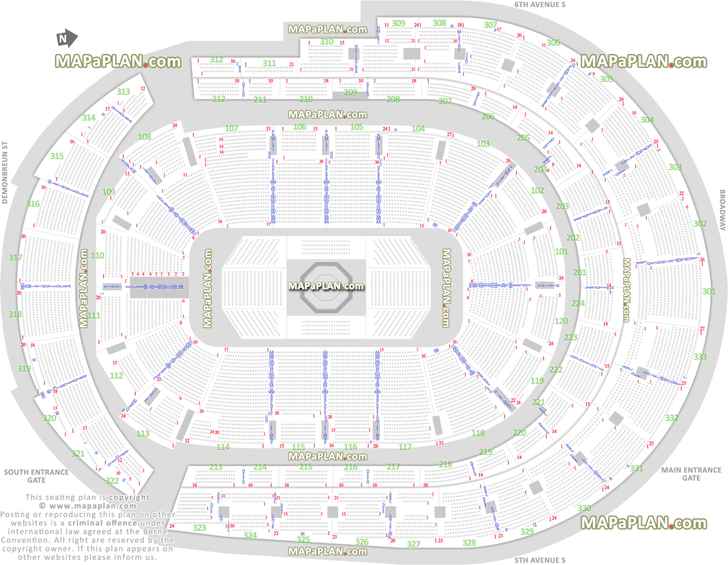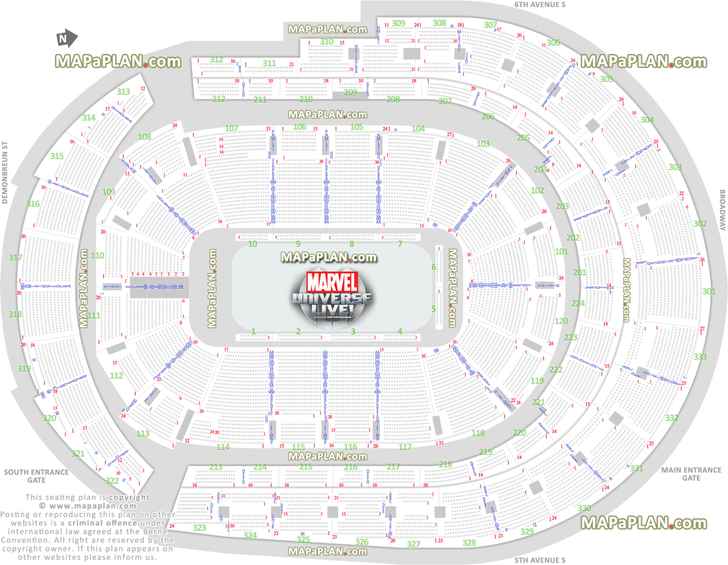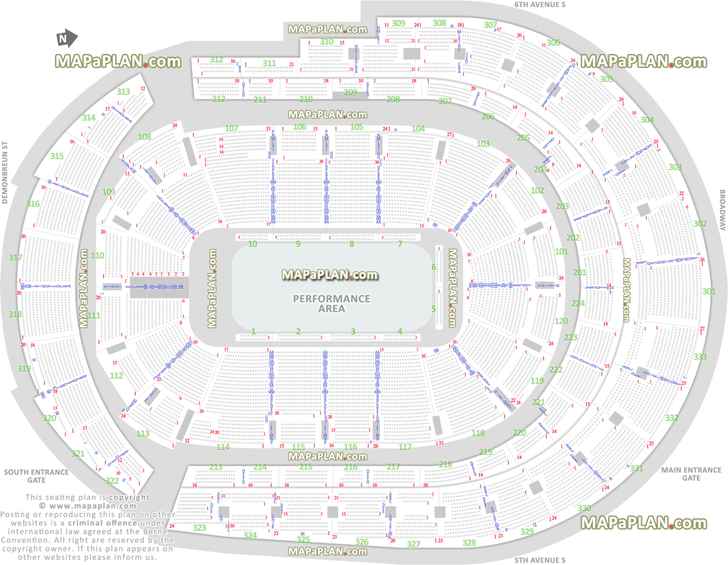 What are the section numbers in the Nashville Bridgestone Arena?
Nashville Bridgestone Arena has a capacity of between 5,100 - 20,000 seats (depending on the event) located in the following sections:
Floor sections for concerts - 1, 2, 3, 4, 5, 6, 7, 8. There may also be Pit or General Admission standing areas. Additionally for some events there may be additional sections (9, 10).
Floor sections for basektball games - Courtside & VIP.
100 level sections (Premium Lower Bowl level, Lexus Inner Circle First and Second Row glass seats, Dex All-Inclusive Zone, Premium Shoot Twice Lower Bowl, Lower Bowl End Zone) - 101, 102, 103, 104, 105, 106, 107, 108, 109, 110, 111, 112, 113, 114, 115, 116, 117, 118, 119, 120. The Penalty Box, rear of stage view, sideline, baseline and corner sections can be located on the seating charts above. The Nashville Predators Home Team bench is at the front of sections 116-117, whereas the Visitors Bench is at the front of sections 114-115. The home team side shoots twice (double attack) towards sections 110-111. The Lexus Lounge is located behind sections 101, 120 on the event level. The Band Stand is between sections 110-111.
200 level sections (Gary Force Acura Club Level Sideline & Shoot Once seats, middle bowl level) - 201, 202, 203, 204, 205, 206, 207, 208, 209, 210, 211, 212, 213, 214, 215, 216, 217, 218, 219, 220, 221, 222, 223, 224. The Club Seats are located on this level.
300 level sections (Upper Bowl Balcony Sideline & Goal Zone, All You Can Eat Adult and Family Mezzanine) - 301, 302, 303, 304, 305, 306, 307, 308, 309, 310, 311, 312, 313, 314, 315, 316, 317, 318, 319, 320, 321, 322, 323, 324, 325, 326, 327, 328, 329, 330, 331, 332, 333.
Lower Suites 1-42 (S1, S2, S3, S4, S5, S6, S7, S8, S9, S10, S11, S12, S13, S14, S15, S16, S17, S18, S19, S20, S21, S22, S23, S24, S25, S26, S27, S28, S29, S30, S31, S32, S33, S34, S35, S36, S37, S38, S39, S40, S41, S42).
Upper Suites on the Gary Force Acura Level 1-30 (C1, C2, C3, C4, C5, C6, C7, C8, C9, C10, C11, C12, C13, C14, C15, C16, C17, C18, C19, C20, C21, C22, C23, C24, C25, C26, C27, C28, C29, C30). Additionally there is also an Opera Box C15 and C16. Altogether there are 72 executive hospitality VIP rental suites.
Other facilities include: Lexus Lounge, Cumberland 501 Club, restaurants, bars, Main Entrance Gate, South Entrance.
How many rows are there in the Nashville Bridgestone Arena, TN?
Flat floor seating sections typically have rows from 1 up to 22.
100s sections have rows from AA to MM (AA, BB, CC, DD, EE, FF, GG, HH, JJ, KK, LL, MM) followed by A up to R. Please note that there is no row I or O.
200s sections have rows from A up to K.
300s sections have rows from A up to T (A, B, C, D, E, F, G, H, J, K, L, M, N, P, Q, R, S, T).
Additionally some sections have accessible rows (WC, WCC, wheelchair, handicap, disabled, ADA).
The worst seats are located in the back rows on the 300 upper bowl level. These may offer a relatively limited / partial / obstructed view.
A range of Standing Room Only (SRO) places may be offered for some events.
How many seats are there in a row in the Nashville Bridgestone Arena, Tennessee?
The number of seats varies from row to row and section to section, however the typical number of seats is as follows:
Floor sections typically have rows with up to 12 or 16 seats.
100s sections have rows with up to 33 seats.
200s sections have rows with up to 20 seats.
300s sections have rows with up to 27 seats.
What are some of the biggest shows that will take place or have taken place in the Nashville Bridgestone Arena, US?
Some of the biggest names in show business have been scheduled to perform or performed in the Nashville Bridgestone Arena. This includes: 5 Seconds of Summer, 30 Seconds To Mars, Afrojack, Alicia Keys, All-Star Game, Andrea Bocelli, Arenacross, Ariana Grande, Avicii, Barbra Streisand, Beyonce, Billy Currington, Black and Brown Comedy Get Down, Bon Jovi, boxing, Britney Spears, Bruce Springsteen, Bruno Mars, Bryan Adams, Celine Dion, Chase Bryant, Chris Brown, Cirque du Soleil Circus, CMT Music Awards, Coldplay, Davis Cup Tennis, Def Leppard, Depeche Mode, Disney, Disney On Ice, DJ Drama, Eagles, Ed Sheeran, Elton John, Enrique Iglesias, Eric Hutchinson, Eros Ramazzotti, Fall Out Boy, Fleetwood Mac, Foo Fighters, Gavin DeGraw, George Michael, Harlem Globetrotters, Hillsong United, Hoodie Allen, Hunter Hayes, Imagine Dragons, Iron Maiden, Jason Mraz, Jay Z, Jingle Ball, John Legend, Justin Bieber, Justin Timberlake, Kanye West, Katy Perry, Kelly Clarkson, Kings of Leon, Kylie Minogue, Lady Antebellum, Lady Gaga, Lenny Kravitz, Leonard Cohen, Lil' Wayne, Linkin Park, Lionel Richie, Lorde, Madonna, Mariah Carey, Mark Knopfler, Maroon 5, Marvel Universe Live, Metallica, Michael Bublé, Miley Cyrus, Monster Jam, Muse, Nashville Kats AFL, NBA basketball, NCAA tournament, New Kids on the Block NKOTB, NHL hockey, Nickelback, Nicki Minaj, Nitro Circus, One Direction, Outcry, Paul McCartney, Paul Simon, PBR Professional Bull Riders, Pearl Jam, Pentatonix, Pink, Placido Domingo, Prince, Queen + Adam Lambert, Radiohead, Rihanna, Robbie Williams, Sam Hunt, Selena Gomez, Sesame Street Live, Shakira, Shania Twain, Sting, Styx, Taylor Swift, Tesla, The Black Keys, The Charlie Daniels Band, The Rolling Stones, The Script, The Who, Tim McGraw, Timbaland, Toto, Train, U2, UFC MMA Mixed Martial Arts, Usher, Van Morrison, Winter Jam Tour Spectacular, Wiz Khalifa, Women's Final Four, WWE Wrestling
Related keywords
2021, 2022, 2023, 2023, 2024, 2025, 2026, 2027, January, February, March, April, May, June, July, August, September, October, November, December, Ticketmaster, 3d seat viewer, VIP advice, pdf, photo, pictures, pics, images
Seating plans and charts of entertainment venues showing detailed seat and row numbers
High resolution, printable travel guide maps of cities showing top tourist attractions