Birmingham Genting Arena NEC (LG Arena) detailed seating plan
Detailed chart with individual seats, rows and blocks numbers - Birmingham Genting Arena NEC (LG Arena) seating plan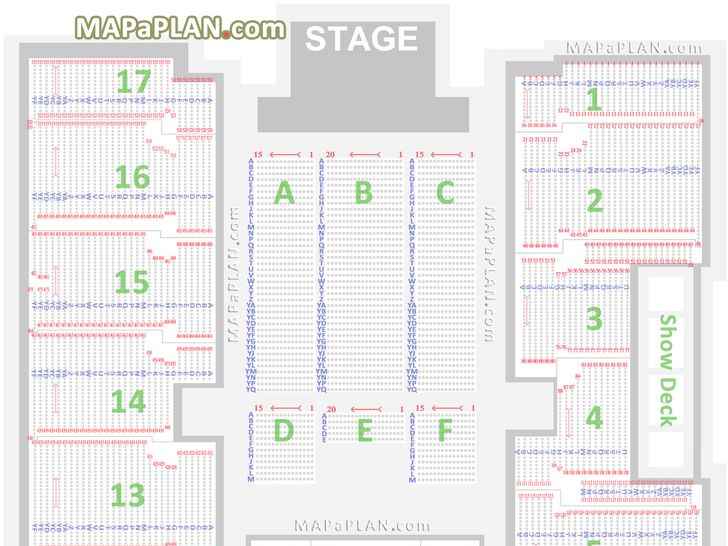 You can view, download or print a full, high resolution (detailed, large) version of this image by clicking on the plan itself
What are the best seats in the Birmingham Genting Arena NEC (LG Arena)?
The Birmingham Genting NEC Arena (formerly known as the LG Arena) is a fantastic venue and there isn't really a bad seat. However knowing the detailed plan will help you buy a best value ticket. Seats in the floor blocks are normally numbered 1-15 or 1-20 right to left when facing the stage. Blocks A, B, C, D, E, F are all good as long as no one very tall stands or sits in front of you. Front rows in blocks A, B, C offer probably the best viewing experience for shorter people. Each of them has rows from A to YQ. Blocks B and E are central so they are sometimes more expensive. In the upper tier the seats are numbered from 1 in block 1 to 535 in block 17. Front rows in blocks 2, 3 and 15, 16 have very good seats and offer great viewing experience. However, the back rows in these blocks are very high up. The upper tier blocks are all raised – except for 8, 9, 10 which start off on the flat and then rise up. If you look at the ticket pricing, the more expensive the ticket, generally the better the seat. It's also worth asking the box office for specific advice as sometimes they put control decks or lighting engineers at the back of blocks B or E which means people behind have obstructed views.
What are the section numbers in the Birmingham Genting Arena NEC (LG Arena)?
The sections are numbered as follows:
Floor blocks: A, B, C, D, E, F
Upper tier blocks: 1, 2, 3, 4, 5, 6, 7, 8, 9, 10, 11, 12, 13, 14, 15, 16, 17
How are the rows numbered in the Birmingham National Exhibition Centre Genting Arena?
The rows lettering is Row A, Row B, Row C, Row D, Row E, Row F, Row G, Row H, Row J, Row K, Row L, Row M, Row N, Row P, Row Q, Row R, Row S, Row T, Row U, Row V, Row W, Row X, Row Y, Row Z, Row YA, Row YB, Row YC, Row YD, Row YE, Row YF, Row YG, Row YH, Row YJ, Row YK, Row YL, Row YM, Row YN, Row YP, Row YQ, Row YR, Row YS, Row YT, Row YU, Row YV, Row YW, Row X, Row YY, Row YZ, Row ZA, Row ZB, Row ZC, Row ZD
What are some of the biggest acts that will be performing or have performed in the Birmingham Genting Arena NEC (LG Arena)?
Some of the biggest names in show business have been scheduled to perform in the Birmingham Genting Arena NEC. The past and future live events include: Alfie Boe, Ant & Dec's Takeaway On Tour, Avenged Sevenfold, Avincii, Backstreet Boys, Beyonce, Black Sabbath, Boyzone, Bullet For My Valentine, Caro Emerald, Cbeebies, Cirque Du Soleil: Dralion, Classical Spectacular, Depeche Mode, Dolly Parton, Drake, Eagles, Elbow, Ellie Goulding, Elton John, Fall Out Boy, Fantasia, Free Radio Live 2014, Gary Barlow, Il Divo, James Taylor, Jason Derulo, Jay-Z, Jeff Wayne's Musical Version of The War Of The Worlds, JLS, Johnny Mathis, Justin Timberlake, Justin Bieber, Kanye West, Katy Perry, Lady Gaga, Lilly Allen, Little Mix, Maroon 5, McBusted, Metallica, Michael Bublé, Miley Cyrus, Miranda Hart, Muse, Nine Inch Nails, Once In A Lifetime, Paul McCartney, Peter Kay, Pink, Red Hot Chili Peppers, Rihanna, Robbie Williams, Russell Howard - Wonderbox, Status Quo, Tayol Swift, Tiesto, Tinie Tempah, The Australian Pink Floyd Show, The Big Reunion Christmas Party, The Four Tops and The Temptations, The Wanted, The X Factor Live, Union J, Wet Wet Wet - Greatest Hits Tour, Will.i.am
Related keywords
January, February, March, April, May, June, July, August, September, October, November, December, 2012, 2013, 2014, 2015, 2016, 2017, 2018, 2019, 2020, 3d seat viewer, advice, bowl, pdf, photo, pics, Ticketmaster
Seating plans and charts of entertainment venues showing detailed seat and row numbers
Amsterdam Ziggo Dome Arena individual rows chart
Anaheim Honda Center individual rows chart
Atlanta Philips Arena individual rows chart
Belfast Odyssey SSE Arena individual rows chart
Birmingham Genting NEC Arena (LG Arena) individual rows chart
Birmingham Barclaycard Arena (NIA National Indoor Arena) individual rows chart
Boston TD Garden individual rows chart
Brighton Centre individual rows chart
Calgary Scotiabank Saddledome individual rows chart
Cardiff Millennium Stadium individual rows chart
Cardiff Motorpoint Arena individual rows chart
Charlotte Time Warner Cable Arena individual rows chart
Chicago United Center individual rows chart
Cologne Lanxess Arena individual rows chart
Dallas American Airlines Center individual rows chart
Dallas AT&T Stadium individual rows chart
Derby Velodrome Arena individual rows chart
Detroit Palace of Auburn Hills individual rows chart
Dublin 3Arena (O2 Arena) individual rows chart
Edmonton Rexall Place individual rows chart
EagleBank Arena individual rows chart
Gdańsk Ergo Arena individual rows chart
Glasgow Hydro SSE Arena individual rows chart
Glendale Gila River Arena (Jobing.com Arena) individual rows chart
Kraków Tauron Arena individual rows chart
Las Vegas New T-Mobile Arena individual rows chart
Leeds First Direct Arena individual rows chart
Liverpool Echo Arena individual rows chart
London O2 Arena individual rows chart
London Royal Albert Hall individual rows chart
London Twickenham Stadium individual rows chart
London Wembley Arena SSE individual rows chart
London Wembley Stadium individual rows chart
Los Angeles Forum Inglewood individual rows chart
Los Angeles Staples Center individual rows chart
Louisville KFC Yum! Center individual rows chart
Manchester Phones4u Arena individual rows chart
Melbourne Rod Laver Arena individual rows chart
Memphis FedExForum individual rows chart
Miami American Airlines Arena individual rows chart
Nashville Bridgestone Arena individual rows chart
New Orleans Smoothie King Center arena individual rows chart
New York Barclays Center Arena individual rows chart
New York Madison Square Garden individual rows chart
Newark Prudential Center individual rows chart
Newcastle Metro Radio Arena individual rows chart
Nottingham Motorpoint Arena (Capital FM Arena) individual rows chart
Oakland Oracle Arena individual rows chart
Oklahoma City Chesapeake Energy Arena individual rows chart
Orlando Amway Center individual rows chart
Oslo Spektrum Arena individual rows chart
Oslo Telenor Arena individual rows chart
Perth Arena individual rows chart
Phoenix Talking Stick Resort Arena (US Airways Center) individual rows chart
Pittsburgh Consol Energy Center individual rows chart
Portland Moda Center (Rose Garden Arena) individual rows chart
Rosemont Allstate Arena individual rows chart
Saint Paul Xcel Energy Center individual rows chart
San Antonio AT&T Center individual rows chart
San Jose SAP Center individual rows chart
Sheffield Motorpoint Arena individual rows chart
St. Louis Scottrade Center individual rows chart
Sunrise BB&T Center individual rows chart
Sydney Allphones Arena individual rows chart
Toronto Air Canada Centre individual rows chart
Tulsa BOK Center individual rows chart
Uncasville Mohegan Sun Arena individual rows chart
Vancouver Rogers Arena individual rows chart
Vienna Wiener Stadthalle individual rows chart
Washington DC Verizon Center individual rows chart
Winnipeg MTS Centre individual rows chart
Zürich Oerlikon Hallenstadion individual rows chart
High resolution, printable travel guide maps of cities showing top tourist attractions
Amsterdam detailed tourist attractions maps
Bangkok detailed tourist attractions maps
Barcelona detailed tourist attractions maps
Beijing detailed tourist attractions maps
Berlin detailed tourist attractions maps
Budapest detailed tourist attractions maps
Cambridge detailed tourist attractions maps
Chicago detailed tourist attractions maps
Dubai detailed tourist attractions maps
Florence detailed tourist attractions maps
Hong Kong detailed tourist attractions maps
Istanbul detailed tourist attractions maps
Las Vegas detailed tourist attractions maps
Lisbon detailed tourist attractions maps
London detailed tourist attractions maps
Los Angeles detailed tourist attractions maps
Marrakech detailed tourist attractions maps
New York detailed tourist attractions maps
Oxford detailed tourist attractions maps
Paris detailed tourist attractions maps
Prague detailed tourist attractions maps
Rome detailed tourist attractions maps
San Francisco detailed tourist attractions maps
Singapore detailed tourist attractions maps
Sydney detailed tourist attractions maps
Tokyo detailed tourist attractions maps
Venice detailed tourist attractions maps